From princesses to politicians, everyone knows the cardigan is a closet mainstay.
It's the wardrobe staple every style icon has worn at least once, from Princess Diana to Michelle Obama. A piece so beloved that Taylor Swift devoted an entire song to it. That's right, we're talking about the cardigan.
No matter how old you are, where you're from, or what your personal style is, one thing is certain: Support for the cardigan is bipartisan. So for all of you cardigan lovers out there (and those of you dipping your toe into the button-up sweater waters for the first time), we've rounded up some of our favorite celeb looks topped with the classic layer. Once you've perused all of these outfits, you'll be a lifetime cardigan convert. And since we imagine you'll want to get your own versions of these cardigans buttoned up ASAP, we've also included some practically perfect dupes from Talbots, which has been the guardian of the cardigan since 1947.
Princess Diana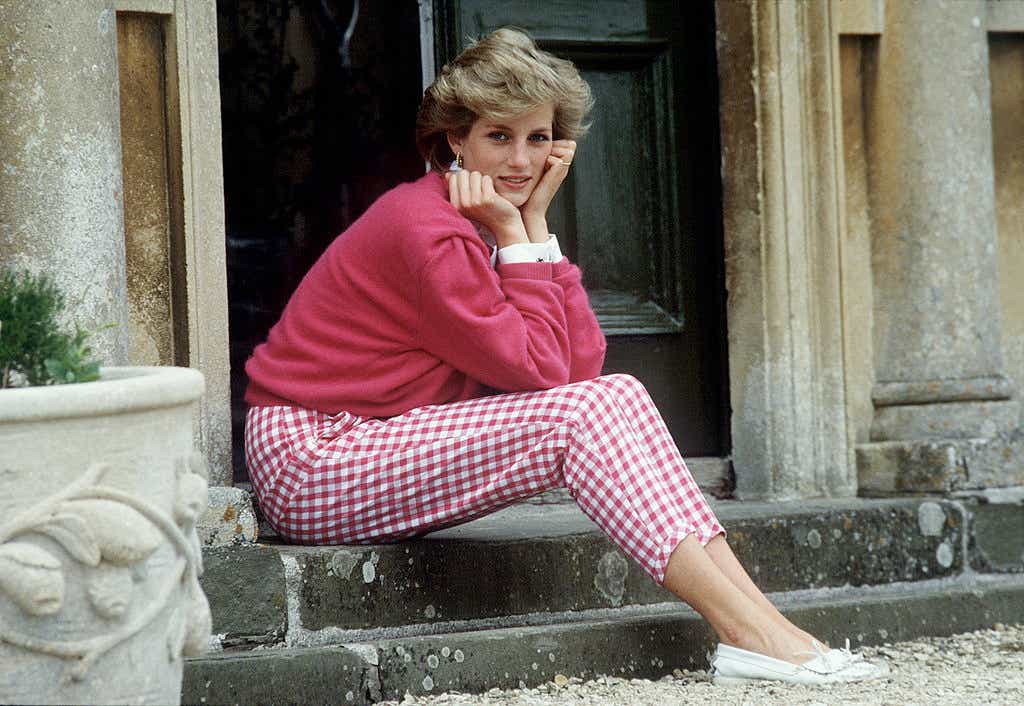 More than a quarter-century after her tragic death, Lady Di is still the cardigan queen (or should we say, princess?) of our dreams. This pretty-in-pink look shows the princess at her best: She looks happy, carefree, and ready to spring up from those stairs to take little William and Harry for ice cream. We'll take a scoop of strawberry to coordinate with this sweet sweater.
Talbots Charming Cardigan in Aurora Pink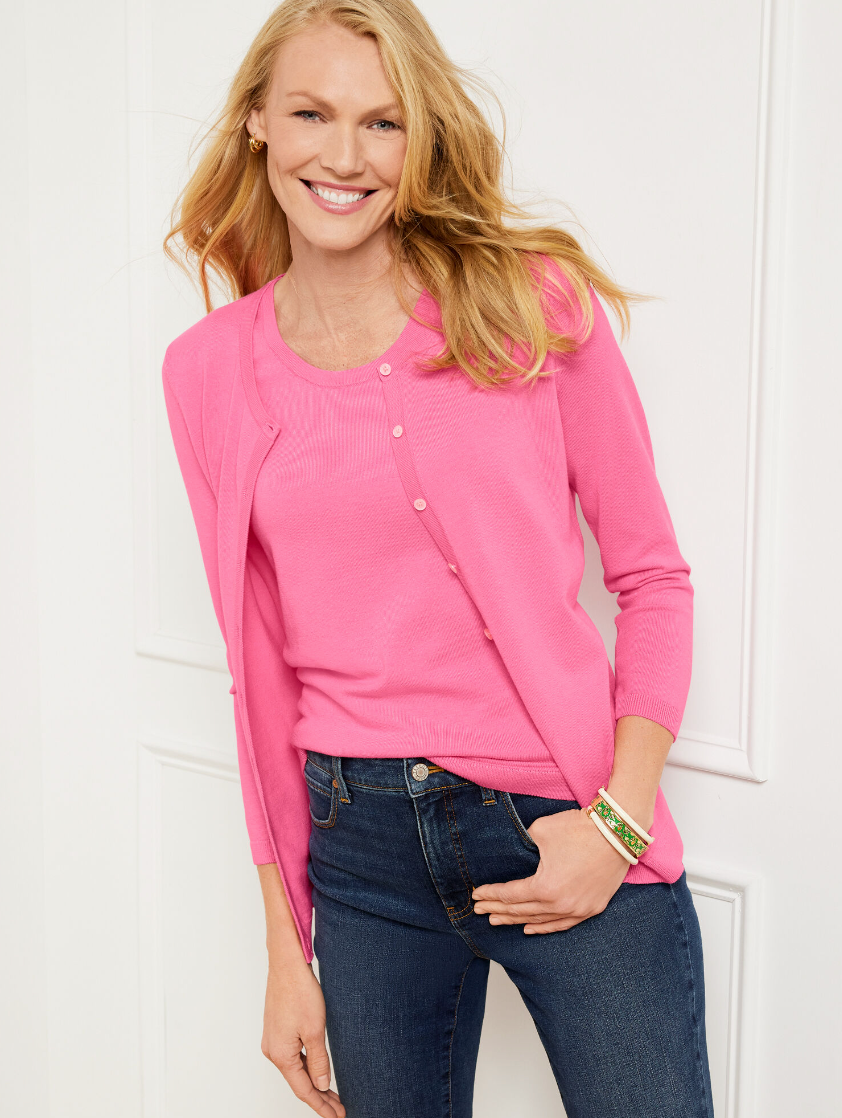 Talbots carries a near identical version of Princess Diana's look to give you the perfect pop of pink.
$79.50 at Talbots
Oprah Winfrey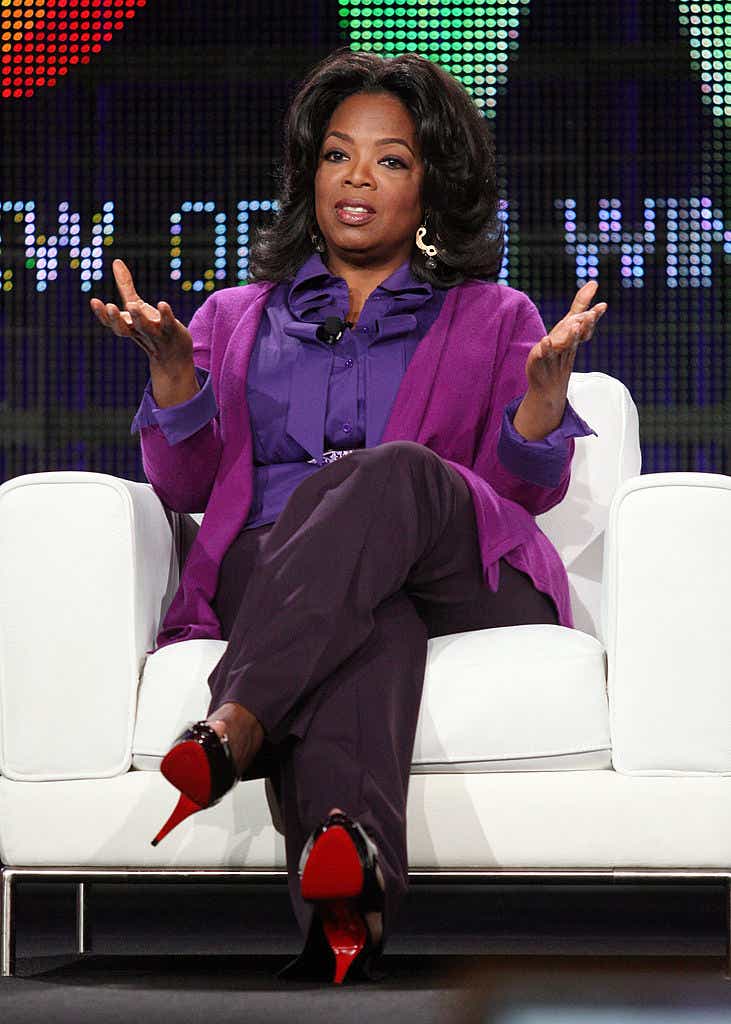 Oprah has us singing purple's praises in this gorgeous, jewel-toned cardigan. It's a bold choice to pair multiple shades of the same color, but the combination of the cardigan with a violet blouse and plum-hued pants is a stellar lesson in color coordination.
Talbots Ribbed V-Neck Cardigan in Biscayne Blue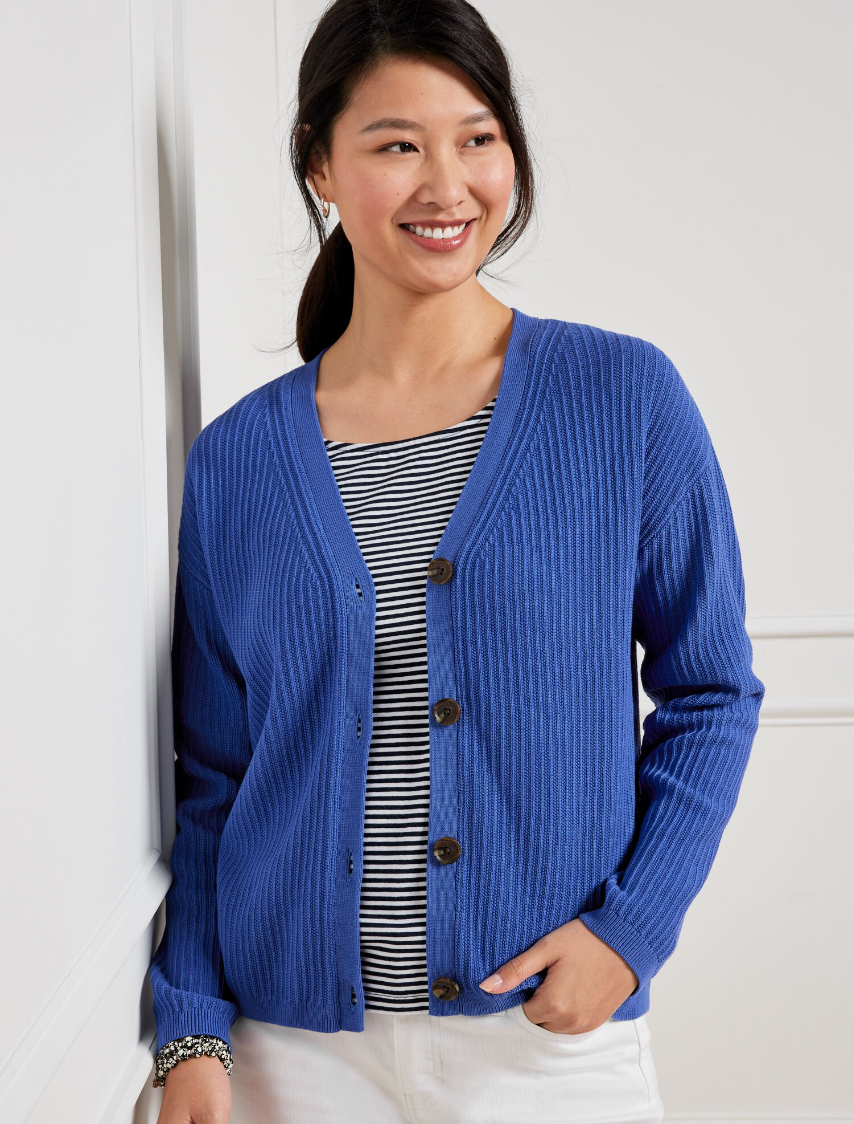 If you don't have a ton of purple in your closet, we get it. Try out the monochrome trend with a more accessible color, like blue, first. And if you're into that, you can start collecting garments in bolder hues, like purple, to wear together or separately. This bright ribbed layer is a great place to start.
$89.50 at Talbots
Olivia Newton-John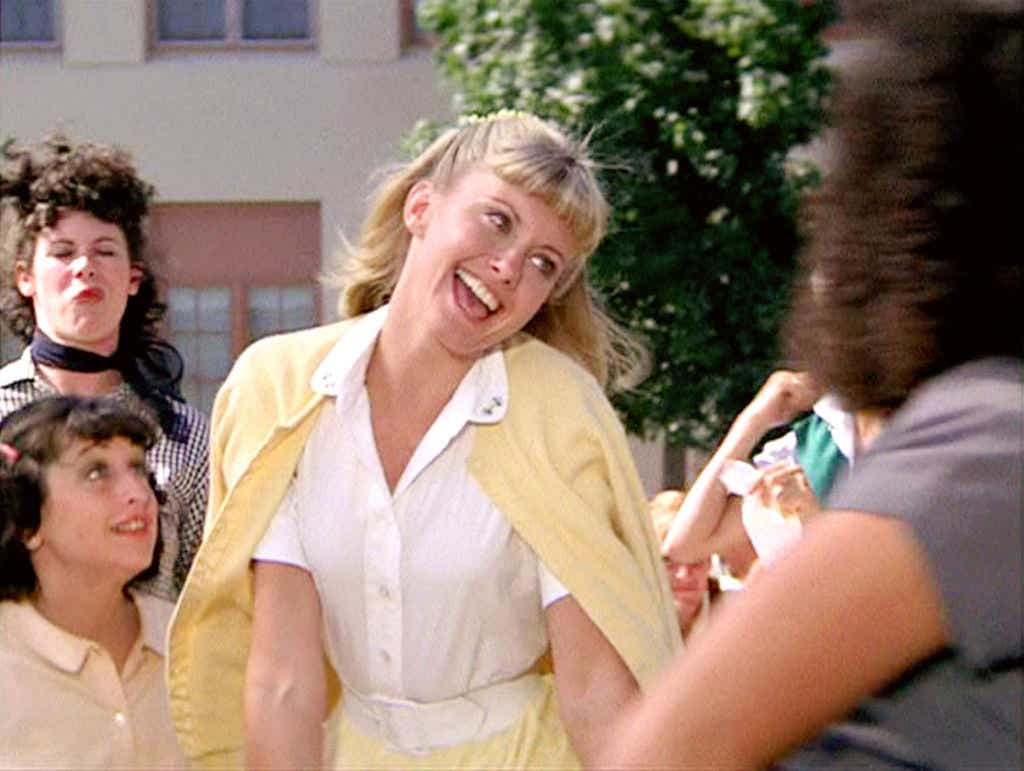 Look at me, I'm Sandra Dee, I'll take a cardigan, or two or three! Even if you remember the late great Olivia Newton-John in her tight pants and leather jacket best, wasn't it the cardigan-wearing cutie that Danny Zuko first fell for? If you find yourself humming "you're the one that I want" to this cardigan, you're in luck. A similar look can be yours as fast as greased lightning.
Talbots Cashmere Shaker Stitch Cardigan in Fresh Cream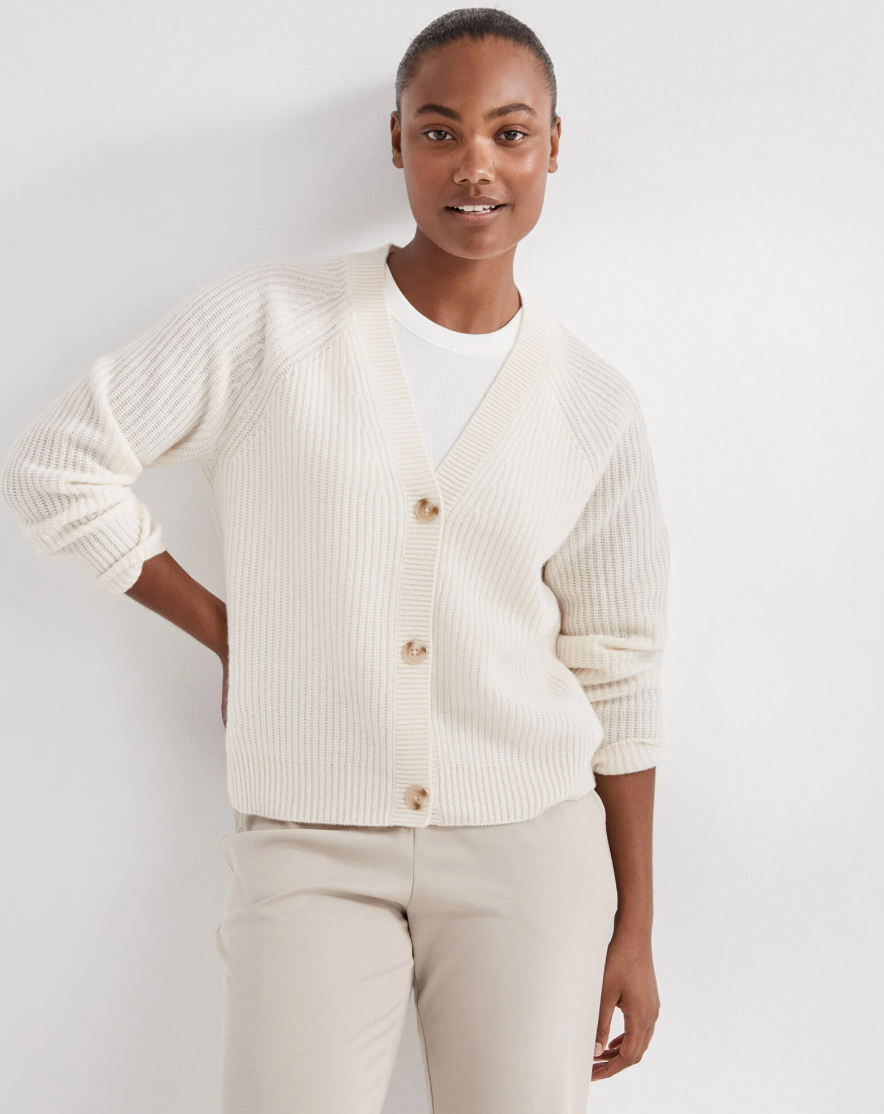 Did you know Newton-John was 28 years old when she played high-schooler Sandy Olsson?! If you're looking to embody more grown-up Sandy vibes, we recommend this cashmere knit in fresh cream. It's still got that soft, feminine look, and can be worn as either a winter white or a spring neutral. Or, of course, on the first day of school.
$228 at Talbots
Michelle Obama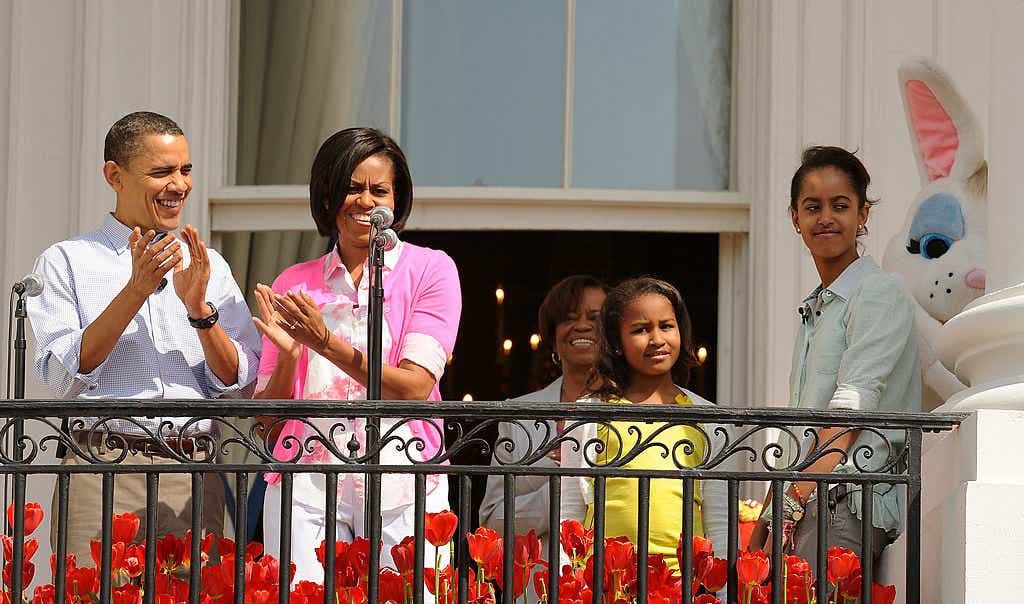 Just like Michelle Obama herself, this gorgeous look is giving casual beauty, class, style, and grace. It's first-lady fabulous. The cheerful color is perfect for springtime, and the piece itself is light enough to carry around on your arm or drape over your shoulders as the day gets warmer. We love how Obama styled her outfit with both a solid and a print top in the same color palette, with the structured collar over a scoop neck drawing the eye up and making her neck look long and graceful.
Talbots Stencil Flower V-Neck Cardigan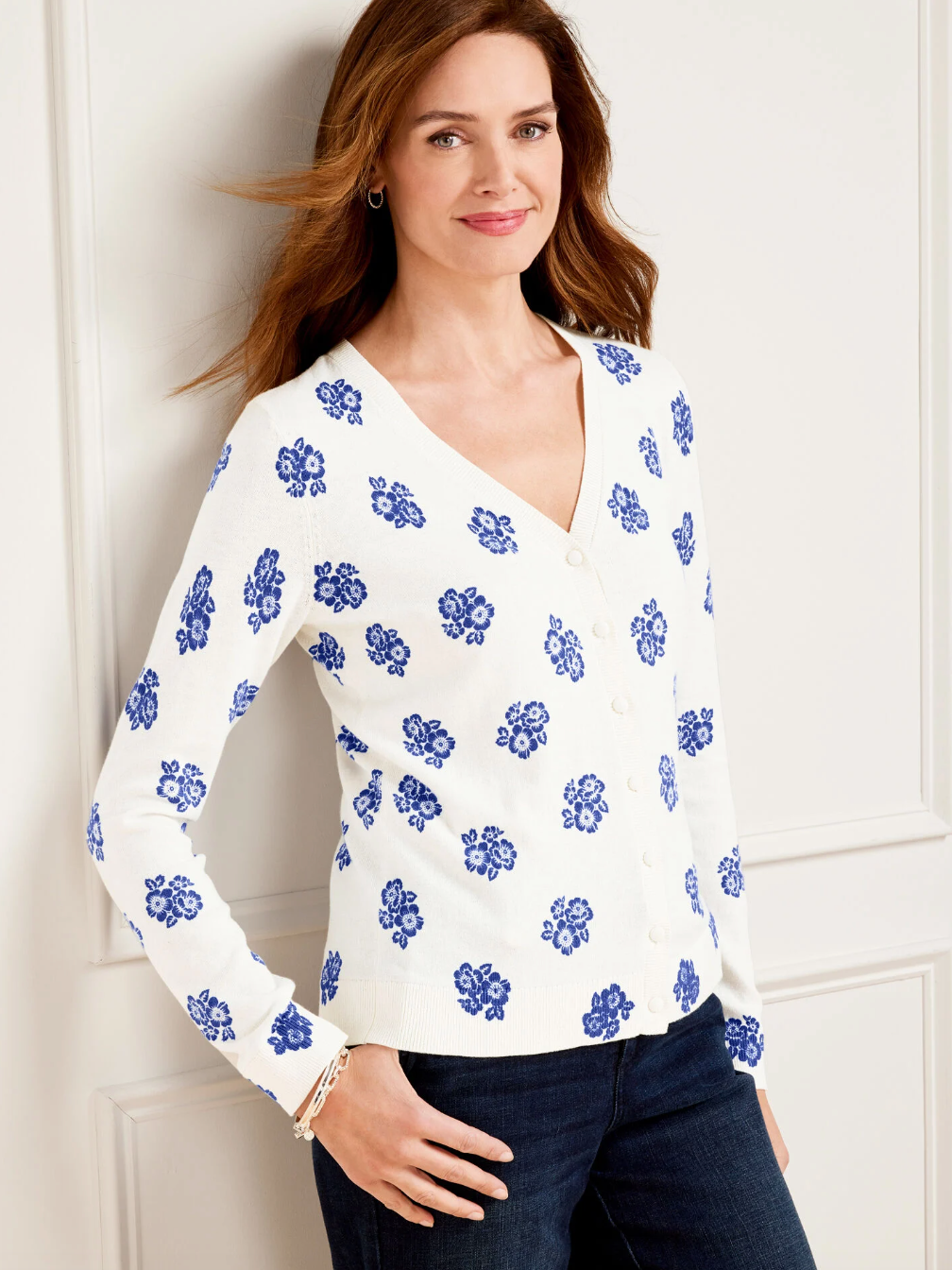 Since the color coordination is such an aesthetically pleasing aspect of this outfit, we decided to flip the script here with a printed cardigan, which you can pair over a white or blue button-down to achieve the same eye-catching result.
$99.50 at Talbots
Kate Middleton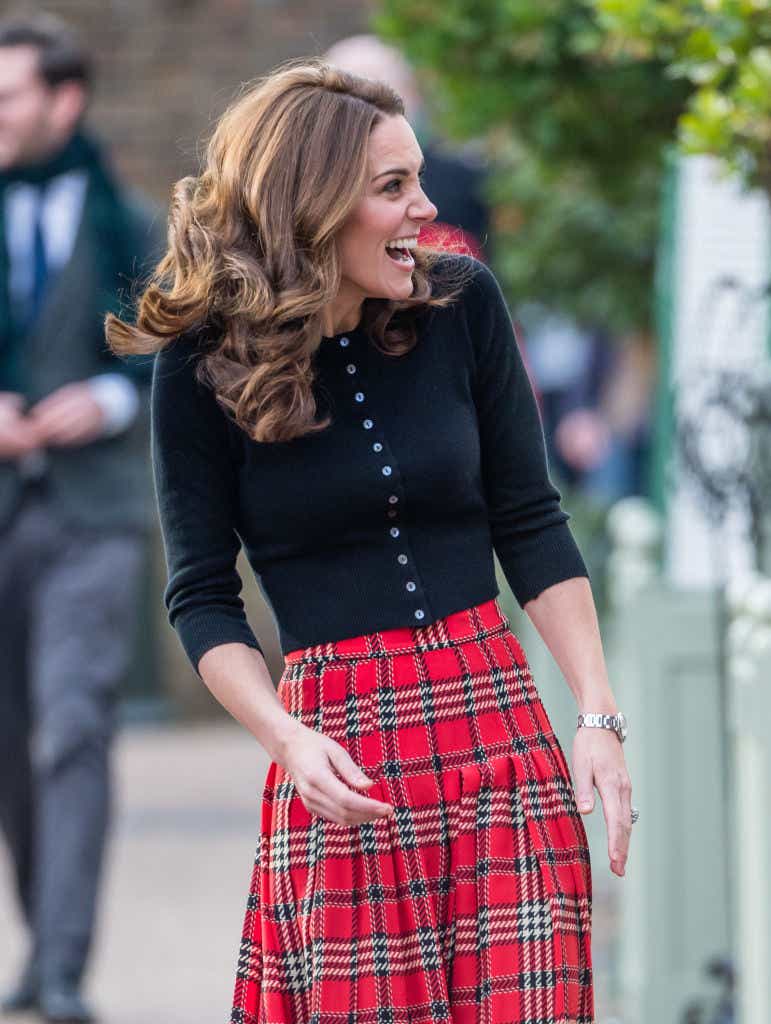 No matter your thoughts on the royal family, there's no denying that Princess Kate absolutely radiates class, so we're not surprised that she's another member of the cardigan clan. This versatile black cardigan fits her perfectly, and its simplicity complements her patterned, pleated skirt. It's a great piece for a black monochrome moment or to complement a louder print a la Princess Kate.
Talbots Charming Cardigan in Black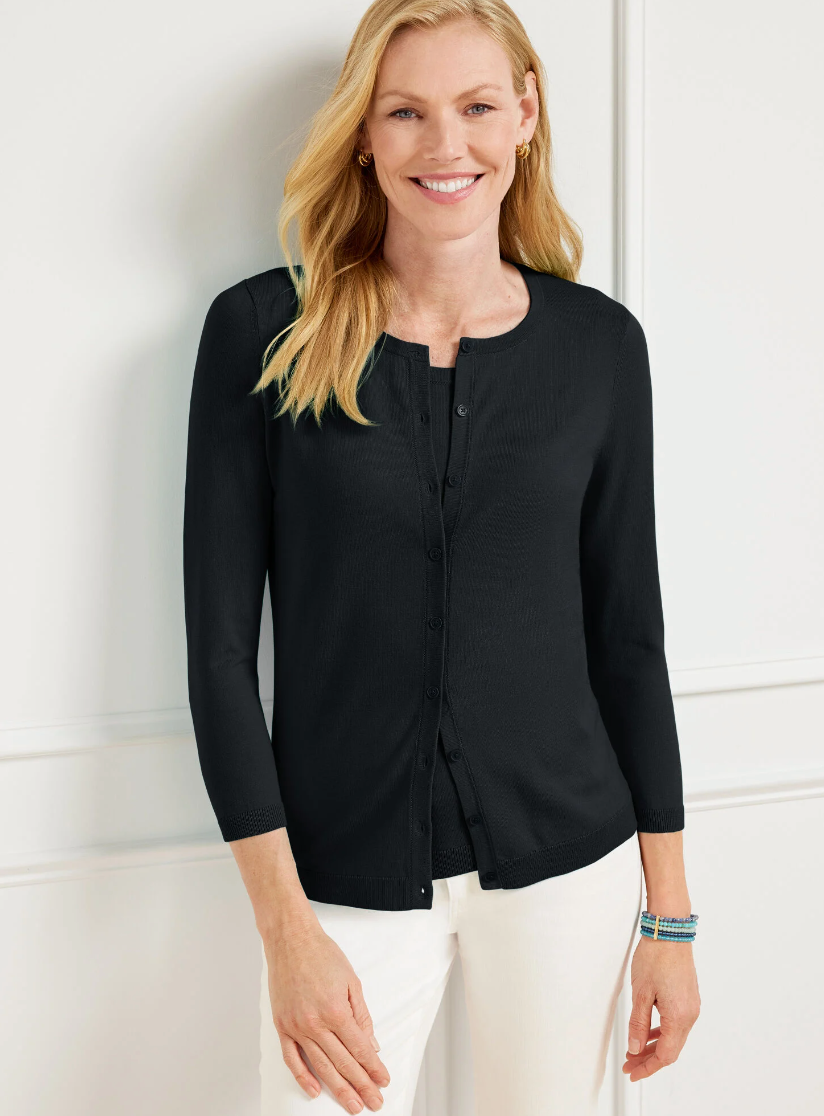 Talbots' staple piece, the Charming Cardigan, is worth buying in every color. Button it all the way up like Princess Kate for a classic preppy look and tuck it into your favorite patterned skirt. You'll look like you could waltz right into Buckingham Palace.
$79.50 at Talbots
Katie Couric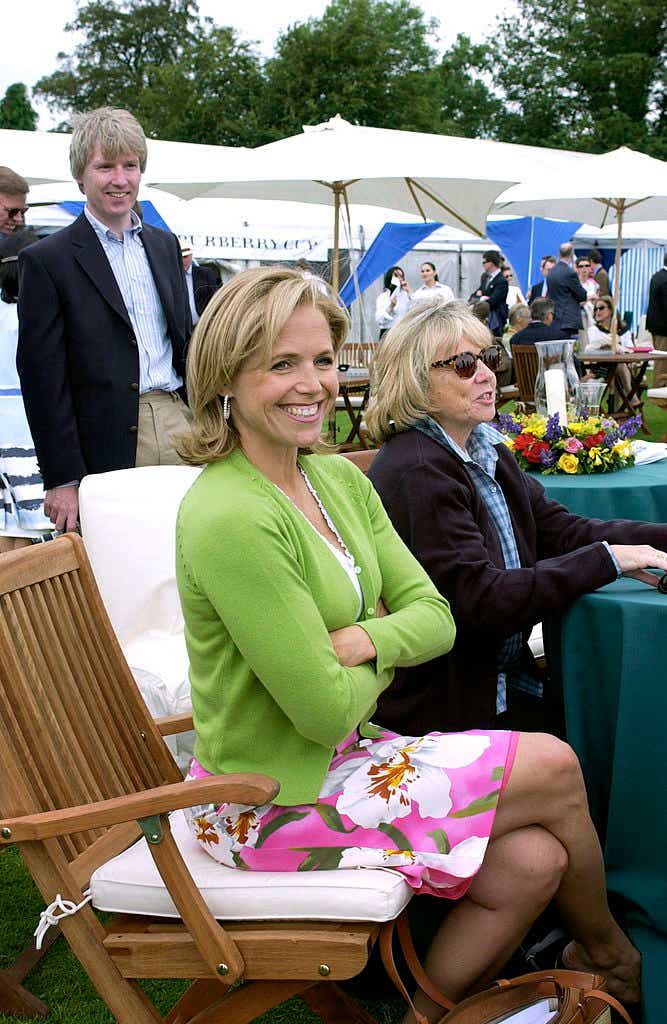 How could we do a clothing roundup without including our absolute favorite style icon? Just like us, Katie can't keep her hands off a good cardigan. This bright green button-down is just the right piece for a warm-weather picnic. With spring right around the corner, a bright pop of color is just what the doctor ordered.
Talbots Charming Cardigan in Graphic Floral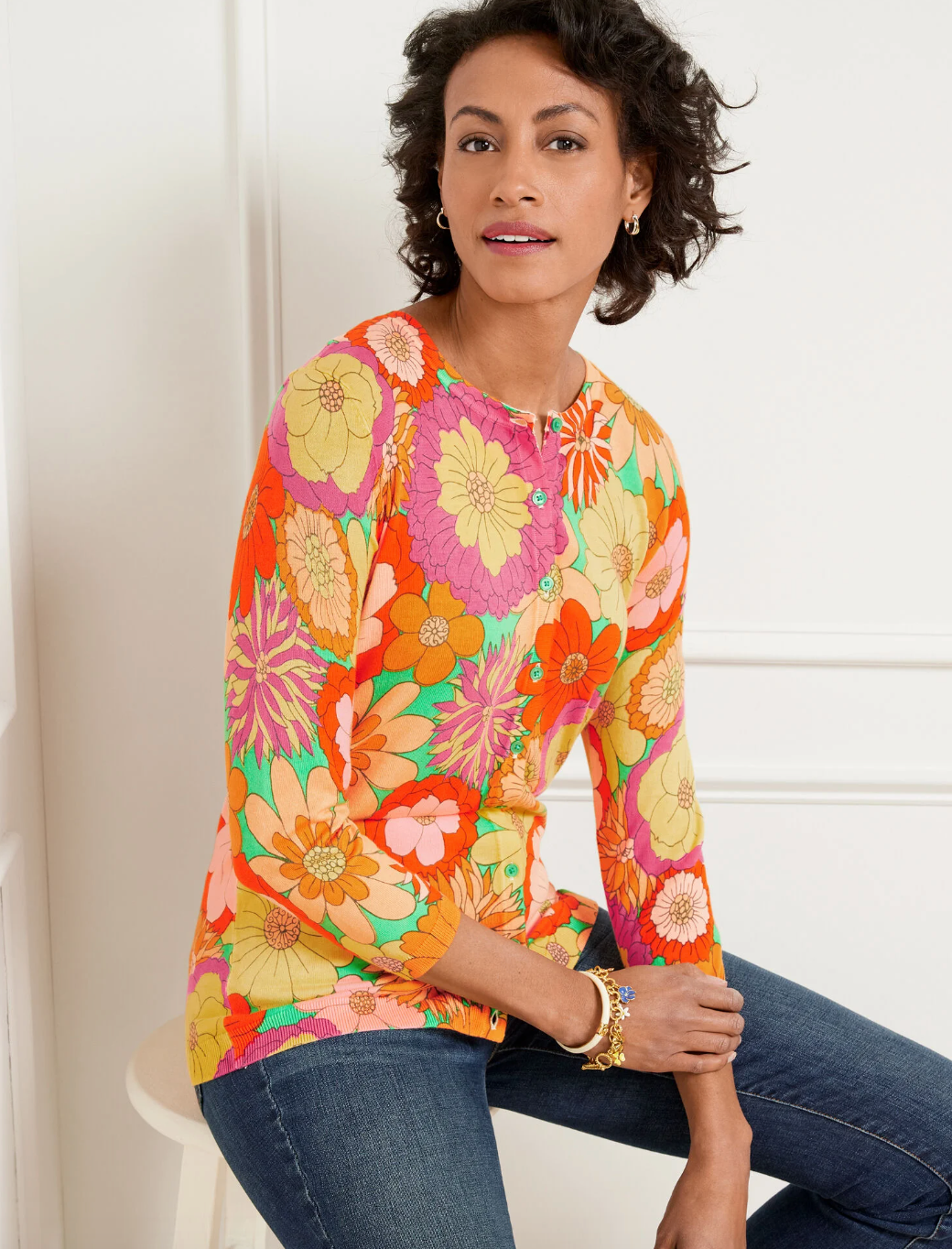 Katie's look masterfully blends spring green with a floral motif, and this sweater does the same with its bright, floral pattern. Since it's a statement piece all on its own, we suggest pairing it with a neutral skirt or pair of pants to make your outfit unmistakably springy.
$89.50 at Talbots
Taylor Swift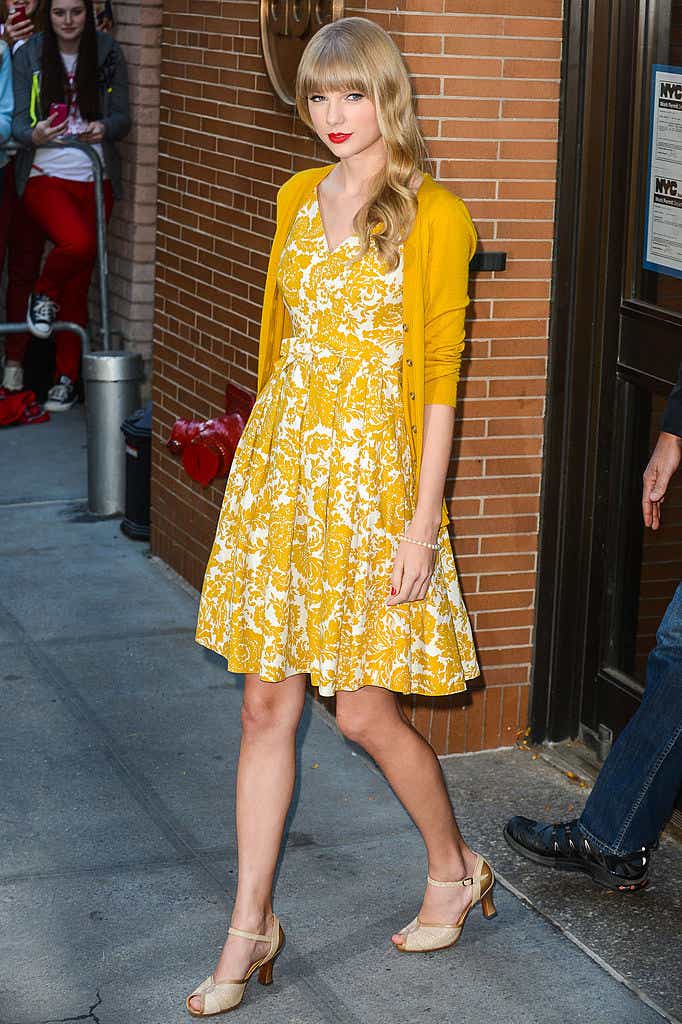 If for some reason you forgot how cool the cardigan can be, Taylor Swift is here to remind you. Her aptly titled song "Cardigan" reached number one on the Billboard Hot 100, making it her second number-one debut — following "Shake It Off," which is something you certainly won't want to do with this gorgeous sweater. A vision in yellow, Swift absolutely radiates joy in this outfit (which she wore to an interview with none other than her cardigan-loving comrade, Katie!).
Talbots Girlfriend Cardigan in Sunshine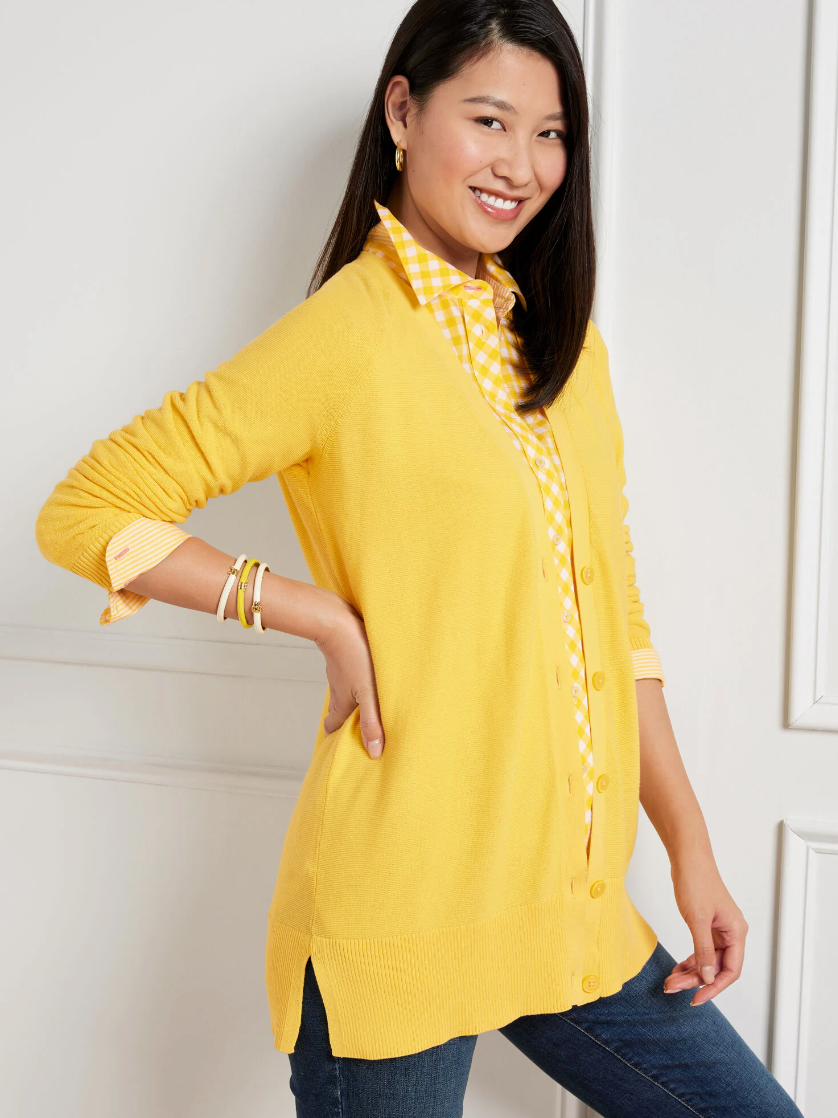 Our favorite thing about Tay Tay's outfit here is the length — the combination of the longer dress and sweater makes her look even more statuesque. For shorter gals, a longer layer can provide an illusion of height, and has the added benefit of keeping your bum covered if you're feeling modest. Or you can go full Taylor and wear it over a flared dress for a super feminine feel.
$89.50 at Talbots
Mindy Kaling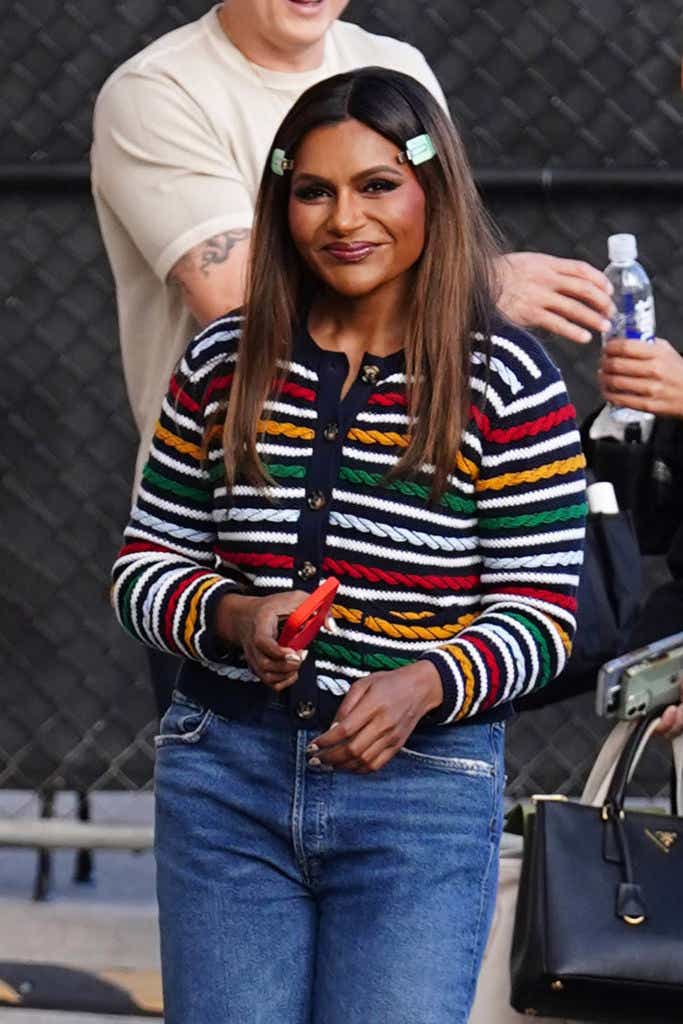 A vision in rainbow stripes! Since The Office, Mindy Kaling has become a bonafide fashion icon, so we love to see her joining the cardi party. This fun striped number works with a pair of jeans or over a neutral dress. This layer will have you singing (in the words of Kelly Kapoor), "Fashion show! Fashion show! Fashion show at lunch!"
Talbots Ribbed V-Neck Cardigan in Multi-Stripe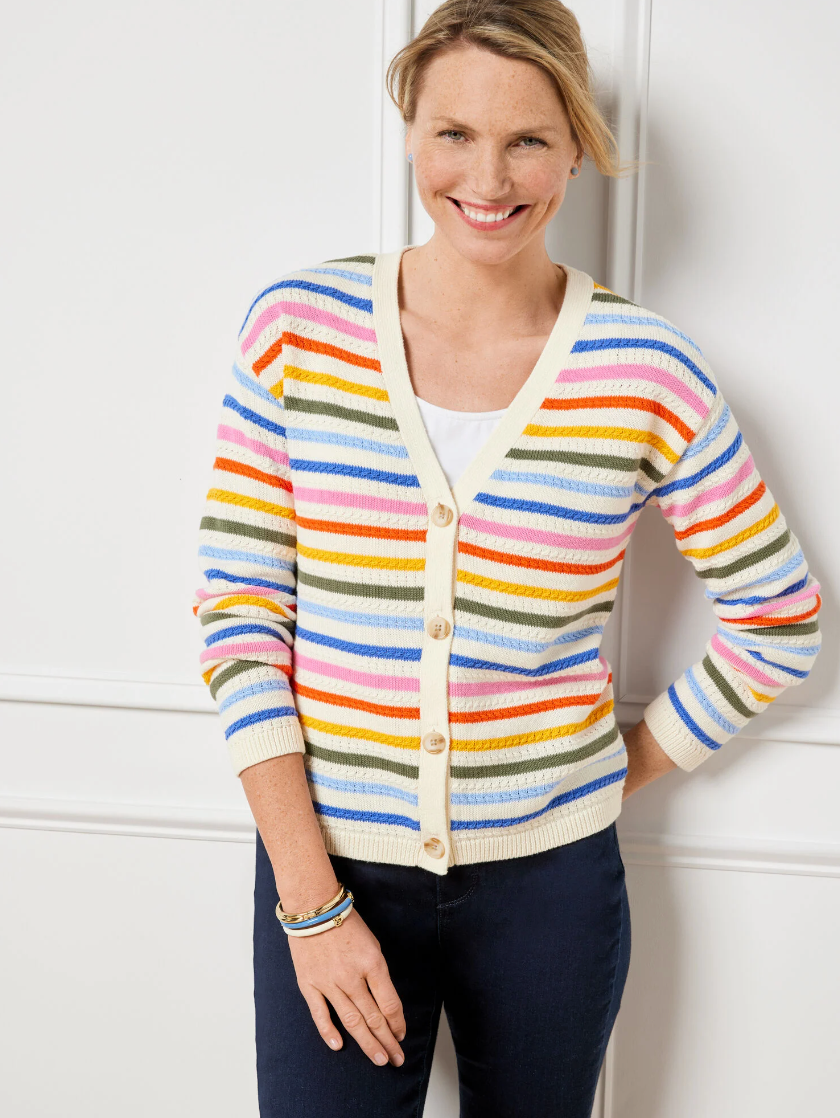 Just like Kaling's, this jazzy jumper is tons of fun, and can add a bit of whimsy to your wardrobe. While the dark motif on Kaling is nice for winter, we prefer this lighter version for warmer weather. Both items have beautiful cable-knit detailing, which will bring some texture to your look.
$99.50 at Talbots
Kerry Washington as Olivia Pope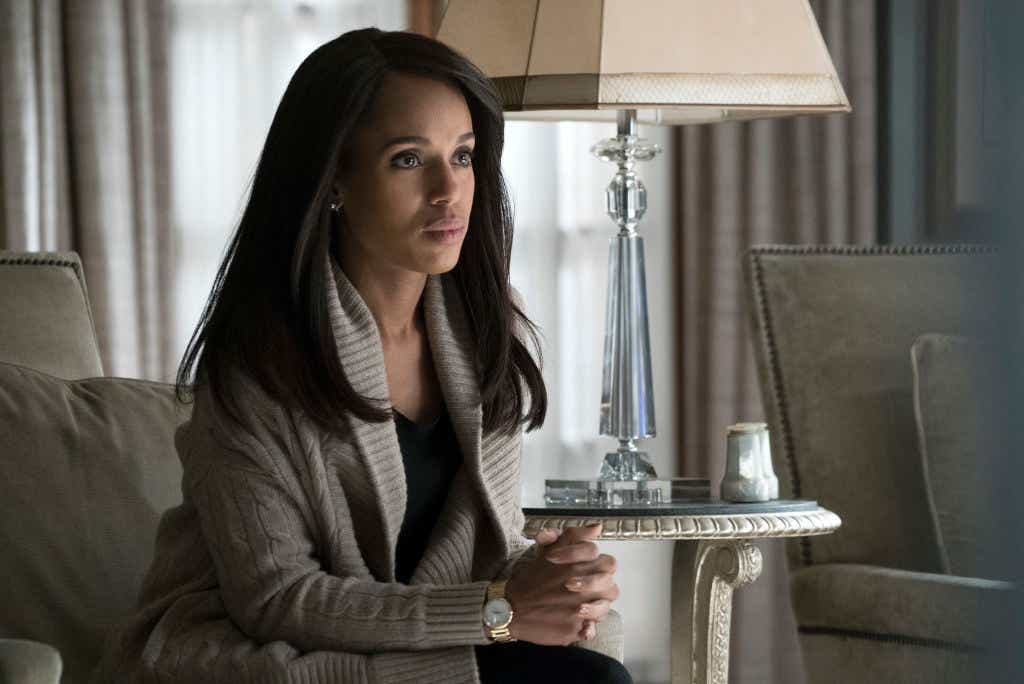 When it comes to style, we never say nope to Olivia Pope. Any Scandal fan will remember that no matter what the most famous political fixer in DC was dealing with in her personal or professional life, she always looked like a million bucks. It's no surprise that she knows how to style the coziest of sweaters, making a casual outfit look as high fashion as her buttoned-up getup with a big white hat. This chunky sweater is exactly what you need to curl up on the couch (with an absurdly long-stemmed glass of red wine, of course) after a long day spent fixing the president's endless problems.
Talbots Organic Cotton Cocoon Cardigan in Pewter Heather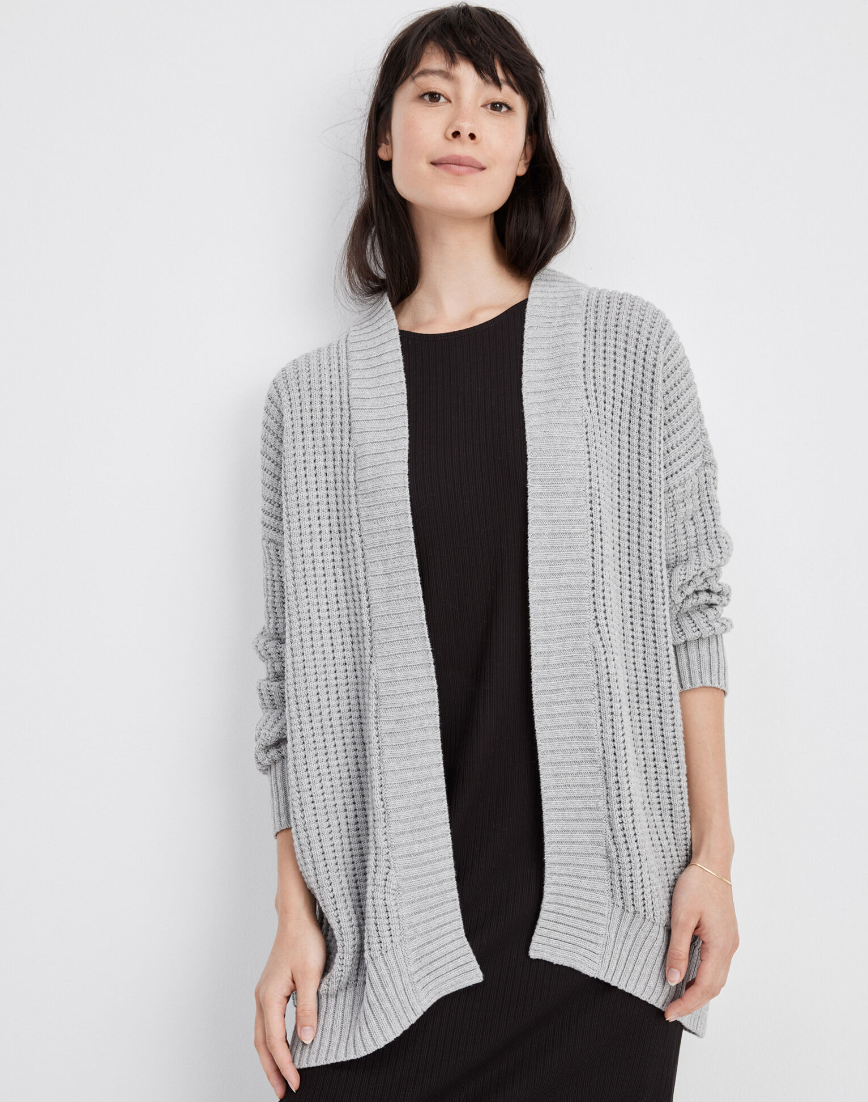 We're not playing favorites here, but if we had to choose just one cardigan from this list that we know you'll get a ton of use out of (though we'd never ask you to choose just one), it would be this cocoon sweater. It's cozy. It's gorgeous. It looks and feels luxurious. And it is absolutely serving Olivia Pope.
$138 at Talbots
Grace Kelly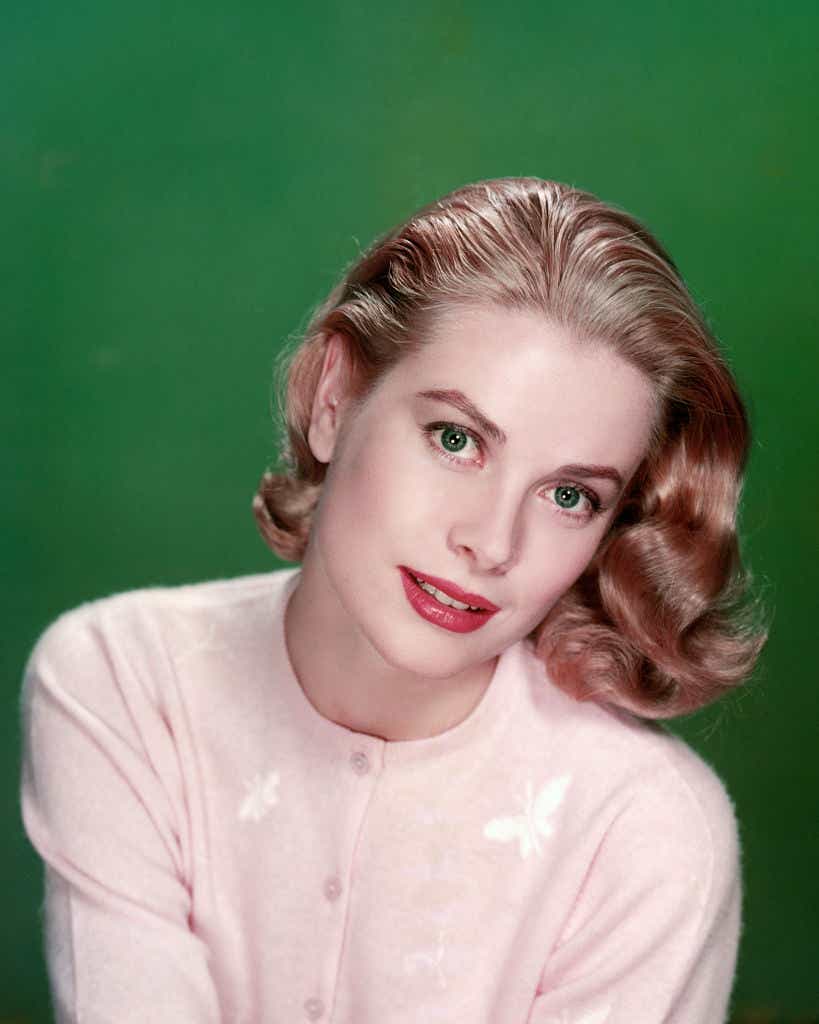 We saved the best for last — the one, the only, Grace Kelly. There's a reason why we've got three princesses on our list: These ladies rock a cardigan like royalty. This gorgeous sweater adorned with butterflies is a special one, and not just because the former Princess of Monaco is one of the best-dressed women of the past century. If this top is giving you butterflies, we've got great news — you can get yourself a beautiful version of it at Talbots while supporting a great cause.
Talbots Butterfly Charming Cardigan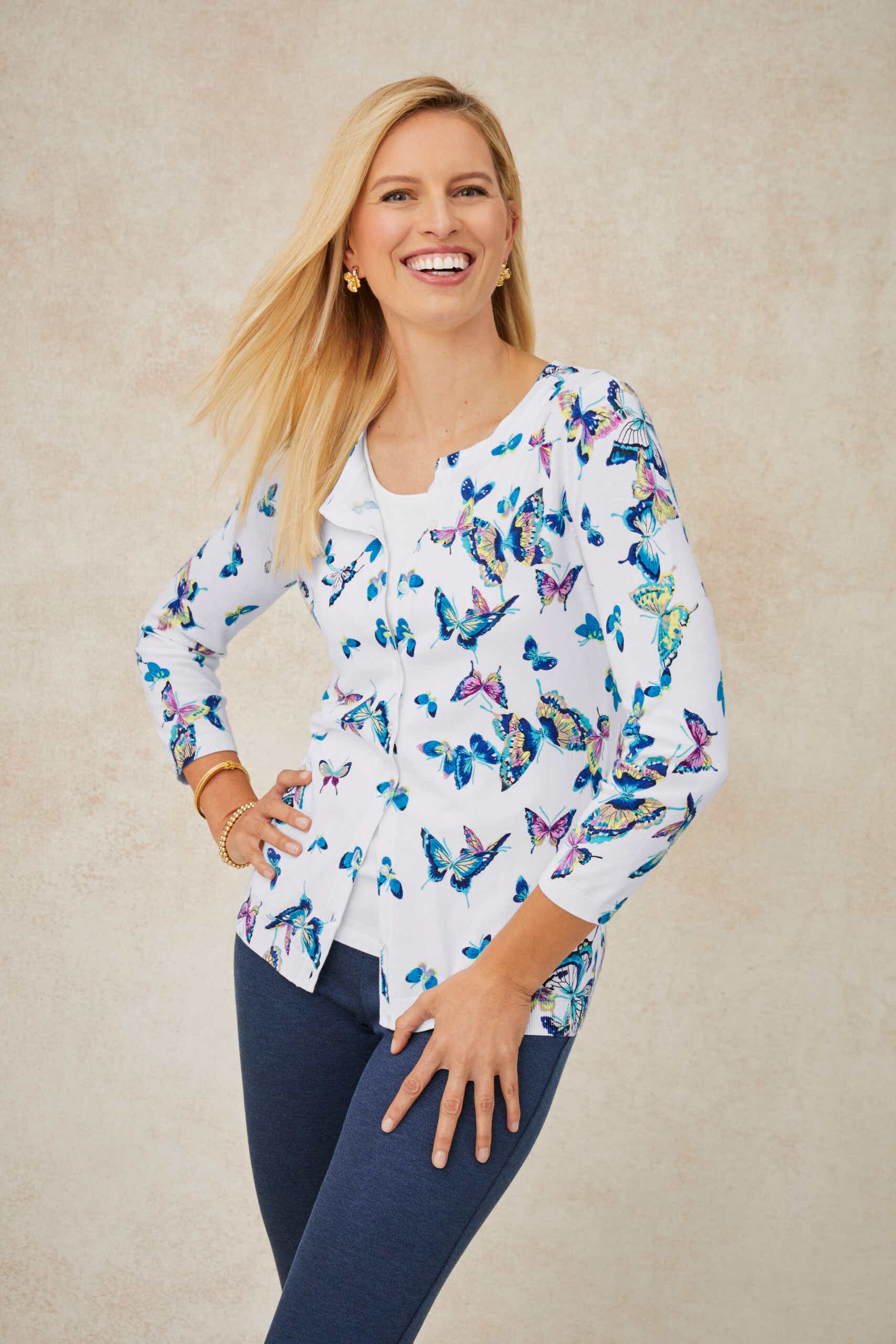 On Saturday, March 11, at Talbots stores across the nation, 30 percent of net proceeds from the sale of the Butterfly Charming Cardigan will benefit Dress for Success, an incredible organization that helps women of all backgrounds and experiences transform their lives at work and beyond. Prefer one of the other cardigans above? That day, 10 percent of proceeds from any sale will go to Dress for Success, too. And we've got even better news — you'll also get 25 percent off your entire purchase. So mark your calendars, cardigan lovers, and stop by your local Talbots to refresh your wardrobe and help to change the lives of women in your local community and beyond.
$89.50 at Talbots