It's a Christmas miracle!
We've reached December, the last and possibly most exhausting month of the year. Your calendar could soon be chock-full of events: Christmas parties! Hanukkah gatherings! New Year's Eve celebrations!
While all of this might sound fun, for some it can be a bit overwhelming…especially when you feel like your closet is majorly lacking in festive attire. Having a happy holiday can feel next to impossible when you're stressed out of your mind over what to wear, and most of us don't want to shell out the big bucks for something we might only wear once. Well friends, if you're looking for an adorable outfit on a budget for your next party, we've got you covered this year. We've found a number of great items that will turn heads at any holiday gathering, and they're all under $100. Now you have one less excuse not to RSVP "attending" to all those invitations piling up in your inbox. (Sorry.)
On this list, you'll find the classic holiday season materials, colors, and prints — sequins, metallics, plaid, velvet, reds, greens, flannel, etc. — but there's something here for every taste and style. Whether you're attending a cocktail party or just a small, casual gathering, you're sure to find something you love and, more importantly, feel comfortable in. Get ready to brave the cold in a velvet dress, snuggle up in some "fancy" sweatpants by a roaring fire with friends, or don a tasteful but warm outfit to wear for Christmas caroling through the town. We found plenty of options for every occasion to make sure you're appropriately dressed and full of holiday cheer.
Holiday Party Clothes and Outfits for Under $100
Vince Camuto Long Sleeve Velvet Dress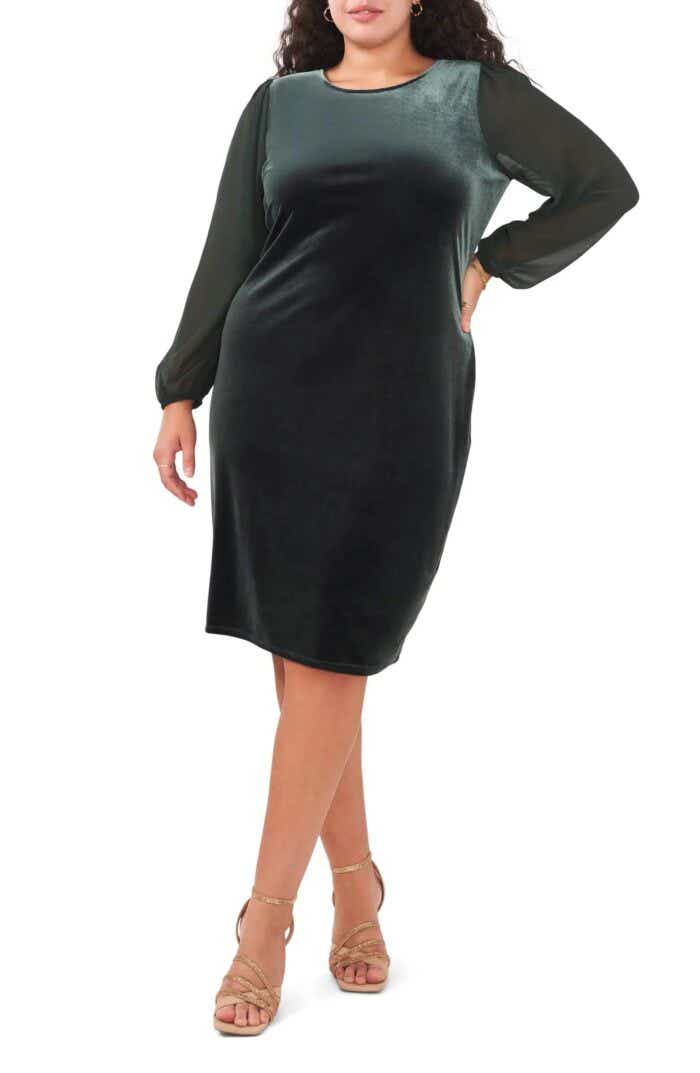 Velvet is a heavier material, making it a great choice to wear when temperatures dip. Pair this with tights on extra chilly evenings, and slip on your favorite booties to finish up the look.
$80 at Nordstrom
J.Crew Smocked Puff Sleeve Top in Stewart Tartan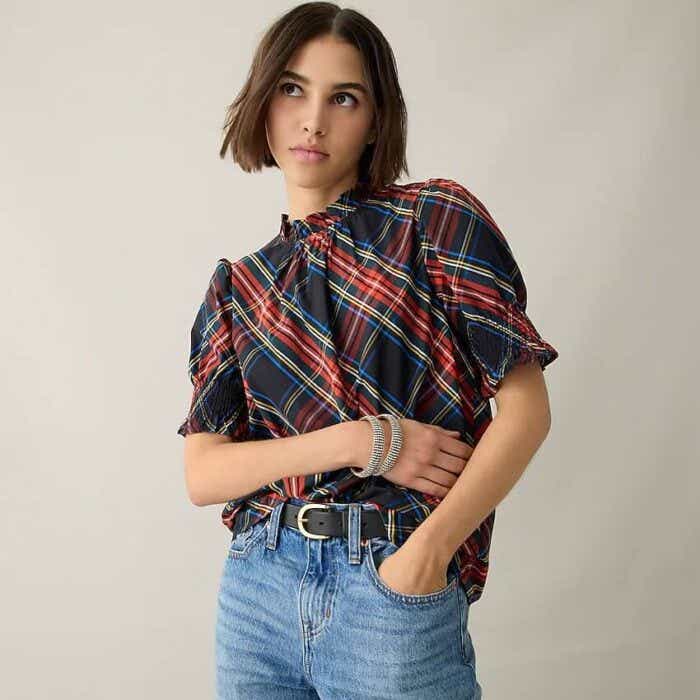 Plaid can be worn year-round, but if you wear it in December, it's considered festive. Pair this blouse with jeans for a casual look or pop on some chinos to make it feel elevated. Right now, you can snag this top for half off with the code WARMUP.
$80 at J.Crew
Lulus What a Gift Bow Dress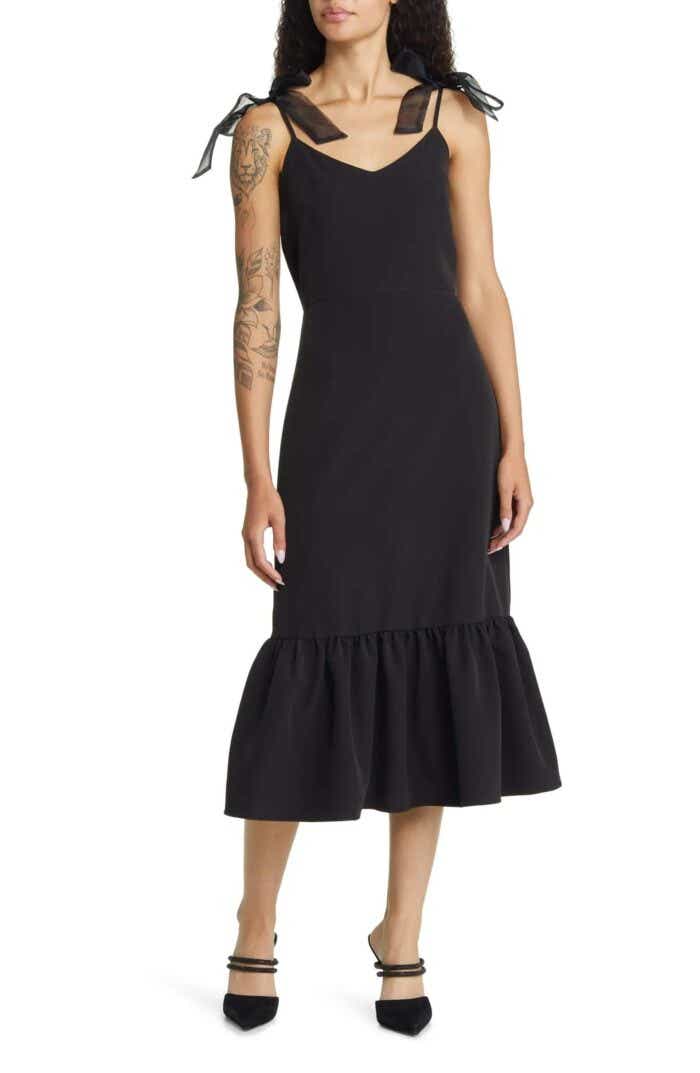 If you want to embrace the holiday theme without looking like a literal gift, this black dress with bows is the perfect fit. Top off your outfit with not one, but two bows this holiday season. This simple shift from Lulus can be worn year-round, but imagine how cute it would be for a casual get-together with a turtleneck layered underneath.
$78 at Lulus
J.Crew FormKnit Wrap Top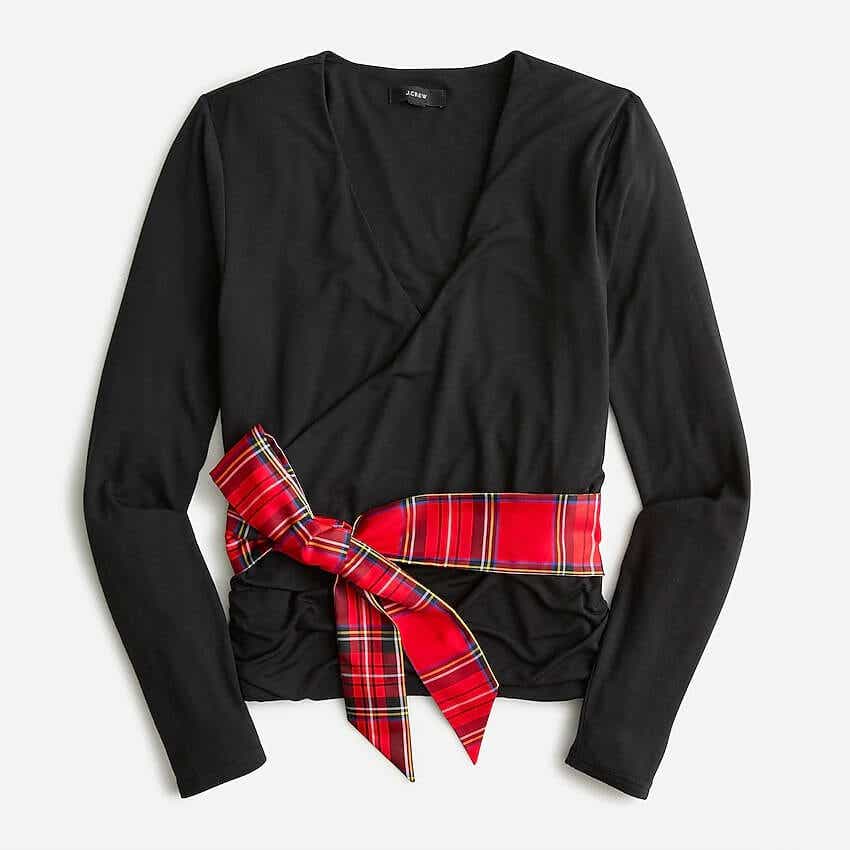 Channel your Nutcracker ballet dancer dreams in this wrap top. The plaid bow is festive without feeling hokey, and you could tie it in the back if you want. Use the code WARMUP for 50 percent off this number.
$70 at J.Crew
Mango Crystal Handbag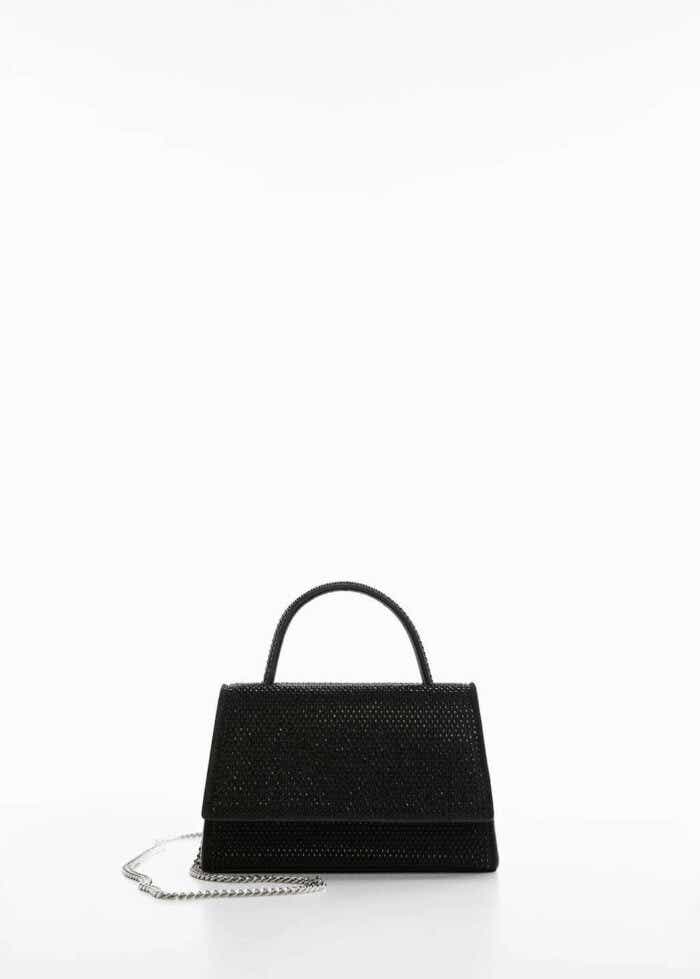 If you prefer sparkle that's subtle, this crystal-studded handbag will do the trick. It's big enough to hold your phone, wallet, and a lipstick, and you can wear it as a crossbody or carry it by the short handle.
$60 at Mango
Abercrombie Long Sleeve Sparkle Bodysuit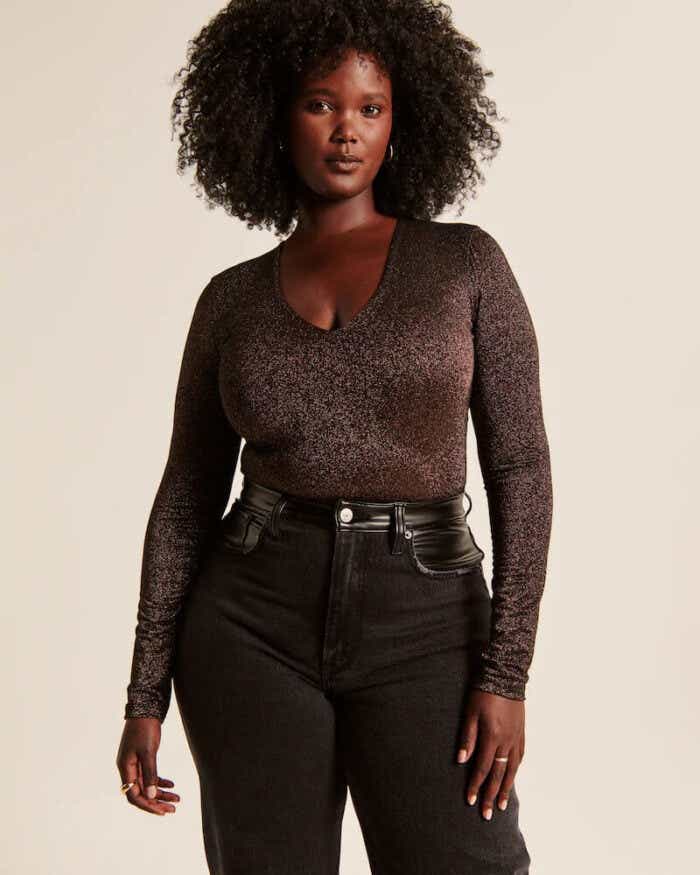 A little shimmer never hurt anyone. This v-neck number shows off your décolletage without being too revealing, and because it's a bodysuit, you won't have to deal with any lumpy fabric bunching up in your pants.
$34 at Abercrombie
Free People Gold Rush Long Sleeve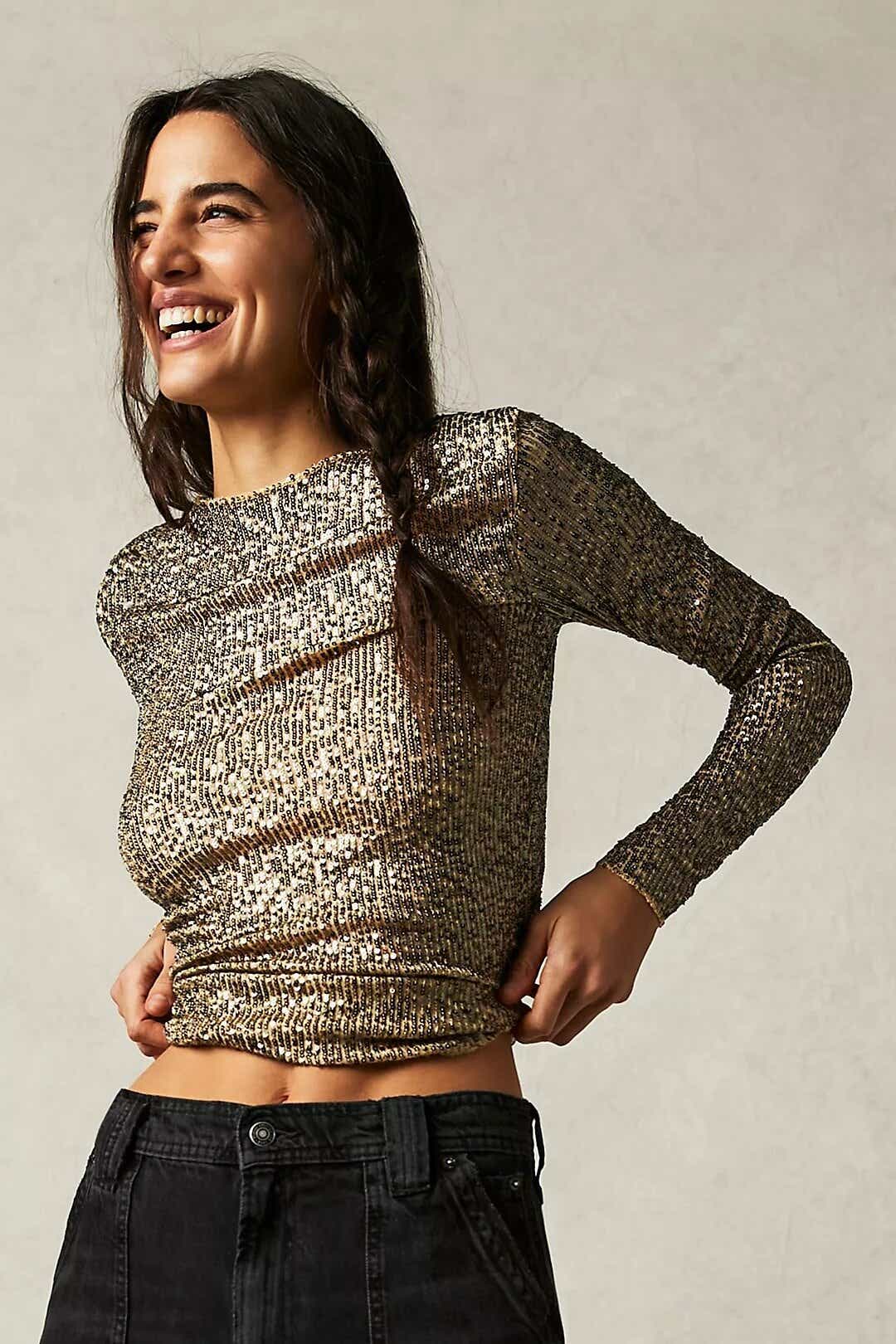 The crystal ball will be the second brightest thing in the room if you choose to wear this on New Year's Eve. While sequins can be itchy, reviewers mention that they were surprised to find this one comfortable and scratch-free, which is what you want when you'll be wearing a shirt past midnight.
$78 at Free People
Lulus Absolutely Amazed Navy Blue Velvet Flutter Sleeve Maxi Dress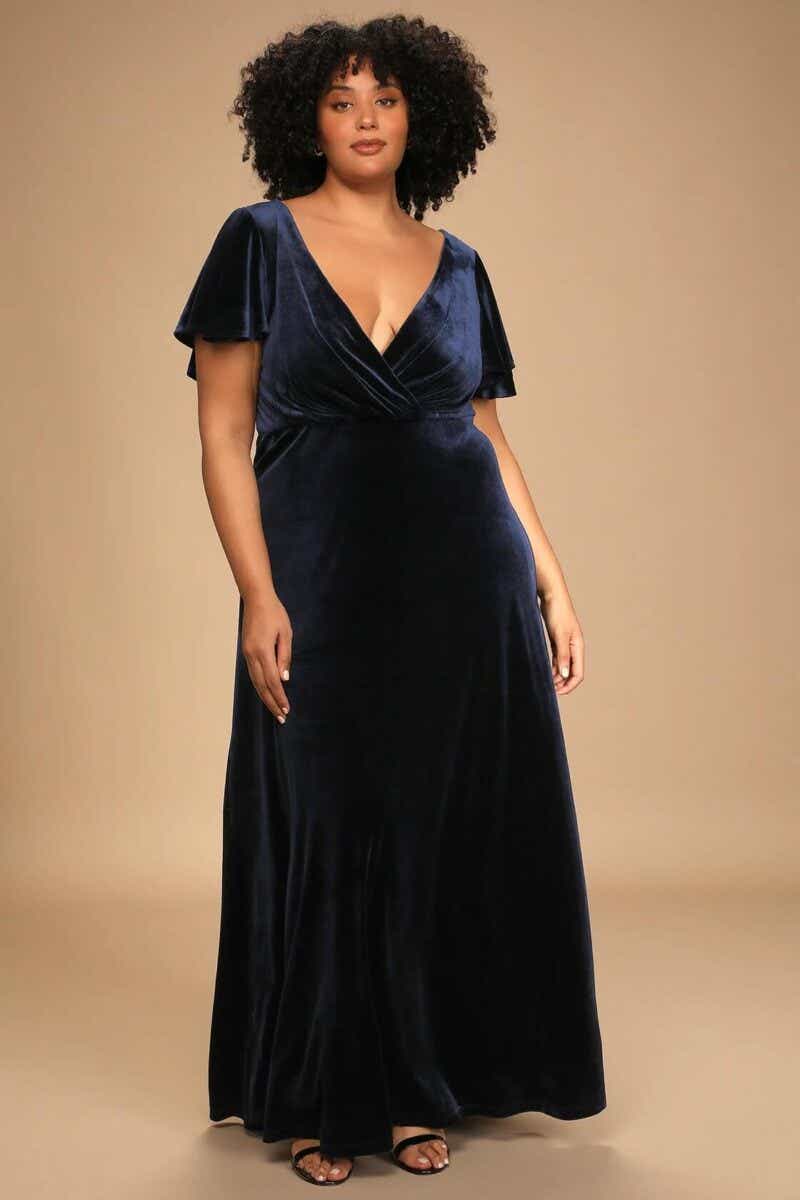 If you're heading out to a formal holiday dinner, you'll feel fabulous in this velvet gown. It's stretchy and soft, so you'll be comfy all night long (as long as you also wear some cushy shoes).
$79 at Lulus
Lifestride Lucky Platform Sandal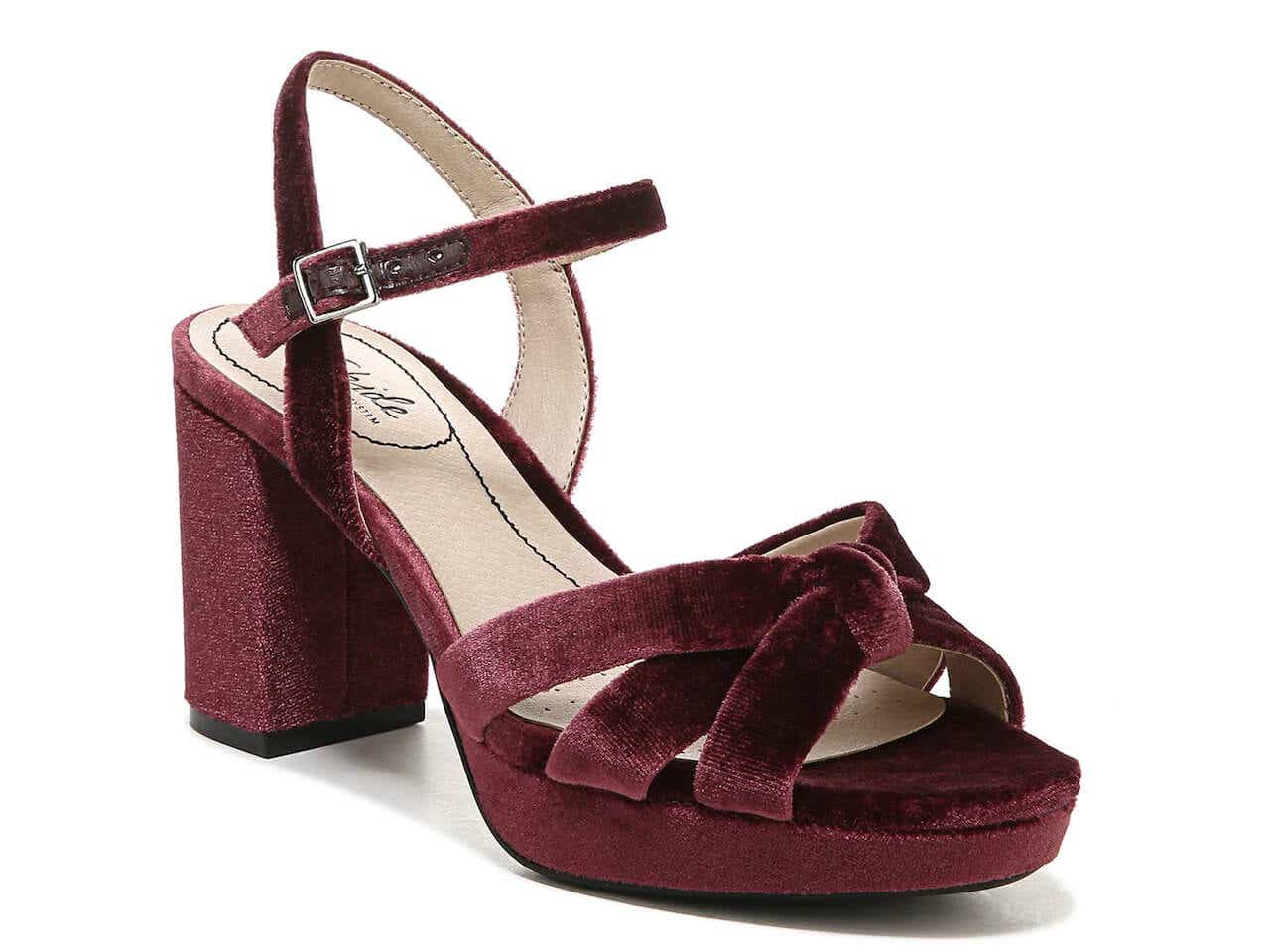 Long live the platform heel! If your feet ache seconds after strapping on stilettos, opting for a shoe that has a chunky heel and small platform will literally ease your pain. This pair even has a cushioned footbed for extra comfort.
$80 at DSW
Abercrombie Elevated Plisse Pants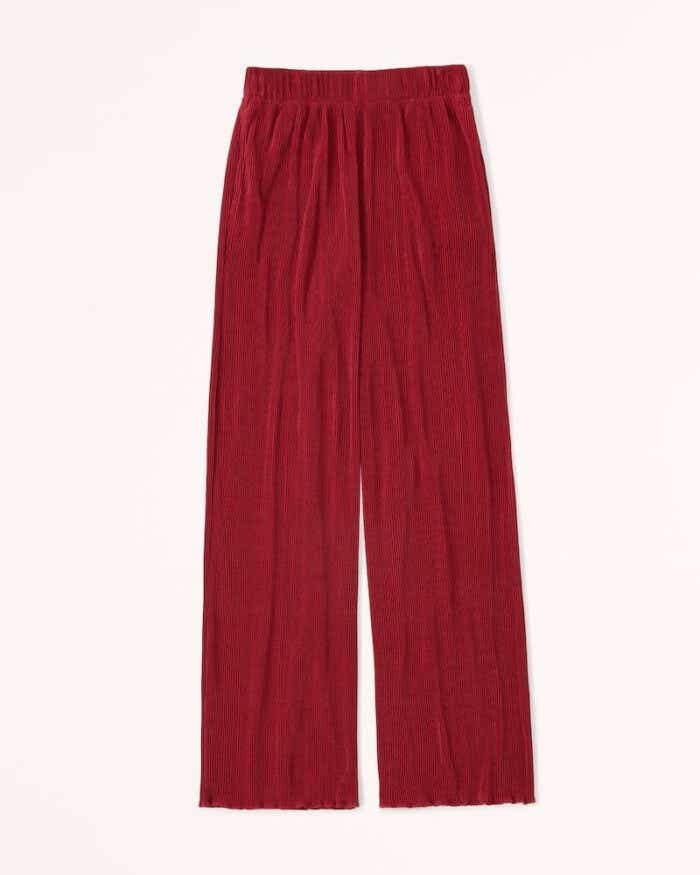 We'll never get enough of micropleats, especially when it comes in the form of stretchy pants. These satin-like trousers have a high waist and hidden pockets, but they feel like your favorite pajama bottoms.
$64 at Abercrombie
Awe Inspired Pearl Flower Studs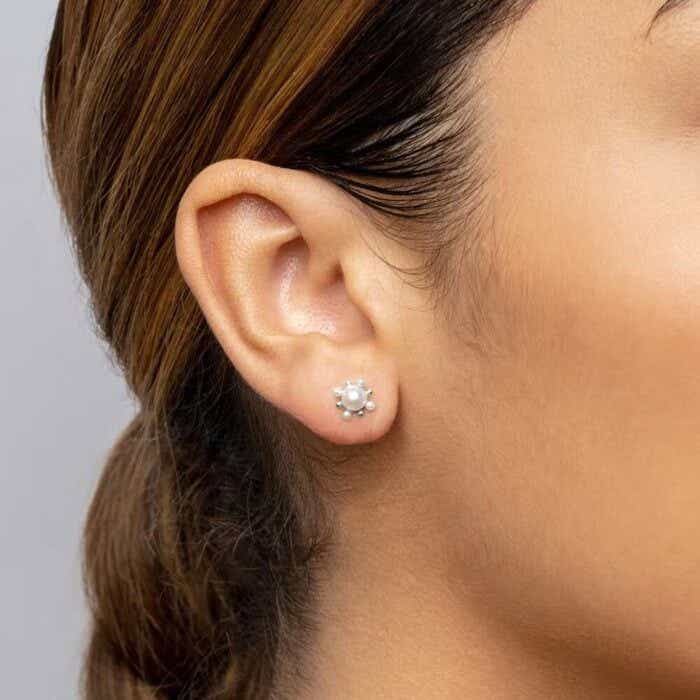 These are technically stars, but they look like tiny snowflakes to us. Keep these on all winter long as an accessory that's winter-y but not quite as on-the-nose as an actual snowflake.
$100 at Awe Inspired
Black Sequin Joggers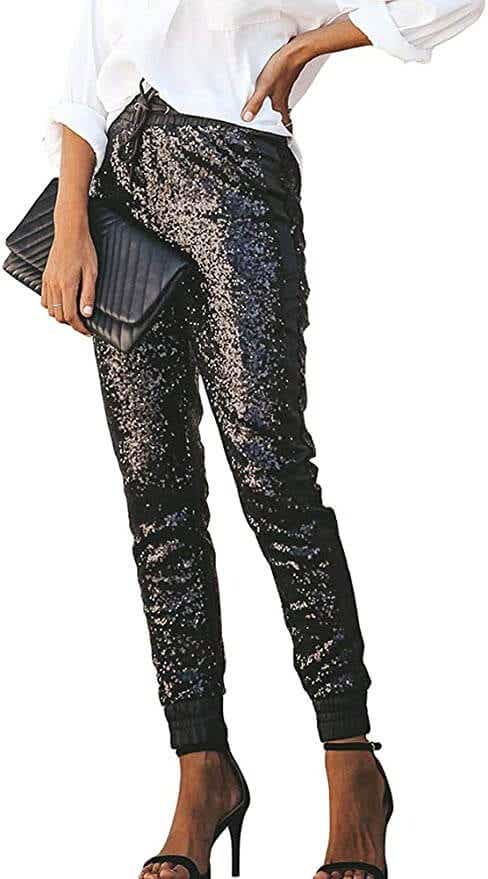 Consider these your fancy (sweat)pants. Made with a silky soft lining, these sequin-adorned joggers won't have you scratching or itching your legs all night.
$42 at Amazon
Everlane ReNew Teddy Sweatshirt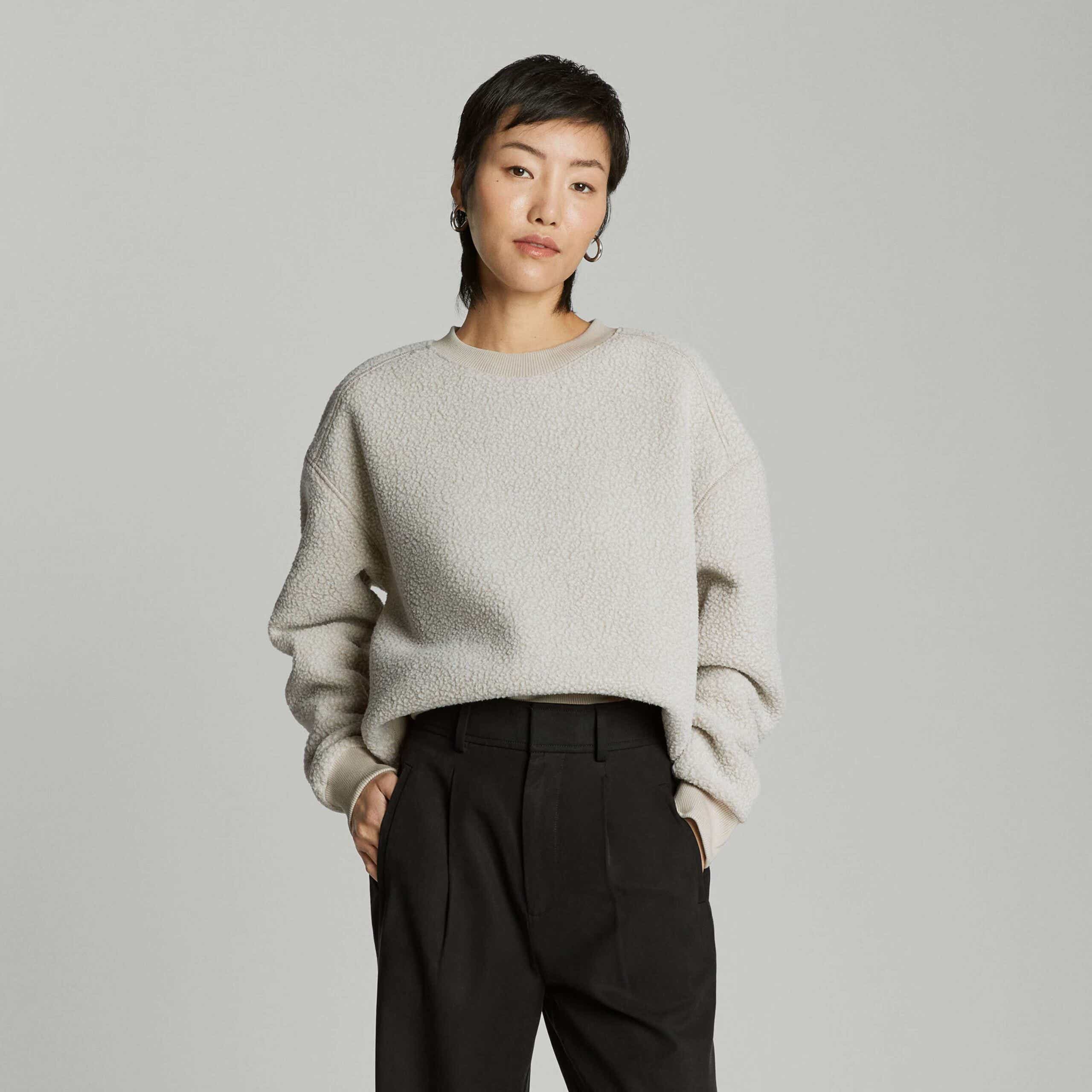 Sometimes a pajama party is the best kind of holiday party. This cozy sherpa sweatshirt can be worn all throughout the season, and you can dress it up with trousers like the model is wearing, or you can toss on some sweats to lean into the cozy look.
$59 at Everlane