Denim jackets are anything but basic — and these picks prove it.
Denim jackets are a staple in American fashion (they're only slightly less iconic than their blue jeans counterpart). And these transitional toppers are a particularly useful addition to your light jacket collection. When the temps start to dip just enough to require an extra layer, reaching for a denim jacket is almost automatic. That's because they're neutral enough to pair with any colors you might already be wearing, plus they're thick enough to keep chills at bay.
And every year, designers make denim jackets that fit with the season's trends, so there's always a new style to consider. Maybe you already have your favorite go-to jean jacket, but you want to add another to the mix. Or perhaps you never felt like denim jackets were a match for your fashion aesthetic. We're here to let you know that no matter your taste or style, there's an option out there that will work for you.
From trusted American denim brands like Gap, Levi's, and J.Crew to trendy brands L'agence and Free People, there are so many jean jacket options, colors, and styles available to fit a diverse array of palates.
Below, we compiled a list of our 13 favorite denim jackets, from oversized and embellished to cropped, colored, and distressed.
The Best Jean Jackets for Spring and Summer
Alex Mill Shrunken Jacket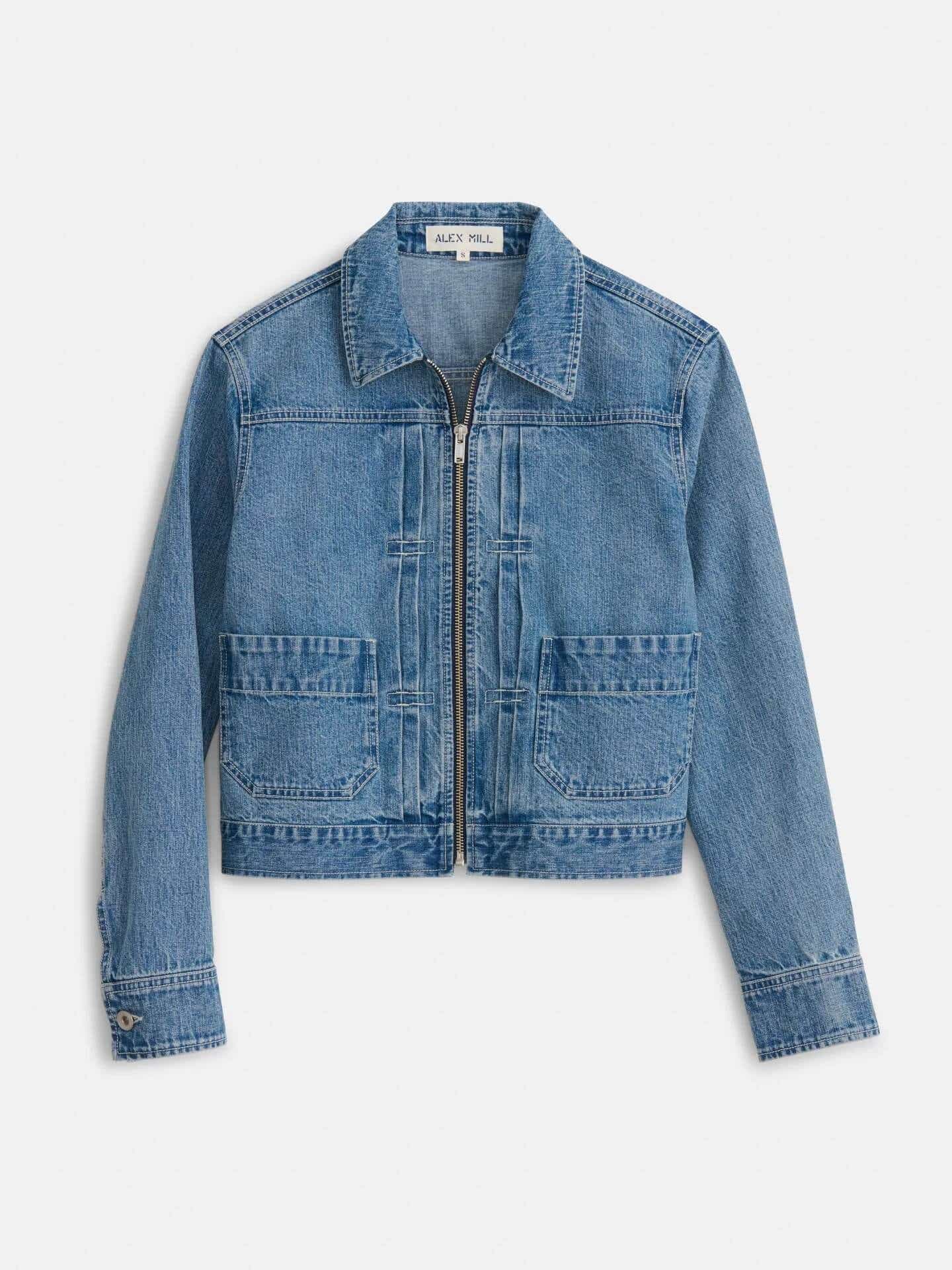 Consider this the moto jacket of denim jackets. With a zip front and pleated details down the front, this looks nothing like the classic denim you know and love — but that's why it's so perfect. The shortened silhouette lengthens the look of your legs, and you can easily wear this sophisticated cut with just about any kind of pant. Plus, it also comes in mustard and black if those colors better fit your style.
buy here: $185
Everlane Modern Jean Jacket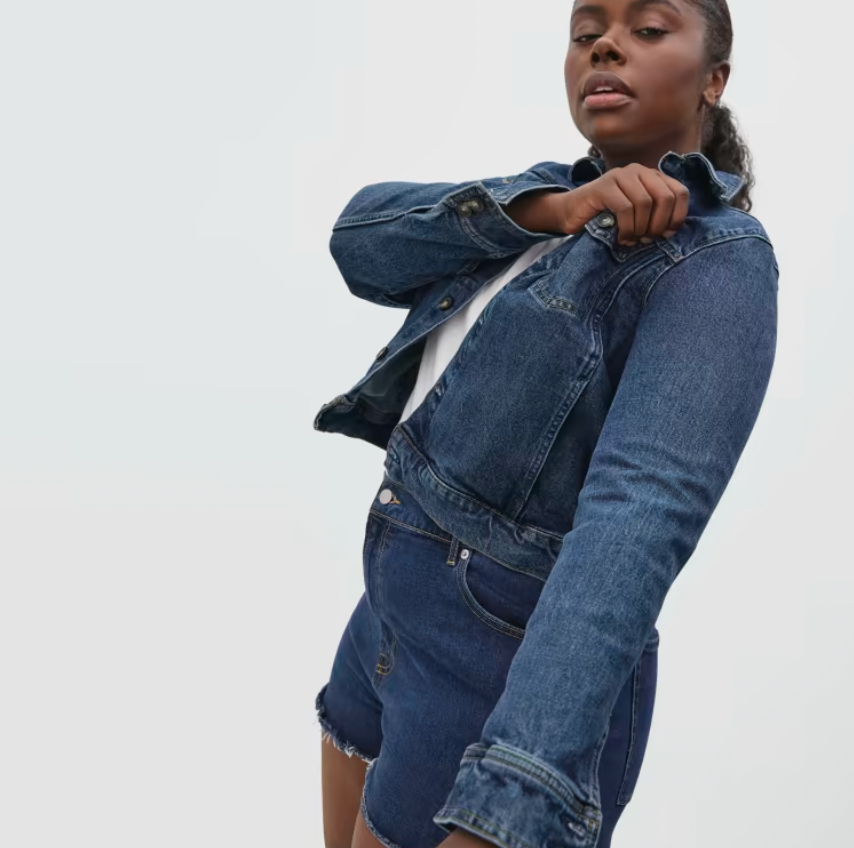 With a few tweaks, Everlane has modernized the classic denim jacket without making it feel gaudy or overdone. The jacket still has pockets on the chest, but they moved the side pockets into the side hem of the garment, rather than toward the front placket. The buttons are a tortoiseshell pattern, rather than the classic metal ones. Plus, it's made with organic cotton and Roica V550 yarn (the first stretch yarn worldwide that isn't made with harmful chemicals).
buy here: $88
Levi's Original Trucker Jacket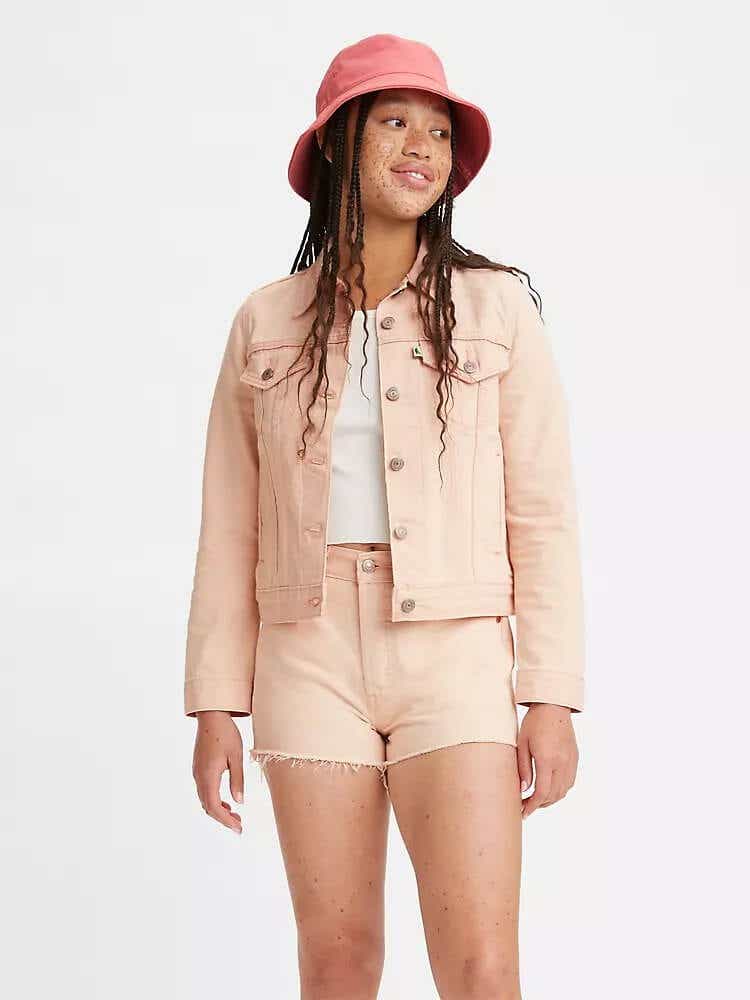 Who says denim jackets have to be blue? This pink number is a fresh take on the classic trucker jacket. The light pink adds a pop of color to a plain outfit but it isn't overwhelming. It looks great with blue jeans, especially because it doesn't require rocking a Canadian Tuxedo.
buy here: $75
Madewell Oversized Trucker Jean Jacket in Washed Black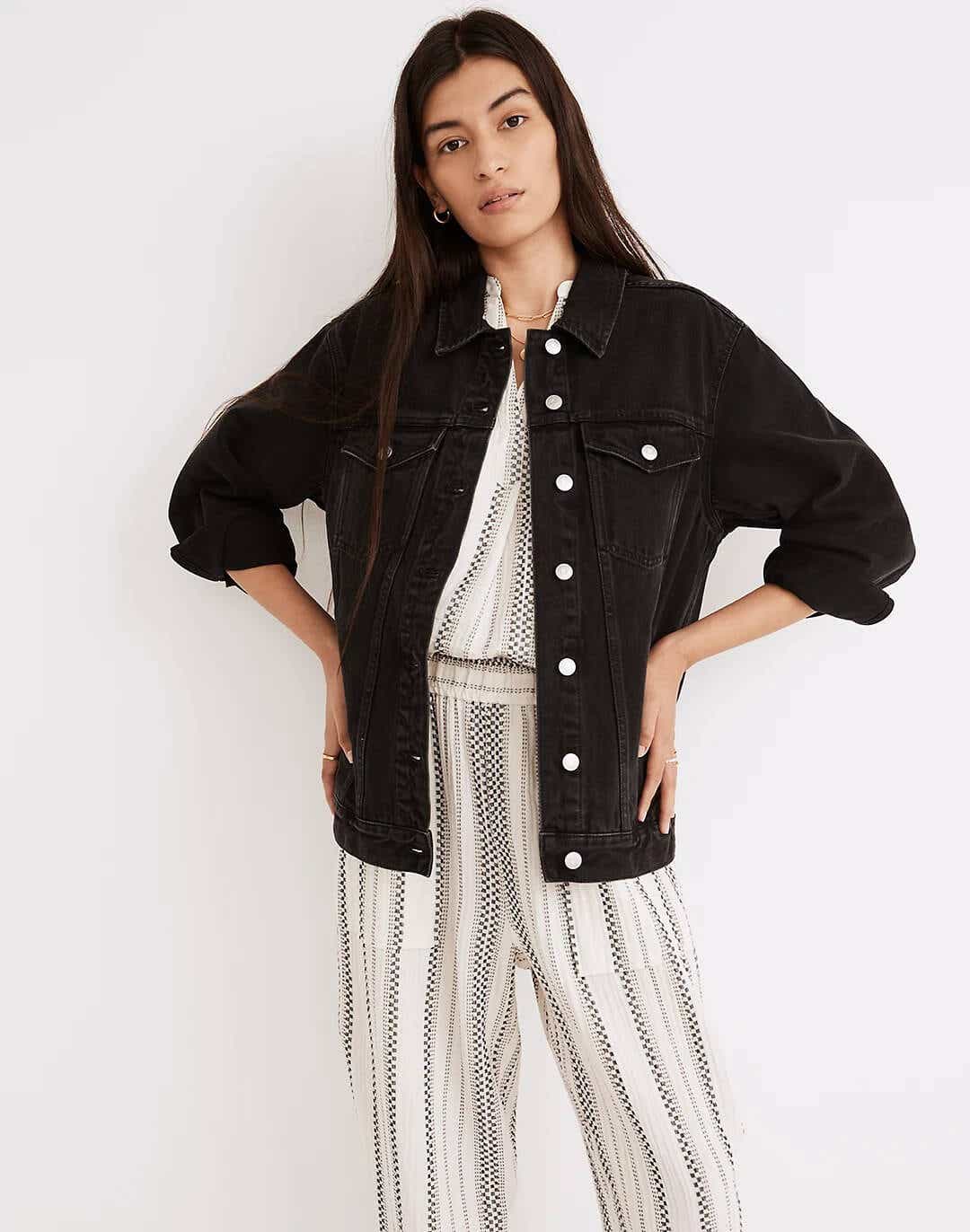 You can never go wrong with a black jacket. With a slightly oversized fit and contrasting buttons, this Madewell jean jacket will likely become a staple in your wardrobe. The color is slightly faded, only adding to the cool factor of this piece.
buy here: $138
Pistola Hayden Raglan Denim Jacket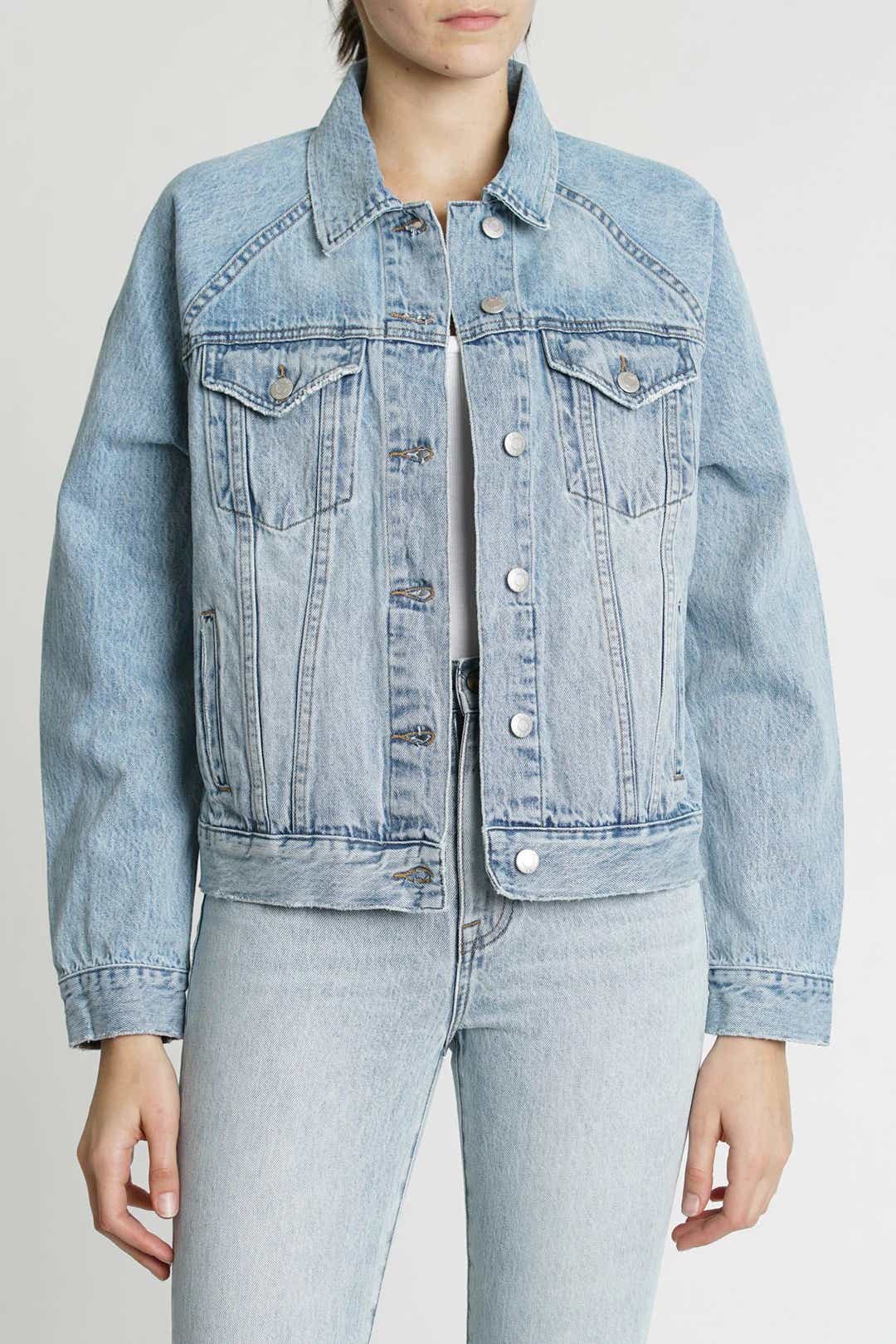 A true classic denim jacket hits right at the hips, just like this one. The rest of the jacket is also cut spectacularly, with raglan sleeves (which cut diagonally from the neck instead of sitting flush on your shoulder). A light wash looks great with just about everything in your closet, but especially black jeans and a white tee.
buy here: $178
ABLE Merly Jacket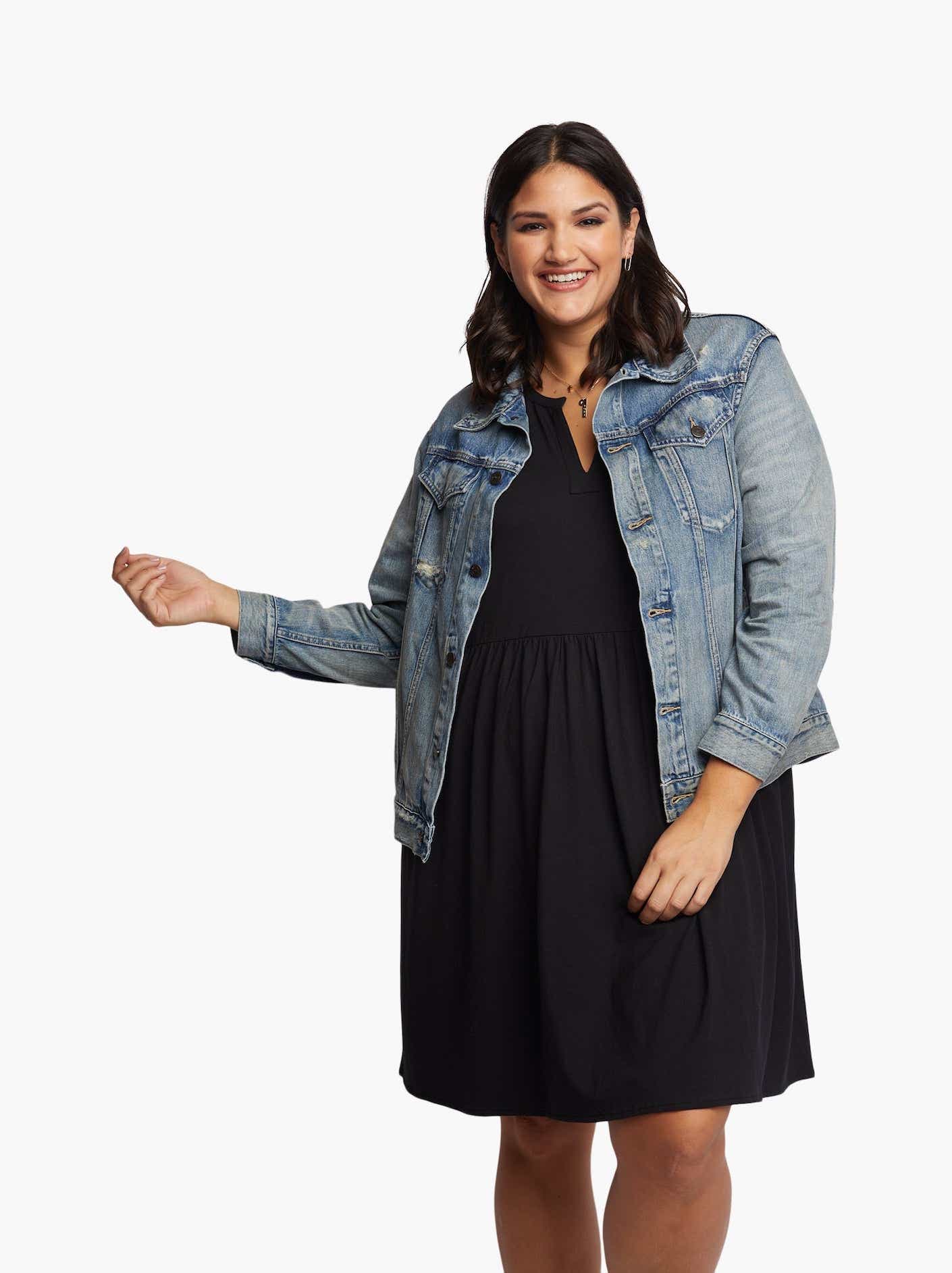 A little distressing can go a long way. While this jacket comes in three different washes, but we're partial to the original wash, which includes a little bit of ripped detail on the pocket and sleeves. If you aren't into the ripped jeans look, don't worry — the other two colors are hole-free.
buy here: $150
L'AGENCE Janelle Slim-Fit Denim Jacket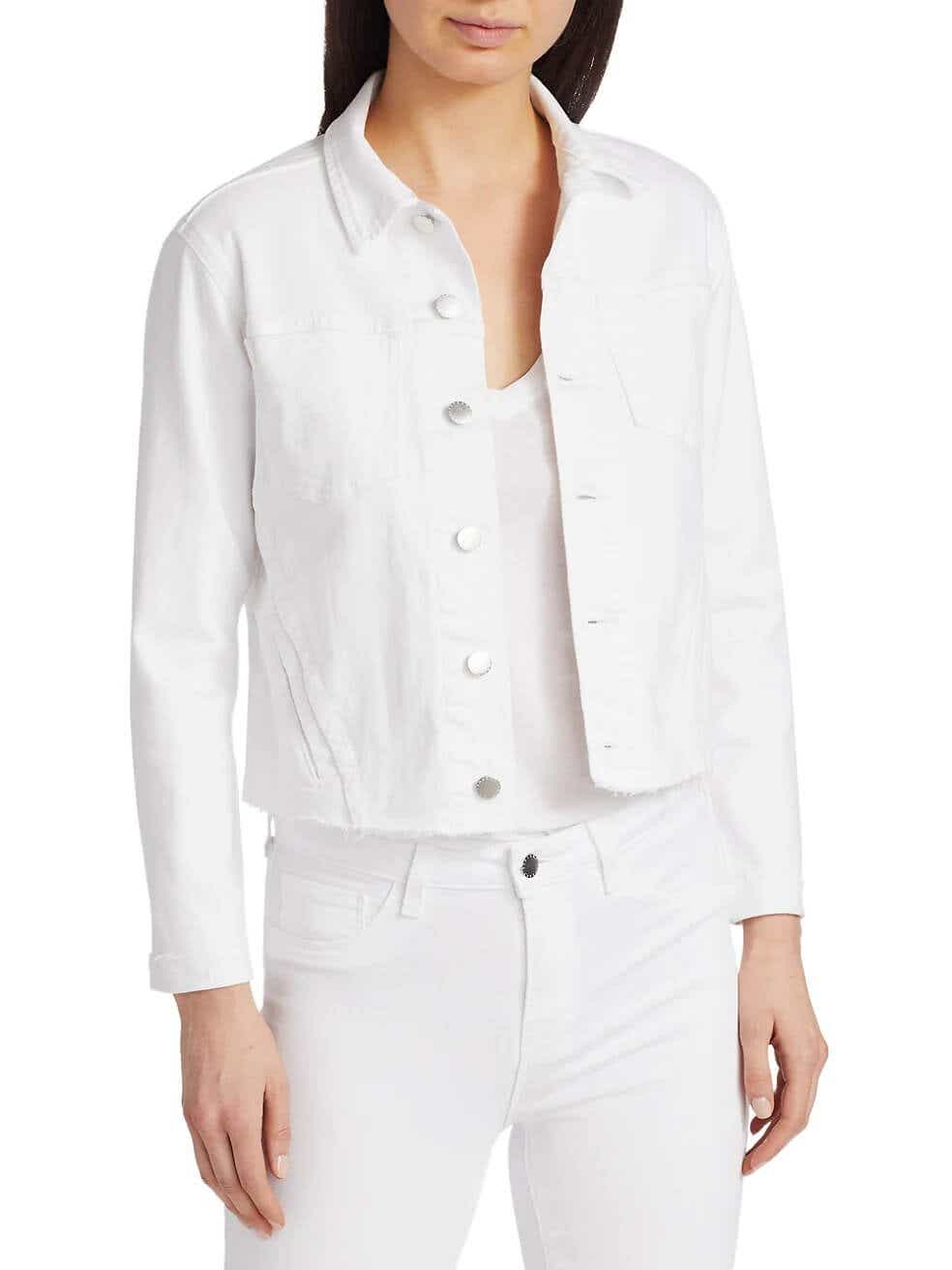 If you want to invest in a jacket that you'll wear for years to come, this is the one to buy. It's from one of Katie's favorite brands, L'Agence, and is made from high-quality denim that has a little bit of stretch. The front seams wrap toward the front, highlighting your waist. There is some slight distressing on the bottom, which adds edge to the somewhat feminine cut of this jacket.
buy here: $335
Casual Hooded Denim Jacket by Made by Olivia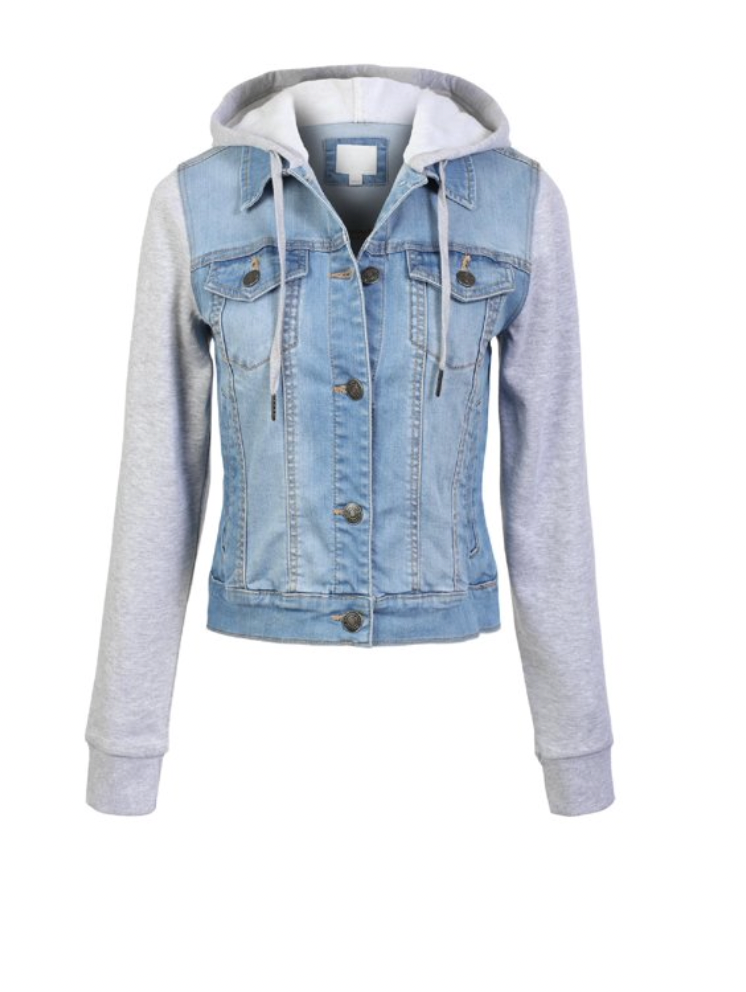 Save room in your closet with this two-in-one denim jacket-sweatshirt combo. For less than $40, you'll get the casual, comfy feeling of wearing a sweatshirt, but the added cool factor of wearing a denim jacket — all in one convenient piece.
Buy Here: $35
Oversized Denim Jacket with Embroidered Pearls by Kedera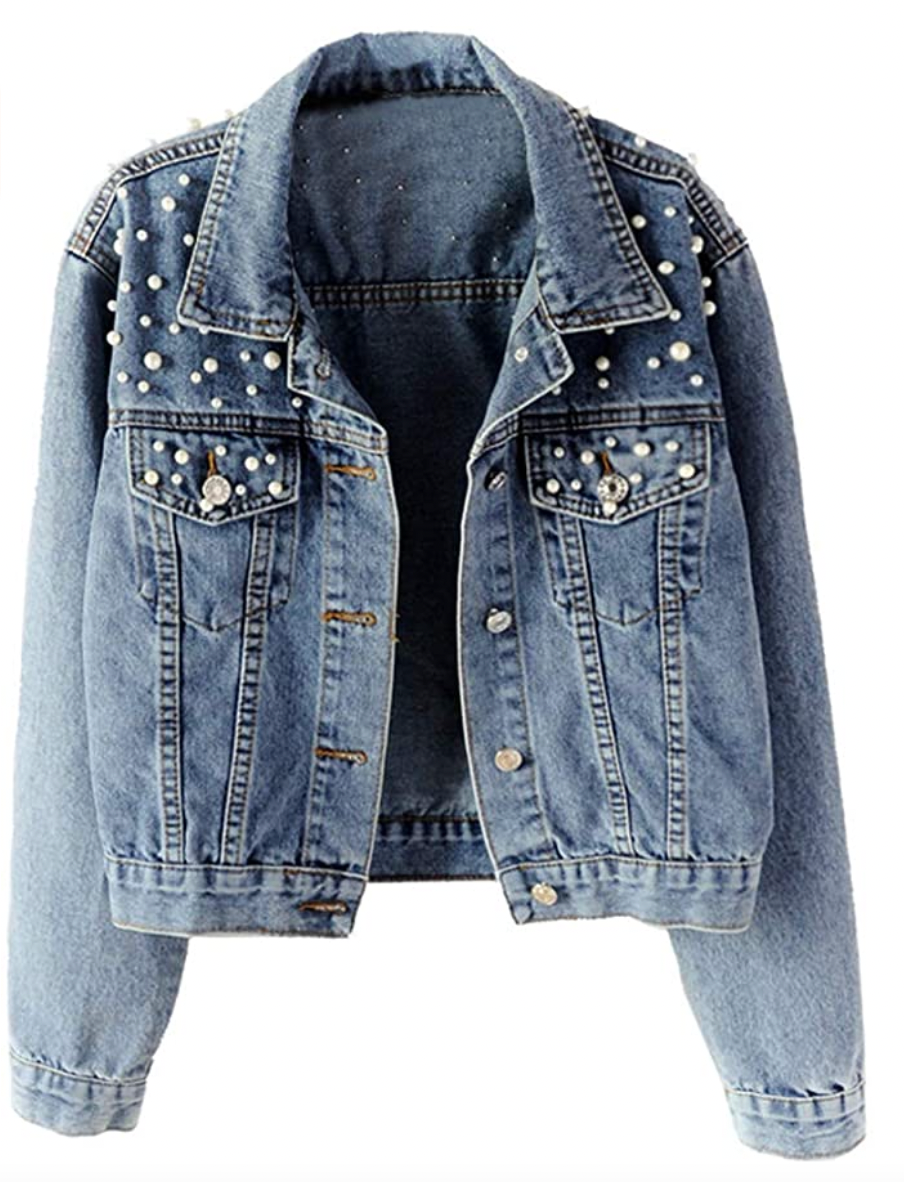 Add some glitz to your denim topper with this option from Amazon that features sewn on pearls around the shoulders, neckline, and two front pockets.
Buy Here: $40
Rumors Denim Jacket by Free People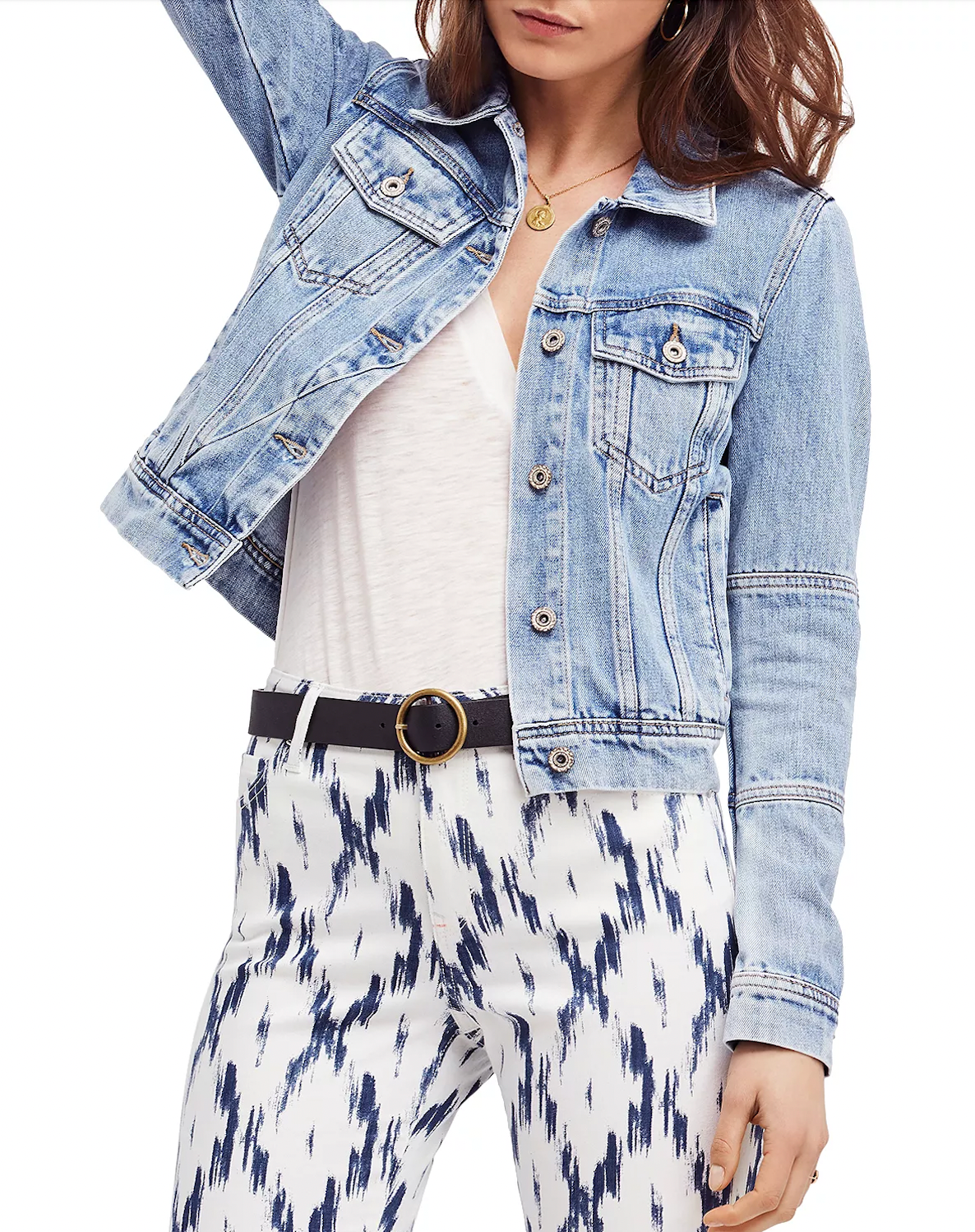 Free People's denim jackets are constantly selling out. That's because they fit amazing, have flattering lines, and are made with 100 percent cotton (so they're super soft and don't feel rigid). Trust us — you'll constantly be reaching for this one.
Buy Here: $98
Elongated Denim Jacket by Chico's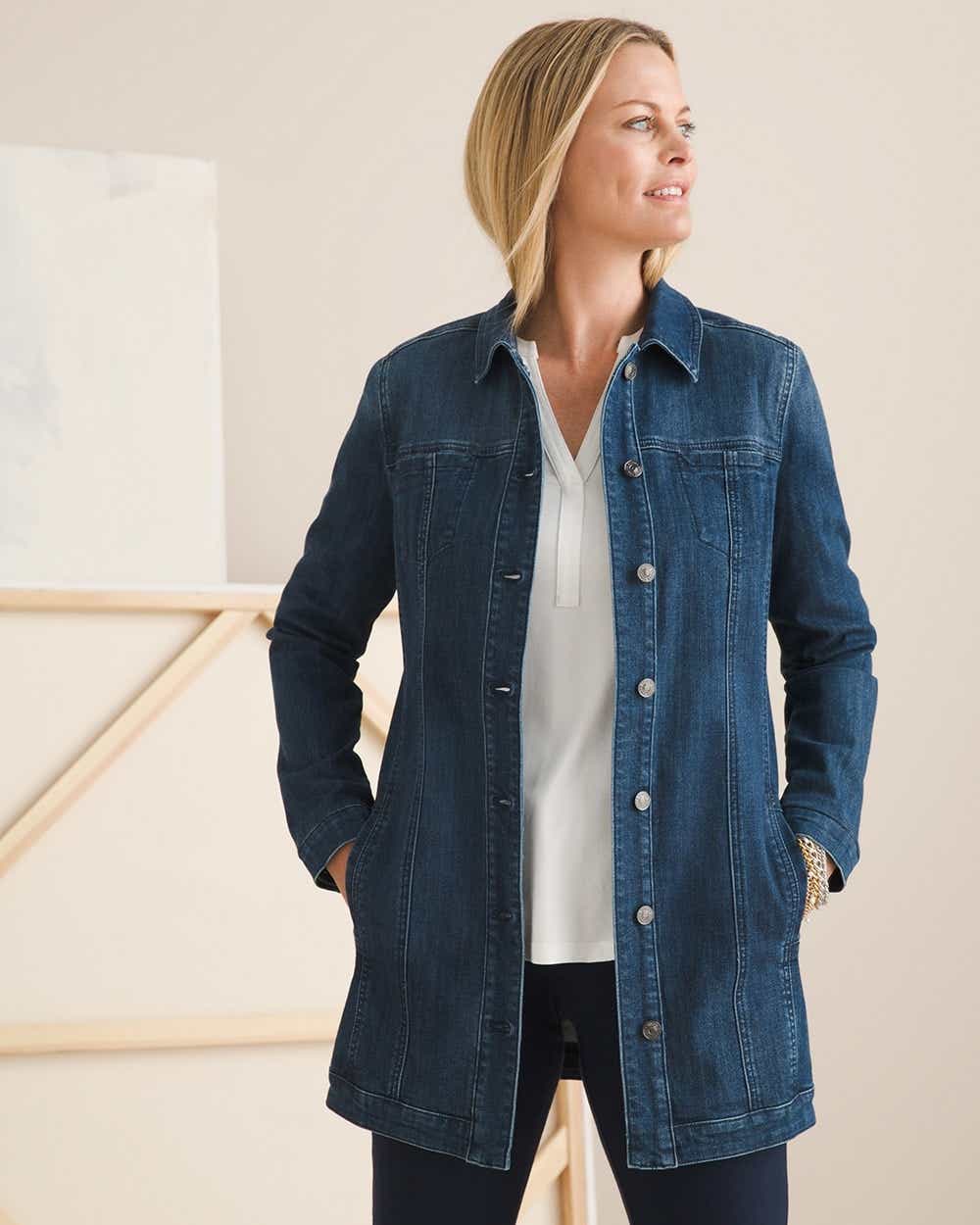 Chico's elongating denim topper works just as well for a quick trip to the store as it does for an office outfit. Wear it with skinny black pants and your favorite silk blouse for a professional (yet easygoing) look.
Buy Here: $50
The Long Merly Jacket by Able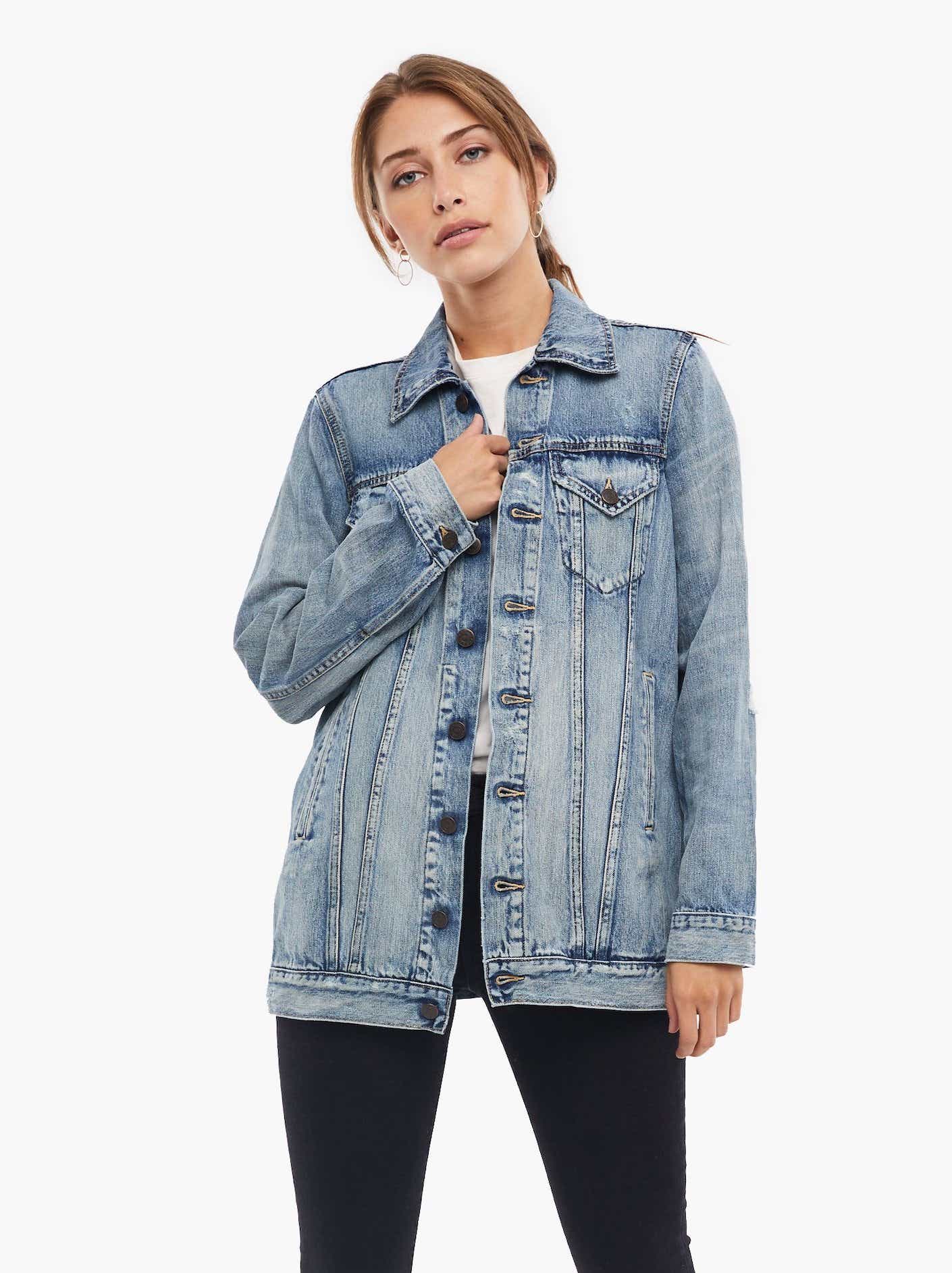 Can't decide between long or short, dark or light? You've met your match. This jean jacket is a little longer than is traditional for this style, but not so long it's making a major statement (unless you want it to!). The light wash isn't too light that it can only be worn in the spring. And the relaxed, comfy shape will have you forgetting to take it off when you get home. Plus, Able is a forward-thinking company you'll want to invest in: It's an ethical fashion brand that employs and empowers women as a solution to end poverty.
buy here: $180