Shackets, or shirt jackets, are all the rage this season. Let us explain.
You read that right — shackets, or "shirt jackets," have stuck around for yet another year. You're probably seeing them everywhere, even if you just learned their official name. The comfy, casual combo layering piece that sometimes goes by the more sophisticated name of "sweater coat" (…in which case, maybe it's a swacket?) has become the go-to transitional piece for women and men of all ages.
The great thing about the shacket is that, as its name suggests, you can wear it either as a shirt or as a jacket. On a cool morning when you aren't sure if you'll be outside in a few hours when the temperature might be significantly warmer, throw it over a cute tee shirt and take it off if you get warm. In the winter, you can wear it under a more substantial winter coat and still get the warmth of a chunky sweater. Most shacket wearers prefer to size up so that they look effortlessly oversized — this is really a testament to the return of '90s fashion we've been seeing so much of lately.
The classic and arguably most popular shacket style is plaid with buttons and looks a bit like a very thick, heavy button-down collared shirt. But as the popularity of this new wardrobe essential has increased, brands have gotten more and more creative, and you can now find shackets in almost every style, color, and material. We've rounded up our top ten shacket faves in a variety of styles, colors, and price ranges. We've included a couple of more traditional pieces for all of you shacket novices out there, as well as a few patterned shackets if you're feeling bold or are adding to a growing collection. No matter which style you choose, we know you'll find yourself wearing this cozy new wardrobe staple practically every day as the weather cools down.
The Best Shackets to Try This Season
River Island Quilted Button-Up Shacket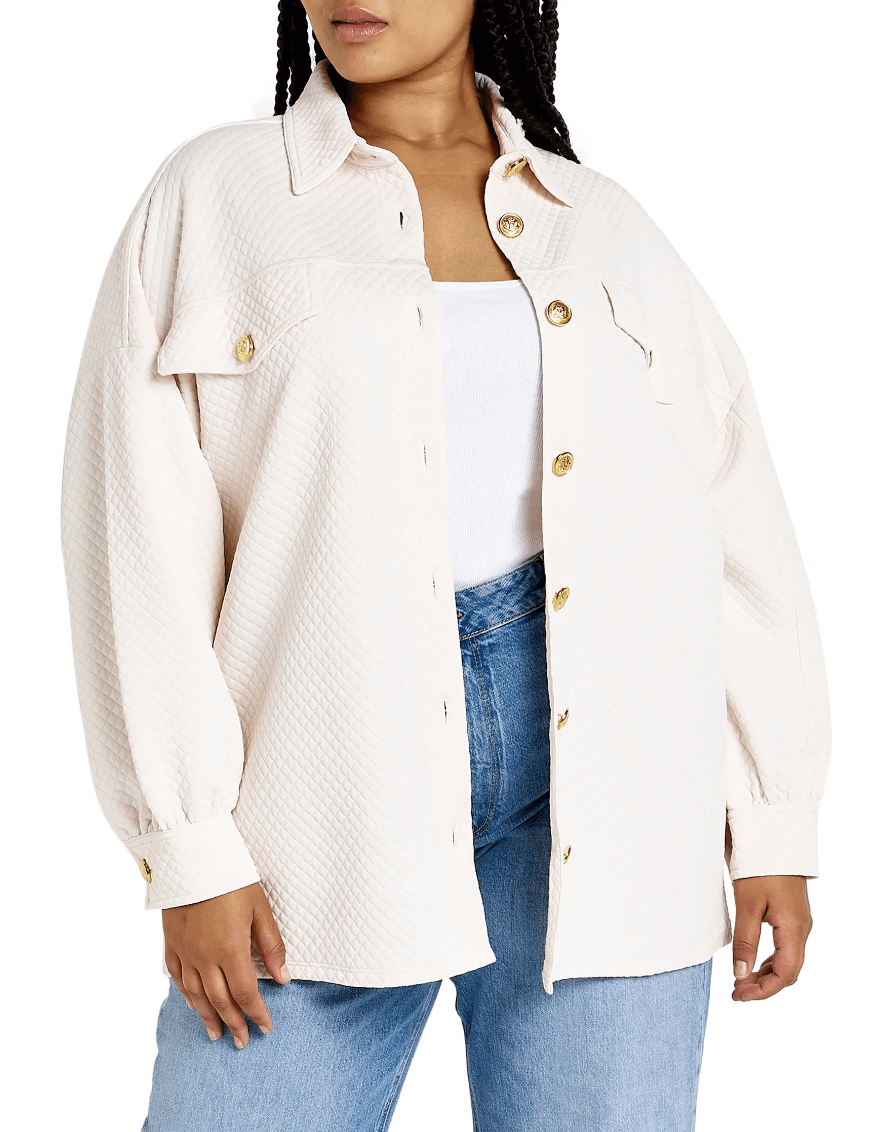 This is what we like to call "the gateway shacket" — it's got all of the essential attributes of what made us fall in love with shackets in the first place. Since it's a bit more of a casual piece, if you're feeling adventurous, pair it with a simple top and high-waisted jeans.
Buy Here: $88
Rains Quilted Liner Shirt Jacket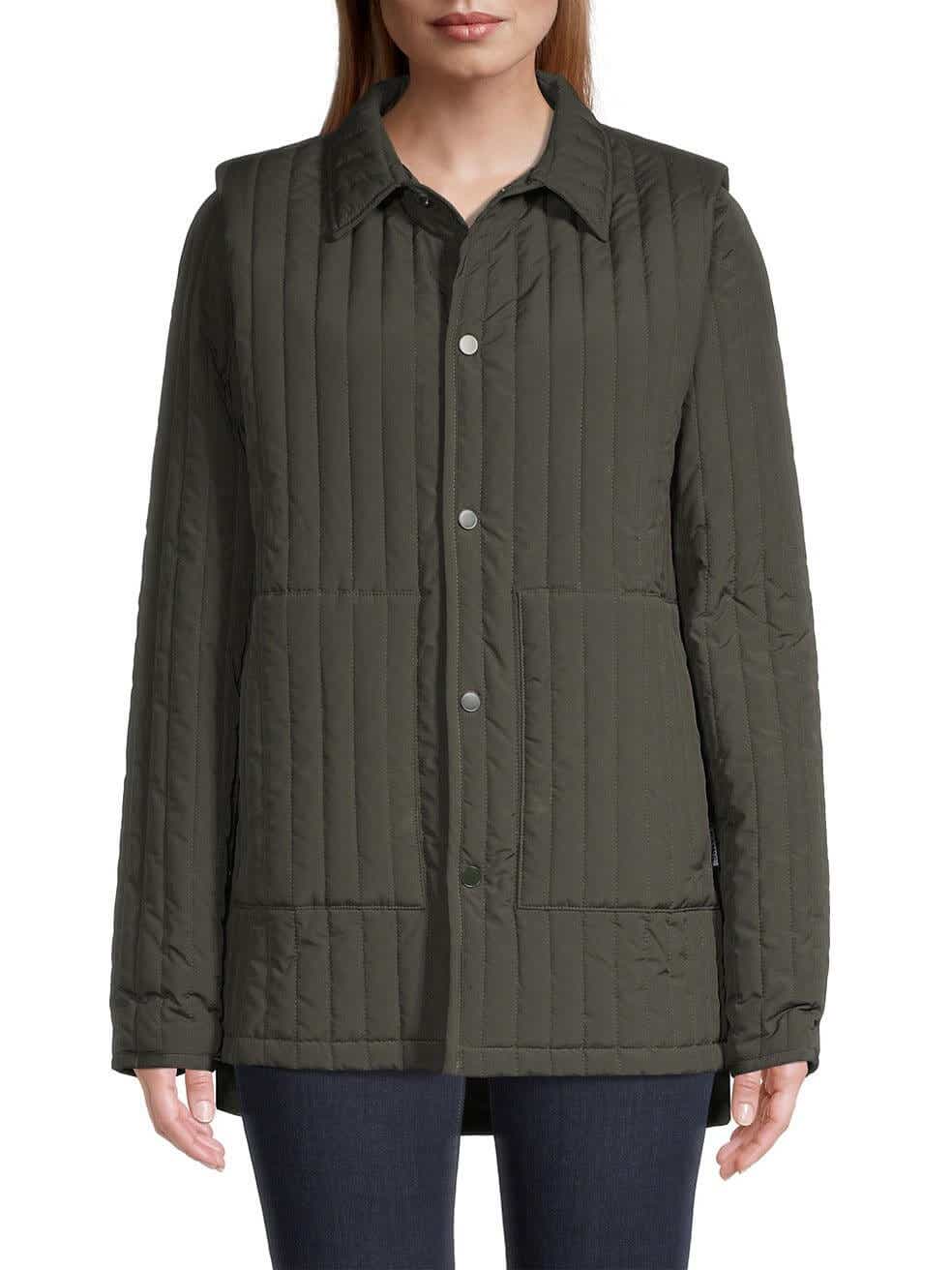 This vertically quilted shacket from Saks is like the more sophisticated older sister of the Nordstrom style. Not only is the rich olive color on this one absolutely gorgeous, but it has a structured shape that feels a bit more formal than your average oversized style.
Buy Here: $63
Lulus Take Notes Ivory Plaid Tweed Shacket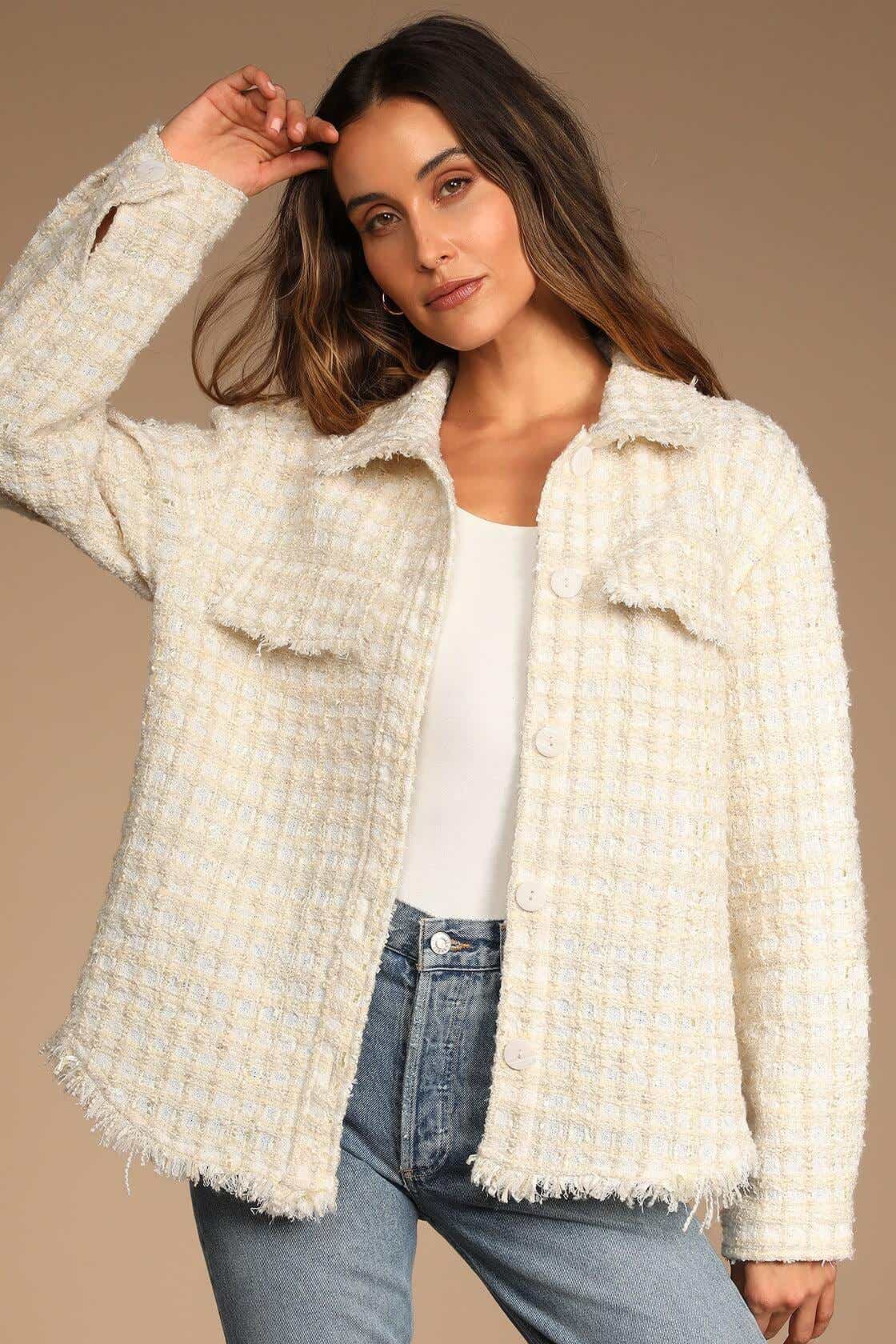 When it comes to this Scandinavian style shacket, the delight is in the details, with its beautiful tweed texture, slightly frayed collar, and roomy flap pockets.
Buy Here: $68
Farm Rio Tapestry Reversible Jacket
If you're not afraid to make a statement, this reversible beauty is for you. Rich reds, blues, and orange hues and florals on the outside of the jacket channel tropical vibes, but the reverse side offers a slightly more paired-back olive, purple, and pink botanical pattern. The price point is higher on this one, but for two jackets, it's not a bad deal!
Buy Here: $315
Everlane Denim Shirt Jacket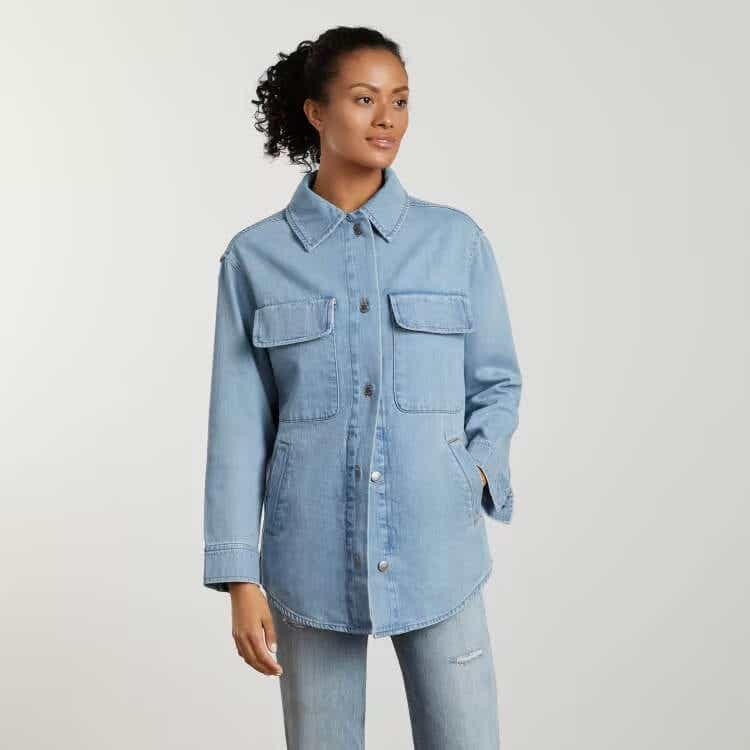 Denim jackets are a staple in Katie's wardrobe, but they can sometimes be too heavy to wear on warmer days. Consider this a lightweight version of your favorite denim jacket that you can wear both over tops or on its own.
Buy Here: $98
Asos Only Belted Shacket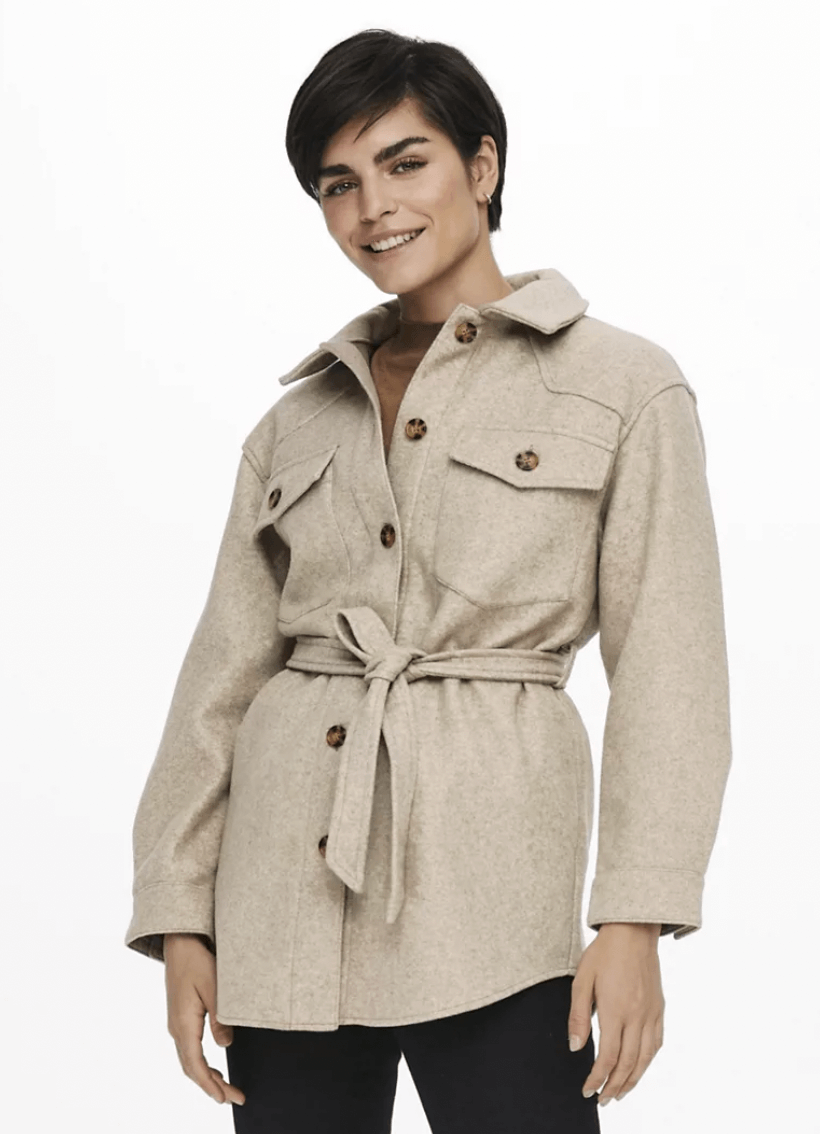 A light-colored shacket will go with just about any outfit, from jeans to trousers. This camel-toned one has a waist belt to keep it from feeling too boxy, but you can take it off if you prefer to wear it open.
Buy Here: $78
Anthropologie Flat White Sweater Coat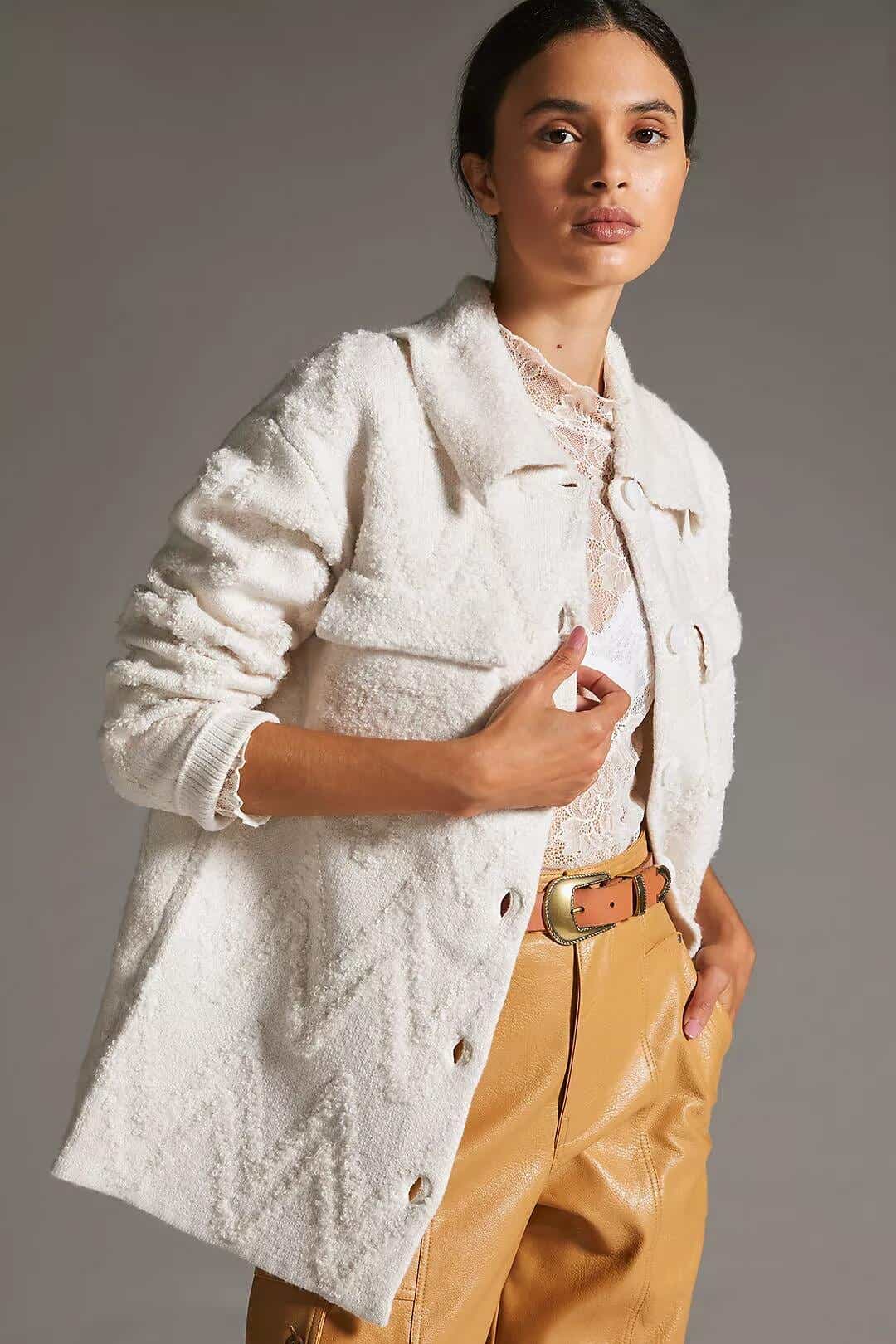 Not big on pattern? Texture can make a big statement with out feeling flashy. Despite being white, the zig-zag texture on this shacket adds dimension. 
Buy Here: $158
Thread & Supply Plaid Polar Fleece Shacket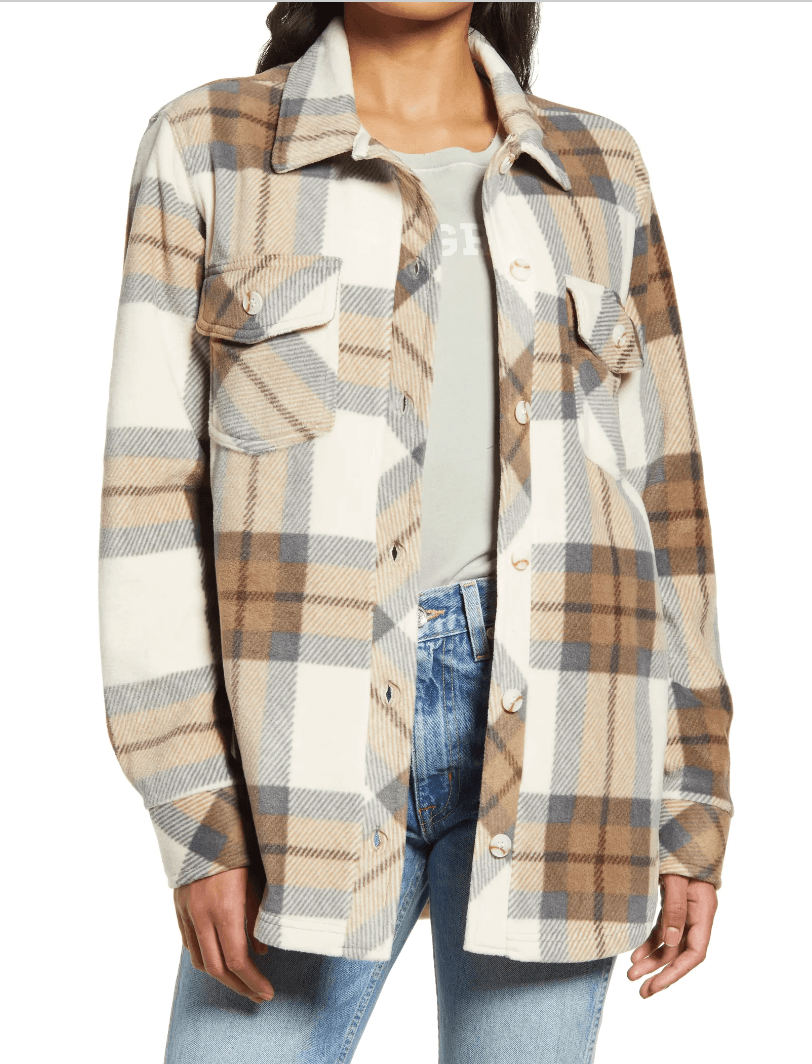 This fleece shacket is the casual outerwear item we all deserve. The mocha color is irresistible, as is the classic thick plaid that graces the entire jacket. As if it couldn't get any better, it also comes in six beautiful patterns and colors if you don't love this one.
Buy Here: $45
J.Crew Stretch Wool Shirt Jacket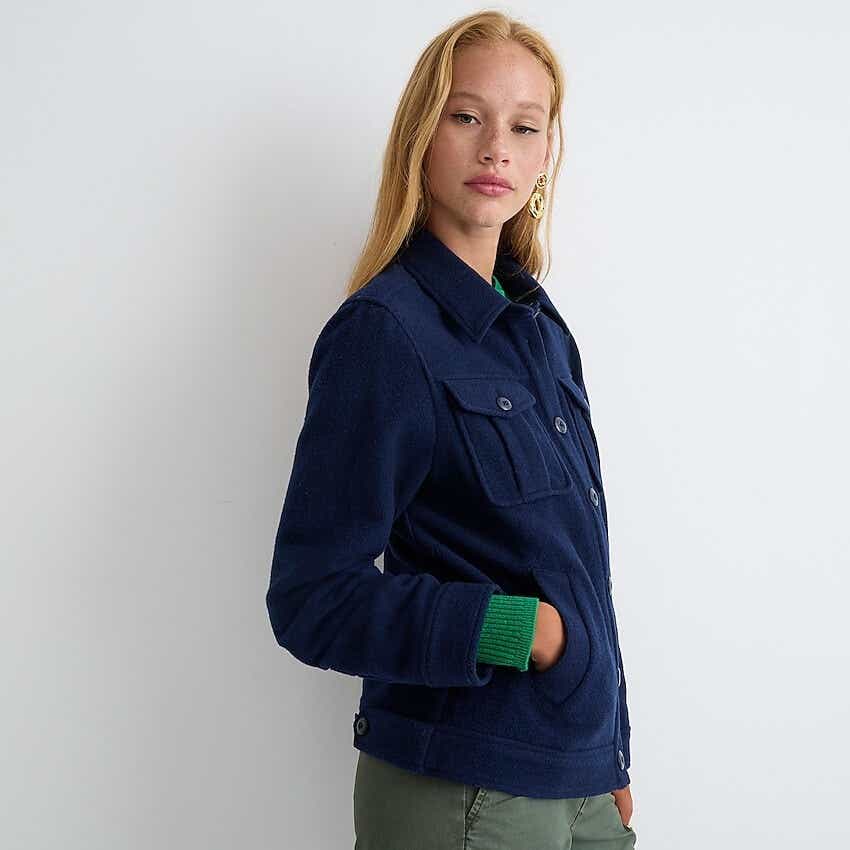 Made from wool that's meant to last a lifetime, this sleek shirt jacket will live in your wardrobe for years to come. The solid color means that it's never fussy to style, and the structured fit will always feel polished.
Buy Here: $268
Madewell Patchwork Quilt Shirt Jacket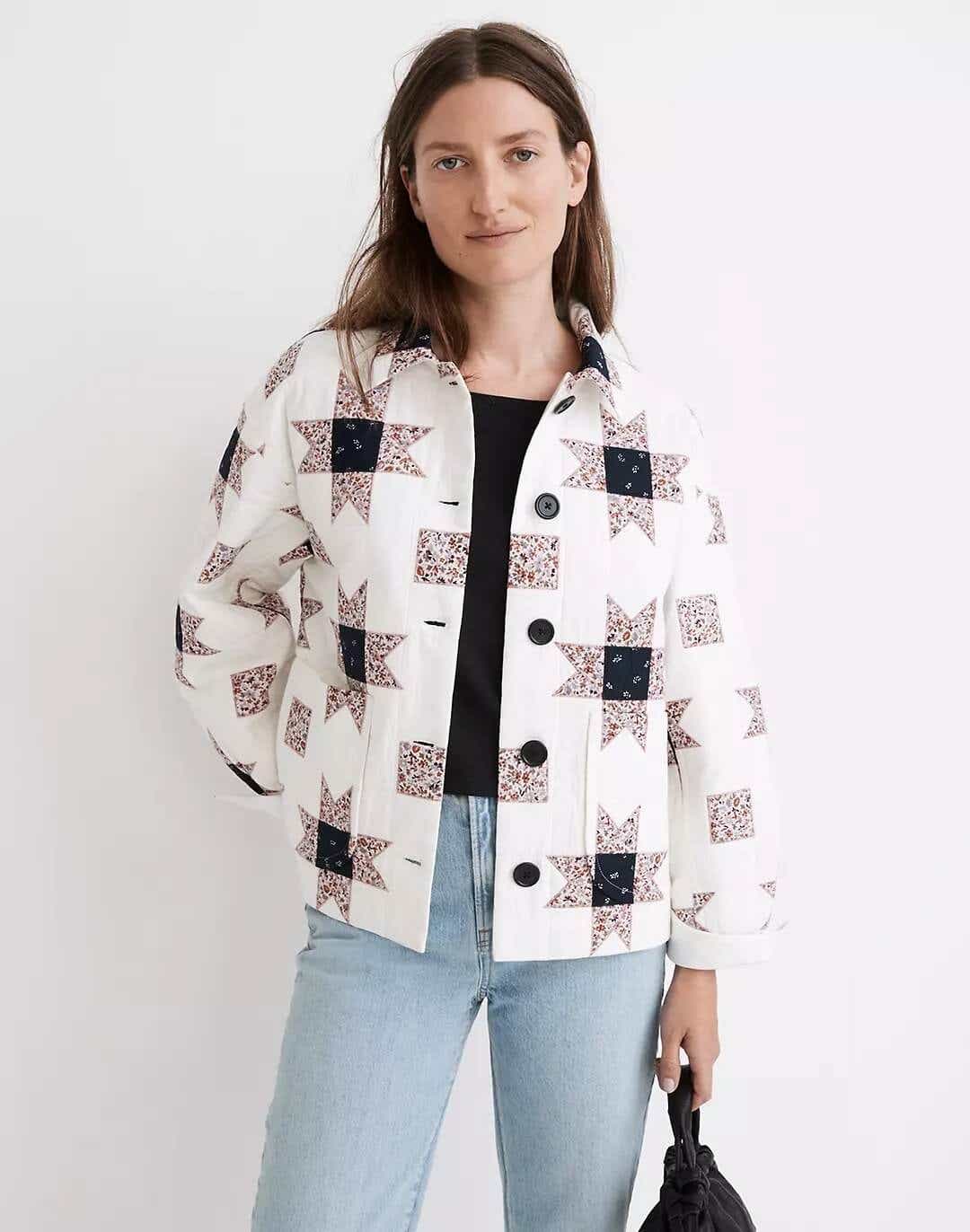 If you're a fan of cottagecore or grandmillennial fashion, then you'll love this quilted number. Delicate appliques grace the entire jacket, adding a bit of color and pattern, but they don't feel overdone or hokey. It's also made with recycled polyester and eco-friendly buttons, so you'll look good while doing good in this one.
Buy Here: $218