Sweet dreams are made of these sheets. 
Is there a nightmare scarier than winding down for the night only to tuck into a bed made up of scratchy sheets? Nothing makes our skin crawl — literally — like the thought of sand-paper sheets. But if you don't do some research before sheet shopping, you could end up tossing and turning on a bed of nails all night. (OK, we're being a bit dramatic, but you get the point.) Sheets should feel like nothing at their worst, and heaven at their best. 
Whether you're searching for hotel-worthy bedding, crisp percale cotton you can slip against, or worn-in linen you don't have to wash a million times before they soften, we found the softest bed sheets on the market. And a good night's rest is possible no matter your budget. We found styles ranging from under-$40 sheets with thousands of positive reviews to silky sets you won't regret investing in. Sleep is a number one priority, so go ahead and indulge in a set that makes you want to get into bed.
The Softest Sheets of 2023
Cozy Earth Bamboo Sheet Set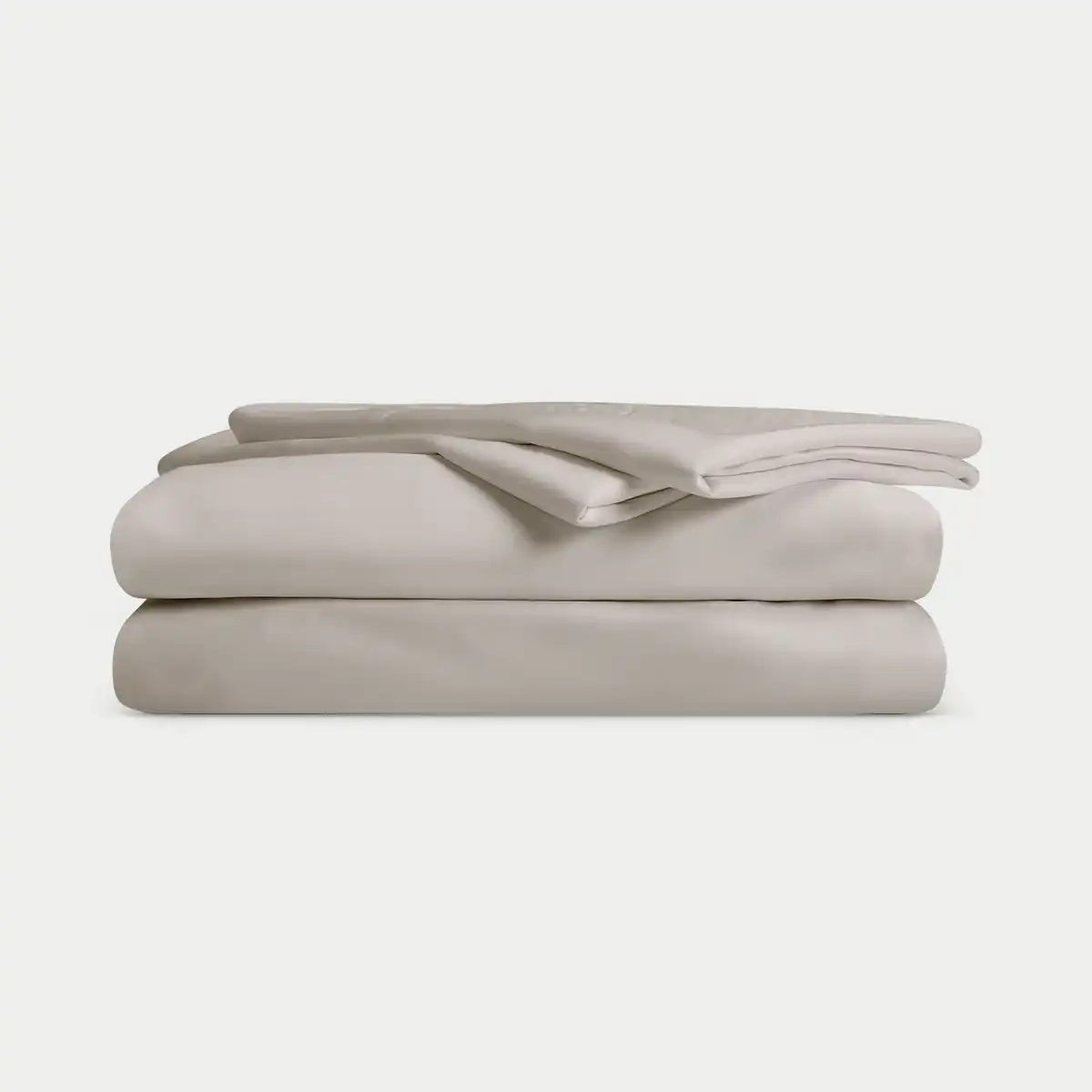 When you think of luxury bed linens, your mind might naturally drift toward something like Egyptian cotton or an option with a high percentage, like 100 percent linen. But technological advances in the fabric game will have you rethinking what can make linens luxurious. Made of 100 percent premium viscose from bamboo, Cozy Earth sheets rival those with even the highest thread count. These are considered by many of the 5,000 raving reviewers to be the softest sheets they've ever laid on. They also aid in temperature regulation so you'll never overheat during an unexpected hot flash again.  
$240+ at Cozy Earth
Parachute Brushed Cotton Sheet Set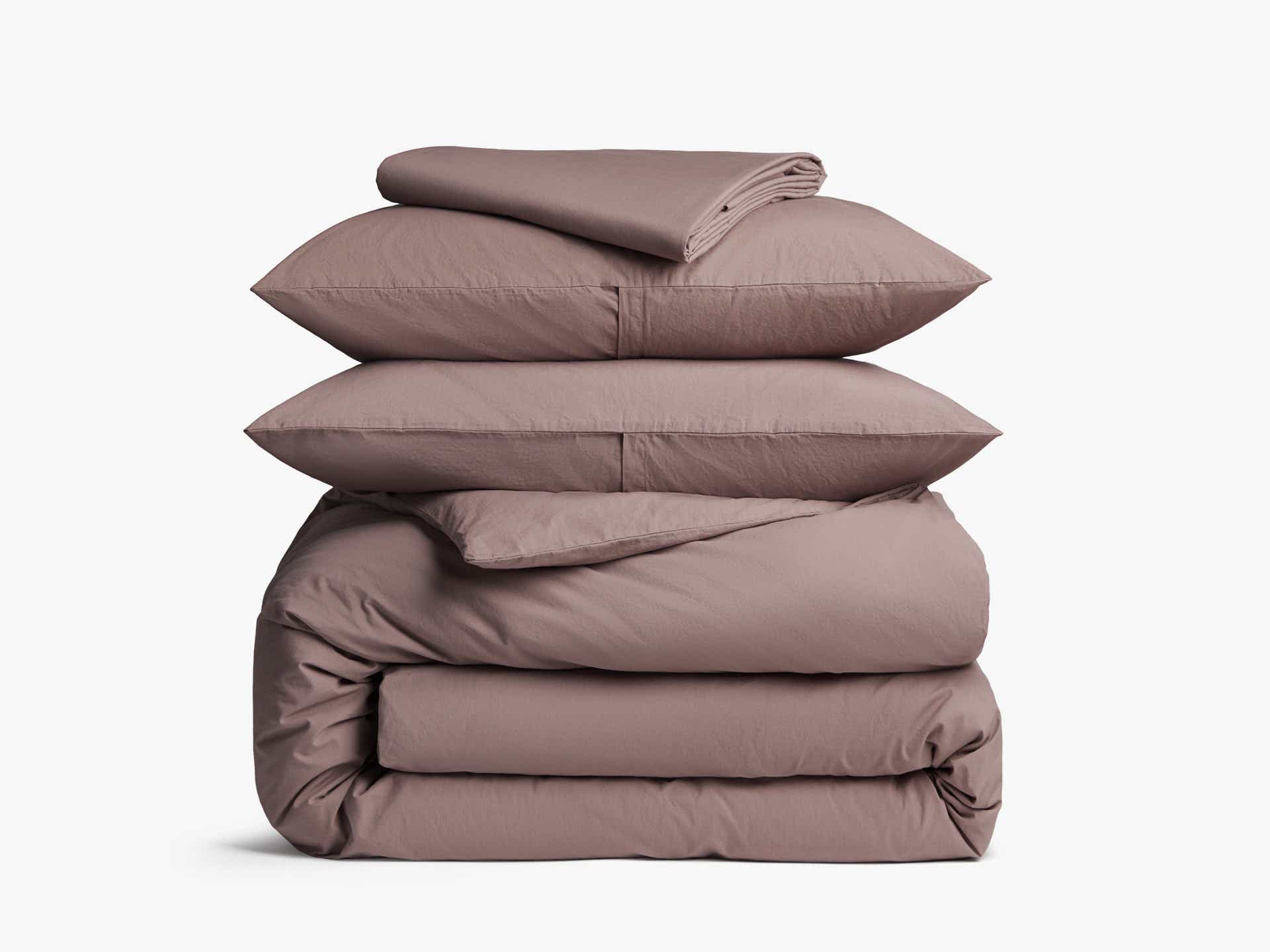 For soft sheets meant to be snuggled in, try brushed cotton. It has the worn-in feel you loved from your childhood sheets your mom tucked you into at night, but these are way chicer. Made in Portugal from 100 percent cotton, Parachute's luxe sheets are so comforting, they can coax you out of the scariest of nightmares.
$299 at Parachute
Mellanni Queen Sheet Set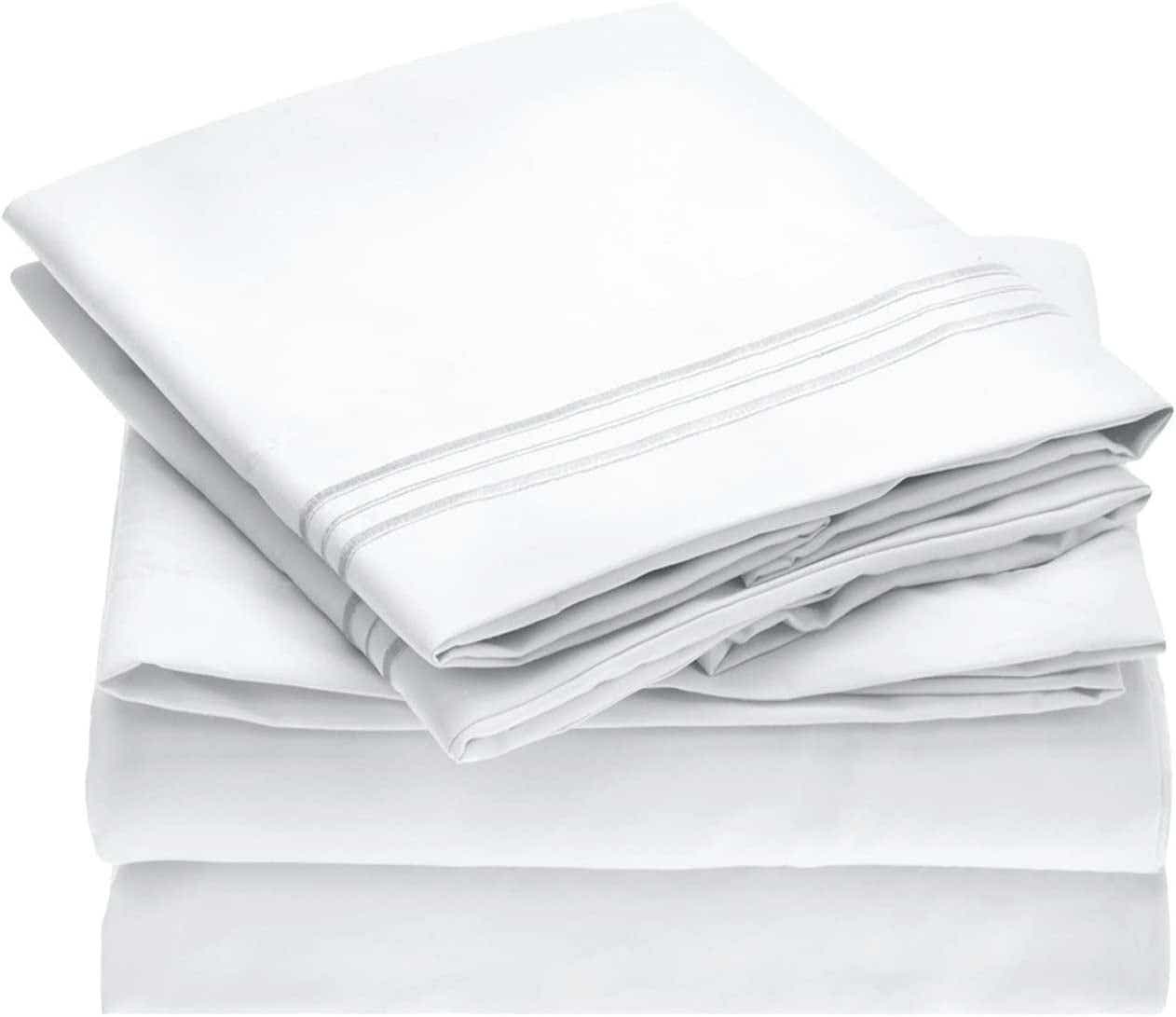 Amazon boasts more than a few thousand sheet sets, so it might be hard to narrow it down to styles that are truly worth your dime. Let the 300,000 reviewers convince you to try this one. This lightweight, super soft four-piece set is made of a brushed microfiber that was designed with sensitive sleepers in mind, so feel free to sleep in the nude if that's what suits you. On the off chance that you don't love these sheets, Mellanni offers a lifetime warranty, so you can return the product, no questions asked. Did we mention that they look like hotel sheets for less than $40, too? 
$35+ at Amazon
Brooklinen Classic Hardcore Sheet Bundle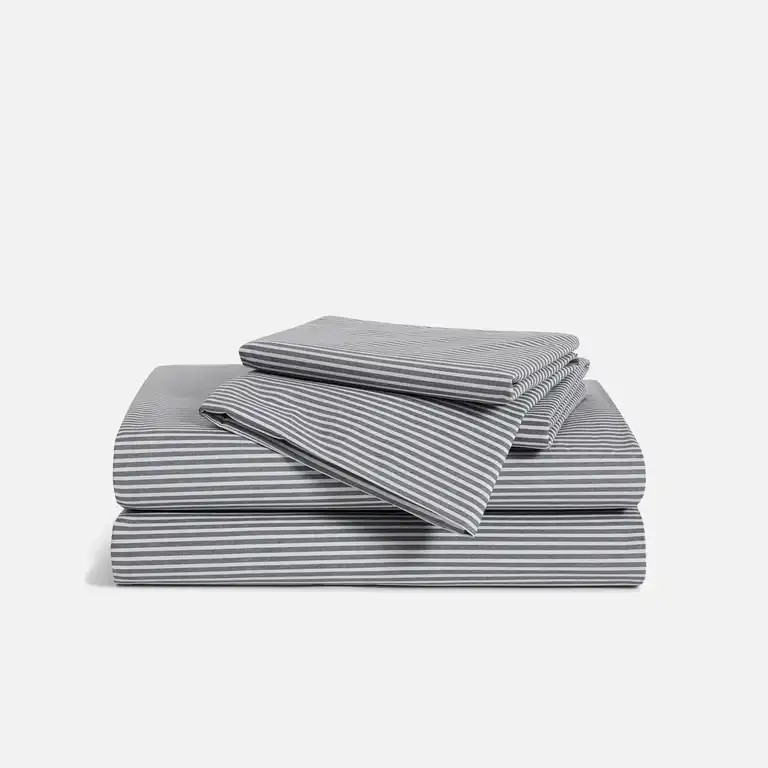 With over 74,000 reviews, Brooklinen gained positive notoriety for great sheets at a fraction of the price of their competitors. The brand's bestseller is this 100 percent cotton percale fabric, meaning it's light, crisp, and super durable. The breathable 270-thread count weave is ideal for hot sleepers who need some help staying cool through the night. 
$185+ at Brooklinen
L.L.Bean Botanical Floral Flannel Sheet Collection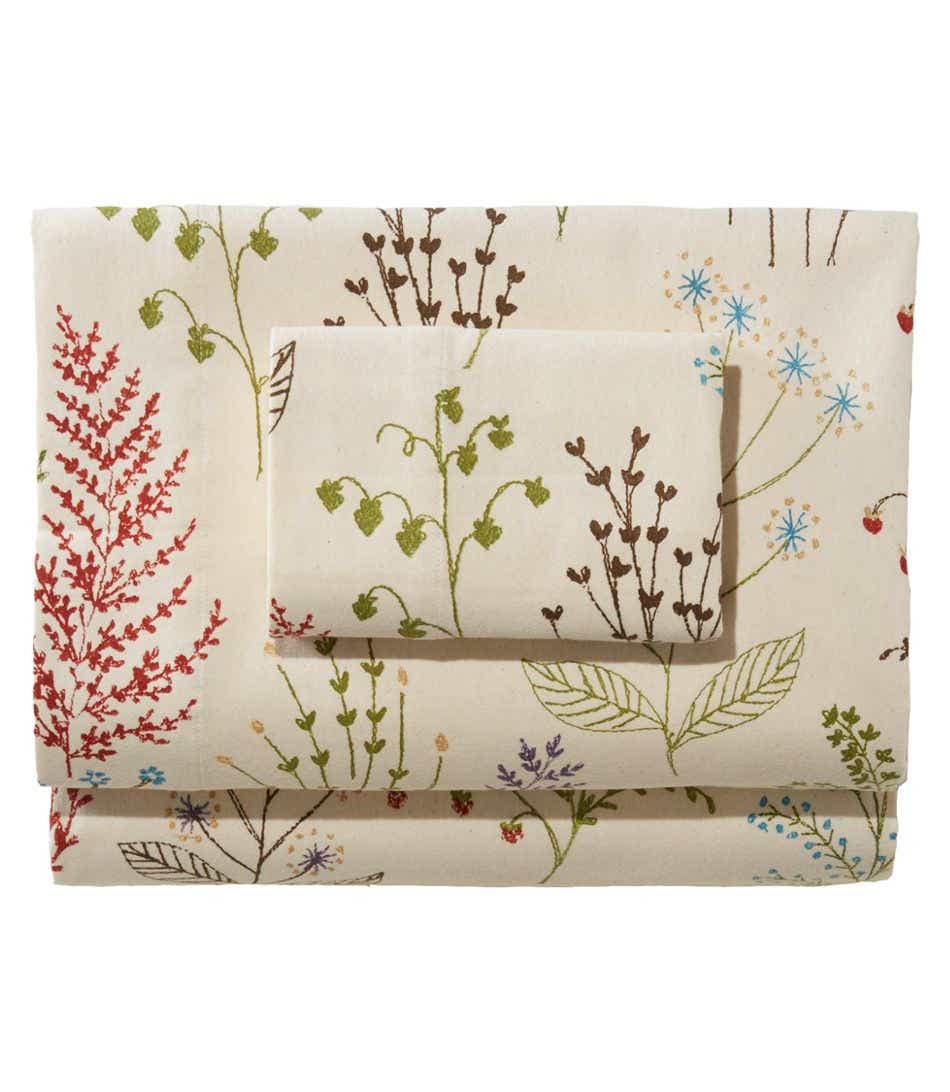 You might know L.L.Bean best for their Bean boots and outdoorsy bent, but they have garnered a good reputation for their indoor products, too. The brand's flannel sheets top multiple lists for being the absolute softest of their kind year over year. Just look at some of their customer reviews: "These are the best flannel sheets I have ever slept on, and I have loved flannel sheets since my Canadian childhood. They are baby soft and light, not clinging, and have not pilled at all." We're especially impressed with the wide range of prints like this sweet botanical design, which is an unexpected pattern that will cheer up any room. 
$109+ at L.L.Bean
Quince Luxe Italian Cotton Hotel Sheet Set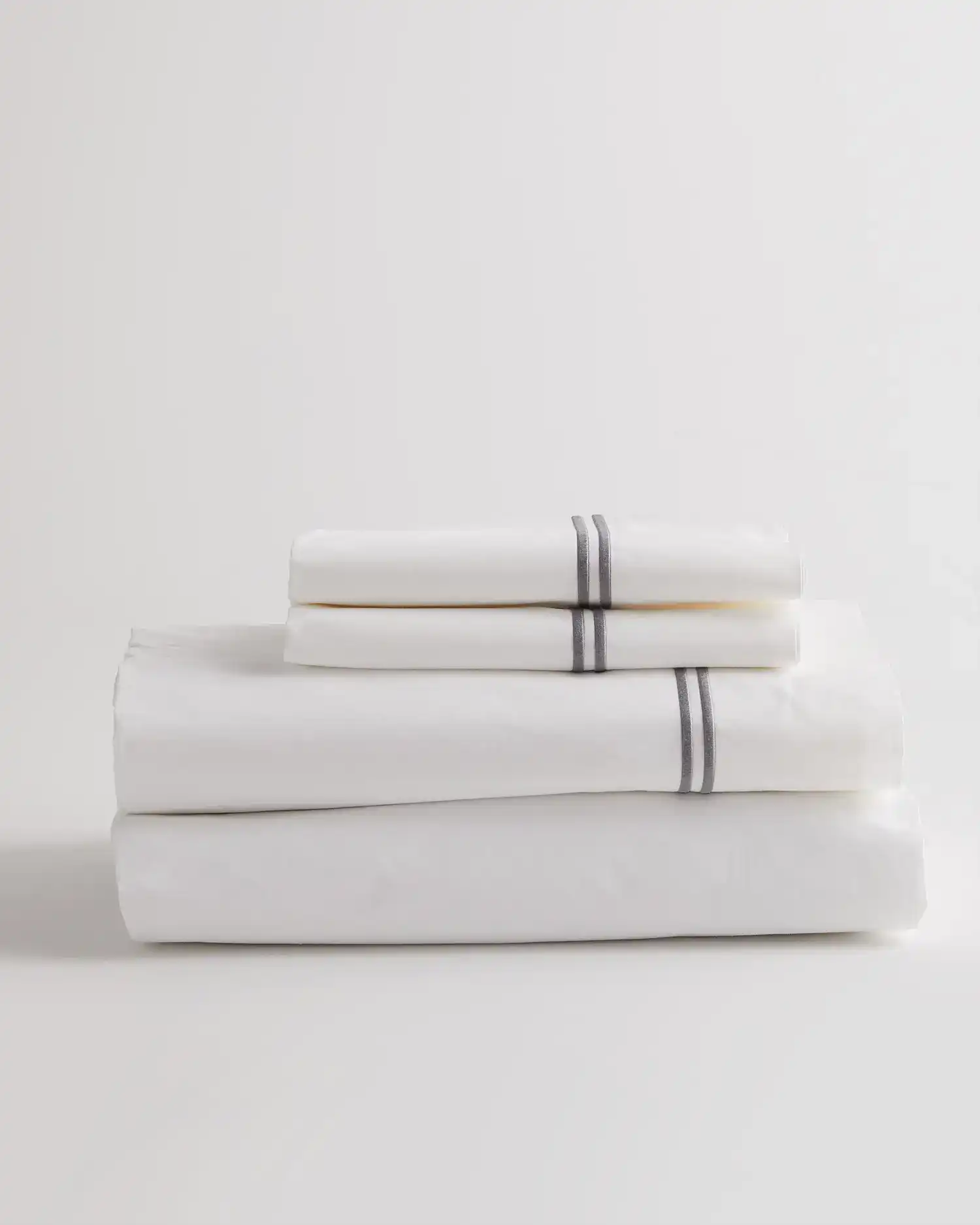 There's a reason why you sleep better in a hotel room: The pristinely made bed. Give yourself the five-star treatment at home with Quince's Italian cotton bedding. Not only is it beautifully crafted by artisans in Florence, but it's smooth to the touch with sophisticated embroidered details that look way more expensive than the sticker price. 
$160+ at Quince
Linoto Linen Sheet Set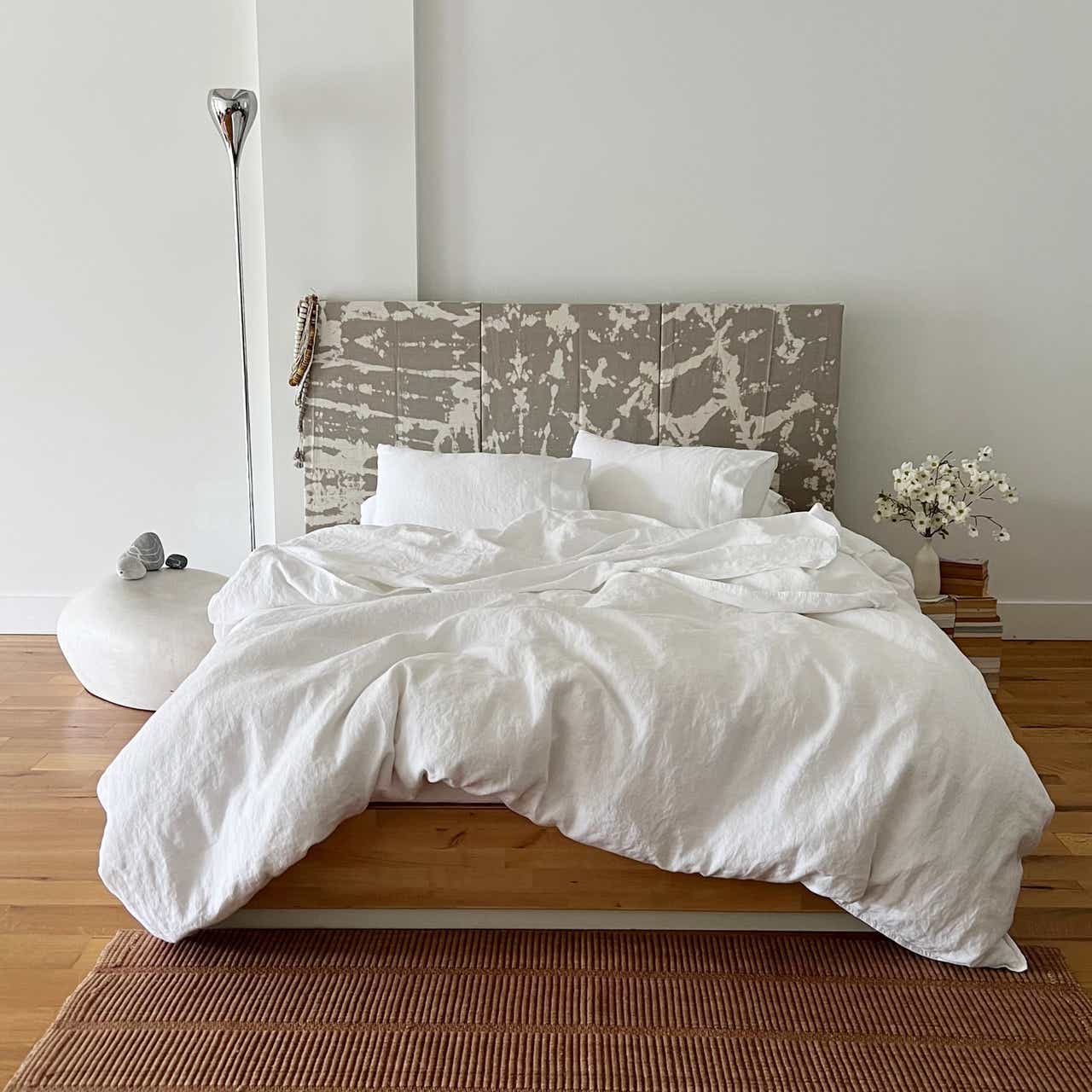 For quality linen, we always recommend Linoto. These are sheets that look like they belong in a villa set in the French countryside (even though the linen is milled in Italy and Belgium, and made in the USA). Not only are they available in a range of beautiful hues, but they are also pre-washed so you don't have to worry about stiff, scratchy fabric on your first night's rest. 
$299+ at Linoto
Ettitude Signature Sateen Sheet Set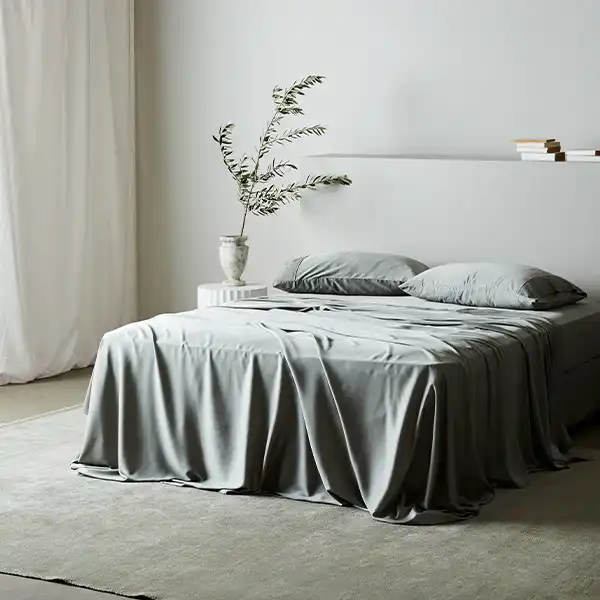 If you want your bedscape to have that super smooth, sateen look, this is your last stop. Ettitude's sheets are all made with 100 percent bamboo lyocell, which has cooling properties to help regulate your body temperature from overheating. But unlike most bamboo sheets, these look super silky.
$258 at Ettitude
Coyuchi Climate Beneficial Cotton Soft Washed Sheet Set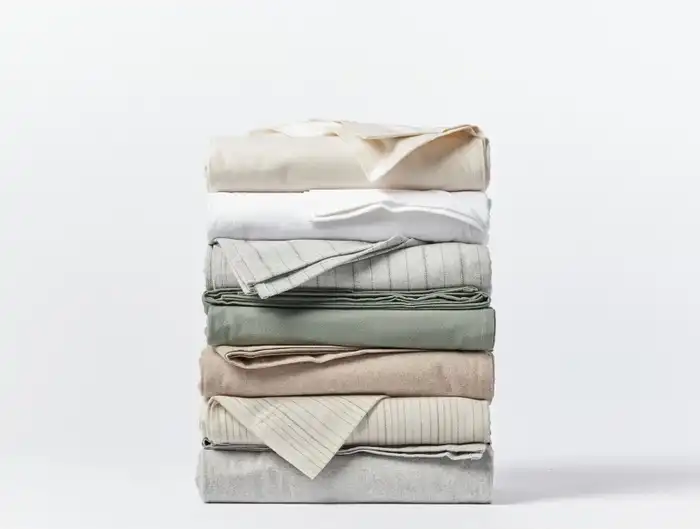 If you prefer to keep your household organic, Coyuchi will cater to your sustainable needs. Since 1991, the brand has been dedicated to prioritizing organic cotton, producing high-quality linens that can be held accountable. Not only are the sheets responsibly made, but Coyuchi also offers a program where you can send back your used sheets to be recycled and renewed, some of which funnels into Coyuchi's 2nd Home Renewed, a circular line of products that have been cleaned, mended, and resold for a fraction of the full price. The brand just launched this Climate Beneficial collection, which takes the brands best-selling twill sheets but designs them with a new coalition working to change how cotton is grown in California, supporting local farmers to help restore the soil in the brand's home state.
$98+ at Coyuchi
Lulu and Georgia European Flax Linen Sheet Set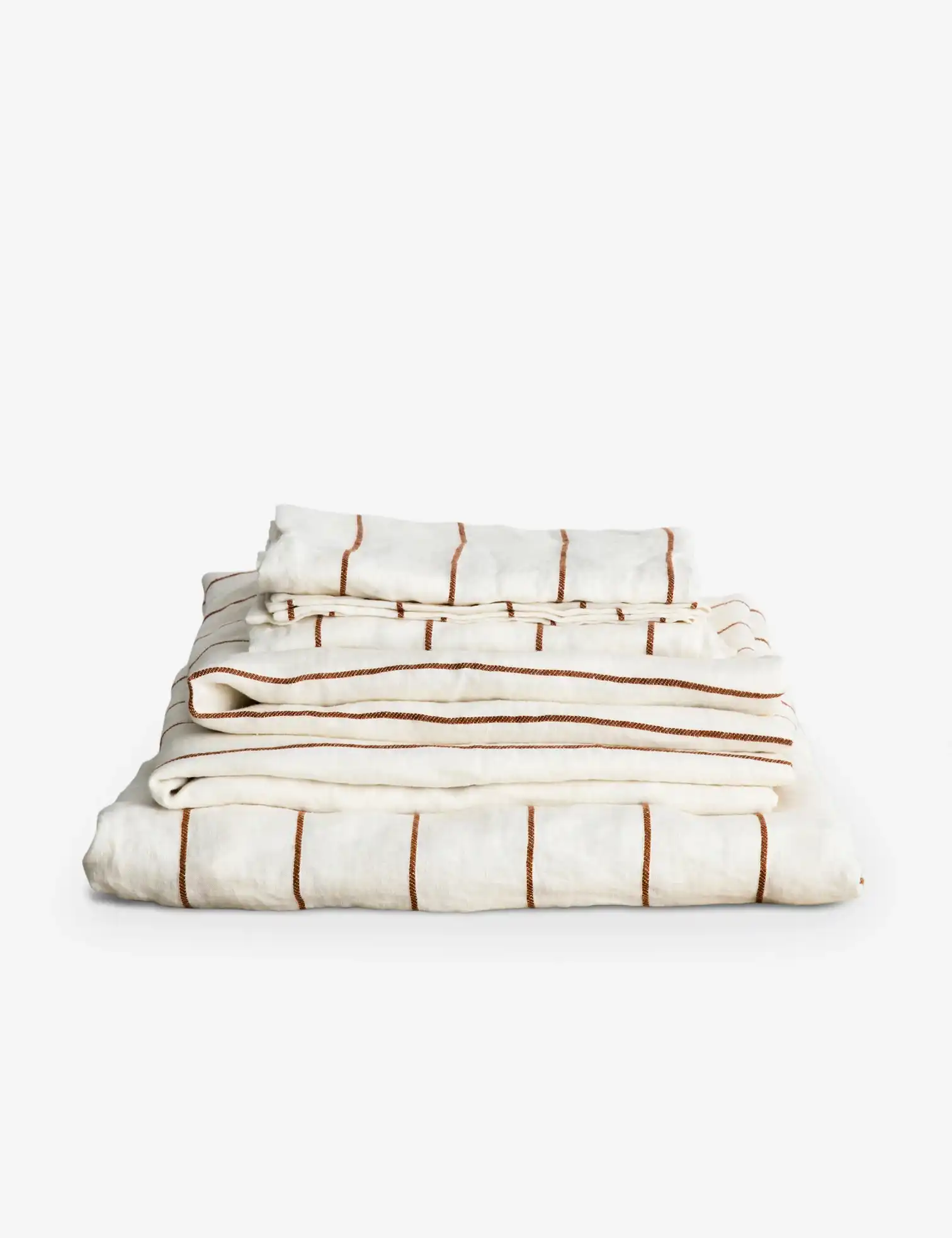 Lulu and Georgia is better known for its beautiful furniture and rugs — think of the brand for bringing a modern European aesthetic to the California coast — but don't miss its bed linens. They have a curated collection of linen sheets that are pre-washed for a vintage touch. 
$385+ at L&G
Piglet in Bed Bedtime Bundle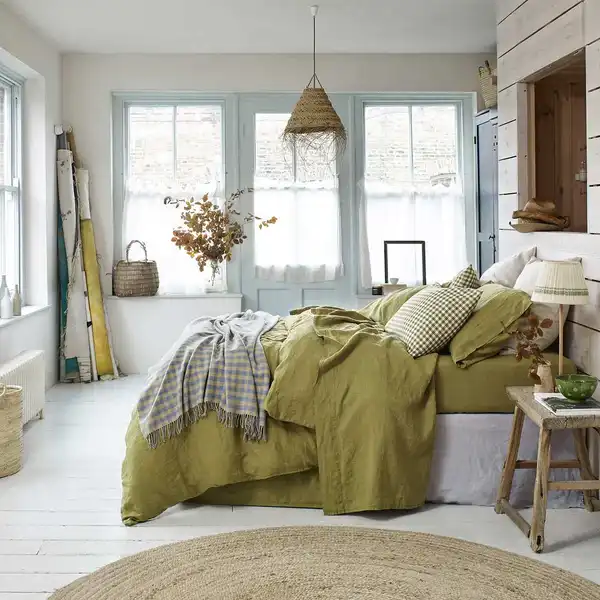 Oftentimes when we think of linen sheets, we think of a coastal grandma aesthetic. That's where Piglet in Bed upends it. While they do offer beautiful neutral sheets that would work for everyone, we're particularly fond of the brand's penchant for bold, punchy hues and prints like gingham blues, apple greens, and sunny yellows, without sacrificing the feeling of cozy, lived-in sheets. Your bed should be your safe space, so why not choose a color that matches your personality? 
$363+ at Piglet
Lunya Washable Silk Flat Sheet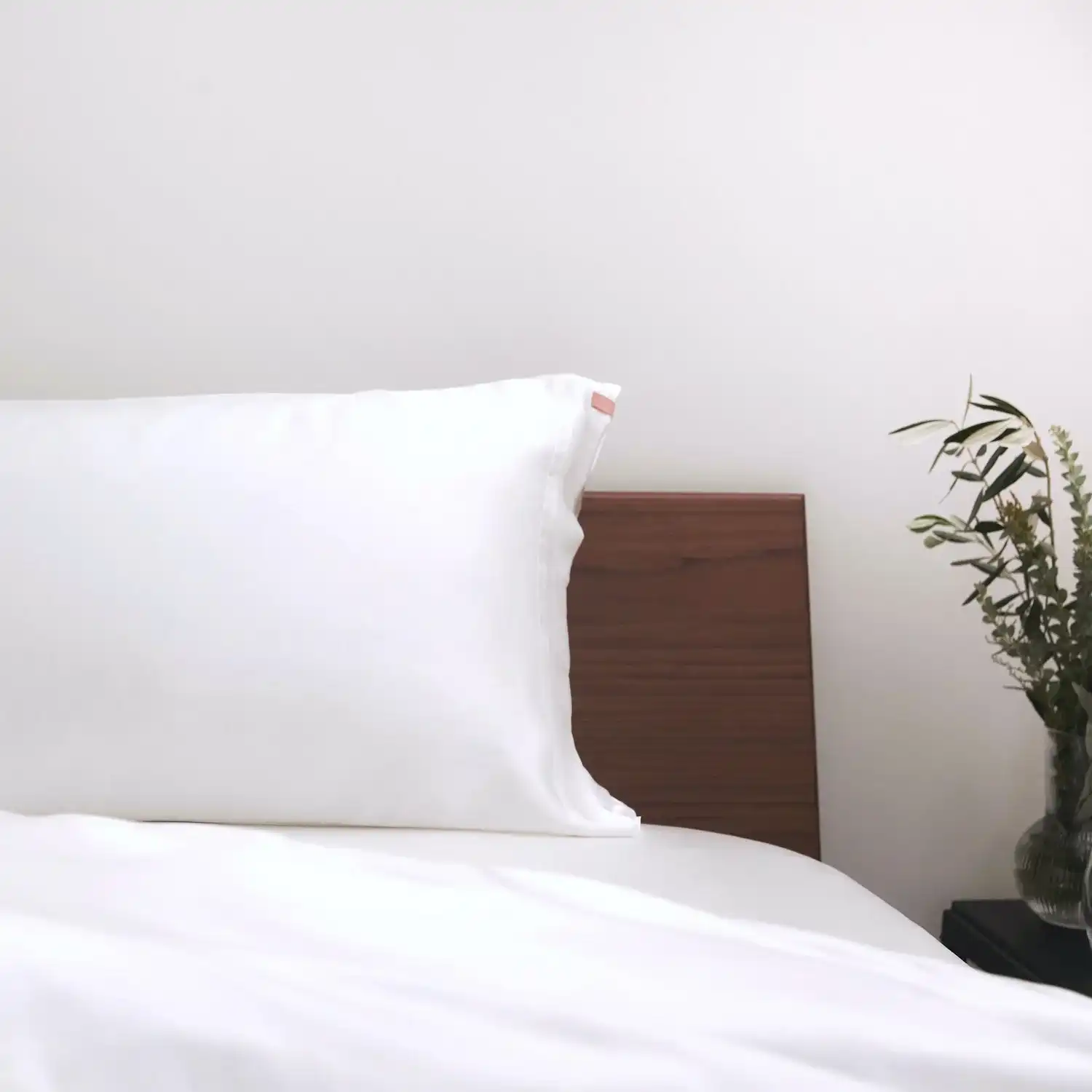 First and foremost, we completely admit that silk sheets are a luxury many of us cannot access. But for those who can, if you buy right, it'll be worth it. We've all heard about the skin-boosting benefits of using a silk pillowcase, and the same can be said for what happens if you sleep in 100 percent silk sheets. After investing in these, you might not want to spend even more money taking these to the dry cleaner every time you wash your sheets (and we've outlined how often that should be). Look to Lunya if that's where your head's at: These are machine washable.
$468 at Lunya