From locally sourced flowers to a Dirty Dancing movie night to an '80s party, no detail went unnoticed in the camp-themed celebration.
Getting engaged marks the very beginning of the wedding-planning process. And if you ask most brides (or mothers of the bride, or generally anyone involved in helping to plan a wedding), there is a lot of planning that goes into the big day. We asked Katie to share the thoughtful ways she and Ellie planned out the weekend-long wedding events. From how they came up with a summer camp theme to finding flower inspiration at a farmer's market, we've got all the details below that you won't want to miss.
---
Katie's role in the wedding planning
"Ellie thought of everything. I helped her, but it was really Ellie who executed the wedding."
"A lot of thought went into everything, but it also all felt very natural. Everything we came up with was centered around the idea of having fun, celebrating, and choosing joy."
---
On choosing the right venue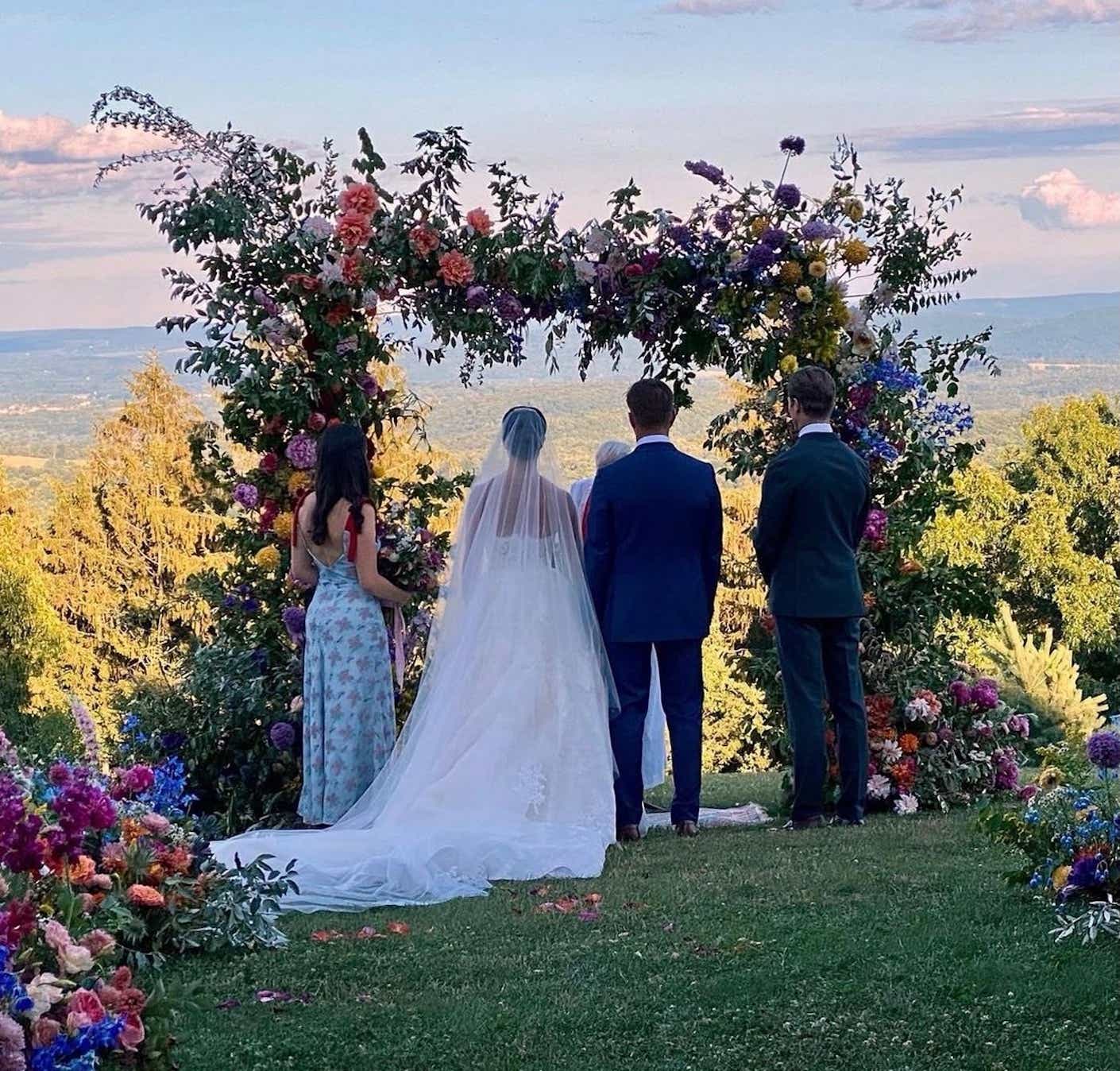 "Both Ellie and Carrie went to Camp Fernwood, an all-girls camp in Maine, for six or seven summers. I was doing The Today Show and wanted them to have an opportunity to be out in nature and the great outdoors. It's a camp that's quite rustic, really focuses on values, and I think it really shaped Ellie and Carrie in many ways. It was such a positive, happy experience for them."

"When Ellie went to a wedding at Cedar Lake Estate about five years ago, I think it reminded her of her whole camp experience. I remember her coming home and raving about it, saying, if she ever got married, she'd like to get married at a place like that. It was so original and so unique to her and that's how the whole camp theme came about."
---
On creating the summer camp theme
"We tried to make everything feel reminiscent of a camp experience, from the activities to the gift bags. We had water bottles, matches, and Tate's chocolate chip cookies. We made it like a care package, which was really cute. Aunt Leah, our friend from Nantucket, sent little boxes of chocolate-covered cranberries, which was so, so sweet of her. We put sparklers in the gift bags, because we also had the whole Fourth of July theme that made it even more special."
---
On the pre-wedding festivities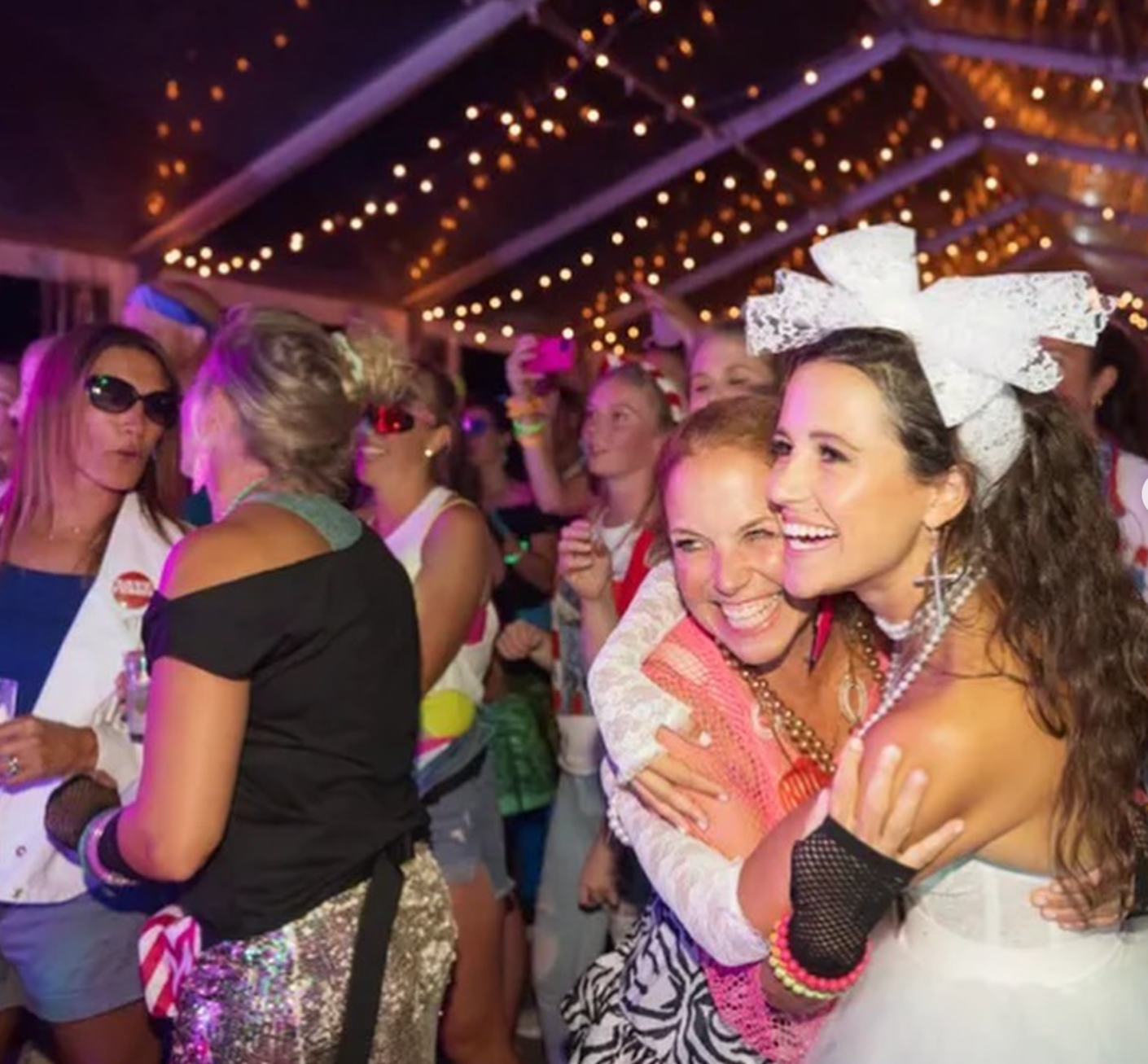 "We got there Friday afternoon and walked around a bit. Then we had the rehearsal dinner and a movie night. We all watched Dirty Dancing and had popcorn and Raisinets."
"The rehearsal dinner was supposed to be in the garden on this big, long table. But it rained, so we had to have that inside. But it ended up being very cozy and intimate, and really nice. The rehearsal dinner was just really family and it was quite intimate. There are only 50 people there. And then Saturday is when more and more people started coming for the field day and then the 80s party. I think there were probably 230 guests, total."
"Cedar Lakes Estate used to be an Olympic training camp for gymnasts and women's soccer, and it was also a regular summer camp. They had this giant field, so the following day, we had Field Day, where we were all divided up into teams. It was extremely well-organized. We all had different colors, and we used chalk to cover our T-shirts with different colors. I was yellow, and was accused of stacking the teams because we had a lot of very talented athletes on our team."
"We organized a ton of games, like water balloon tossing, three-legged races, tug-o-war, and another game where you had to act out like charades and then run."
"We thought it would be really fun as a welcome party on Saturday, after an intense Field Day, to have an 80s party. Everybody had to dress up. Ellie came as Madonna in Like A Virgin — hilarious! I was Cyndi Lauper. John was George Michael. Carrie came as an 80s prom girl with sparkly earrings and a scrunchie. It was so much fun because people really got into it."
"We had really good barbecue with fried chicken — the food was incredible all weekend. We ordered all this candy from the 80s, like Skittles, Pop Rocks, Razzles, and all this Turkish Taffy (although I think that's from the 70s) and we put it on the table with Rubik's cubes. It was just really, really fun."
---
On the traditional aspect
"The ceremony was quite traditional and definitely had a religious component (Mark's Catholic), which was, was really nice."
"We tried to do traditional touches, like cutting the cake and first dance and things like that. But I think a lot of it was very much true to who Ellie is and who Mark is and what they wanted. It was a wonderful reflection of their love and partnership."
---
On the music
"I was really, really excited to get Jay Ungar and Molly Mason to come play during the ceremony. I love their music and it was so fitting for the setting. It was on this beautiful mountain top with these incredible vistas. I couldn't think of better music. A classical quartet would have been beautiful, but there was something so heartfelt about it. Their music is tailor-made for that bucolic setting."
"We loved the band! They were from Atlanta and called Big Swing and the Ballroom Blasters. A really good friend of mine from college, her daughter got married in Charlottesville and I was lucky enough to be at the wedding. They played at her daughter's wedding and I was like, 'I love this band!' Going to UVA, we listened to Motown and The Temptations, so it was a very retro dance song list."
"We put all the songs that we wanted — just great, great, great, dance songs. Everybody went crazy. The band was fantastic. My friend Cherie Neve, who is the lead singer of the 80s cover band Rubix Kube, sang "To Make Me Feel Your Love" which is a Bob Dylan song that Adele covered, and that was so beautiful."
"Then David, who's Mark's brother and the best man, he and Carrie sang 'Late to the Party' by Kacey Musgraves at the reception. And it was just so pretty. And that song Carrie picked because it reminds her of mark and Ellie, cause they, you know, the words are really cute. It's sort of about how they're late to a party, but it doesn't matter. Who needs confetti when you're already in a groove? But I think it was just a song about how comfortable Ellie and Mark are with each other and how much fun they have together."
---
Those florals!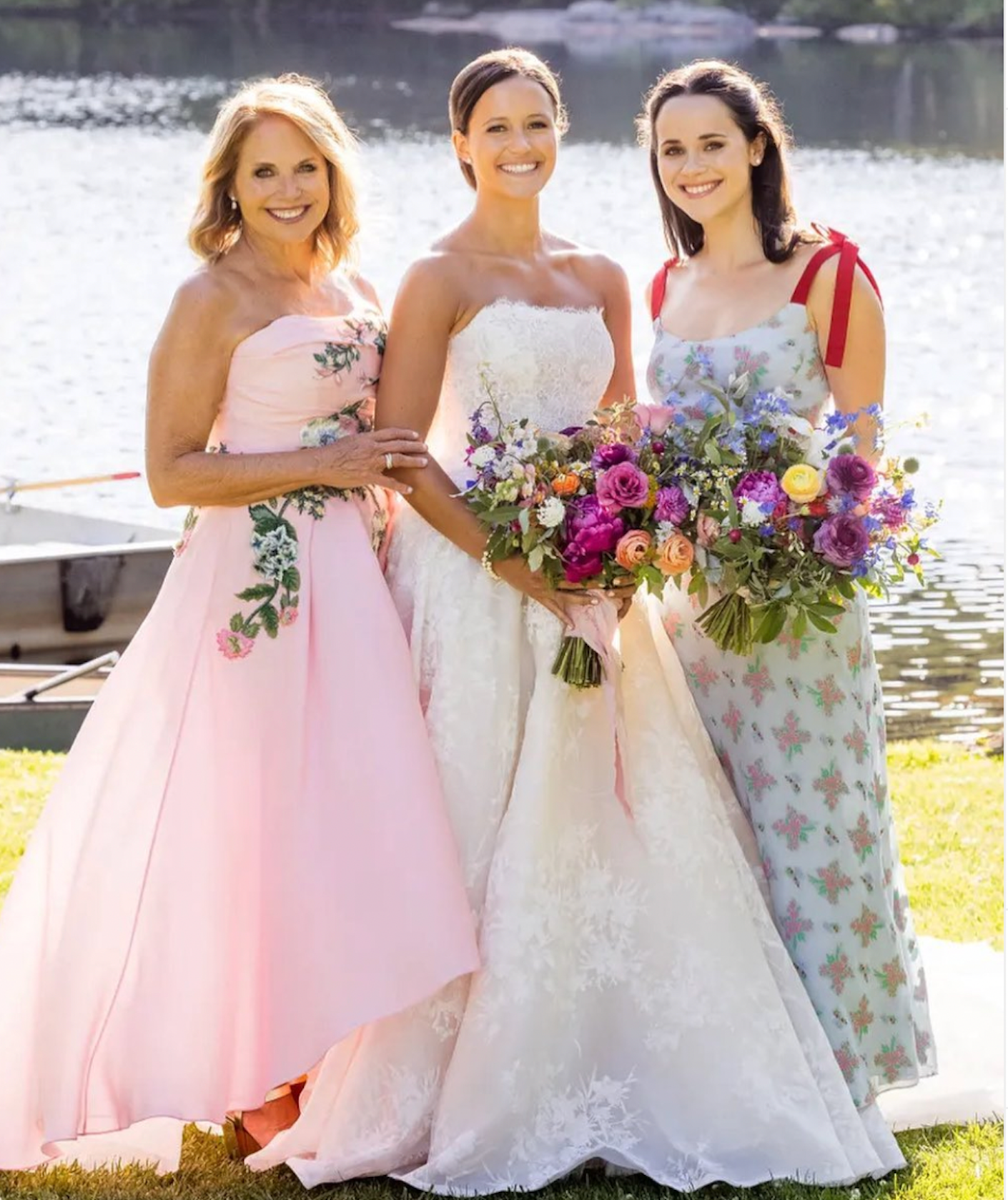 "I remember taking videos of a bunch of flowers in a bucket at a farmer's market. We wanted it to have that feel — kind of natural, but bright and varied. Flowers that felt alive and had a lot of personality. I think just all roses or all white flowers can look beautiful, but we wanted it to go with the setting. A lot of the flowers were local, some were shipped in, but they were very natural and very happy, honestly."
"Ingrid Carozzi from Tin Can Studios in Brooklyn did an incredible job with all of the flowers. I'm a big fan of single stems in small bottles to really showcase the flowers, because sometimes when there are so many flowers, you don't appreciate the beauty of the individual flowers. She and her daughter went and found a lot of sea glass-colored bottles, which I love. They had a lot of small flowers with single stems everywhere."
"For the actual reception, she arranged them, and they almost looked like paintings. They were in low vases. She's a real artist, so they just looked beautiful. They reminded me honestly of a Renaissance painting."
---
On the bridal party
"Ellie is the most inclusive person on the planet and I think she didn't want to hurt anyone's feelings. She is going to turn 30 in a couple of weeks and I think the idea of having ten girls standing up there in the same dress, for whatever reason, wasn't her thing. I think it was really because there would have been 25 bridesmaids up there."
---
On taking Covid-19 precautions
"When the real planning stage was happening, it was in the spring and things were still unsettled. Ellie said, 'we want everyone who is coming to the wedding to be vaccinated.' We asked people to send a photograph of their vaccination card because, God forbid, we didn't want to be hosting a super spreader event. We didn't want to make people sick. We had some older people and we just wanted to make sure we were being safe and responsible and I think everybody understood it. We didn't get any pushback about it"
"If anybody had a medical issue, we were going to have rapid testing, but by the time the wedding rolled around, everybody had time to get both of their vaccination shots."
---
Her biggest fear
"The weather, the weather, the weather, the weather. Because, remember, almost everything was planned for this wedding the year before. So we had an extra year to iron out details to assess certain things. And I think it just gave us a level of comfort that all the details were handled. She was on top of every detail. So the only thing that I was truly worried about was the weather and that everybody had fun, and both Ellie and I are very similar in that."