We're reliving the happiest and most emotional moments from Ellie's Fourth of July wedding celebration.
When we asked Katie her favorite memory from her daughter Ellie's wedding, she excitedly talked us through almost every single moment from the three-day celebration. Instead of making her choose just one, we decided to share five of the mother of the bride's happiest moments from the big weekend, which range from silly to sentimental. We hope they put a smile on your face that's as big as Katie's!
---
Some Healthy Competition
"The day before the wedding, we had a field day where we divided up into teams and everyone had a different color — I was yellow. And I was accused of stacking the teams because we did have a lot of very talented athletes on our team. Mark's mom Loretta played college basketball and she's very competitive, which made me laugh because I'm competitive, too, and she was on a different team! It was a funny dynamic because everyone took it very seriously.
"There was a water balloon toss, a three-legged race, and a tug of war. Then we ended with Capture the Flag, which was a little scary because there were a lot of big athletic guys, and I think they plowed over a couple of my friends. It was incredible to see how athletic Mark's family was, especially compared to ours! I think Jay would have loved it. He was incredibly athletic — he played division one lacrosse in college — and there were all these Yale lacrosse players there. He would have had a lot of fun competing against those young, athletic guys."
---
Dancing the Night Away…'80s Style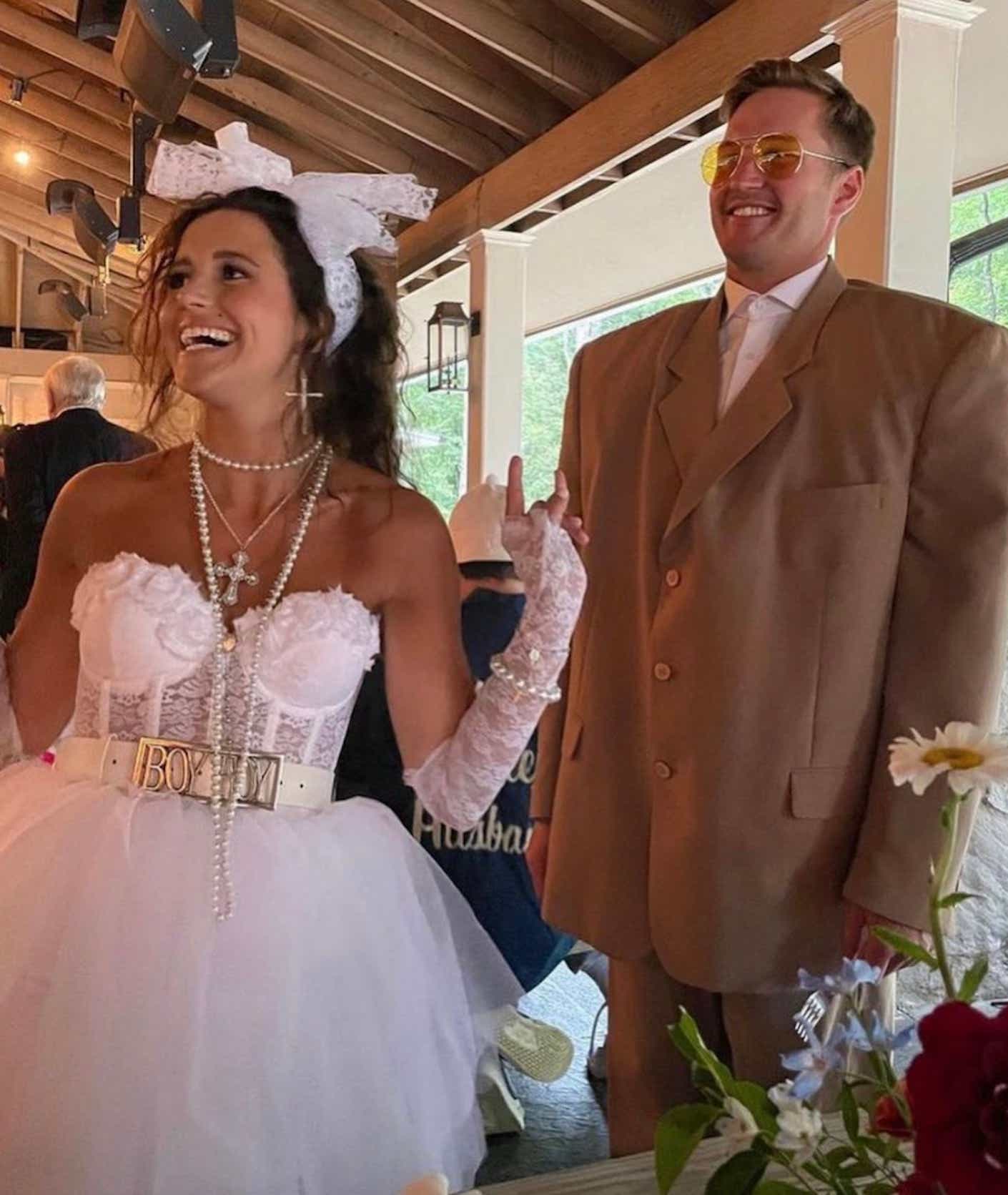 "My good friend Cherie Neve is the lead singer of an 80s cover band called Rubix Cube, and after field day they played at the welcome party. Everyone had to dress up in '80s gear. Ellie came as Madonna from 'Like a Virgin.' Mark was David Byrne from The Talking Heads. John was George Michael, and he was very excited about his outfit. I was Cyndi Lauper. A lot of people came as Don Johnson. We ordered all this candy from the 80s, like Skittles, Pop Rocks, and Turkish Taffy. Everyone really went all out on their costumes, except a couple of people who will remain unnamed.
"Ellie danced on stage to 'Like a Virgin,' and then I sang 'Going to the Chapel' with Cherie. Everyone just danced their heads off. I'm 64 and don't know how I even survived the weekend. At one point I got onstage and Ellie, Carrie, and I danced to 'Girls Just Wanna Have Fun,' because I was Cyndi Lauper, after all. But I seriously thought I needed oxygen after that. Every single person there left it all on the dance floor."
---
The Best Man and Maid of Honor's Joint Serenade
"At the reception, Mark's brother and best man David sang a song with Carrie called 'Late to the Party' by Kacey Musgraves. Carrie picked it because it reminds her of Mark and Ellie. The words are about a couple who are late for a party, but it doesn't matter because they're together. There's a part that goes, 'Who needs confetti? / We're already falling into the groove / And who needs a crowd / When you're happy at a party for two?' It's a perfect song for them because they're so comfortable with each other and they have so much fun together."
---
A First Dance Among Friends
"Mark and Ellie's first dance was to 'Can't Take My Eyes Off You.' I loved that for them, because Mark's from New Jersey, and Frankie Valli is a Jersey Boy! They even did a little kick move when they were dancing. Then about three-quarters of the way through the song, everyone just rushed to the dance floor. The two of them were surrounded by all of their friends. I remember thinking, 'Oh, that's such a fun moment that they'll remember forever.' It was such a release of joy — the whole dance floor was flooded with endorphins."
---
A Room Filled With Love
"One of the things I expressed in my toast is that there were people there from every chapter of Ellie's life, and it reminded me of Hilary Clinton when she said, 'It takes a village to raise a child.' So much of our village was there: Lori Beth, who lived with us for 11 years and who I credit for making Ellie and Carrie the women they are today, was there. She was really my partner after Jay passed — she helped me raise those girls.
"So many of my friends were there who I've known all my life, and of course, all of Ellie's friends from high school and college and LA, and our family, and Mark's family. It was like seeing our entire lives splashed across a room, in the best possible way. It was huge for me, to be able to thank them all for everything they've done for us as a family, and for Ellie as a person."