Dermatologists Dr. Beth Goldstein and Dr. Lian Mack share what sun protection products to use.
You know that SPF is important, but what about all those other three-letter acronyms? UVA, UVB, UPF are all used when talking about protecting your skin from the sun, but what do they all really mean, and how do you protect yourself properly with sunscreen?
We're tackling why applying sunscreen daily is every bit as important as brushing your teeth. In fact, according to Beth Goldstein, MD, adjunct professor in the Department of Dermatology at the University of North Carolina at Chapel Hill and founder of Modern Ritual, year-round sun protection can reduce your skin cancer risk by 40 percent. We also spoke with board-certified dermatologist Lian Mack, MD, who mentioned that we should also be protecting our skin from the blue light put out by our computer and phone screens, which can cause skin discoloration.
What is the difference between UVA and UVB?
Ultraviolet A, or UVA, is radiation from the sun that has particularly long wavelengths and is associated with aging skin. Ultraviolet B, or UVB, are the rays from the sun we associate with getting a sunburn, and they usually have a shorter wavelength.
What does UPF mean?
UPF stands for universal protection factor, and this signifies how much radiation (both UVA and UVB) a fabric allows to get through — so consider this when buying clothing that promises sun protection.
Why it's important to wear sunscreen year-round
"Most people know they're at risk of sunburn and skin damage in bright sunshine and warm weather, but they don't always realize that harmful UVA rays are present all year long," Dr. Goldstein says. "Although UVA rays don't cause sunburns nearly at the rate of UVB rays, they're potentially even more dangerous, because they penetrate more deeply into the skin, which may result in skin cancer, damaged collagen, wrinkles, and the irregular pigmentation we see as brown spots. Over time, UVA rays cause cumulative damage to the skin."
This type of UVA ray comes through most window glass, so even when you're inside — or in your car — your skin can be damaged. And don't even think about a tanning bed, which uses UVA rays in incredibly high dosages.
According to Dr. Mack, it's important to wear sunscreen even on days when you stay inside. "When indoors, the glass from windows blocks UVB rays, while UVA rays can penetrate it. Exposure to UVA accelerates the aging process and can also contribute to the formation of skin cancer by damaging DNA in skin cells." She also says that because so many of us are working remotely, staring at our computer screens for hours a day, we should consider protecting our skin from blue light, too. "Most of our devices are emitting blue light or HEV light that may penetrate the skin resulting in discoloration."
If you have a darker skin tone, that doesn't mean you shouldn't wear sunscreen. While darker skin contain more melanin, which absorbs UV rays, it is still susceptible to burns and other damage. It may not happen as quickly as it does to those with lighter skin, but it still occurs. Sun burns and advanced aging are still possible, so it's always best to wear sunscreen to prevent those and possible skin cancer.
Why skin cancer the most common cancer in the U.S.
When it comes to preventing cavities, you wouldn't only brush your teeth during a certain time of year and expect them to remain in perfect condition. Like oral care, skin cancer prevention is not a seasonal thing. It requires daily year-round care. At least one in five Americans will develop skin cancer in their lifetime.
The majority of skin cancer — 90 percent of the 5 million cases diagnosed in the U.S. each year — are caused by artificial or natural sun exposure over a lifetime. We get significant sun exposure before age 18 and, as adults, each time a sunburn or tan fades away, the damage to the DNA of the skin continues to accumulate.
What to look for in sunscreen ingredients
You'll hear this time and again, but the best sunscreen is the one you'll actually use. There are two main sunscreen formulations, mineral and chemical. The active ingredients provide protection but their protection mechanisms are different: Chemical sunscreen is absorbed into the skin while mineral sunscreens (also known as physical sunscreens) remain on the surface to block harmful rays.
Dr. Mack says to be sure that no matter what kind of sunscreen you choose, mineral or chemical, that they have "broad spectrum" listed on the packaging. This way, you know you'll be getting protection against both UVA and UVB rays. Also, be sure to grab something that's SPF 30 or higher for the best protection, and something water-resistant if you know you'll be in the water or sweating throughout the day.
Dr. Goldstein recommends mineral-based blocks to her patients alongside a comprehensive skin protection program which includes annual skin checks by a dermatologist.
What SPF should you use?
Choosing the highest SPF sunscreen on the shelf won't hurt you, but it won't necessarily help you either. Mack recommends going no lower than SPF 30, which blocks 96.7 percent of UV radiation from reaching your skin. Opting for SPF 50 will block approximately 98 percent of rays. However, after an SPF of 50 there is little additional benefit.
How much sunscreen to apply daily
It's tempting to slather on as much SPF as possible for maximum protection, but Dr. Mack says you really only need to follow a couple of rules. "For your face, I recommend using the two-finger method. Apply a streak of sunscreen from the base to the tip of two fingers and apply generously to your face," she says. If you have any leftover sunscreen, use it on your neck and ears.
For the rest of your body, at least two ounces of sunscreen is recommended. Think of it as about the size of a shot glass in terms of volume. Don't forget to get all those hard-to-reach places like your lower back and shoulders, and try not to skip the tops of your feet or the backs of your hands.
Makeup with SPF
Chances are you've noticed that your foundation, setting powder, or moisturizer has SPF baked right in, but that's not the same as applying straight-up sunscreen. "Moisturizers are designed to penetrate the skin and to enhance the functionality of the skin barrier, whereas the purpose of SPF is to create a barrier between skin and the damaging rays of the sun," Dr. Mack says. "If you are not going to use a separate sunscreen, a moisturizer with SPF is better than no SPF at all, but I prefer sunscreen sans the moisturizer."
If you do choose to wear a moisturizer with SPF, be sure to take extra precautions to protect your skin from the sun with a sun hat or clothing with UPF, which will protect you from UVA and UVB rays.
The Best Sunscreen, According to Dermatologists
Eryfotona Actinica by ISDIN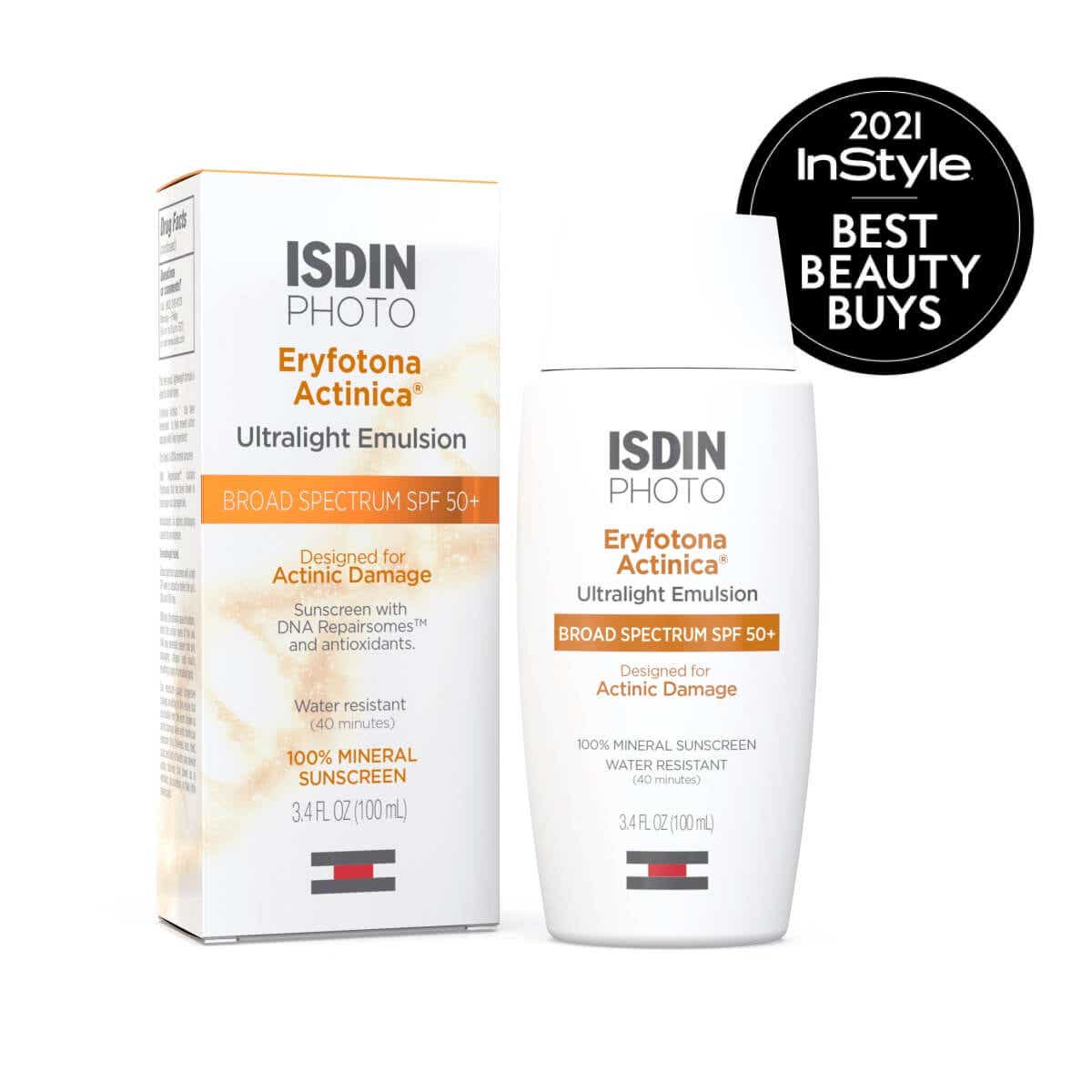 Reversing skin damage isn't impossible, and with this sunscreen formula, you can protect and repair at the same time. "Eryfotona Actinica by ISDIN is a fast-absorbing, ultralight mineral broad spectrum sun protection," Mack says. "It not only prevents sun damage, but contains an ingredient called  DNA Repairsomes to repair existing sun damage." It is also water-resistant, however only for up to 40 minutes, so you may find yourself reapplying often.
$60 at Isdin
Colorescience Sunforgettable Total Protection Brush-On SPF 50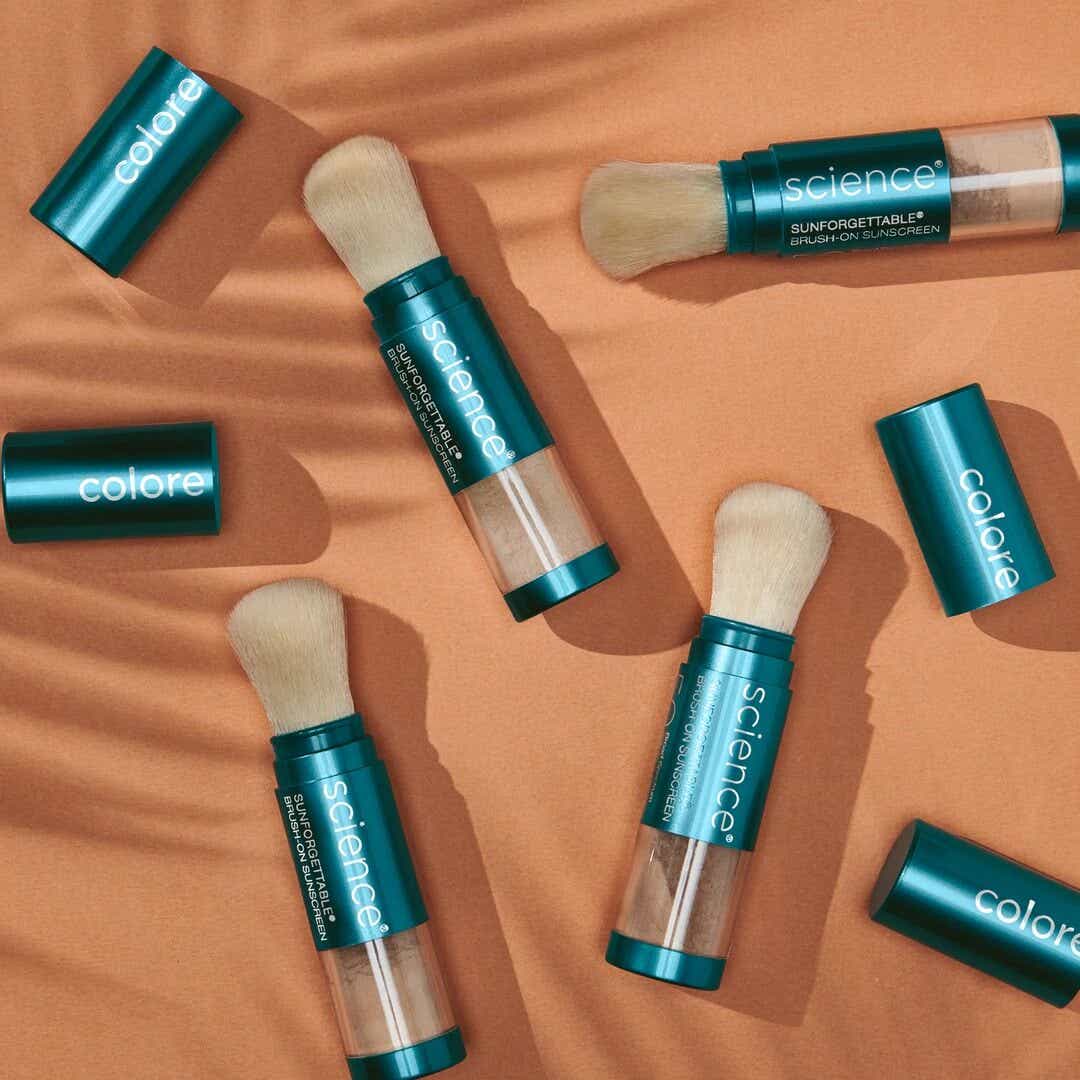 Goldstein recommends the Colorescience Sunforgettable Total Protection Brush-On SPF 50. It's a great product to touch up your face, neck and hands without making a mess, and it mattifies oily or sweaty skin since it's a powder. It works well with many skin types and is available in several shades. This also works well for oily skin types and darker skin tones. It is not easy to use all mineral sunscreens with oily skin, but this powder (there is a transparent version) can be a great option.
$69 at Colorescience
Shiseido Urban Environment Sun Dual Care Sunscreen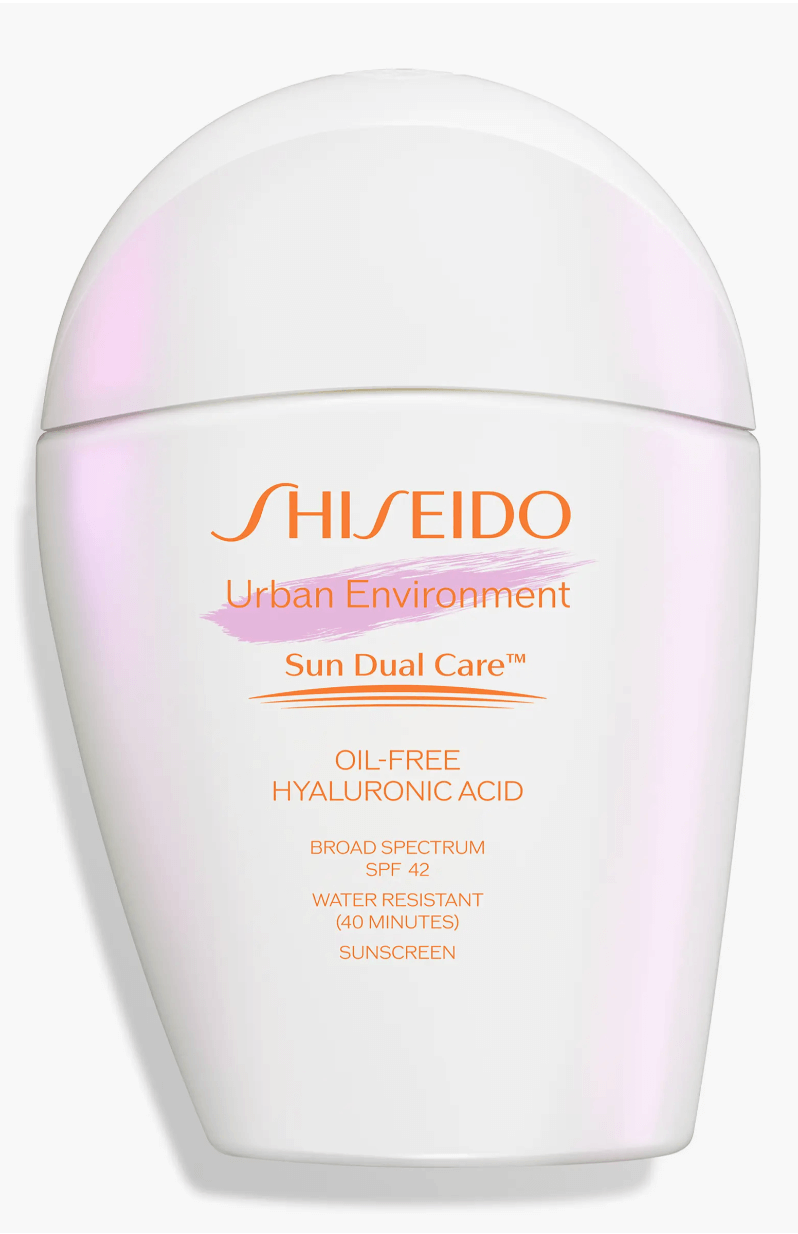 Despite it's liquidy texture, this sunscreen from Shiseido dries matte and doesn't leave you with that wet face feeling. It's infused with hyaluronic acid to hydrate as it protects your skin, making it a great product to take on vacation if you want to save a step in your travel skincare routine. Perhaps the best part? The bottle dispenses the product through a dropper-like mechanism, so you can apply it to your face straight from the container.
$35 at Nordstrom
Bask Feel Good Sunscreen Bundle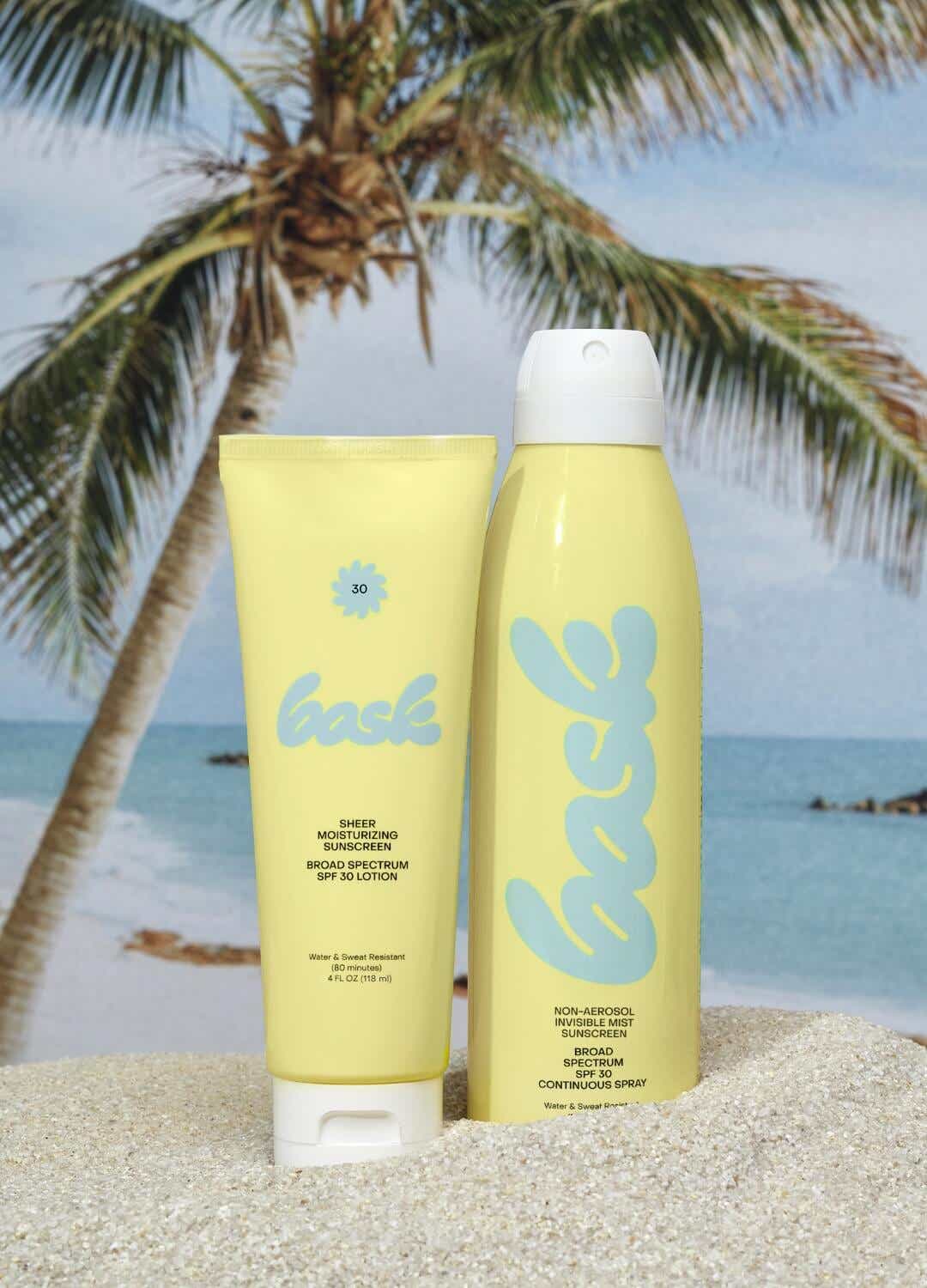 If the sweet scent of pineapple and coconut have you feeling nostalgic for the sunscreen you wore growing up but the greasy, heavy texture doesn't, meet your new favorite SPF. Complete with a reviewer-backed "divine" smell, this sunscreen duo can be used all over your body depending on what kind of application you prefer. The spray formula is aerosol-free, so it doesn't include any funky propellants like propane (that is used in other spray sunscreens).
$40 at Bask
La Roche-Posay Antihelios SPF 100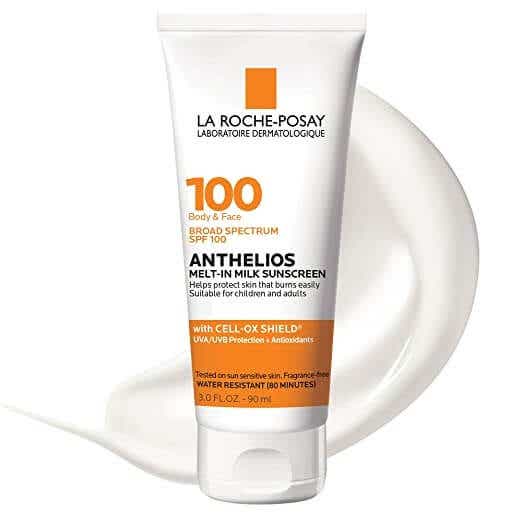 For all the really pale folks out there, this one's for you: SPF 100 is a thing. Normally SPF 50 is more than enough, but for those who burn easily (from light skin, medications that make you more sensitive to the sun, or anything else) having the extra protection factor can really help prevent you from turning pink after a few minutes in the sun. One reviewer wrote that it's the only sunscreen she trusts, "I've tried just about every sunblock and SPF level possible," they said. "This weekend I spent 2.5 hours in direct sunlight, and my skin felt fine! This will be my go too sunscreen product from now on!"
$27 at Amazon
EltaMD UV Clear Broad-Spectrum SPF 46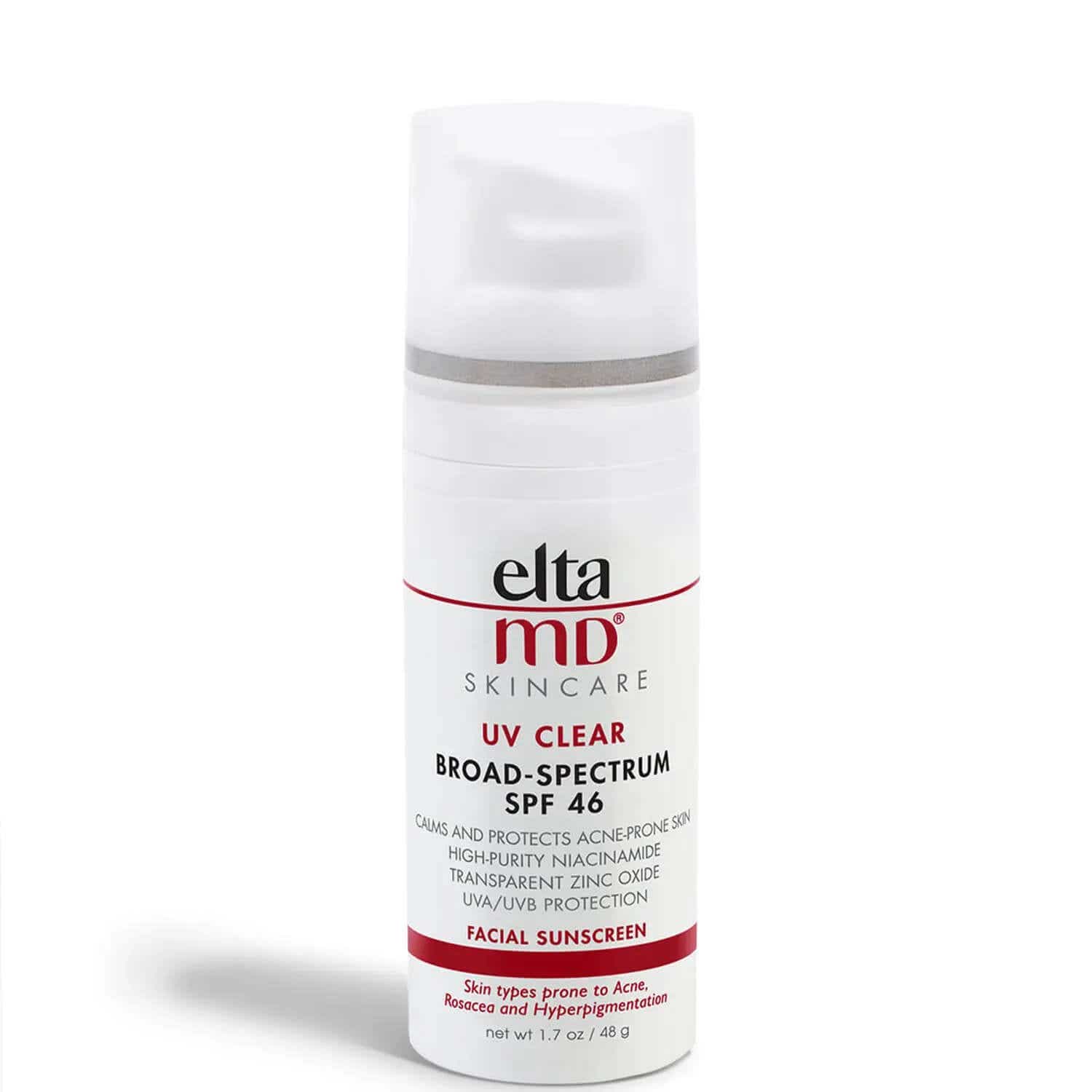 For both Goldstein and Mack, Elta MD UV Clear is a favorite. "It's oil free, lightweight formula works well with acne prone skin," Mack says. "It also contains niacinamide, lactic acid, and hyaluronic acid that work well for rosacea prone and hyperpigmented skin types." Goldstein says it's her favorite to use after a procedure, but she also recommends it for sensitive skin in general. "It is all mineral and the ingredients are great for stubborn pigment issues such as melasma," Goldstein says.
$41 at Dermstore
Isdinceutics Mineral Brush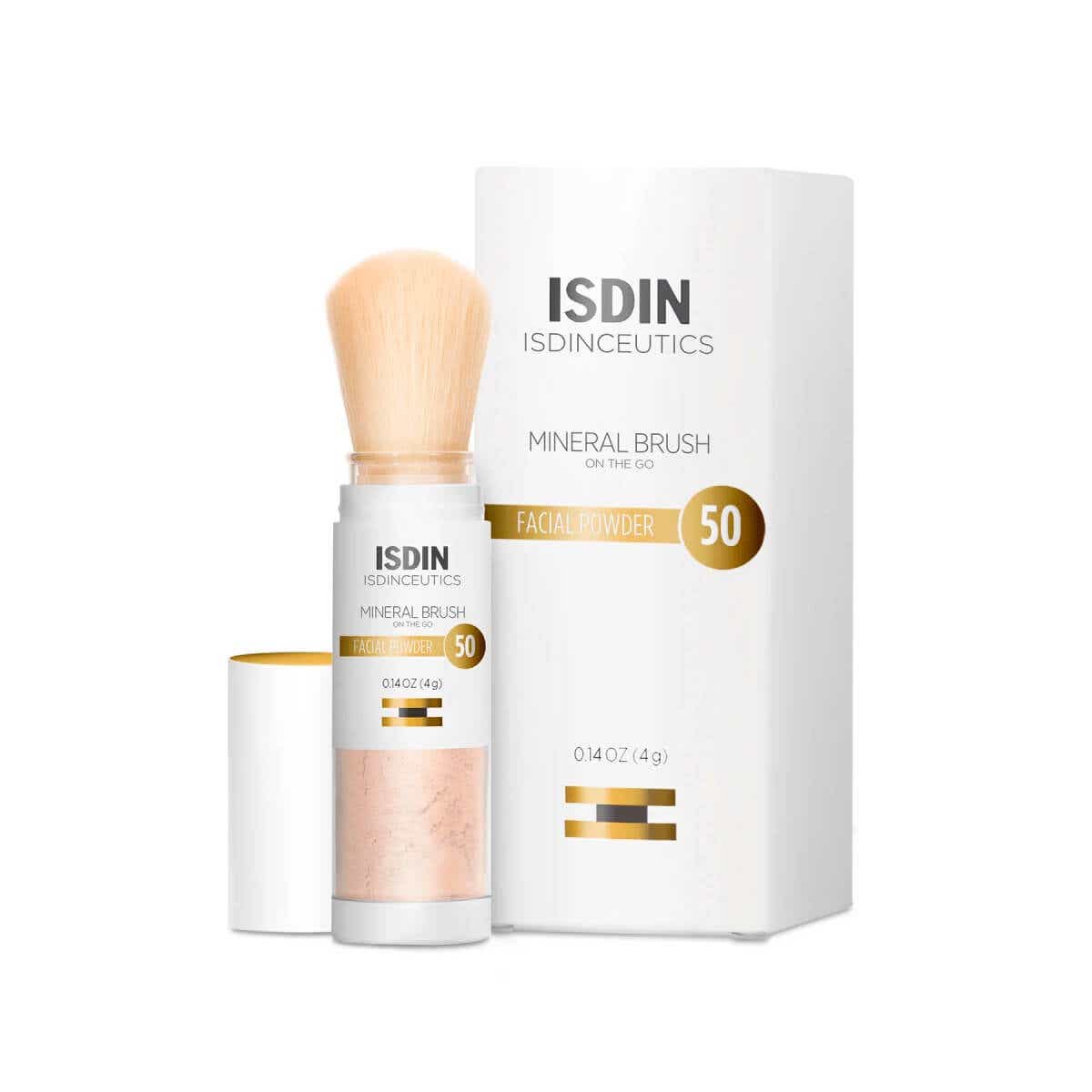 "This is my go to for daily reapplication," Mack says. "For makeup wearers, it makes applying sunscreen easy and convenient." This tube is mess-free and can easily be thrown in your bag for quick touch ups. The formula is SPF 50, has a matte finish, and is nearly translucent, so it won't leave a white cast on darker skin tones.
$55 at Isdin
Supergoop! Every Single Face Sunscreen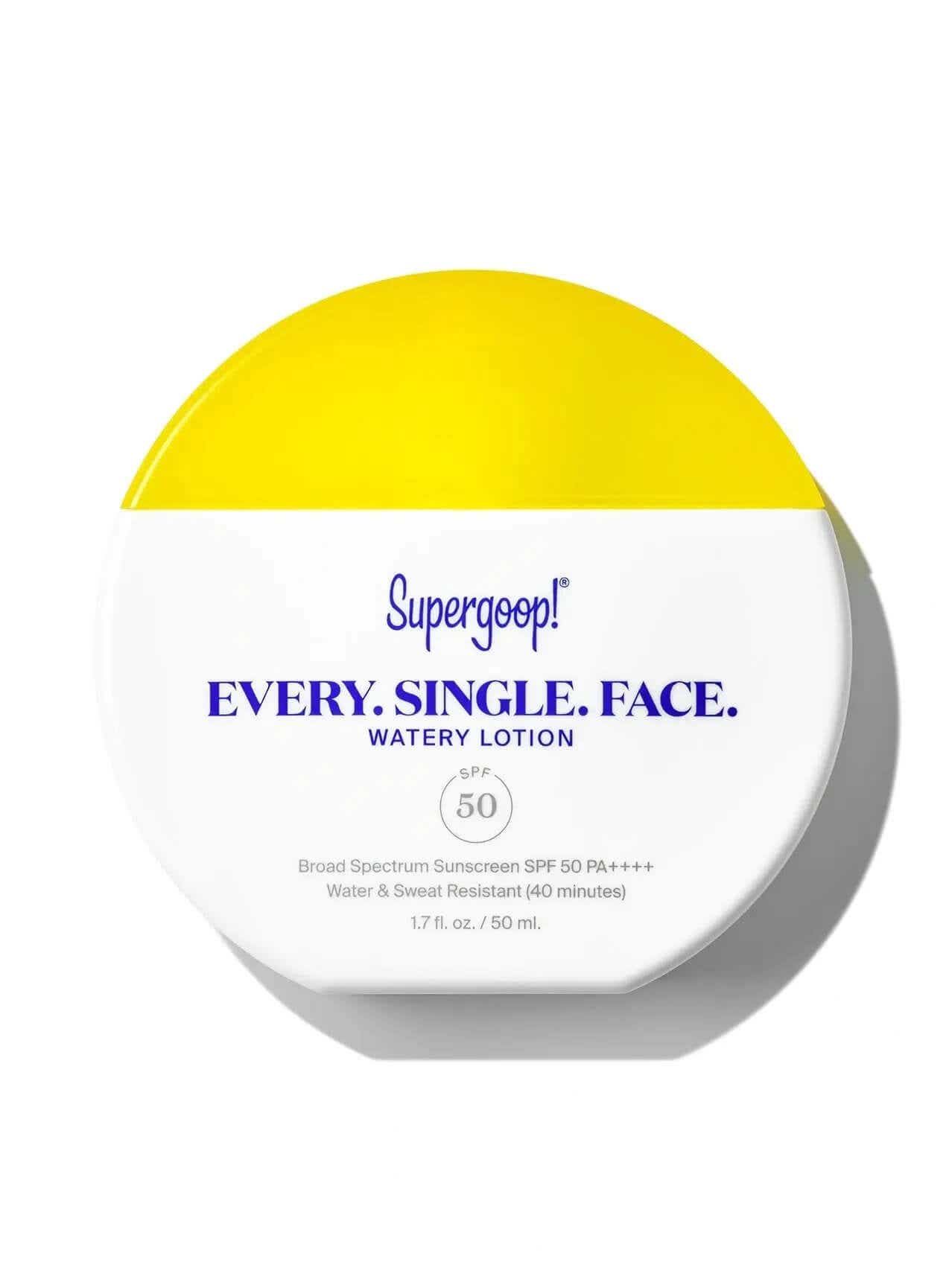 A KCM favorite is Supergoop's Every Single Face watery lotion. It applies flawlessly and blends into skin seamlessly. It's nearly undetectable on any skin tone, and it boasts an SPF of 50.
$34 at Supergoop
Monat Sun Veil Daily Mineral Protection SPF 30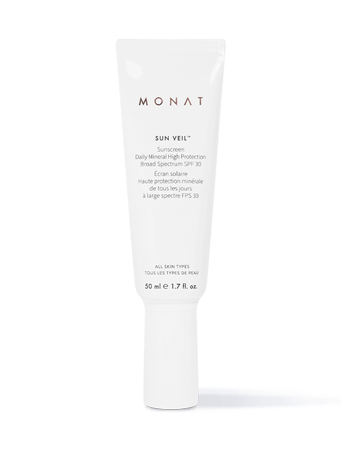 A personal of Mack's, this mineral sunscreen by Monat goes on smoothly and doesn't leave a white cast. "This mineral sunscreen is made with mineral-rich zinc oxide, hyaluronic acid, botanicals, and antioxidants. I love that this sunscreen is a physical sunscreen, meaning that it physically blocks the rays of the sun (unlike a chemical sunscreen that absorbs the rays of the sun and converts it to heat.) For people who suffer from pigmentary disorders like melasma or post inflammatory hyperpigmentation, this product is my go to."
$42 at Monat
Supergoop! CC Screen 100% Mineral CC Cream SPF 50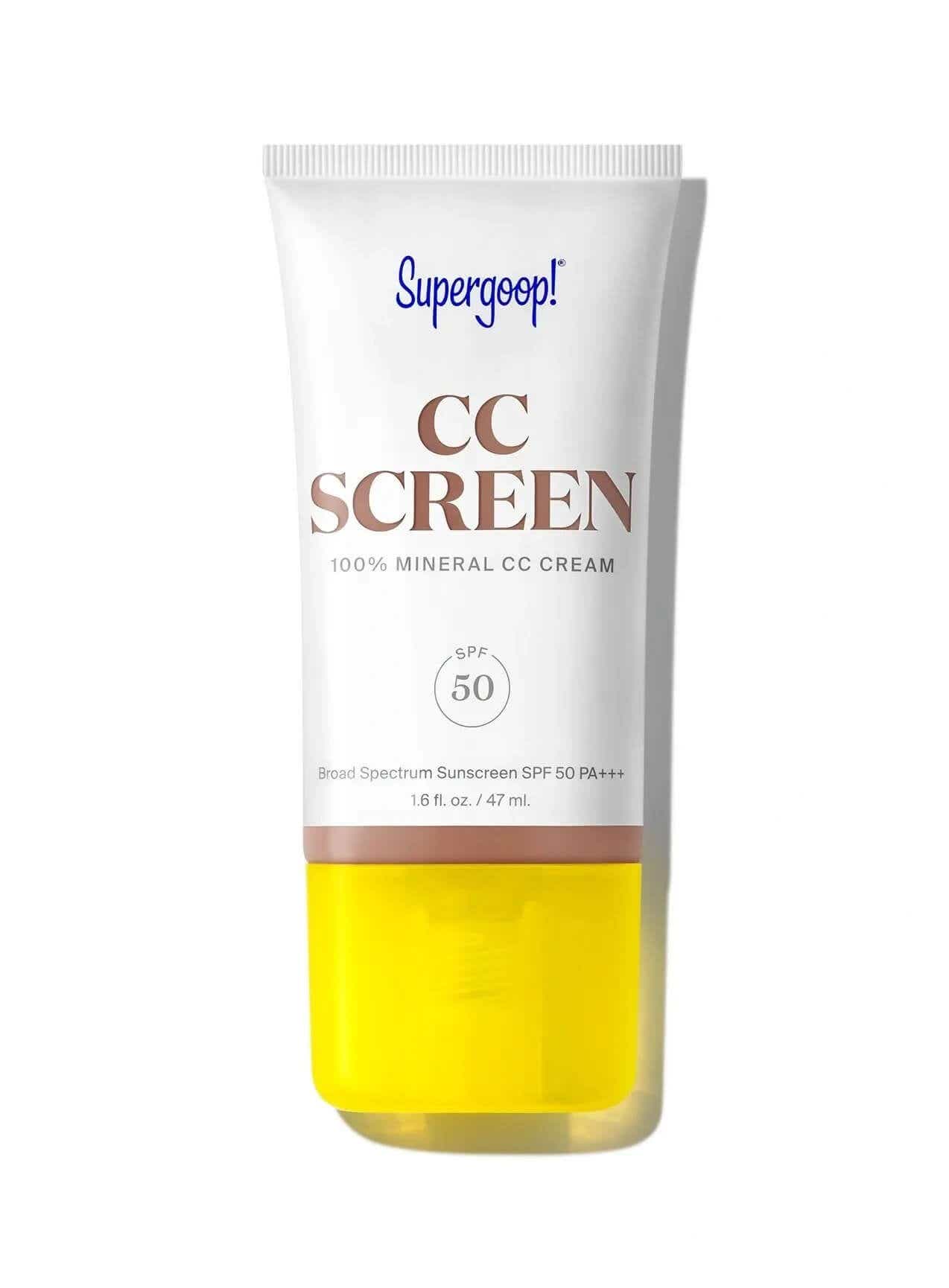 If you're looking for something that also offers a bit of skin coverage, a tinted sunscreen like this one from Supergoop is the perfect option. This one has an SPF of 50, and it comes in 15 different shades.
$44 at Supergoop
Aveeno Baby Continuous Protection Zinc Oxide Mineral Sunscreen SPF 50 lotion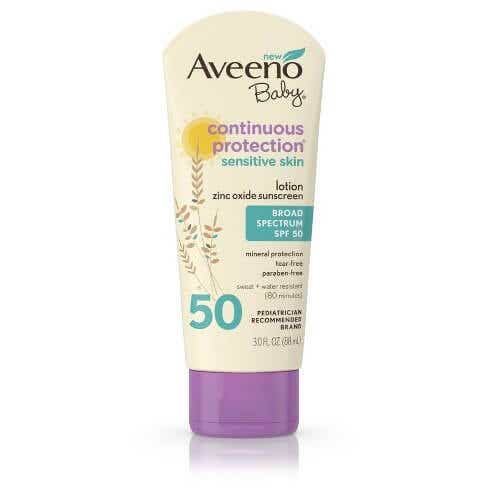 If you are lathering up a little one with sunscreen (or you have super sensitive skin), a mineral sunscreen is a must. Children and babies have an increased risk of absorption due to their increased body to surface ratio. For adults, this is a great formula that can be quickly applied to the face, ears, and neck without getting your hands greasy.
$16 at Target
Dermatone's No-Touch Sunscreen Stick SPF 60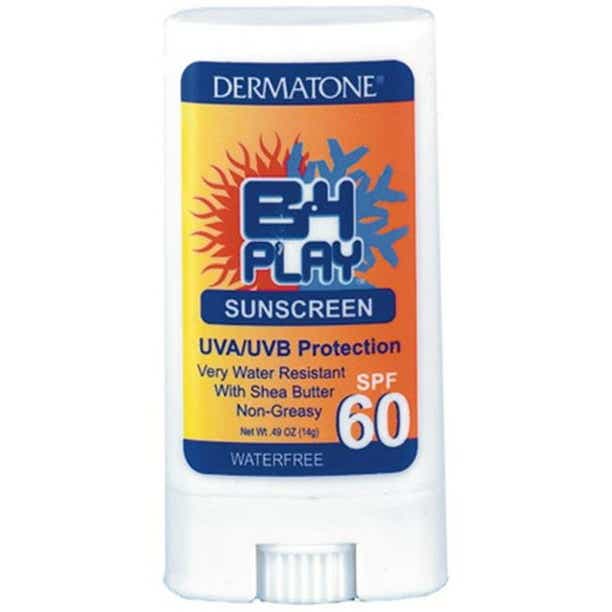 For those who play sports or simply don't like getting sunscreen all over their hands, a stick formula is a great option. If you need to touch up while swimming or surfing, you don't even need to dry your hands off to apply it. It's waterproof for up to 80 minutes, and it has an SPF of 60, so you'll be super protected.
$10 at Walmart