Tales of the toy that transcends generations.
Just about everyone has their very own Barbie story.
The most iconic doll in history (full name: Barbara Millicent Roberts) launched in 1959, and she's been a cornerstone of American toy culture ever since. The first-ever Barbie sported a black and white swimsuit and cat-eye sunglasses — and later sold for a staggering $27,450 at auction — but that was just the beginning. Barbie's had countless jobs, hairdos, and Dream House renovations, and she's also spurred debate about how she influences children's body image, what she represents in terms of women's equality, and whether a single song can be simultaneously catchy and annoying enough to drive people clinically insane.
Even if you didn't have a Barbie yourself, chances are you still have formative memories surrounding this iconic plaything. Just ask our very own Katie Couric.
"When I was little, my mom didn't buy me Barbie. She bought me Midge, Barbie's less glamorous friend with brown hair and freckles," Katie recalls. "I also got a Scooter doll instead of a Skipper. Scooter had red hair and freckles, while Skipper, Barbie's little sister, was more conventionally pretty. Maybe my mom was trying to deliver a message to me — that the more down-to-earth doll had more to offer and there was more to life than trying to have the perfect plastic bust line and bottle blonde hair."
Whether you spent hours in Barbie World as a kid or not, you're definitely aware of the fact that she's headed to the big screen. Barbie, one of our most anticipated films of the summer, casts Margot Robbie as the legendary fashionista — and with director Greta Gerwig behind the camera and the likes of Ryan Gosling, America Ferrera, Kate McKinnon, and Issa Rae among the supporting cast, it's a no-brainer that this will be one of the biggest blockbusters of the year.
All the excitement about the movie has us reminiscing about our formative moments with Barbie — and clearly the same is true for you. We asked the readers of our daily newsletter Wake-Up Call to share their favorite memories, and you certainly did not disappoint. Here's a look at a few of the best submissions, which contain plenty of laughs, love, and, yes, a handful of accidentally ingested accessories.
---
Finding inspiration for the future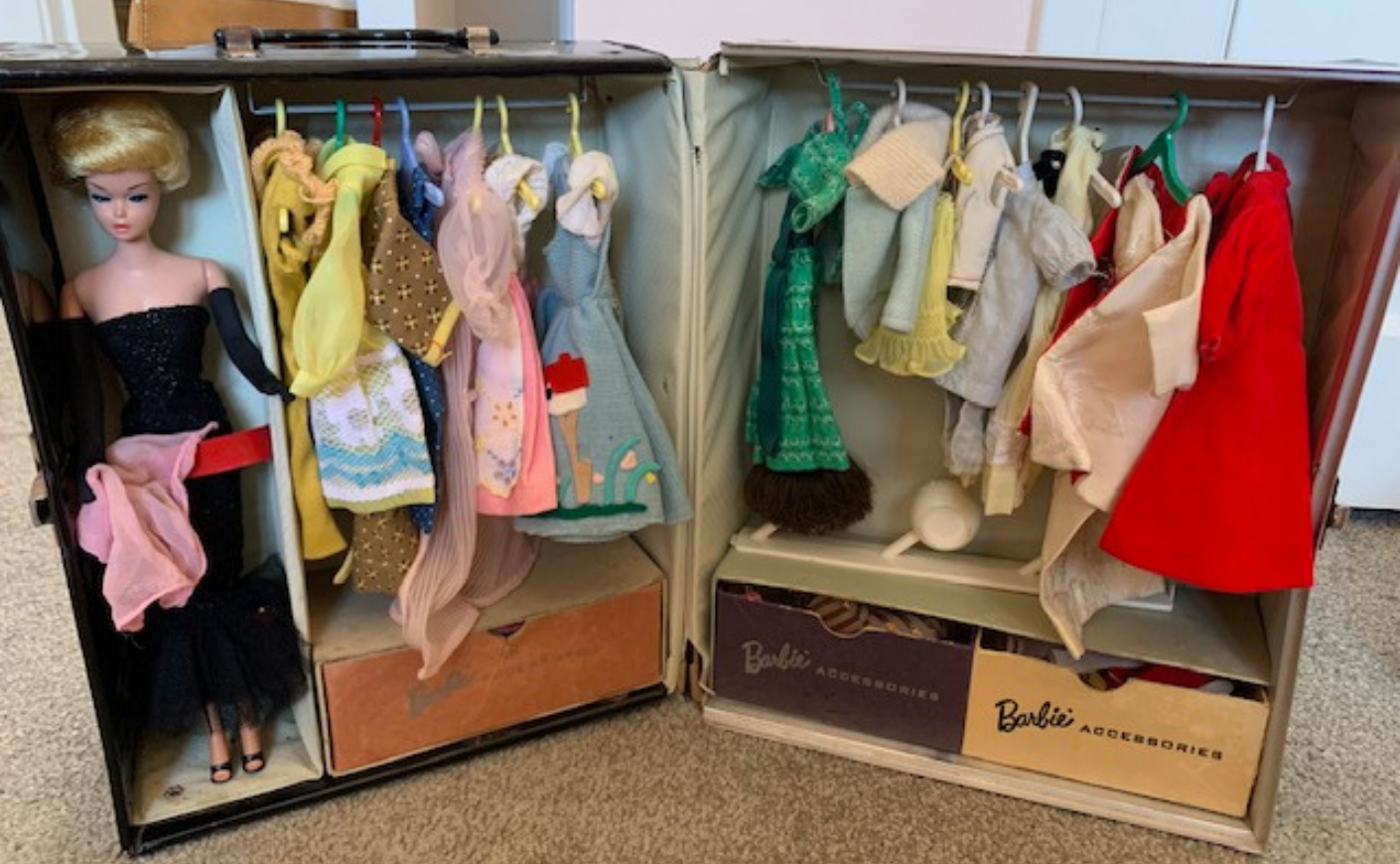 "My fascination with Barbie started in the early '60s, when I got my first red-headed bubble Barbie in the black and white swimsuit. My collection grew, and at 66 years old, I still 'play' with my Barbie and Skipper on occasion. While I've thrown out most of my childhood, I'll keep my Barbies forever! I went on to a career in the fashion industry, and I know I got my start and inspiration from playing with Barbies." – Susan H.
---
Making a lot out of a little
"My Barbie only had one outfit — a nurse uniform. She had no Dream House, no car, no Ken. So she became a nurse missionary in Africa, a traveling nurse in Central America, and a nurse midwife in Hawaii. (Not sure why I thought Hawaii needed nurse midwives.) I did not grow up to be a nurse, but I did grow up to be a travel professional with 30-plus years in the business. When your Barbie doesn't have a wardrobe or a home, you gotta work with what she has." – Mary B.
---
Seeing some much-needed representation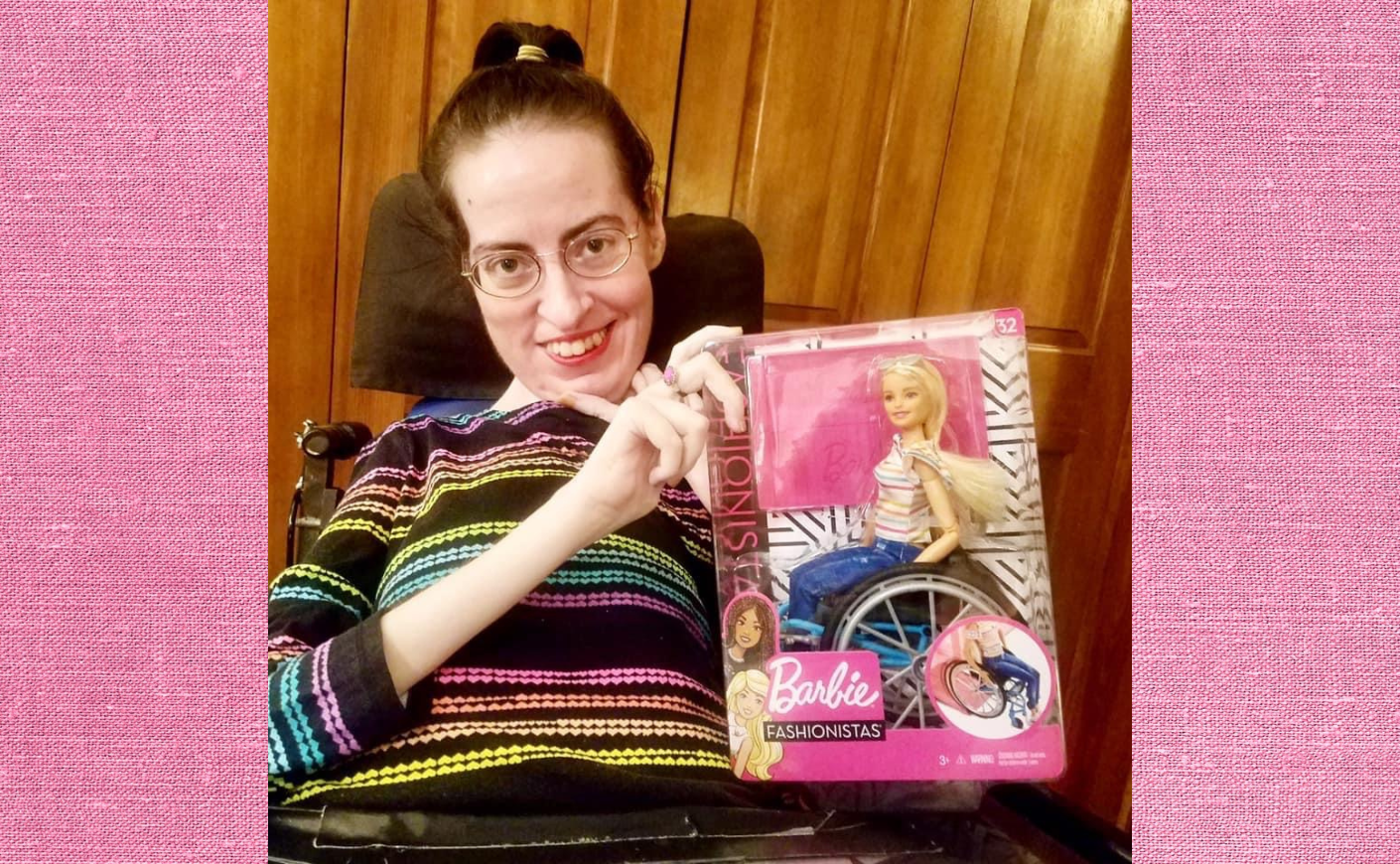 "We've come a long way. During my childhood, I was definitely a Barbie girl — I had them all! But I never envisioned a Barbie who represented me, a differently abled and dynamic girl who used a wheelchair. A few years ago, a friend gave me this new Barbie, and I thought, Wow! Having a toy that reflects you may seem like a small thing, but to me it shows progress and inclusion for the children (and adults) who will be inspired and uplifted. Cheers to 64 years of imagination!" – Allison D.
---
Learning an early lesson about the availability of men (or lack thereof)
"I played with Barbies in the 1960s with my nieces who were my age. There was only one Ken doll. To accommodate, we had an ongoing story that at any given time, our husbands were all in Vietnam in the war, and one husband was home on leave. Then that husband went back to war, and someone else's husband came home on leave. That's how we managed to share our single Ken." – Doreen M.
---
Igniting (and fulfilling) a lifelong dream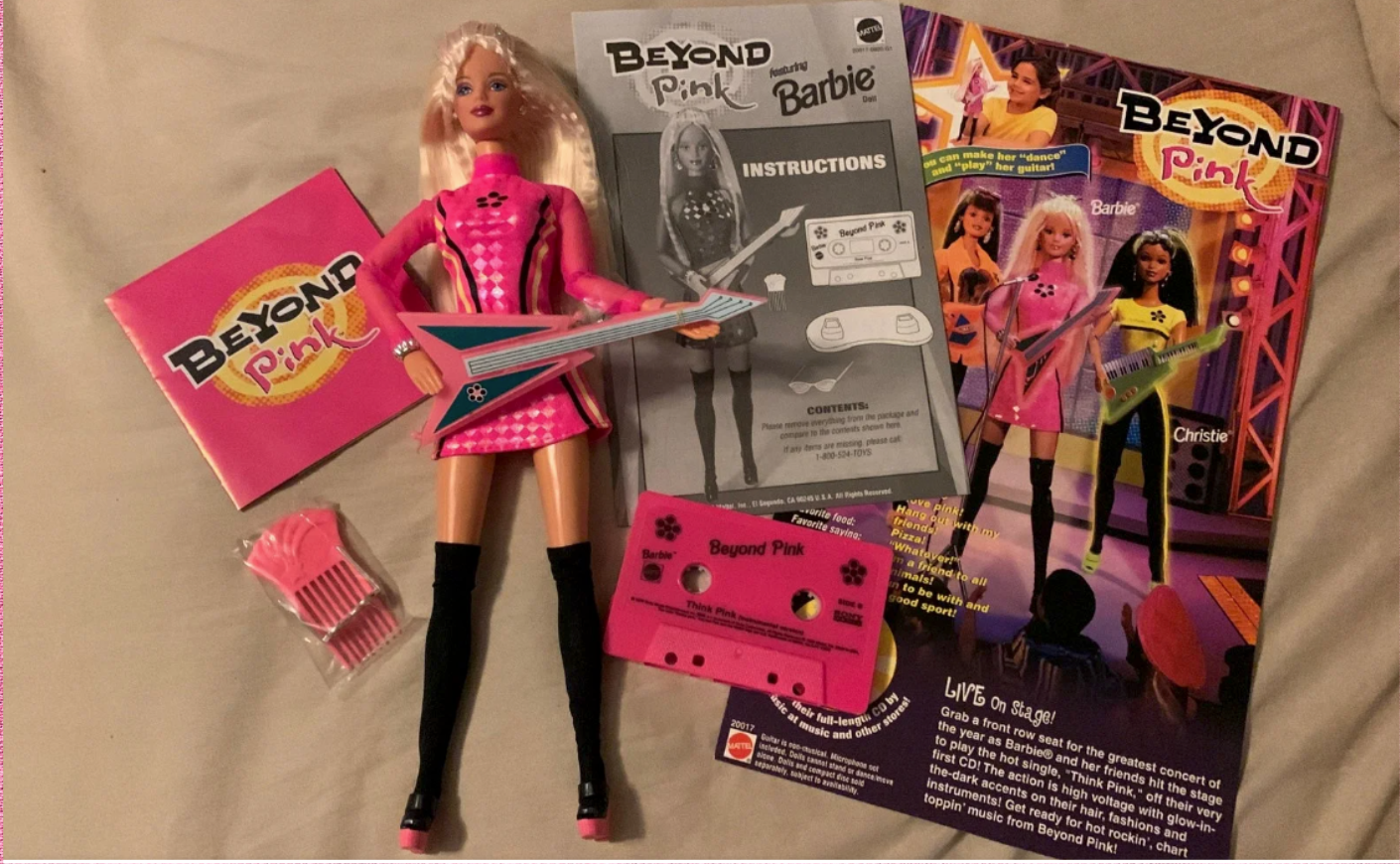 "I'm a singer. It all started as a kid, 'putting on concerts' on a windowsill in our family den. It was the perfect-looking stage, with heavy curtains to draw open and closed. I played music on the record player in that room, and all my Barbie, Midge, and Ken dolls (and a G.I. Joe doll, too) were the band. I'd spend hours 'performing' with them. Fast forward to one of the greatest moments of my career — I'm the singing voice of Barbie Beyond Pink! (There's even a Beyond Pink Barbie doll.) To record that with some of the top writers and musical talent in L.A., with empowering pop songs, was beyond a dream come true." – Victoria L.
---
Getting a little sneaky (innocently, of course)
"There used to be a cereal box that advertised a Quick Curl Barbie. (Remember that wire hair?) You could make a purchase by collecting box tops and submitting a small fee. I was a kid without cash, but I was smart enough — or devious enough — to write a letter to the cereal company claiming that I submitted the required tops and cash but had not received the Barbie. I guess my childlike handwriting made them feel bad for me, and they sent me the doll. Anyway, one day I came home to find that my mother had donated my entire collection. I still have not forgiven her." – Lauren C.
---
Bringing Barbie to life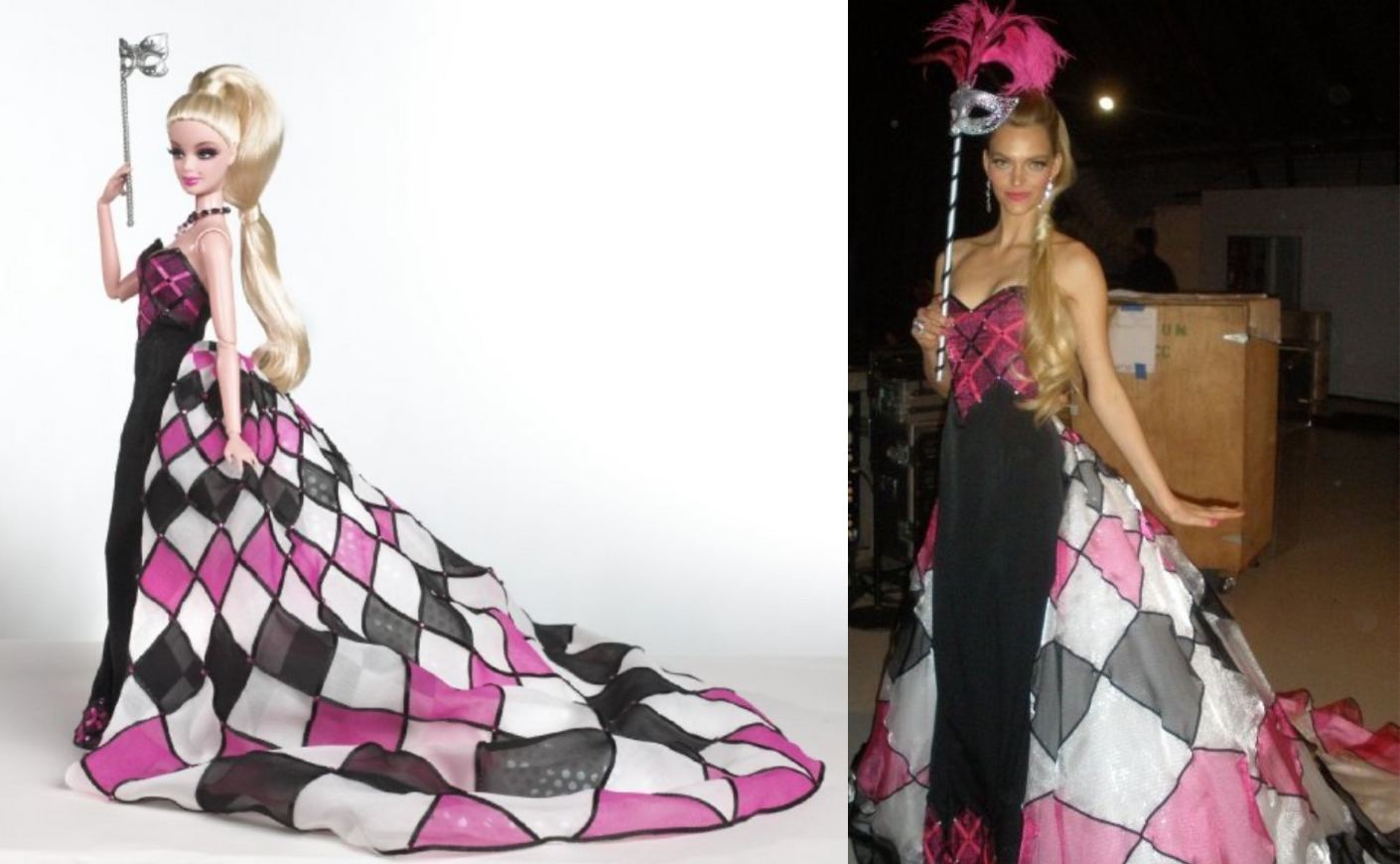 "I didn't grow up playing with Barbie dolls. I didn't even own one. Barbie to me was too pretty, too perfect, too rich — everything I was not. Ironically, I grew up and became a high fashion model, but I still didn't identify as someone as beautiful as Barbie. I was the edgy, weird, odd-looking model. It wasn't until 2009, when Mattel collaborated with the Fashion Institute of Design and Merchandising, that I had my Barbie moment. It was Barbie's 50th anniversary, and advanced students at FIDM teamed up with Mattel to create a life-sized collection of designs for Barbie. This collection was shown on the runway, and I was chosen as one of the 12 Barbies — Venice Masquerade Barbie, to be exact. For one of the first times in my life, I got to feel pretty. The little girl in me finally felt beautiful; after all, she was a Barbie. 
I'm sure a lot of little kids grew up like me, thinking they weren't good enough for Barbie or not relating to her perfectionism, stylish clothes, and expensive cars — which is why I'm happy that Mattel has since created Barbie capsules with female role models, such as their campaign with female STEM leaders that they released on International Women's Day and the other inspiring women they've highlighted as part of their Dream Gap project." – Sarah D.
---
Testing the limits of our digestive tracts…
"When I was four or five, I was having a tea party with my Barbie while my mother made lunch — and apparently, I swallowed her gorgeous, pink high-heeled shoes. Fast forward 30 years, and I was having my first colonoscopy (thank you, Katie!). When I woke up, I asked my doctor if he'd found my Barbie shoes!" – Jude A
---
…or just testing limits
"I used to bite off Barbie's feet to see the wire inside. I collected the feet in a little tin box. God, I wish I still had that tin!" – Jill O.
---
Fostering unforgettable friendships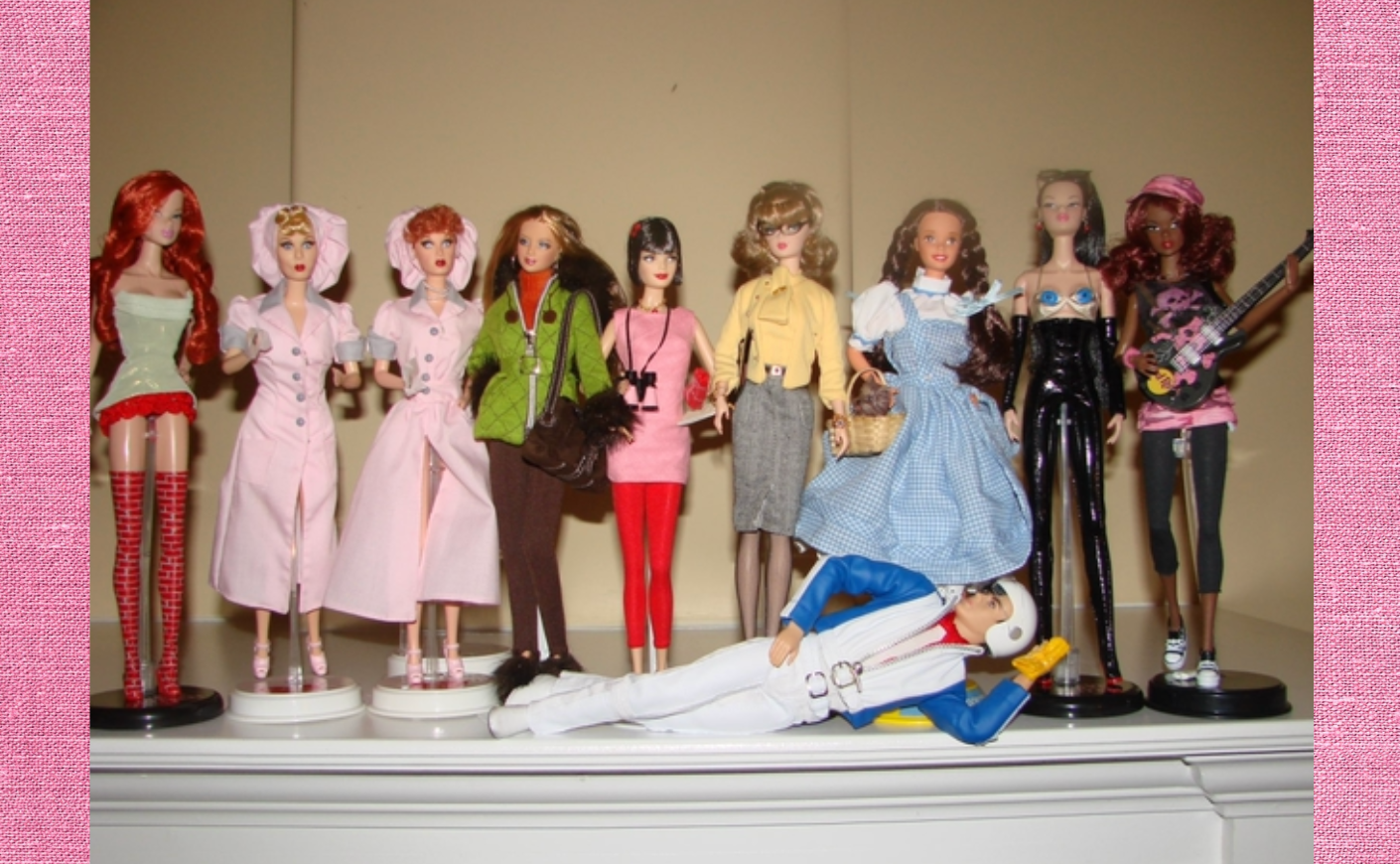 "About 15 years ago, my girlfriends and I went on a birthday (mine!) spa weekend. I'm the same age as Barbie, so it was fitting that she celebrate with us. There's a store in Toronto, Canada, that sells every imaginable Barbie ever made. I decided to reciprocate this fabulous girls' getaway with a personalized Barbie for each — an adult loot bag.  There's Lucy and Ethel for my twin friends, a Ken for my single friend, Dorothy for my wanderlust friend, and the list goes on. I was even able to choose outfits to better represent each of my fabulous friends. They're real, they're plastic, and they're fantastic!" – Callie M.
---
Starting a side hustle (before we called it that)
"I had the first pony-tailed Barbie doll. My friends and I would set up our Dream Houses and play the afternoon away. My mom sewed some simple Barbie clothes for us, and they were a hit. She started her home business selling a set of clothes — you could choose 10 for $5. She was a one-woman factory sewing gowns, dresses, and robes. She bought a car for herself with the money she earned back then. Ah, those were the days!" – Christine S.
---
Navigating the collectible toy economy
"My mother loved dolls. She was a girl during the Depression, so there was no money for a nice baby doll of her own. I, on the other hand, never really cared for dolls. That didn't stop my mother from giving them to me as gifts. For Christmas, she gave me the very first Barbie that ever came out in 1959. It basically lived in the box forever. Needless to say, that made it more valuable — and many years later, I was able to take my mother to a vintage doll store and trade my Barbie for the baby doll of her dreams. Very happy memory for me." – Joele S.
---
Working up a custom wardrobe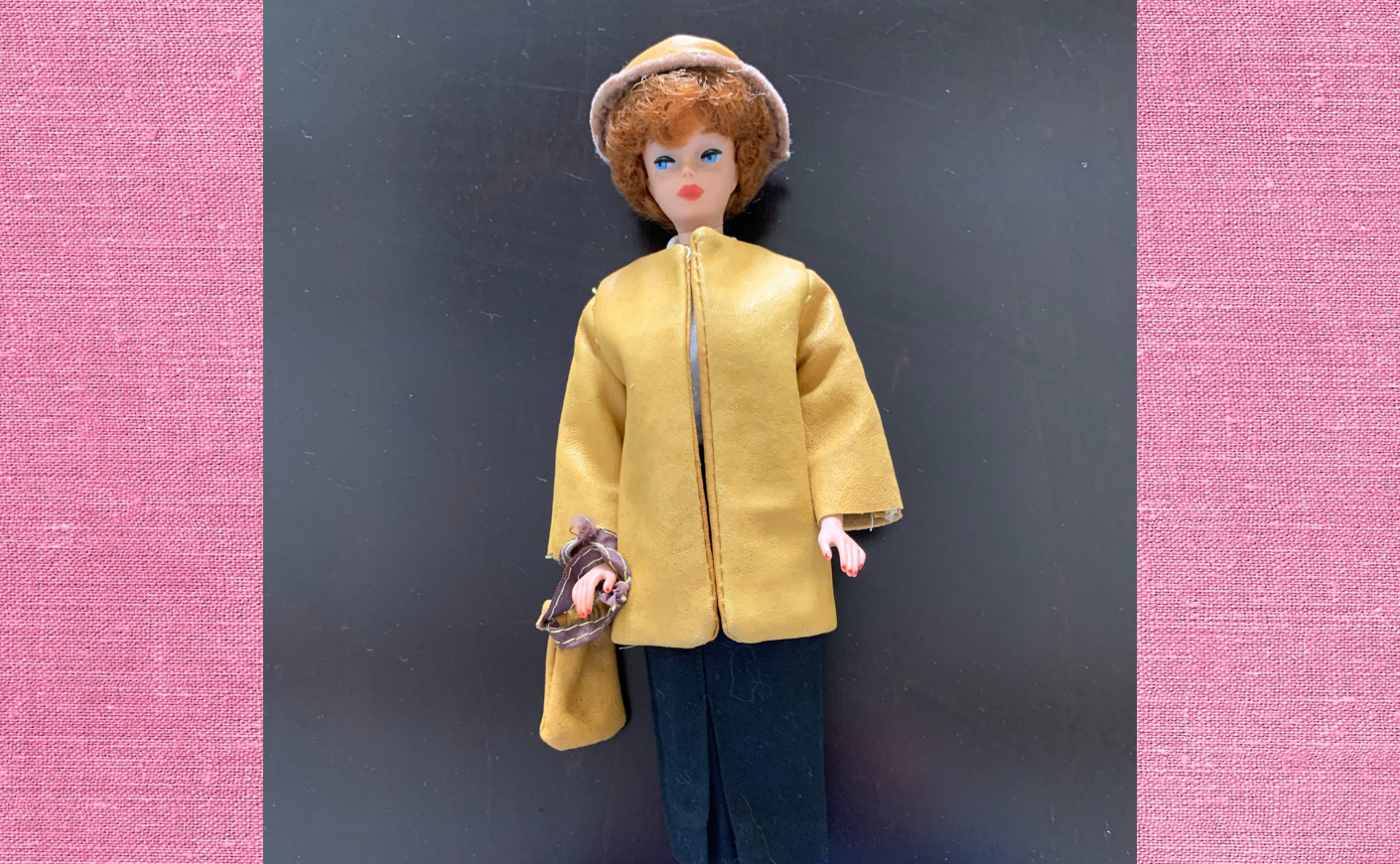 "I still have the Barbie I got in 1960: the bubble haircut version. We couldn't afford to buy clothes for her, but my Grandma Fran was a talented seamstress who made them herself: suits, skirts, pajamas, even a copy of Jackie Kennedy's pink wool suit, complete with a pillbox hat. This was before Velcro! Each piece had tiny snaps or buttons. I saved many of the clothes, and during Covid quarantine, I amused myself by dressing my old Barbie up in all her different outfits and taking pictures. I put my Barbie fashion show on Facebook to amuse myself and my friends. I plan to turn Barbie over to my granddaughter — but only after I'm dead!" – Gay D.
---
Giving parents inescapable homework
"In the '70s, we bought the Barbie Dream House for Christmas/Hanukkah for our two daughters and the Barbie family to enjoy. We started putting it all together the night before Christmas, after the girls went to bed — and we were up all night. The house was one thing to assemble, but all the accouterments were quite another. If you did this back then, you'll understand: Things like an entire set of dishes, glasses, and silverware were all joined together with tiny plastic joints, and each had to be cut, separated, and put away. Oh my. It was a monumental task but so much fun 'playing' with all of these things myself before the kids woke up. It amazes me even today how much detail was included." – Cindy B.
---
Going for a grand voyage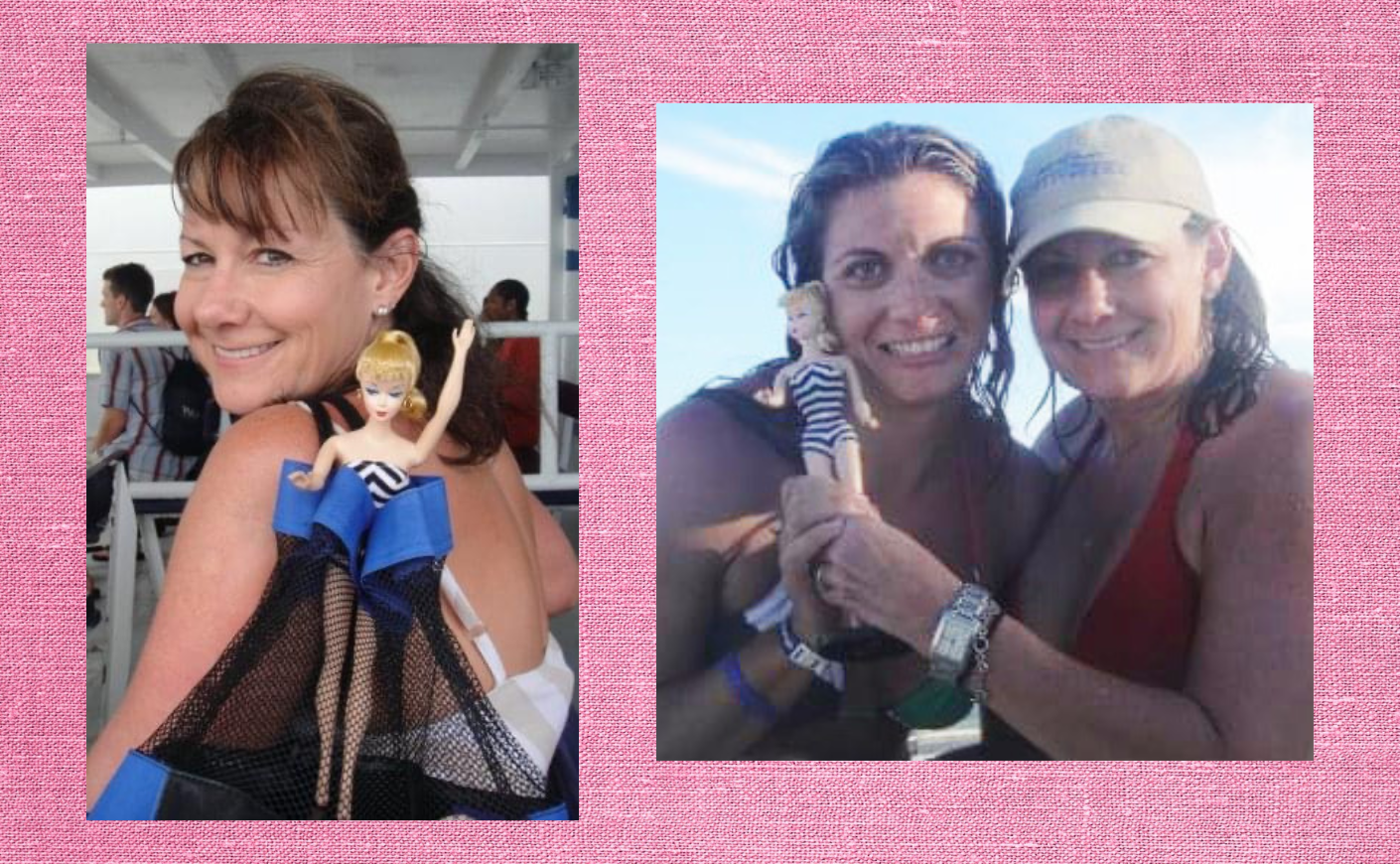 "My name is Barbara, and I was born in 1958. The Barbie doll was born in 1959, so we basically grew up together. Barely a day went by in grade school when someone didn't say, 'Hey Barbie, where's Ken?' In 1998, my husband and I built our dream home, and I designed a hot pink Barbie Dream House logo for the moving announcement postcards. I recently purchased a home at the beach, which I am calling the Barbie Beach House.
The year I turned 51 was the year Barbie turned 50, and Mattel released a special anniversary Barbie, wearing the black and white striped bathing suit. At the time, my daughter Kelsey was 20, and she bought me the doll for my birthday. The same month, I won an all-expenses-paid cruise sponsored by Bud Light. I wanted to take Kelsey, but she wasn't allowed since she wasn't 21 yet. I brought a friend instead, but in an effort to cheer Kelsey up, I decided Barbie would go on the cruise, too.
I set out to take pictures of Barbie everywhere we went and text them to Kelsey throughout the trip. Barbie participated in all the events of the three-day cruise, including dressing for formal night, going ashore for shore excursions, and — best of all — meeting Olympic gold medalist Misty May-Treanor, who was doing a beach volleyball demonstration." – Barb S.
---
Becoming a buffet for the family pet
"Barbie was my toy of choice growing up in the '60s. My neighborhood friends and I spent hours dressing our dolls, trading outfits, and acting out scenes. When my daughter was born in 1990, I was anxious to pull out all of the Barbies and accessories I'd saved. When she was about 6, I got my collection out of storage. Now comes the sad part: We had just adopted a 10-week-old labrador retriever who wanted to play with the Barbies too. One day we found a massacre in the playroom — heads, limbs, and torsos everywhere. I was disappointed that my daughter couldn't play with my dolls, but she was overjoyed when we went to Toys R Us to start her own collection. Hopefully, her girls (she now has three of her own) will keep her dolls safely away from their golden retriever!" – Marjorie R.
---
Passing the torch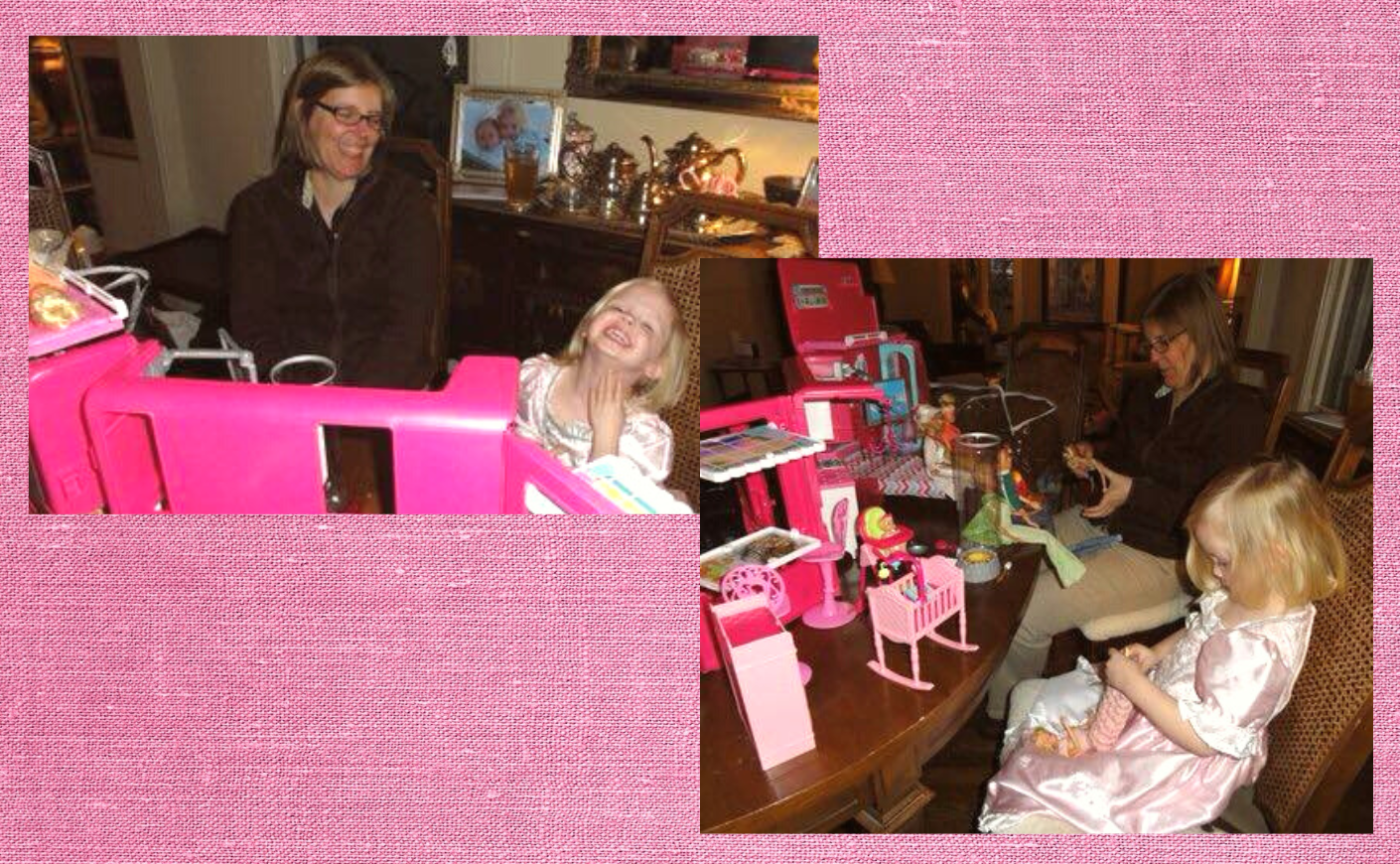 "I grew up in the '70s and early '80s in Arlington, VA. We had family friends with a daughter who was my age, and we loved playing Barbies. We had an ongoing soap opera-type story about them, too: She watched General Hospital and I watched Guiding Light, so we compromised and called our 'show' The General Light.
My family moved from Arlington to Birmingham, AL, in 1982, and it was a massive culture shock. It took me a while to make friends — and unfortunately, I didn't find anyone at age 12 or 13 that wanted to play Barbies. Sometimes I'd just get them out and play by myself, changing them in and out of their clothes and then putting them all back in their case.
I kept those Barbies for years, way into adulthood. Then one of my friends had a daughter who loved dolls. When she was 3 or 4, I took all my Barbies over, and Mabel and I played all night. I let her have all of my Barbies and their clothes. She was thrilled, and so was I." – Jennifer C.