Katie sat down with the viral voices at a recent event at City Winery in NYC.
We love when a hilarious video, spot-on meme, or heartwarming social post stops us in our scrolling tracks and makes us take notice. And that's exactly what's drawn Katie (and the rest of our team) to four unstoppable creators: award-winning journalist and proud feminist Liz Plank, portrait artist Devon Rodriguez (he's the most followed visual creator on TikTok!), "pop culture king" Evan Ross Katz, and 27-year-old comedian and actress Grace Kuhlenschmidt, whose videos make our stomachs hurt. (If you're not already following our new friends, we think you should be.)
To curb the January blues, Katie chatted with each of them over a glass of wine at her recent 'Night Cap' event at City Winery in NYC — and the intimate conversations did not disappoint.
To get the party started, our amazing event sponsor and friends at Revela gifted the 150 lucky guests with their brand-new skincare product, Fibroquin Essence. It's a first-of-its-kind collagen-boosting and skin-tightening product that's powered by some serious AI science — and it has staggering results. (Here's how it works.)
The cozy night was filled with lots of laughter, inspiring takeaways, skincare goodies, and a glass (or two) of delicious wine. In case you didn't snag a ticket to the sold-out show, here are the highlights:
Liz Plank was first to take the hot seat
The night kicked off with Liz Plank, "a real smarty pants," as Katie put it. Plank earned a master's degree in gender studies from the London School of Economics and has spent the last 10 years putting that degree to good use. She's an award-winning journalist, a bestselling author, and the co-host of the podcast "Race to 35" chronicling her egg-freezing process.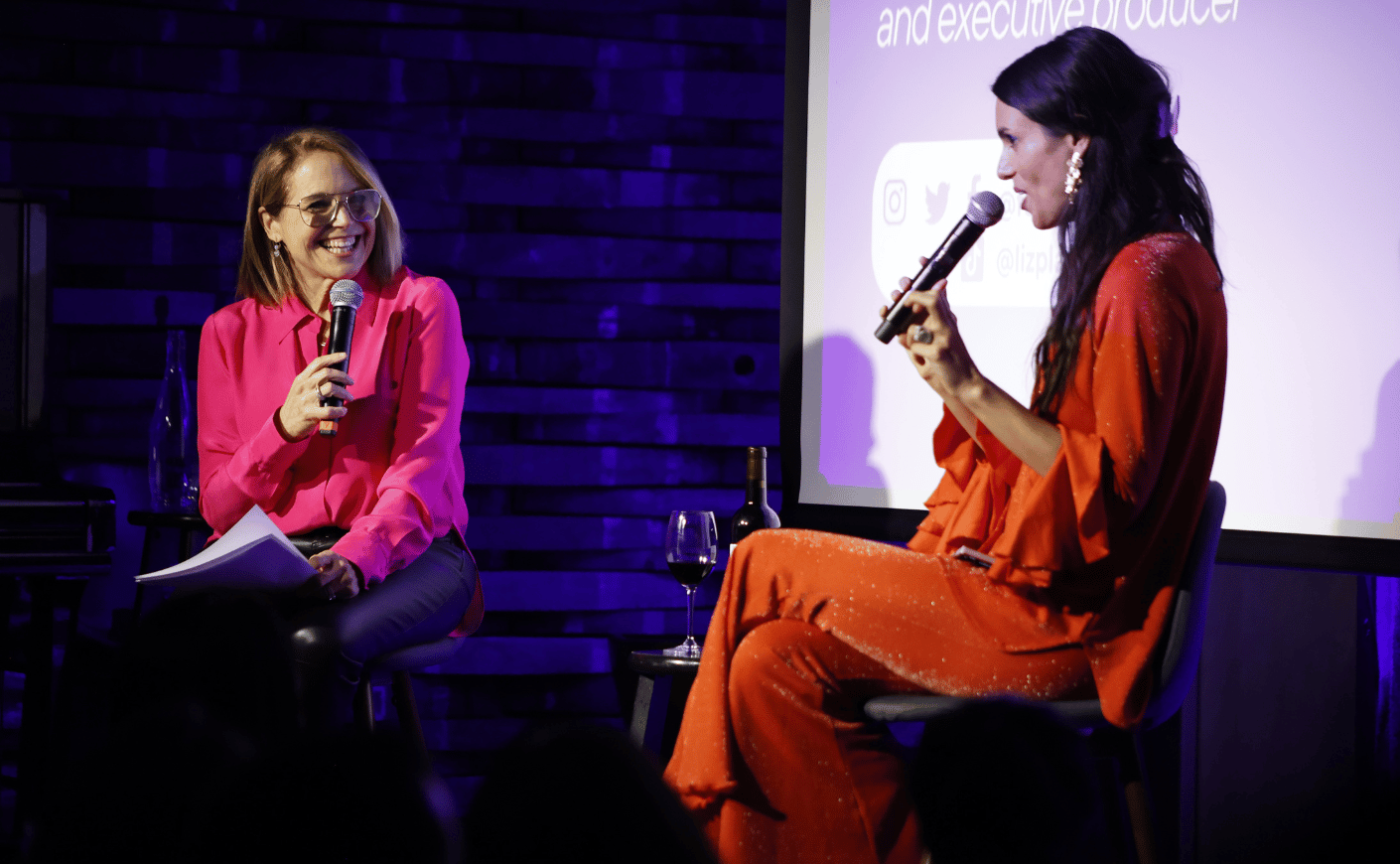 On the podcast, Plank aims to reframe some of the familiar tropes and narratives that surround women who've chosen to have children later in life — and also shine a light on male fertility. "There's a sort of social stigma around having children later in life. There's a whole term called 'geriatric pregnancy,' which I will have because I'm 35 at this point," Plank told Katie. "I started wondering, If we call it a geriatric pregnancy, why don't we call it a geriatric ejaculation? Why is it a geriatric thing for me when the man and the quality of the man's sperm also [declines] with age?"
How did Plank feel about the egg-freezing process? "To me, it was the beginning of this journey of motherhood. I don't have a baby, it doesn't exist," laughed Plank. "But I started making space for her, or for them, or for him, whatever they choose…I was just amazed by what my body could do and I felt superior to men for two weeks."
Inspired by Plank's impressive career? Her advice for aspiring journalists is to keep your day job. "I worked at the London School of Economics as a research assistant while I started writing on the weekends. The fact that it wasn't my job and that I didn't rely on it for income at the beginning meant that I wrote about the things I really cared about and that's where I found the most success. My number two is: Get on TikTok." That brings us to…
Devon Rodriguez, Katie's next guest
With nearly 30 million TikTok followers, Devon Rodriguez is the most followed visual creator on the platform. The Bronx native has used the Big Apple as his backdrop to make it big. Known for secretly drawing portraits of people riding the city's subway, and then posting videos of their reactions, Rodriguez is as talented as they come and such an impressive success story. His viral videos have even afforded him opportunities to sketch live portraits of President Joe Biden and Dwayne "The Rock" Johnson.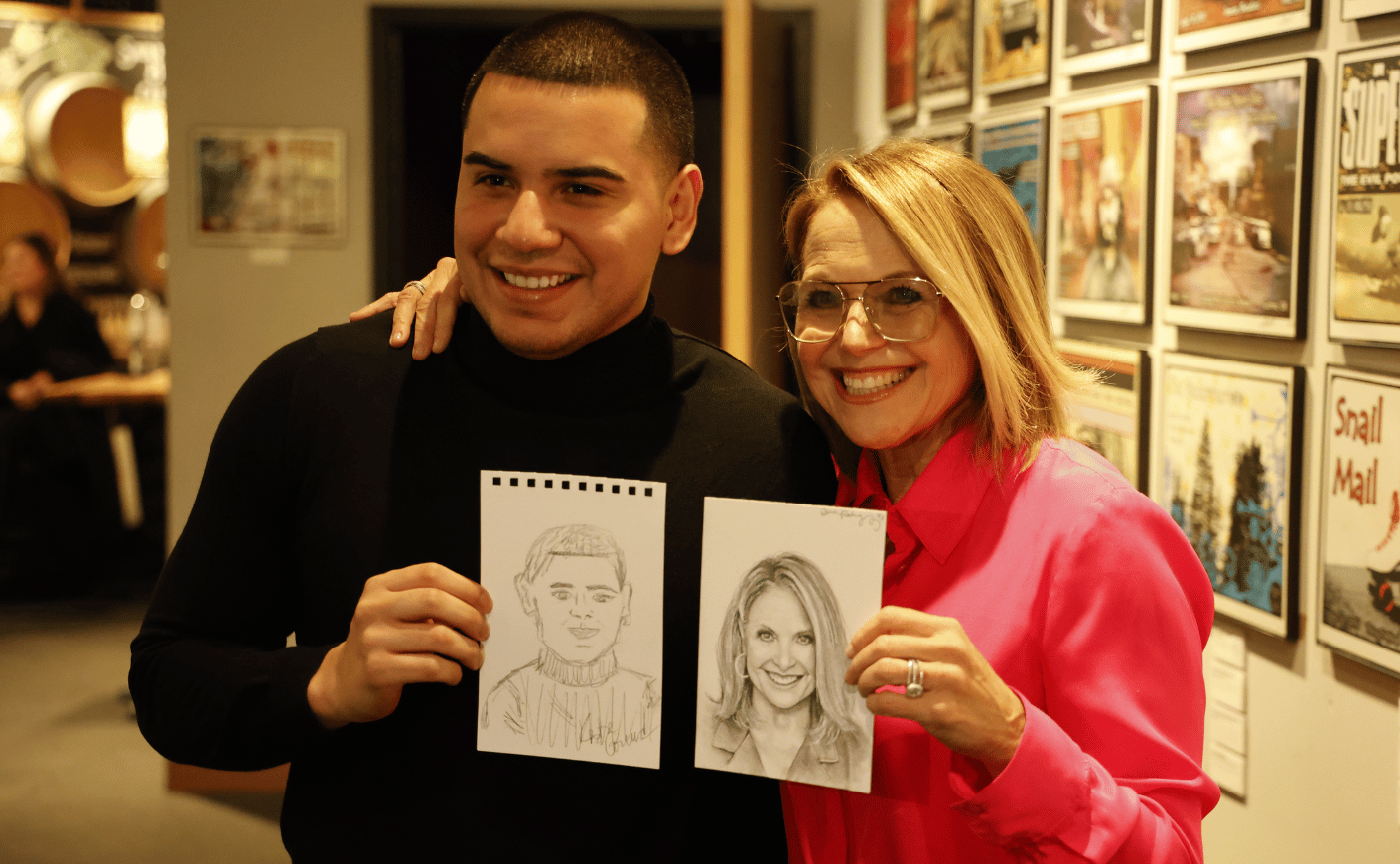 This talented artist and illustrator pretty much blew up overnight during the pandemic. "I saw these 16-year-olds dancing on TikTok [becoming millionaires] and I was like, I feel like I'm talented and I'm stuck in the Bronx, maybe I gotta try this TikTok thing out so I can feed myself…and so I don't have to eat a cup of noodles every day," Rodriguez joked. "The first time I posted [a video from the subway], it got five million views on the first day. I got 100,000 followers from that one video," he shared. He was clearly on to something.
Rodriguez is also a talented painter and his first gallery show is coming up this May. At the end of their conversation, Rodriguez surprised Katie with her very own drawing!
Then, Evan Ross Katz grabbed the mic
Katie introduced her next guest as her favorite "king of pop culture." Evan Ross Katz is known on Instagram for his hilarious hot takes on Hollywood. Originally from Pittsburgh, Katz is also a writer; the host of two podcasts, Shut Up Evan and the Survivor-themed show Drop Your Buffs; and the author of Into Every Generation a Slayer Is Born: How Buffy Staked Our Hearts.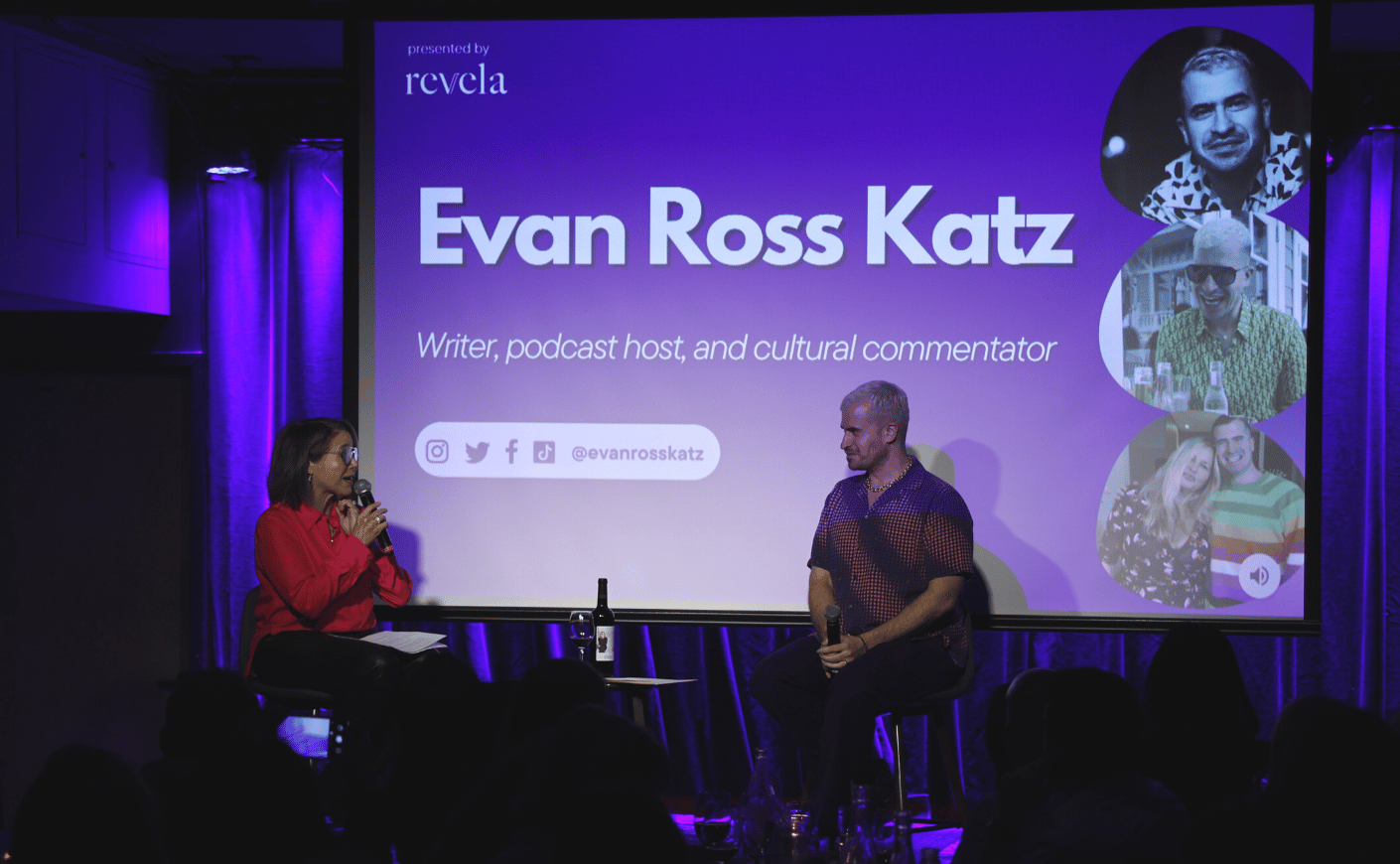 Fresh off the plane from Paris Fashion Week, Katz was eager to chat with Katie about all things TV. (They have a shared obsession with The White Lotus and Fleishman Is In Trouble, and similar feelings about And Just Like That…) But where does Katz's comfort in entertainment stem from? "I grew up in a time and in a town where there weren't a lot of people like me, so I looked to pop culture to find myself," Katz told Katie. "It wasn't necessarily queer characters — it was a lot of female heroines." Katz shared that Jennifer Coolidge (who he's now friends with, BTW), Buffy the Vampire Slayer, and the pink Power Ranger were hugely impactful on him. "There're a lot of conversations happening right now about queer representation and queer visibility, and of course, it's very important. But I can say as a younger person, I found representation in women on television and film, and Broadway musical soundtracks that have sort of made me who I am today." Katie and Katz originally connected on Instagram over White Lotus (#JusticeForTanya). So what did he think about season two's ending? "It left a ton of doors open. There's a reason why people want to prognosticate on the show after the fact. Even though it's over, there are still questions looming." Katie then surprised Katz with a very special video message from none other than…Mike White, the creator of the hit HBO series.  
In the video, White thanked Katz for being "the most valuable hype man in the history of television." That accolade brought joyful tears to Katz's eyes.
Last but not least, Grace Kuhlenschmidt took the stage
Twenty-seven-year-old Grace Kuhlenschmidt's Instagram bio reads "straight lesbian comedian," which should give you a sense of her contradictory, nonsensical sense of humor. You might recognize this funny gal from season five of Search Party (HBO Max) or her hilarious short skits all over social media. (Katie can't stop watching them.)
Originally from L.A., Kuhlenschmidt moved to New York in 2020 and is part of a new generation of creators and comedians who rose to prominence during the pandemic. "I put out what I think is fun and funny, which sounds simple, but you can really get caught up in what's trending and what other people are doing," Kuhlenschmidt told Katie.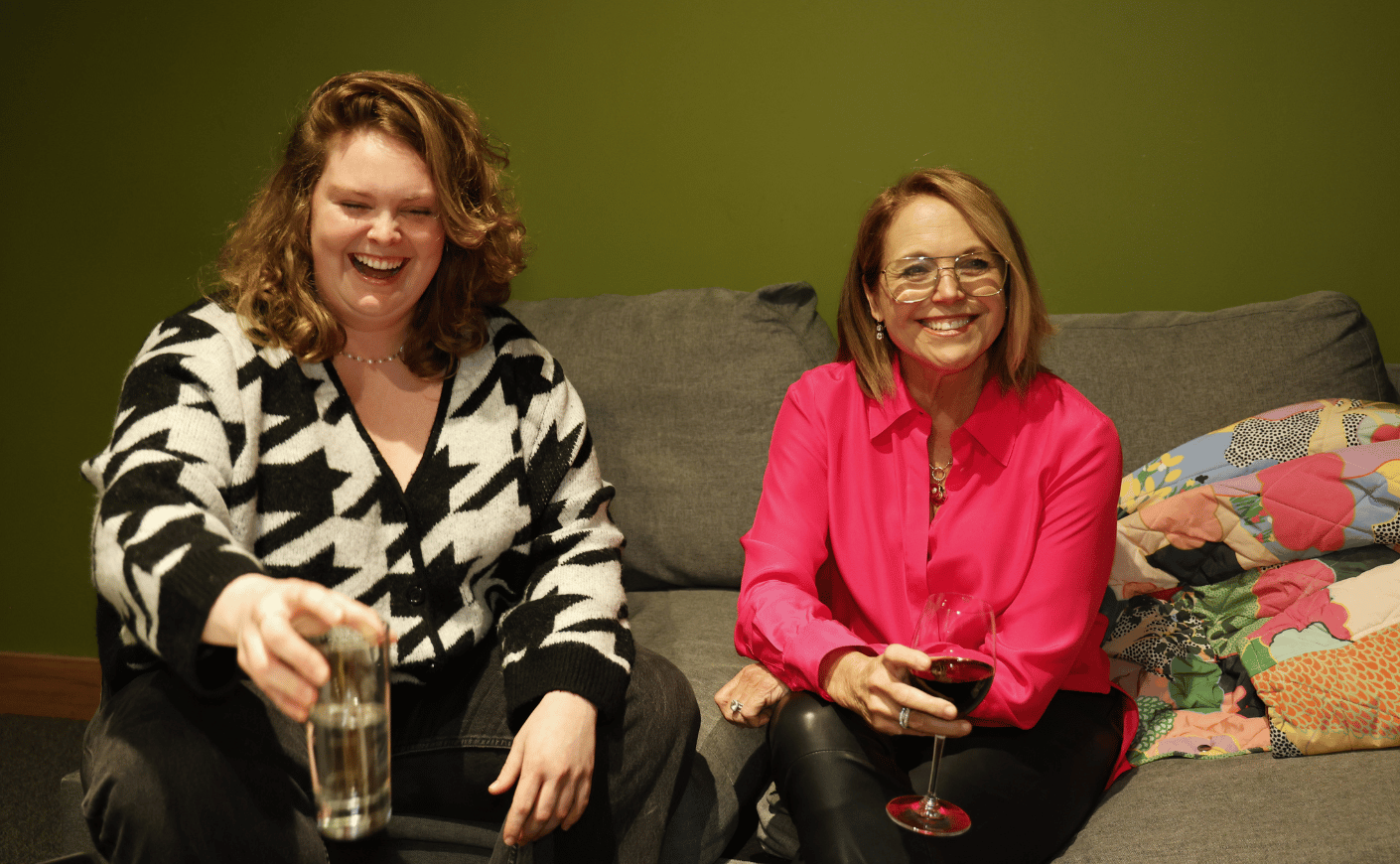 Katie was eager to ask Kuhlenschmidt what she meant when she said, "being a lesbian is the funniest thing about me".
"For so many years, people have made fun of gay people. Why can't gay people make fun of gay people? It feels very simple to me. I think if I can make fun of a straight person, I should also be able to make fun of myself in the exact same manner…if not completely heightened."
When asked if she's always been so funny, Kuhlenschmidt gives a lot of credit to her parents: "I grew up in a really fun-loving household where being weird was so embraced."
And that's a wrap!
Even if you missed Katie's event, hopefully, you'll be just as amazed and inspired by these talented social media mavens as everyone in the audience was. "The world has changed a ton since I got into journalism," Katie shares. "And while I think there are plenty of downsides to social media, I think it's truly amazing how it has unleashed a world of creativity."
If you haven't already, go stalk, like, and follow these four rising stars who we can't get enough of.