The CEOs of Glow Recipe share some of their favorite products and skincare secrets
Korean beauty products are all the rage in the U.S. right now, but Christine Chang and Sarah Lee, co-founders and CEOs of the Korean beauty-inspired brand Glow Recipe, grew up with them. After bonding over their shared Korean heritage while working at L'Oreal, the pair decided to start a business together—envisioning it as an e-retailer for Korean brands to sell in the U.S. As their company grew, they debuted their own line, Glow Recipe Skincare. Below, Christine and Sarah share their favorite products, why they knew consumers would respond to K-beauty routines from the get-go, and how to achieve that perfect skin "glow."
Tell us what inspired you to start Glow Recipe — and what it was like building a business from the ground up…
Sarah: My co-founder Christine and I were bonding over sheet masks and wine after dinner one night, and realized that we were the only bicultural, bilingual executives in our positions at L'Oreal. As global marketers, and having traveled to Korea multiple times annually, we were always astounded by the amazing innovations in Korean beauty but found that many Korean companies lacked the expertise to take their domestic success global.
We first sought out to build Glow Recipe as an e-retailer for Korean brands in the US—an opportunity to bridge the gap between Korean brands and the US consumer. By utilizing our bicultural and bilingual beauty backgrounds, we saw the potential for Korean Beauty to skyrocket into a league of its own. In 2017, we started our own in-house namesake brand, Glow Recipe Skincare, which pairs superfruits with proven active ingredients for an effective glowing result.
The name 'Glow Recipe' was inspired by the menu of services we'd see at Korean spas or dermatologist offices, that would describe the different 'glows' such as 'water glow' or 'honey glow'. Glowing skin is called 'gwang' in Korea and it's a true beauty ideal. We wanted our name to represent our mission: bringing over the best innovations and trends from Korea, paired with educational content to make that covetable glow accessible to customers around the world. Our first product was created by harnessing the power of watermelon. Growing up, our grandmothers rubbed watermelon rinds on our heat rashes during hot summer months and we experienced first hand the miraculous healing power of watermelon and how soothing and hydrating it was for the skin. This was the inspiration for our OG product for Glow Recipe Skincare, the Watermelon Glow Sleeping Mask. Since its launch, we sold out over eight times and had waitlists in the thousands! We never expected that the product would be so well received, it was amazing. We were the #1 mask at Sephora US the year we launched and to this day, one Watermelon Mask is sold every three minutes.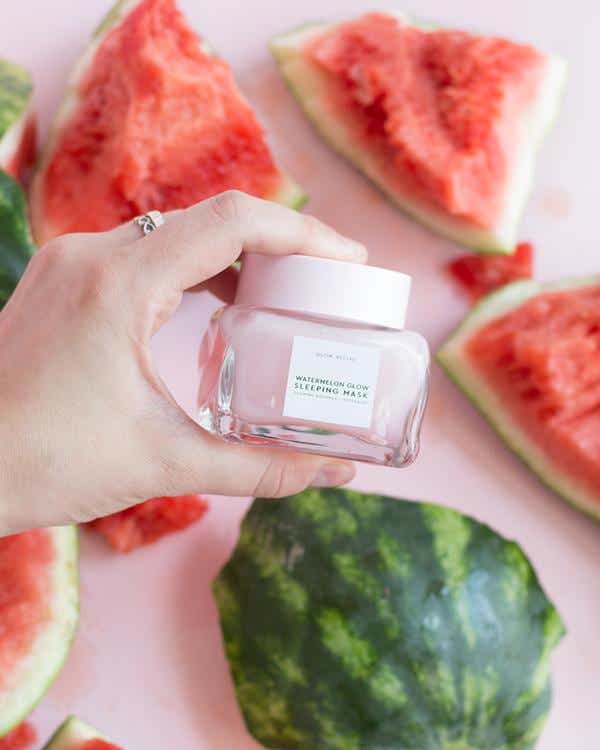 Christine and I built Glow Recipe from the ground up. I'm a firm believer that friendships are built on respect, understanding, and reciprocity. By having an ally and a mutual support system at work, I know that we can rely on each other. In our first year, Christine and I did everything together—from 3 a.m. calls with Korean brand partners to hand-packing hundreds of boxes (and writing thank you notes!). That early days mentality has served as the foundation of our partnership.
What's the biggest challenge you've run into being a female founder?
Christine: I've found amazing female mentors and friends in the beauty industry that uplift me every day. That group of women, many of whom are fellow female founders, has been an incredible support system. I think many women have a deep connection to and understanding of the product, which is critical to building and marketing a strong beauty business. I've also found that many female leaders are particularly generous with their time and mentorship, and we've done our best to pay this forward by mentoring others. This camaraderie is part and parcel of why I've always loved working in the beauty industry.
Is there a woman (or women) who inspired you when you were first building your business?
Sarah: At an early age, I was taught by my mother that a skincare routine was a moment of pampering, indulging, and enjoyment, which has transferred over to our beauty philosophy at Glow Recipe.
Skincare is deeply ingrained in Korean culture, where thousands of years of traditions are coupled with the most advanced skincare technologies in the world. I grew up skincare-obsessed, with memories of my grandmother passing down centuries-old skincare rituals to my mother and to me. These rituals and childhood memories of DIY masking with my mother, and going to public bathhouses with her and my grandmother, still inspire me to come up with ideas.My work doesn't feel like work most of the time, because I'm passionate about sharing this experience and knowledge with our community, and it energizes me when I hear customers showing their skin results online and telling us the new approach to skin we introduced completely changed their skin game! It's what keeps me going and helps me stay focused on our mission of making skincare not just efficacious but joyful and fun, which is a core tenet of Korean skincare.
Who is a fellow female entrepreneur who inspires you today?
Christine: I'm inspired by a number of female entrepreneurs and leaders. I think Whitney Wolfe Herd has done an incredible job building an empowered, engaged community via Bumble. Jamie Kern Lima built a beauty brand that fostered conversation around all types of beauty from her living room that evolved into a global phenomenon. Serena Williams has not only had a tremendous career on the courts spanning decades, she has also leveraged her personal passion for consumer brands to create Serena Ventures, with over half of the company's portfolio being female-founded and minority-owned businesses. I also think Eva Chen—the head of partnerships at Instagram and an author—has done amazing work to help support female-led businesses through initiatives like @shop.
What's one thing you wish you knew when you were getting started in your career?
Sarah: We each worked at L'Oreal for 10 years before cofounding Glow Recipe, and transitioning from a big corporation to the start-up world was eye-opening and life-changing. We learned a lot about the growing pains of starting a business, but I wouldn't change that for the world. One of our greatest challenges is that Christine and I had to learn how to run a company, not just a brand, on the fly. Whether accounting or legal or supply chain or coming up with a logo, we've faced countless hurdles—sometimes I wished I had a law degree and Christine had a CPA! But thankfully we were able to hire experts and amazing team members. It wasn't easy, but we're so proud of how far Glow Recipe has come, and the team we've grown.
What are the three essential Glow Recipe products everyone should have?

Christine: The cornerstone of the Korean beauty skincare philosophy is layering hydration and choosing effective, yet gentle products for healthy, radiant skin. Three Glow Recipe products I recommend are:
– Watermelon Glow Pore-Tight Toner – This toner was inspired by the popular 'aqua peel facial' in Korea, which helps to simultaneously refine pores and inject skin with hydration. We created a liquid treatment infused with a balance of pore-tightening ingredients such as BHAs, PHAs, and tea-tree extract and hydrating ingredients including hyaluronic acid and cactus extract. I like to dispense this into my palms and gently press onto my face to infuse skin with ingredients that balance and set the tone for my entire skincare routine.
– Plum Plump Hyaluronic Serum – This advanced treatment was formulated with antioxidant-rich plum extract that works with five different molecular weights of hyaluronic acid to flood skin with plumping hydration. We also included a blend of vegan collagen and vegan silk proteins to help fortify the skin. I mix this lightweight serum in with other serums, depending on how my skin feels that day, for a boost in skin benefits.
– Watermelon Glow Niacinamide Dew Drops – A multi-tasking serum inspired by the glowy skin looks created by Korean makeup artists. This treatment straddles the divide of skincare and makeup and can be used in so many ways: a niacinamide- infused brightening serum, a dewy primer, or mixed in with foundation for a lit-from-within glow.