Be warned — this essay will inspire you to plan your own Dutch getaway.
Bil Keane, a cartoonist most known for his comic The Family Circus, once said, "Yesterday's the past, tomorrow's the future, but today is a gift. That's why it's called the present." I took those words to heart as we planned our recent trip to Amsterdam and Paris with John's parents, Paula and Herb; John's brother Tom; and Tom's partner Andy.
You probably know by now that I adore John's family — his parents have enriched my life (as well as Carrie and Ellie's) immeasurably. Sometimes you have to tolerate your partner's family, but I'm lucky to have in-laws whom I love being with and who've embraced me like their own. (John jokes that they'd rather be with me than him, but that is not true at all.)
We had a ball, and even though I woke up at 4:30 this morning, still jet-lagged, I'm excited to share our adventures with you!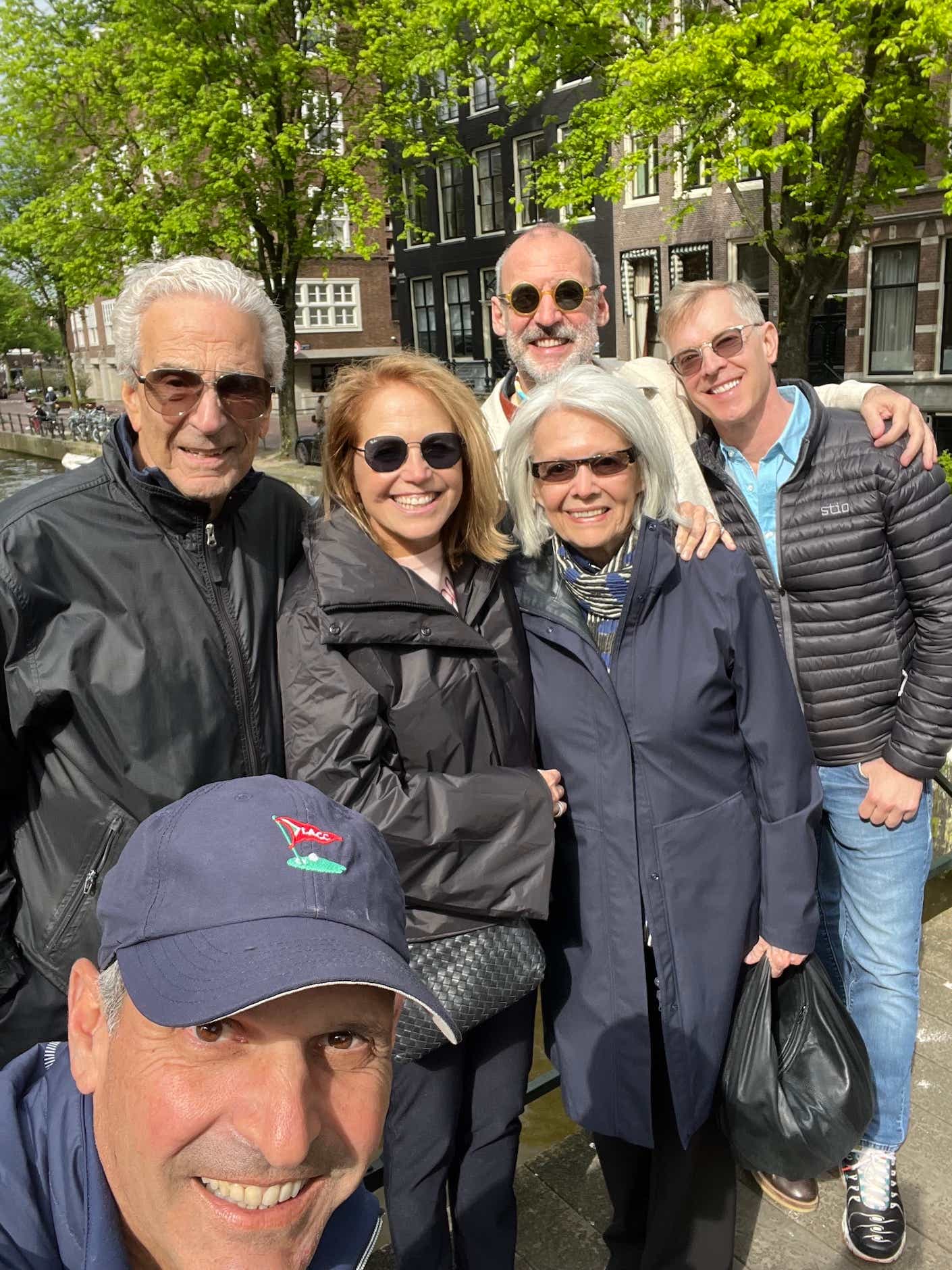 We arrived in Amsterdam early Saturday morning, May 13. News flash: I love flowers, and seeing the tulips in Holland has always been on my bucket list. The ideal time to see the rows and rows of blooms in the famous tulip fields is the second week in April, so we were a bit late to the party. But our good friends Pat and Mark, who were on the last leg of their own trip, picked us up at the airport and took us to Keukenhof, a park outside of Amsterdam, in Lisse. It's known as the garden of Europe and is touted as the world's largest flower garden. (According to their website, approximately 7 million flower bulbs are planted every year.)
It was the last day the park would be open this year and many of the tulips were, as my mom would say, on their last legs, but there were still areas where the blooms were positively resplendent and the towering pink rhododendrons looked gorgeous against the soft blue sky. I read that the gardens opened in 1950, but there were people (ostensibly employees) walking around in costumes straight out of Bridgerton, which made it feel like they'd been there forever. It was the perfect antidote to that not-so-refreshed feeling we had after our overnight flight.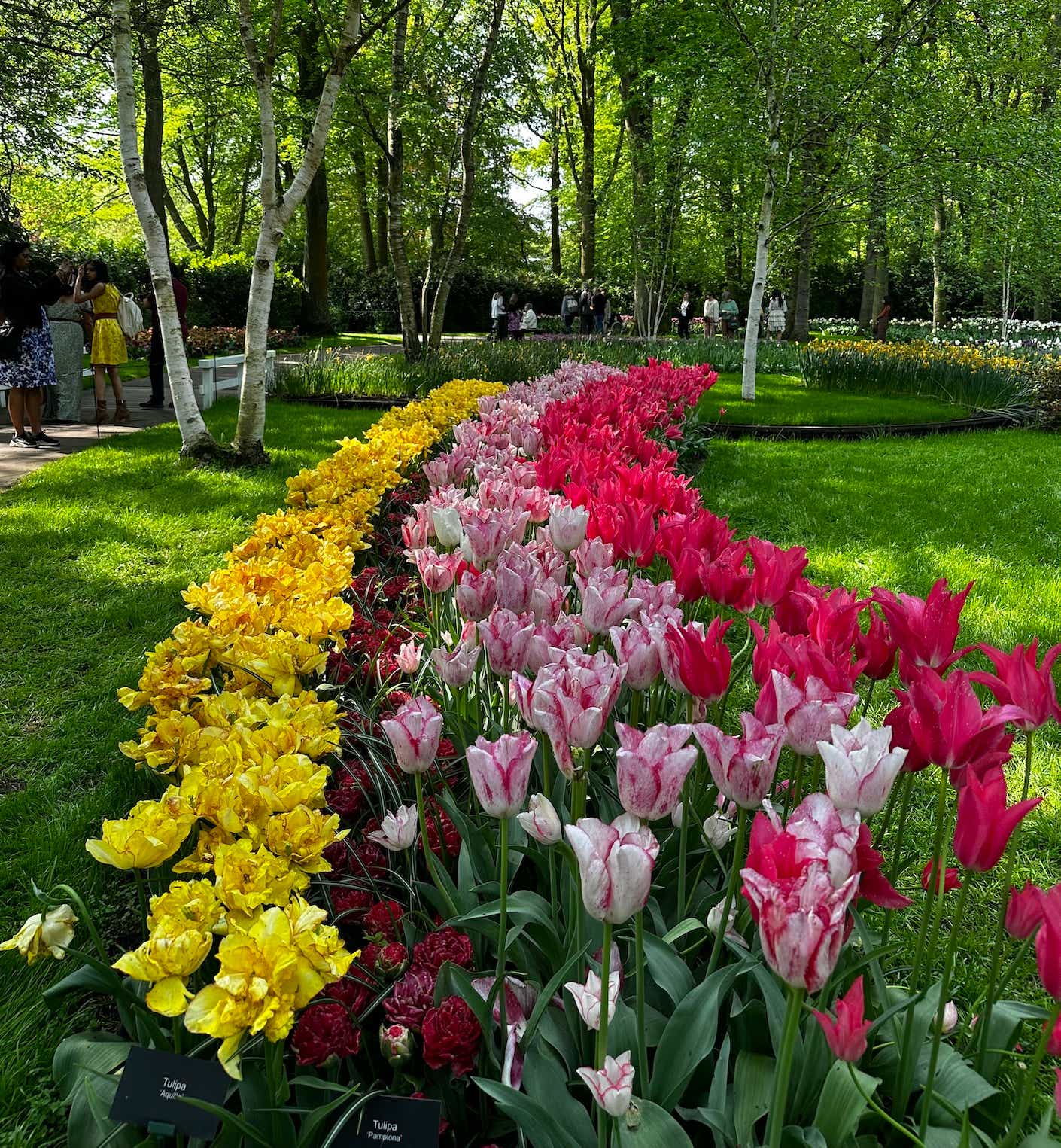 Then it was off to The Dylan, a small hotel that John and I have stayed at before; it was a theater originally, but that building burned down in 1772. It opened as a boutique hotel in 1999 and is small, intimate, and charming. Plus, it's right on a canal in a very chic shopping area — how convenient!
After checking in, we headed out for a stroll and got acclimated to looking not once, not twice, but three times before we crossed every street. Cyclists in Amsterdam have the right of way and pity the poor fools who set foot in their path — they go fast! We headed to a bakery known for its outstanding cookies called Van Stapele Koekmakerij and waited in the line that stretched across both sides of the street. They make a chocolate cookie with white chocolate inside, which we ate fresh out of the oven. Though I'm not a white chocolate fan, we proclaimed them delish. John thinks we should open up a milk store next door! My pilates teacher Ashley recommended this gem, and I think I'll need to do a few extra "teasers" as a result!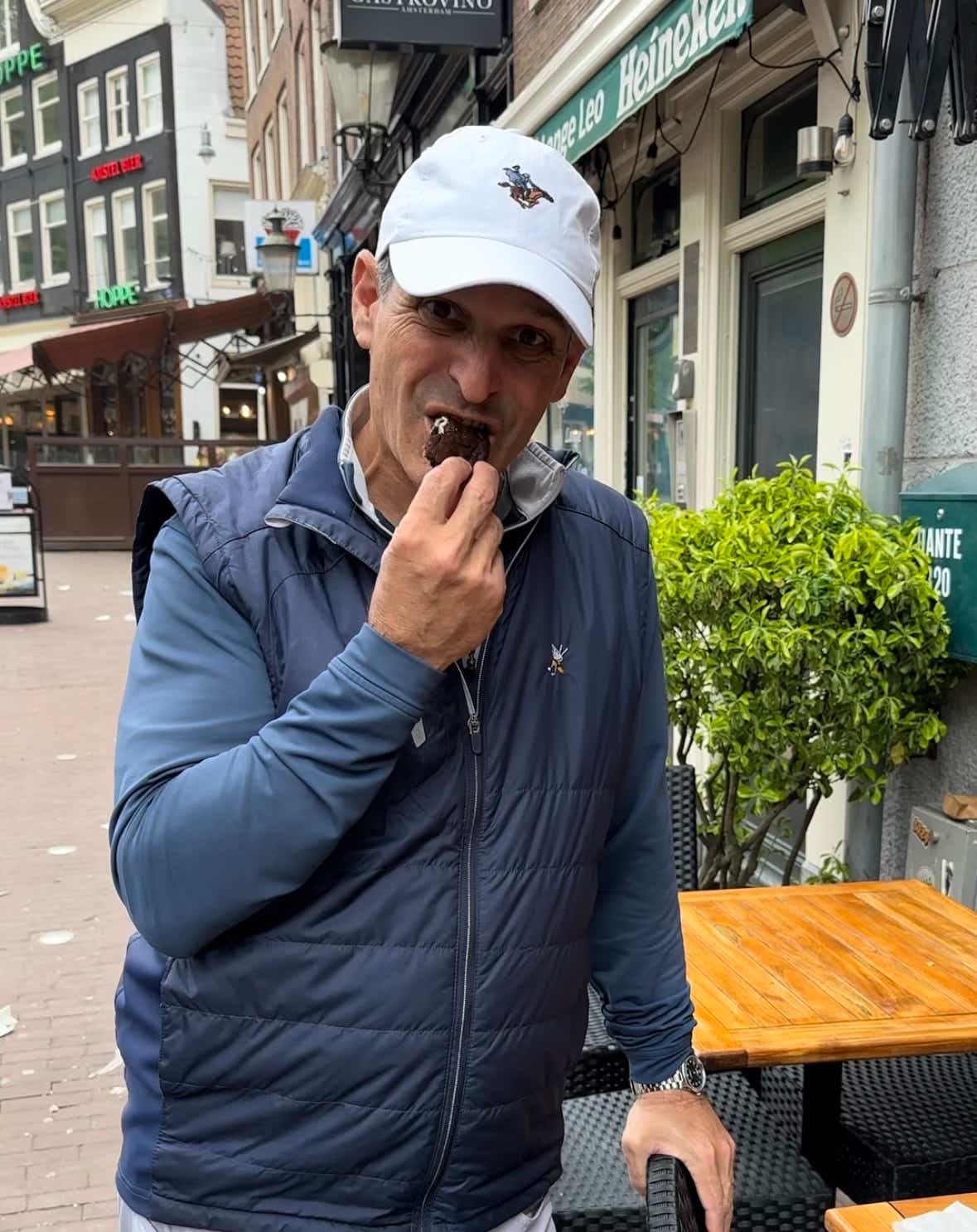 After an afternoon strolling through the charming streets, we headed to another Ashley recommendation (her sister lived in Amsterdam, so Ashley knows her way around) called Mossel Gin, which serves mussels and you guessed it, delicious gin cocktails. Gin is apparently a Dutch invention that was first used to treat stomach aches, gout, and gallstones, but the refreshing gin and tonic is ubiquitous in Amsterdam, often served with cucumber slices. We feasted on Thai mussels, fish and chips (along with tubes of mayonnaise they put on each table), and delicious gin cocktails (mine was made with grapefruit and cardamom) and enjoyed sitting on picnic tables in the slightly chilly night air. It felt like we were locals, in part because the restaurant is not easy to find; it's in a park, and we were really dragging by the time we got there. The good news? That first day we walked 17,000 steps, and that helped us get on Dutch time!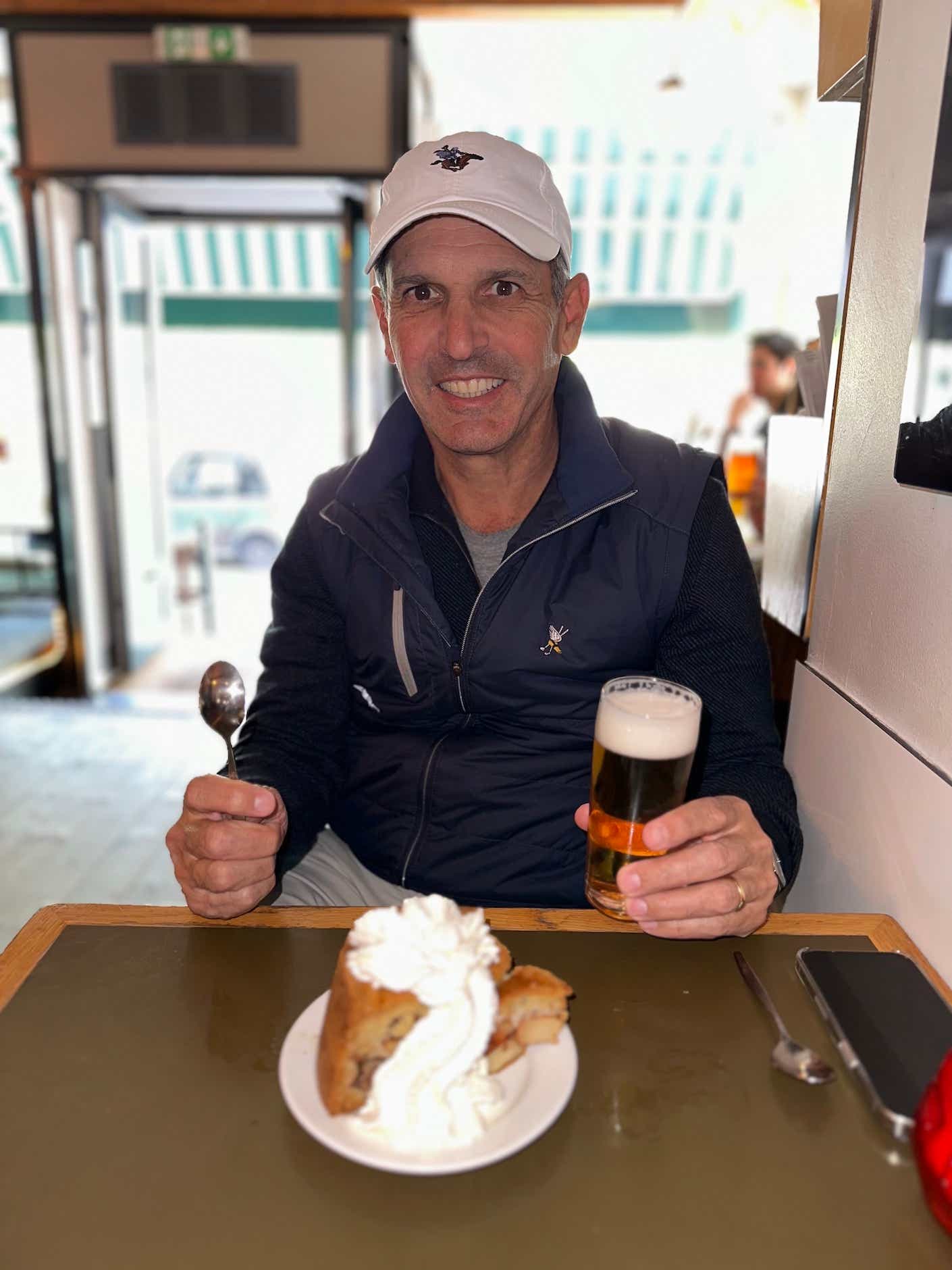 There was other serious carbo-loading: The grilled cheese sandwiches and poffertjes (miniature Dutch pancakes) at an open-air market were erg goed, and run, don't walk, to enjoy some yummy apple cake at Winkel 43 and a cone of Dutch fries. But we were really in Amsterdam for the Vermeer exhibit, which was remarkable. The 17th-century Dutch painter, who was from Delft, home of exquisite blue and white pottery, was a master at painting intimate scenes from ordinary life. As one expert put it, he "made the mundane almost mystical." There are only 34 known works attributed to the painter — a small number by 17th-century standards — but that's what makes each one so special. I particularly loved "The Milkmaid" for Vermeer's use of light and because of the delicately detailed milk trickling out of the pitcher. I also love "The Lacemaker" because you can almost feel her lost in thought — but they were all wonderful.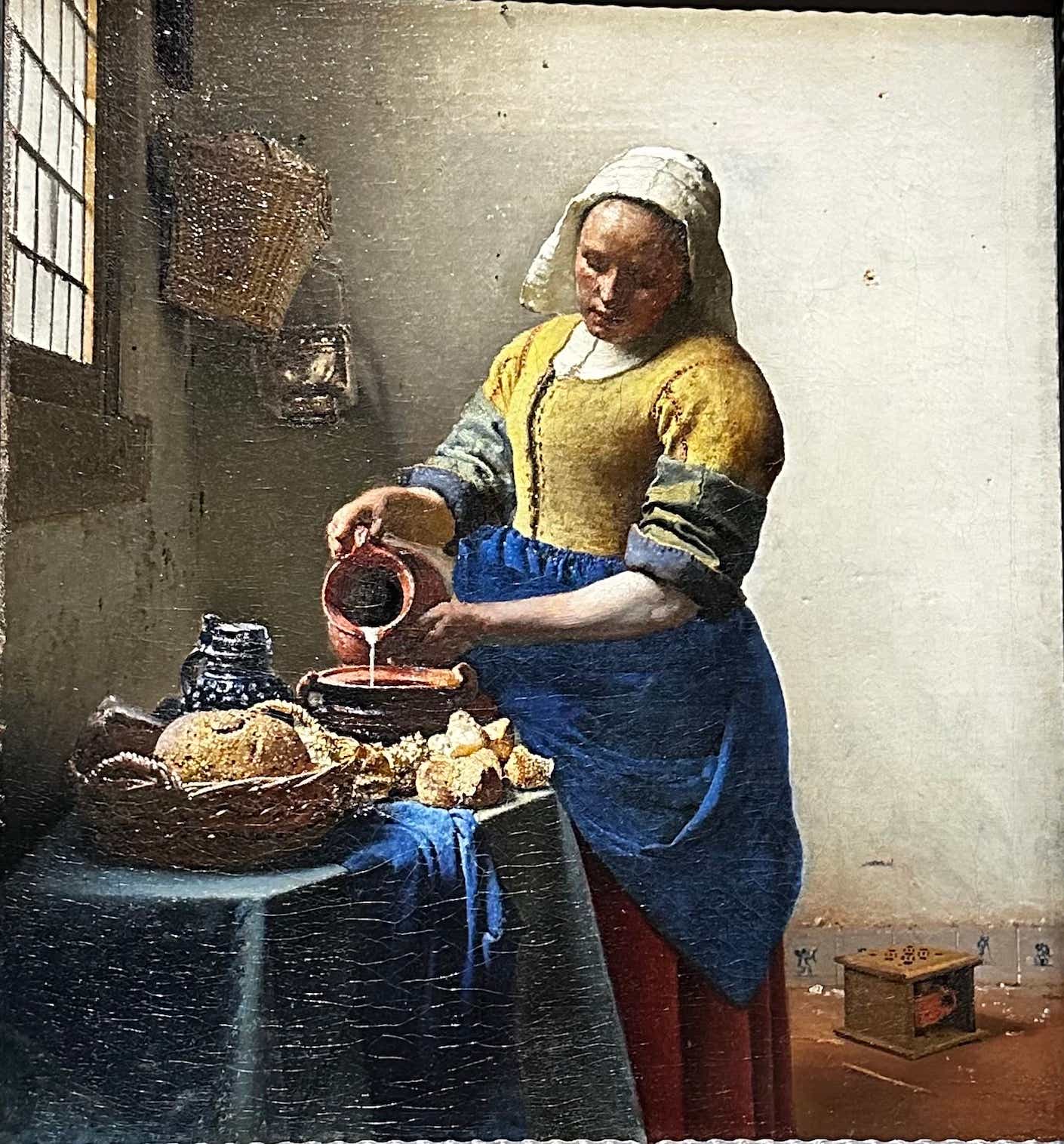 The only drawback? The crowds! The scrum of people trying to get a closer look was sometimes difficult to navigate — some of them just wouldn't budge and took 10 to 12 photos in front of every painting! 😡 But it was spectacular nonetheless. (By the way, if you're looking for "Girl with a Pearl Earring," it permanently resides in the Mauritshuis museum in The Hague.)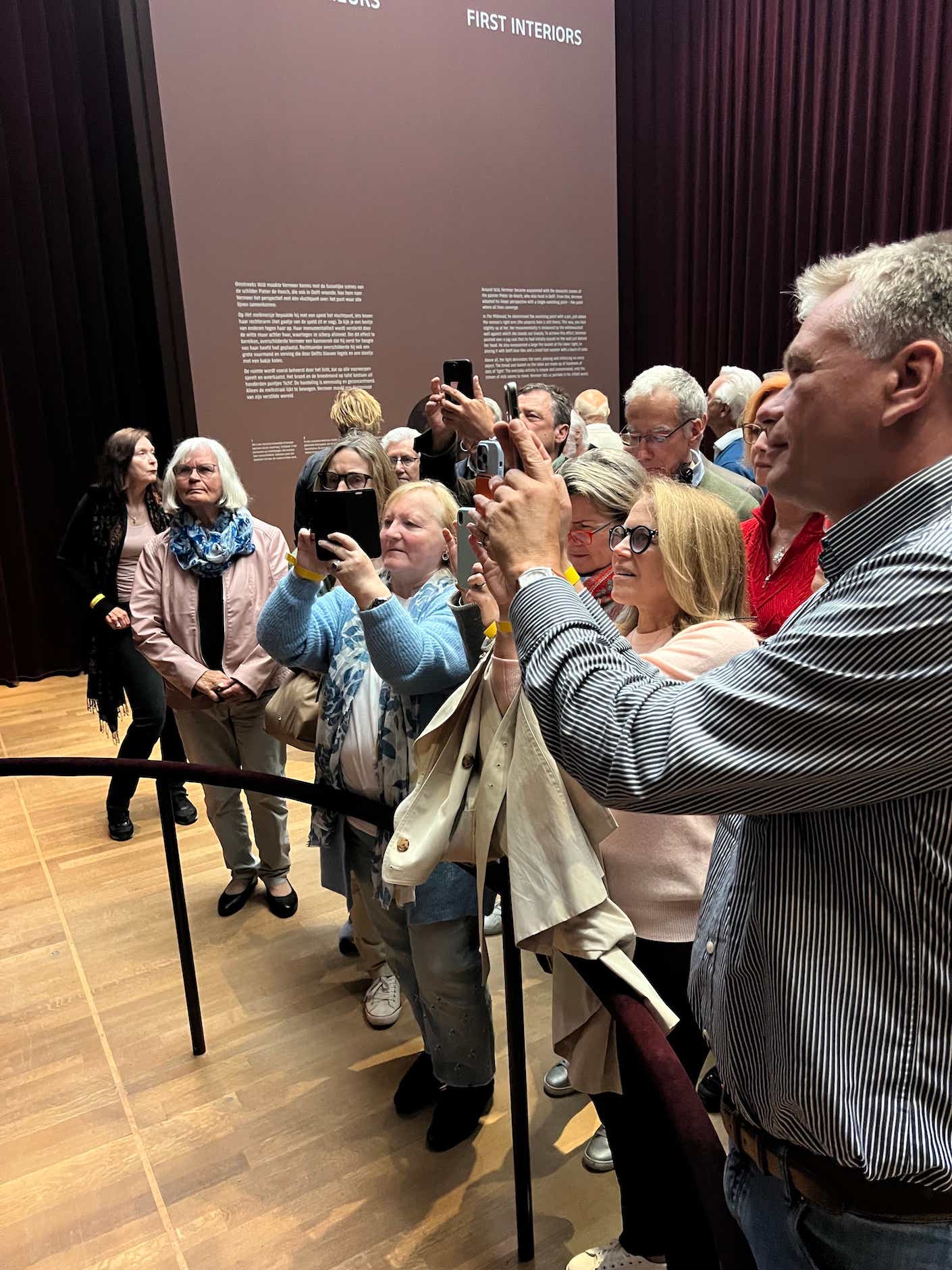 Before Vermeer, we strolled through the Rijksmuseum to check out some Rembrandts (remember him?) including "The Night Watch." Did you know a sizable chunk of it was cut off on the left side so it could fit between two doors in Amsterdam's city hall? (Wouldn't you like to meet the bonehead who made that decision?) Here's a story from The Guardian on how the museum embarked on an effort to recreate the missing piece.
In addition to the Vermeer show, the Van Gogh Museum was wonderful. He lived such a fascinating and tragic life, and the paintings are breathtaking — at least 35 are self-portraits because that was cheaper than hiring a model. I highly recommend the audio tour, which includes letters that Van Gogh wrote to his younger brother Theo, who died just six months after his brother. It also describes Van Gogh's tempestuous relationship with Paul Gauguin and his friendship with Paul-Ferdinand Gachet, the doctor who treated him during his final days. Van Gogh painted 74 paintings in the last year of his life. I'd love to go to Arles and Auvers-sur-Oise one day to see some of the stunning landscapes and buildings he painted. What a brilliant, tortured soul.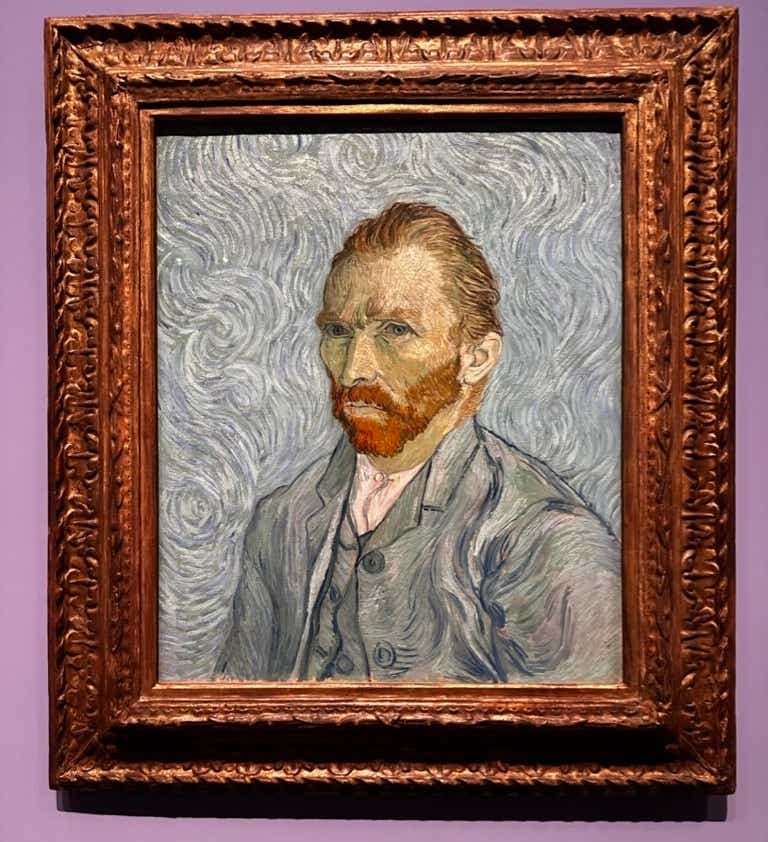 We also traveled by train for the day to Haarlem, a charming town just outside Amsterdam. We went to the Frans Hals Museum, which showcases the work of a Dutch Golden Age painter who was celebrated for his portraits of ordinary people, families, and city officials. After a quick lunch in the town square, we visited the Teylers Museum, the oldest museum in The Netherlands. It was fascinating, filled with ancient artifacts, animal skeletons, and inventions — it felt like something out of Indiana Jones!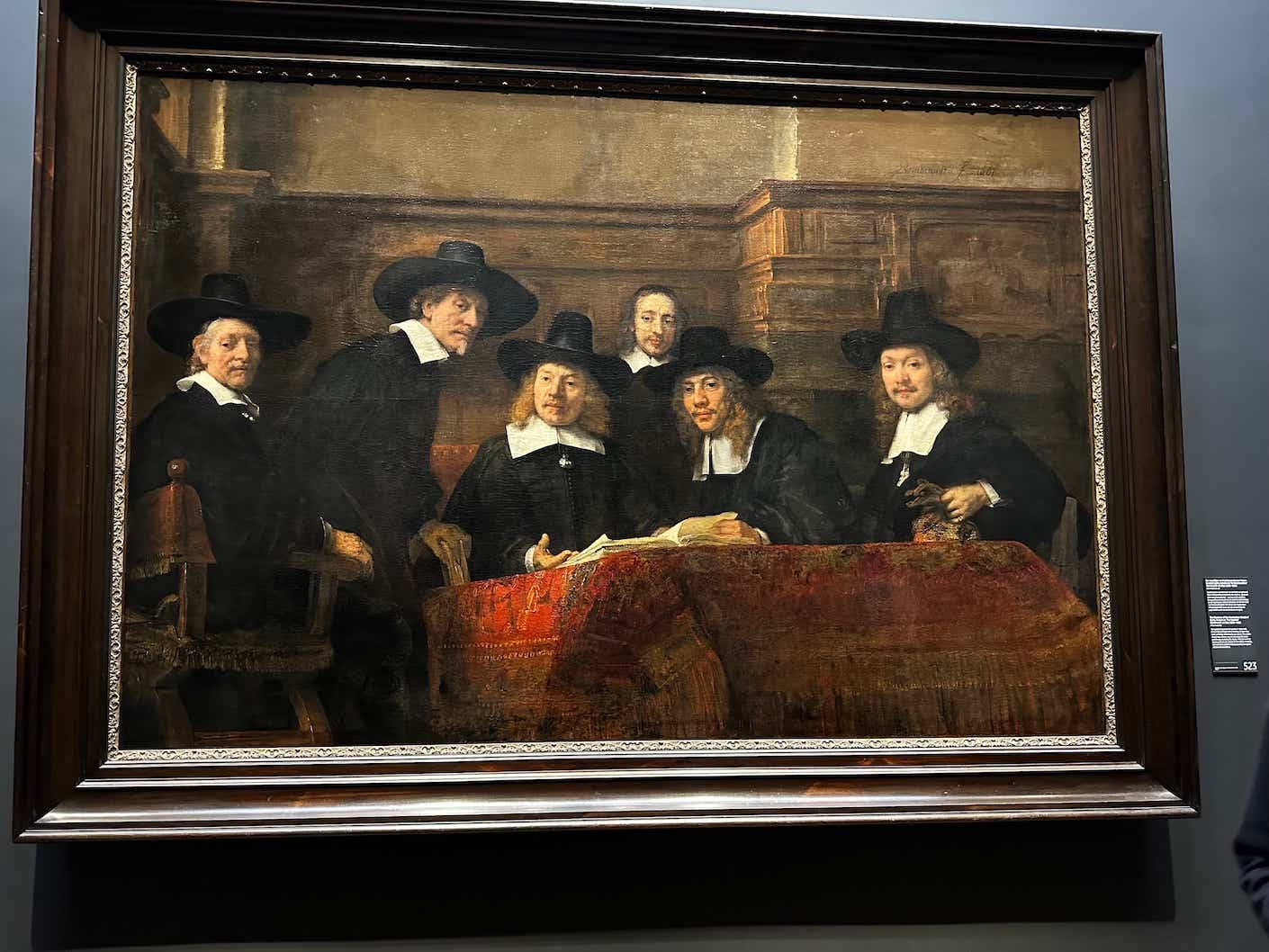 Of course, we hit some other Amsterdam musts: We went on a beautiful boat ride through the canals and posed for a lot of photos. And we had some delicious dinners at restaurants including Ron Gastrobar, recommended by our friends Bill and Jess Koenigsberg; De Kas, a beautiful restaurant with the freshest ingredients in a converted greenhouse; and a delicious Indonesian restaurant where we enjoyed a rice dish called rijsttafel.
The highlight was dinner with my relative Ben Benninga and his wife, Christel, and introducing them to the Molners. My great-grandmother and Ben's grandmother were sisters. (His grandmother was Clara, and my great-grandmother was Emma. I think my grandmother, Emma's daughter, was named after his grandmother Clara — does this make any sense?) While Emma Haggedorn came to America in the late 1800s, Ben's grandmother stayed in Germany and his mother married his father and moved to Amsterdam.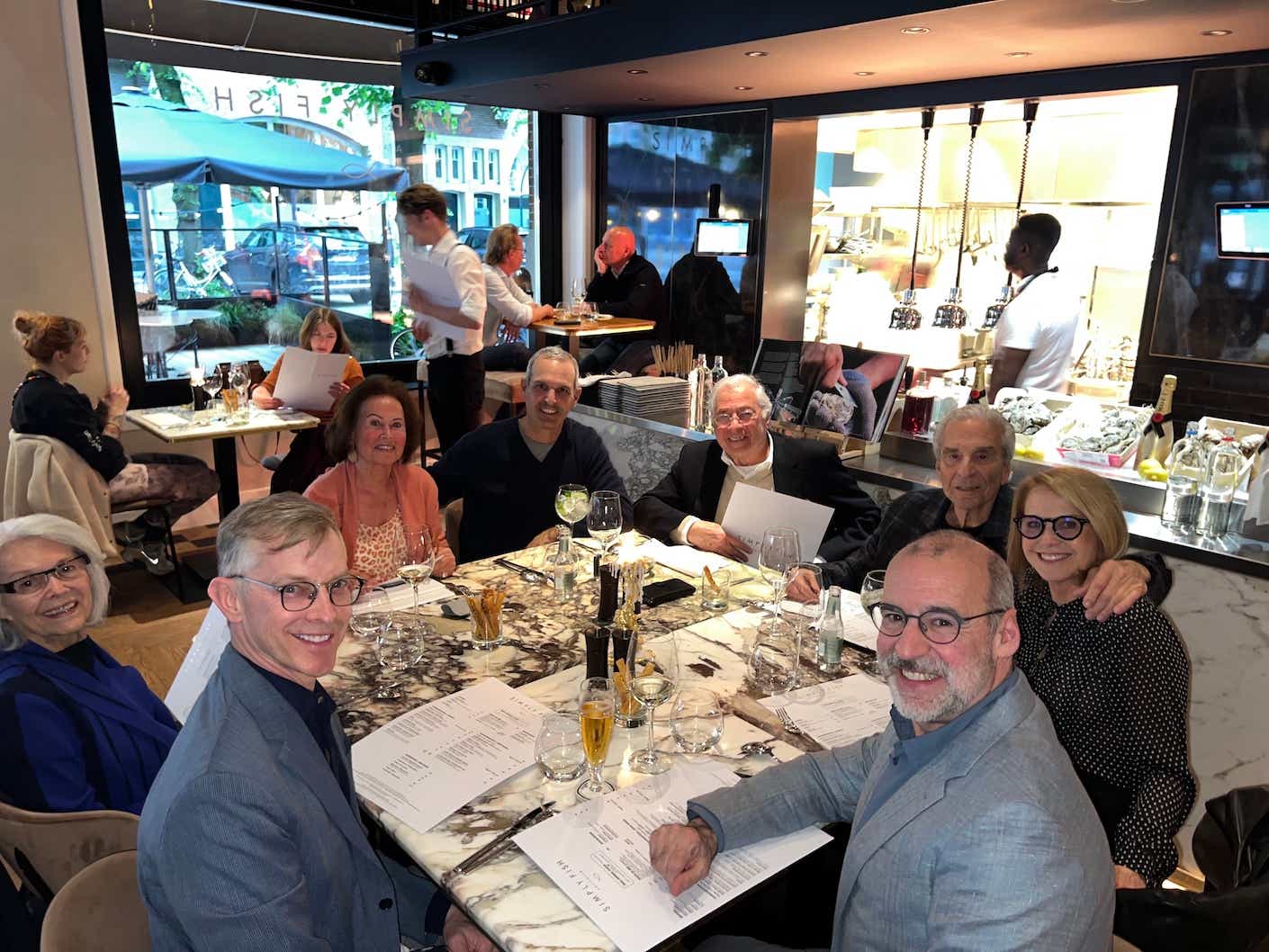 When the Nazis invaded, Ben was just seven years old and had to flee with his sister and cousin to rural Holland, where he was hidden by three separate families. When the German soldiers were nearby, he had to hide in a tiny cupboard or behind clothes in a wardrobe. There were other times he had to lie in a ditch in a nearby cemetery for hours and hours. You can learn more about his tale of terror and survival and how it impacted his life by watching the speech he gave in Birmingham, Alabama, where my relatives, Henry and Carolyn Frohsin live.
I feel so blessed to have connected with Ben and Christel who are such kind, loving, and intelligent people. And to be in the presence of a man who was such an important witness to this horrific chapter in our history.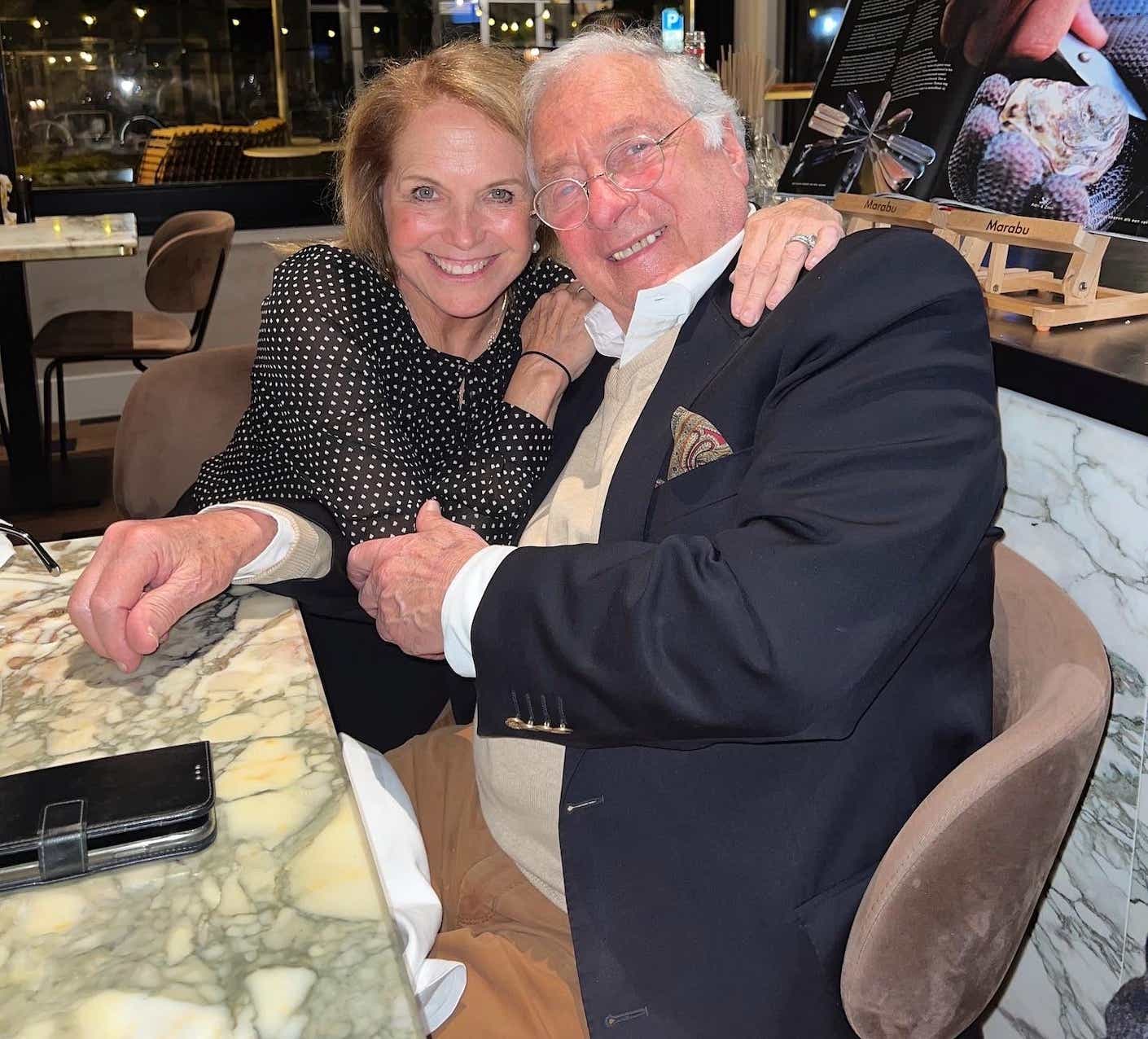 Next week — our short time in Paris! The city of lights!
Au revoir until then!