Here's how P&G is making waves on World Water Day — and beyond.

If you can guzzle down a glass of water straight from the tap, or from your favorite water bottle brand without worry, consider yourself fortunate. It's easy to take the convenience of accessing safe water for granted, but the sobering reality is that more than 770 million people around the world — about 1 in 10 people globally — still don't have access to safe drinking water. 
That's why World Water Day, celebrated every year on March 22nd, is so important to helping raise awareness of the urgent need to provide clean water to everyone. The theme of this year's celebration is "Accelerating Change" — meaning that the more action we take as a global community and as individuals to help solve the water crisis, the faster more people around the world can live safely.
Our partners at Procter & Gamble (P&G) take the global water crisis to heart, and they've been working to provide access to clean drinking water to those in need for nearly two decades.
Back in 2004, scientists at P&G invented a revolutionary water purification packet that helps kill bacteria and viruses, and remove dirt from contaminated water. The technology is simple, quick, cost-effective, and highly effective in reducing waterborne illnesses. (It only takes 30 minutes, a cloth, spoon, and a bucket to turn 10 liters of contaminated water into drinkable water, using just one 4-gram water purifying packet.) 
By partnering with the Pamoja Project, a nonprofit that helps children and families in Tanzania, P&G has been able to distribute its water purification packets and provide clean water to more than 30,00 people in the region.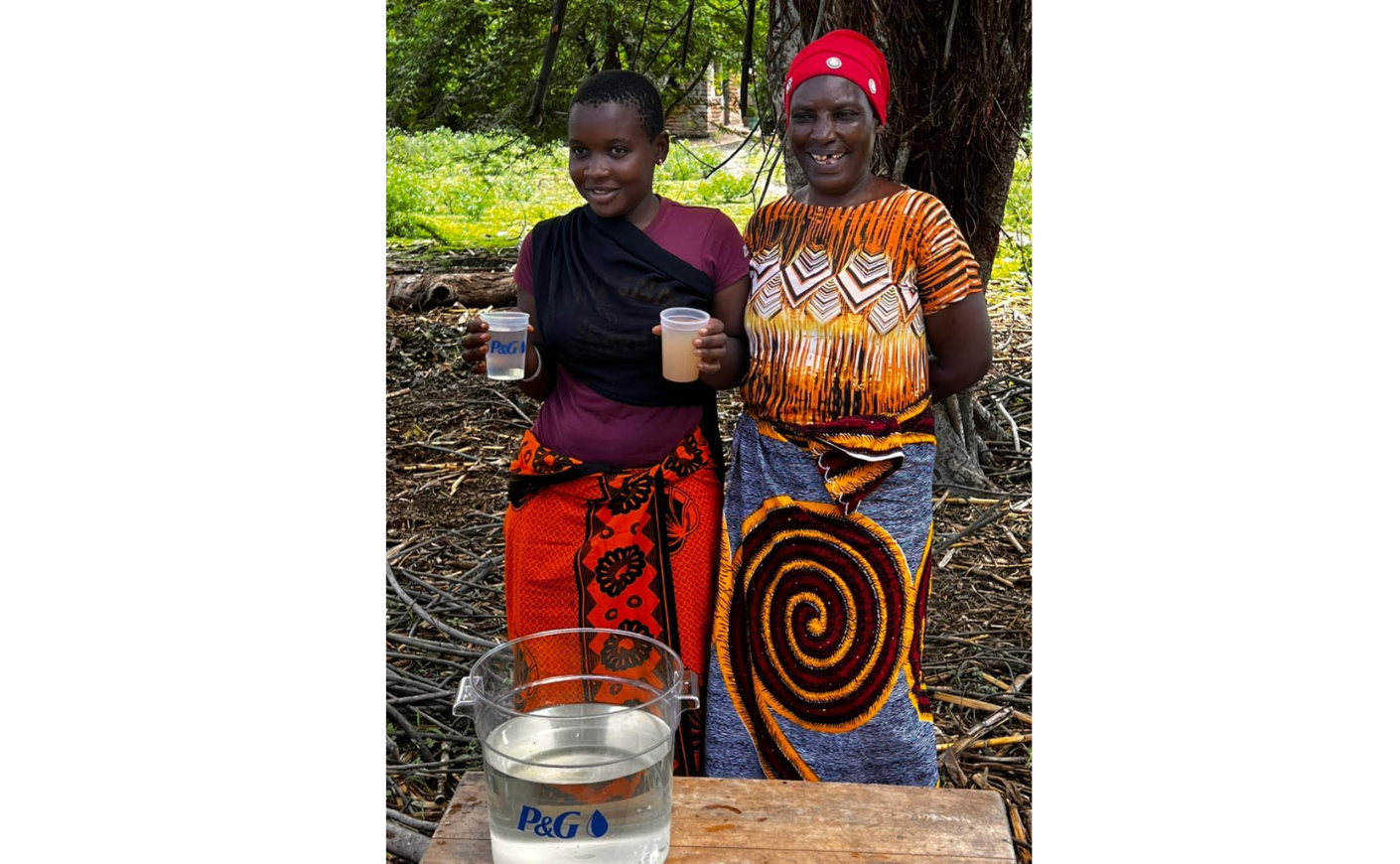 While the Purifier of Water packets help address a daily need, the company's goal is to enable long-term solutions for a water-positive future where there's enough water to sustain people now and for generations to come.
That's why P&G recently partnered with Waterboys — an initiative started by former NFL player Chris Long that specializes in providing sustainable clean water solutions — to build two solar-powered water wells in Tanzania.
"The time saved from not having to walk long distances to collect water allows children, particularly girls, to attend school regularly and prioritize their education," says Long. "Not only that, the construction of sustainable wells creates local employment opportunities and encourages agricultural and economic growth."
The wells have already helped more than 7,500 Tanzanians to gain access to clean water: "Installing clean water sources empowers communities, improves quality of life, and sets the stage for long-term community development," says Long.
"Our ultimate hope is to create healthier, self-sustaining communities and in turn, advance better educational and economic opportunities for children and families," says Claudine Zukowski, director of the Children's Safe Drinking Water Program at P&G.
P&G's Children's Safe Drinking Water Program has provided more than 20 billion liters of clean water to children and families around the world, thanks in part to delivering the P&G Purifier of Water packets, but also by partnering with like-minded organizations like the Waterboys. In fact, Zukowski says P&G is on track to deliver 25 billion liters of clean drinking water by 2030.
"When families aren't worried about having a reliable source of clean water to drink on a daily basis, they can focus on other activities to help build a better life for their children," says Zukowski. "That's what motivates us to do what we do through this program — it's about making a difference and opening a new world of hope and opportunities."
---
To get involved, to donate, and to learn more about P&G/'s Children's Safe Drinking Water Program, please click here.