And how the state's drag queens are fighting back.
The drag queens of the Atomic Rose, a popular nightclub in the heart of Memphis, know how to put on a show. They serve looks. They serve glamor. And on Sundays, they serve brunch. Their performances are pure spectacle, a luxurious, dramatic celebration of gender expression injected with their own brash brand of humor. They are not — as Slade Kyle, who performs under the drag name Bella DuBalle, tells us — a threat.
That's what makes Tennessee's recent move to limit the art form so perplexing. This month, the state passed a bill that bans drag shows from being held within 1,000 feet of public parks, schools, or places of worship and in places where they can be viewed by minors. At least 14 other states, from Arizona to Oklahoma, are poised to do the same.
The provisions are meant to shield children from "obscene, sexualized entertainment," a spokesperson for Tennessee's Gov. Bill Lee says. But what's so "obscene" about lip-syncing to Andra Day's Rise Up in a bleached blond wig and a full-length gown, as DuBalle recently did? Lawmakers have yet to provide a satisfactory response — which is why critics say the bans seem like nothing more than a thinly veiled attack on the trans community (and may also violate the First Amendment).
"It's…this subtle and sinister way to further criminalize just being trans," an ACLU of Tennessee advocate says.
Harris Kornstein, Ph.D. a professor at the University of Arizona's Institute for LGBTQ+ Studies, says the bans are the result of a wave of transphobia that's been building for years. As queer and trans people have steadily gained more visibility in the culture (RuPaul's Drag Race is in its 15th season and drag brunches, in which drag queens dance and sing while viewers enjoy an omelet and bottomless mimosas, have cropped up across the country) a "backlash" is taking place, says Dr. Kornstein, who uses the pronouns they, them.
This "cultural tension to drag" seems to wax and wane, they say. This most recent wave of punching down has taken a sinister form that feels reminiscent of the 70s. Nearly 50 years ago, the singer Anita Bryant launched the "Save Our Children" campaign, a nonsensical crusade to cast queer people as a threat to kids. Sadly, she seems to have provided a blueprint for some of today's conservative politicians, who have moved to both criminalize drag and block trans youth from accessing gender-affirming care.
More and more, LGBTQ Americans are being smeared as pedophiles or accused of "recruiting" children to become gay or transgender. Drag story hour, where drag queens visit libraries to read to children, has been targeted by protestors accusing volunteers of grooming. And some politicians have only fed this hysteria. One Tennessee lawmaker, who sponsored the drag bill, likened a public Pride drag show to "child abuse."
"This is a classic trope of dehumanization and fear that has been used against gay people decade after decade after decade," attorney and LGBTQ activist Evan Wolfson tells NPR.
The irony, Dr. Kornstein says, is that suppressing events like Drag Story Hour only deprives children. "I think that for any child, just knowing the diversity of the world around them is important," they say. And for LGTBQ youth, "just seeing trans role models is so important for them, so that they know that they can grow up and love themselves and thrive," Dr. Kornstein says.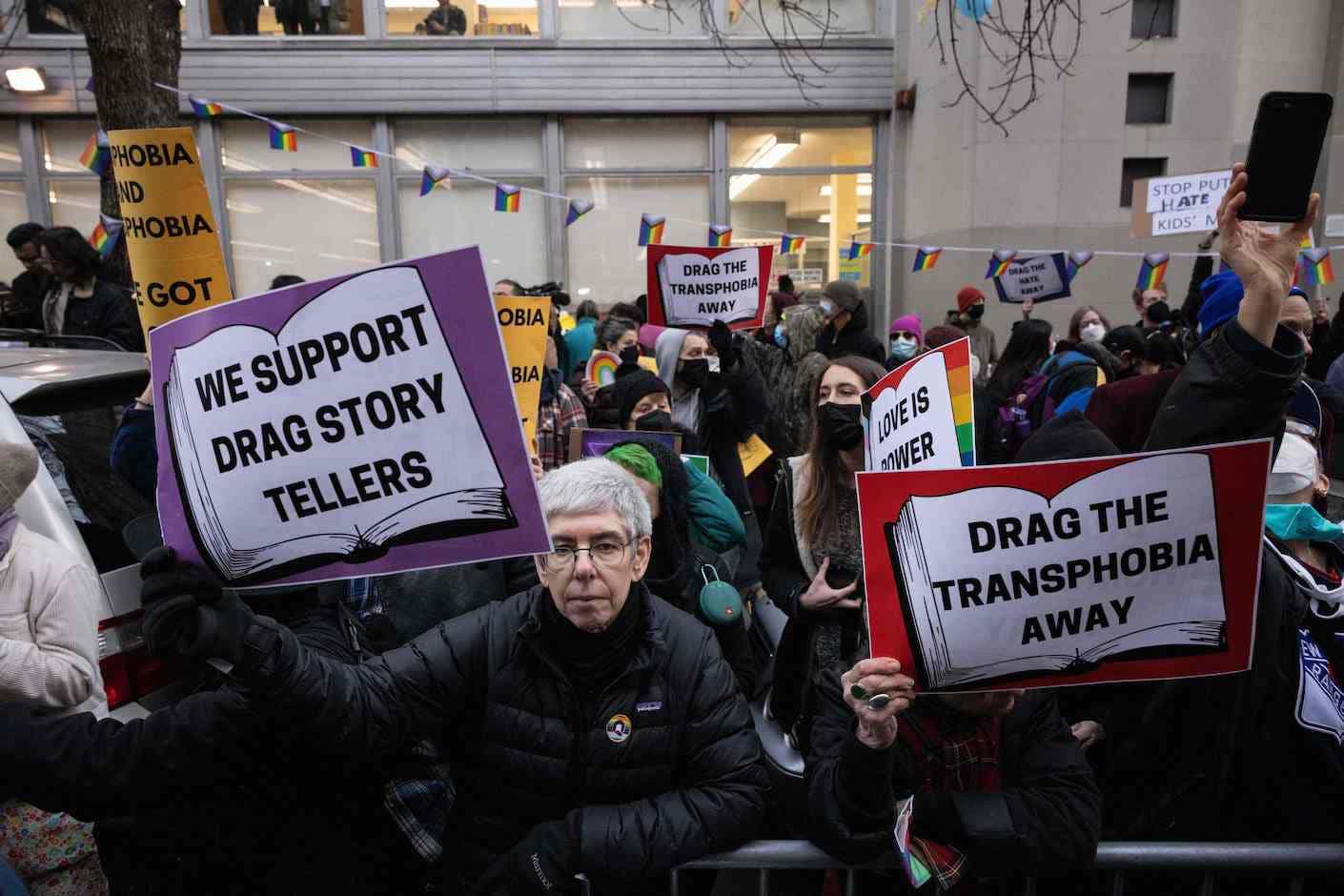 Kyle agrees. They said they meet trans kids every Sunday at Atomic Rose's drag brunch, and they're exhilarated by the sense of community. (Their events, which are open to all ages, are made accessible to kids. Performers "adjust their language, their song choices, their clothing" to be more appropriate for a younger crowd, Kyle explains. Many drag orgs do the same, making it clear if a show is an adult-only affair or something the whole family can enjoy.) To restrict the craft only further harms an already vulnerable group of young people, they say. According to the Trevor Project, LGBTQ youth are more than four times as likely to attempt suicide than their peers.
It's not clear how widely enforced Tennessee's law, which goes into effect later this year, or other regulations will be. But what is clear is that queer activists are going to passionately push back. "I think we're going to see more marches, rallies, demonstrations, and more parodies of our favorite politicians," Dr. Kornstein says.
"I really think that our haters have picked a fight with the wrong opponents, because drag queens, drag performers, and trans people, we've literally started movements," Dr. Kornstein says, referring to the Stonewall Uprising, considered the catalyst of the modern LGBT+ movement.
"We will not go quietly," DuBalle said onstage at the Atomic Rose in a speech that went viral. "I may need your help with legal fees, cause mama ain't quitting."