About Heywell
The modern work environment forces all of us to move at a million miles an hour, with barely enough time to take a few deep breaths a day, let alone adopt a comprehensive wellness routine. Luckily, heywell has our back. Friends and coworkers Ashley Selman and Britt Dougherty developed the brand's delicious sparkling waters for days when the most self-care you can muster is cracking open a can. They're flavored with organic fruit juice and loaded with adaptogens, plants that have been shown to improve focus, rev up energy, and decrease stress. The result is a pleasantly tart, refreshing drink that feels more substantial than your average seltzer and can sub in for your afternoon coffee break. It's wellness that's easy to swallow.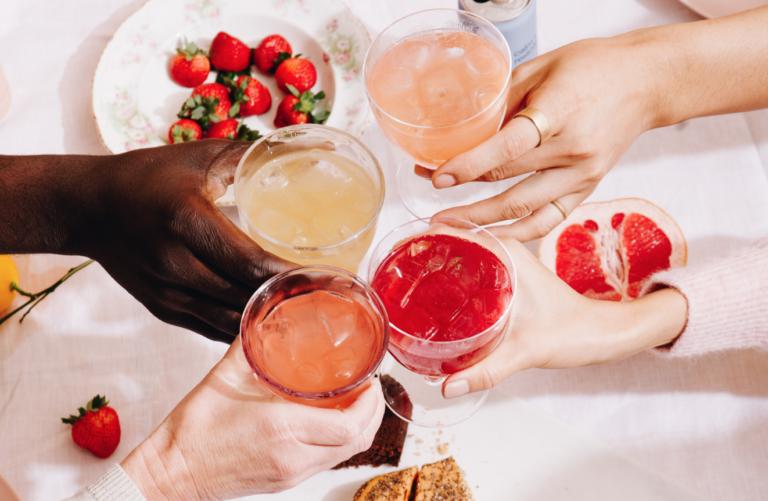 Why we love them
We're all for that third cup of coffee here at KCM, but we're also open to revamping our energy sources. Two heywell flavors — Strawberry Lemon and Grapefruit — contain 75 mg of organic caffeine, so you can ditch the last cold cup at the bottom of the pot for something more refreshing, with the added benefits of attention-boosting L-Theanine, stress-decreasing Schisandra, and more. KCM's Alissa likes drinking the Calm + Restore Blackberry Ginger to unwind after the workday. It pairs soothing Lemon Balm with vitamin C-rich Amla Berry for a restorative, calming experience you can have right from the comfort of your couch. 
Shop Now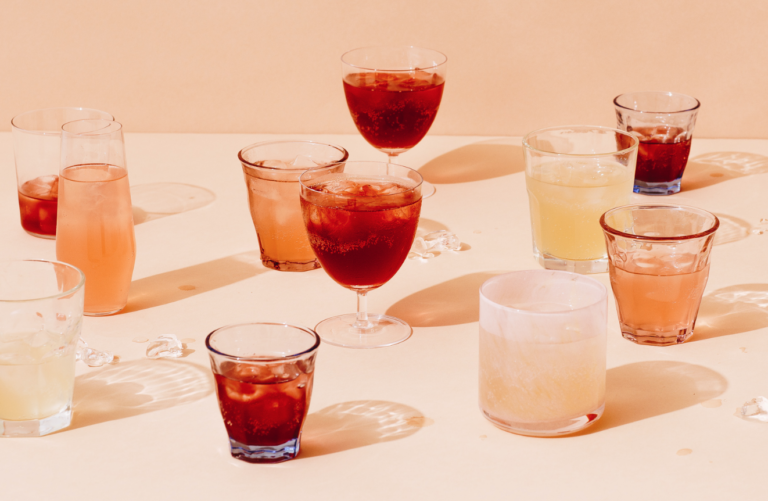 Shop Now
Meet Britt Dougherty and Ashley Selman
After rising through the ranks at a large alcohol company, heywell co-founders Britt and Ashley were ready to strike out on their own. "We spent a long time developing brands for a big corporation and got to the point where we knew we could successfully launch a brand ourselves," Ashley told KCM. The Chicago-based duo dove into creating drinks that combined their go-to adaptogens with organic fruit juices and electrolytes to make wellness easy and delicious. Below, we chatted with Britt and Ashley about heywell and what an adaptogen actually is for us beginners.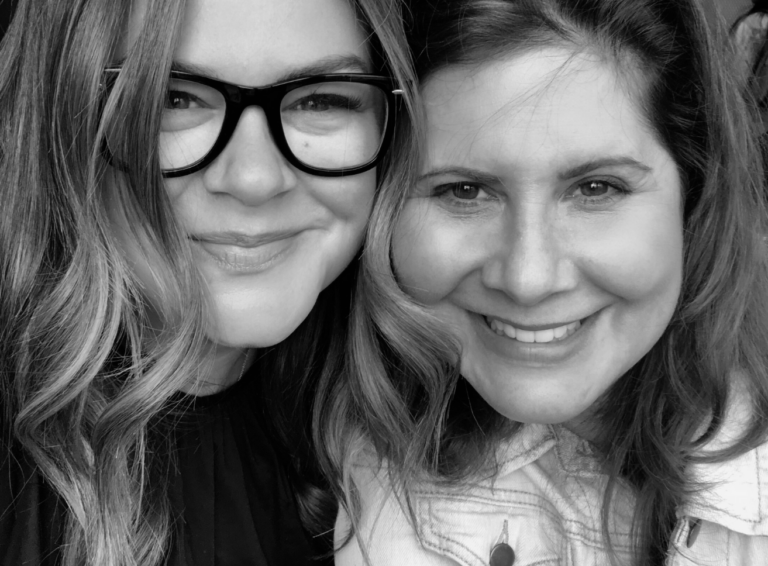 In Conversation with Britt and Ashley
KCM: What was your catalyst to start heywell?
Britt: Ashley and I were friends and colleagues in the alcohol industry. As senior vice presidents, we worked a lot of late nights and were looking for ways to incorporate better-for-you ingredients into our wellness routines. We loved adaptogens and would bring these powders into the office to mix them at our desks, but they were such a hassle. They didn't taste good on their own, or they were messy, or the brands weren't compelling, and we thought, "Why can't this be easier?" So we left our corporate jobs with the goal of making wellness simpler and more accessible for everyone, every day.
Tell us about adaptogens. What are they and what makes them special?
Britt: Adaptogens are a class of plants that help our bodies adapt to stress. They've actually been around for centuries but they're now getting more popular in the U.S. They're typically consumed in powder form, but they can be kind of bitter on their own.
Can you tell us about the formulations of your drinks?
Britt: Each of our beverages is intended for a unique occasion, like energy + focus or calm + hydrate. Each beverage has a different ingredient stack that's highly effective and includes adaptogens, antioxidants, superherbs. They're filled with ingredients like Schisandra, ashwagandha, lemon balm, and L-theanine, and they all work to fulfill the demands of modern life.
Ashley: We spent a lot of time in formulation because balancing those active ingredients with taste was really critical to us. Part of our mission of making wellness accessible and approachable is making it easy to understand and easy to incorporate — in other words, making it taste good.
You started heywell in early 2020. How did the pandemic impact your launch?
Ashley: It was pretty traumatic and terrifying. We knew we had a product that was perfect for the moment: People were more stressed, and they were starting to redefine what wellness meant to them and take a more proactive role in their health. So we knew heywell was right for the moment, but we had to pivot hard from in-store retail because people weren't going into the store. They weren't picking up and looking at products and reading about them, so anything new wasn't gaining any traction. We had to pivot to e-commerce, which worked well for us.
How did you go from realizing you could start your own brand to actually doing it?
Ashley: Britt and I were the two senior women at our company, and we supported each other and were very close at work. Britt was leading futuring work and my background is in developing brands and innovation. Britt and I were at lunch one day and we just started talking about how awesome it would be if we had our own brand and worked for ourselves. We kicked the can for a little bit because it's daunting to leave your job and launch something new, and we had a lot to learn. But we had a lot of confidence in the mission and in what we were hearing from friends when we talked about the idea.
You give 1 percent of sales to nonprofits that help with inclusion. How did you decide to focus on that?
Britt: We've worked in industries that are very male-dominated, and we leaned into the opportunity to bring others along with us on our journeys as two women rising to the top of a corporate environment. We know that a rising tide lifts all boats, so we wanted to make sure we were carrying that practice through in our own endeavor. 
Tell us about the name, heywell. What does it mean?
Britt: Heywell is meant to be a simple invitation to wellness. It ties back to our mission about making wellness more accessible, and we wanted it to be a place where everyone is welcome. We try to do that in other ways, too, like talking about our adaptogens in a plain-speaking way on our cans. They're herbs, or berries, or leaves from the mint family, rather than hard-to-understand ingredients. In everything we do, we're trying to have a welcoming tone and we want to create a place where everyone can see themselves here. 
What advice would you give to anybody looking to start a new venture or change their path in life?
Ashley: I think something that's enabled us to move forward at a good pace is knowing where our strengths are, and knowing where they're not. No one should be expected to know everything because it's a lot. You can't be afraid to reach out for help. We've surrounded ourselves with some amazing, smart, talented people who are better in certain areas than we are, and we seek out diverse business partners to support us as part of our mission. We've found that the entrepreneurial community is much more welcoming and helpful than we expected. They know how hard it can be because they've been through it, and they want to share their learnings.
Britt: Ashley and I have gotten really good about celebrating the wins because entrepreneurship is a roller coaster that you ride every hour of every day, and there are so many ups and downs. Celebrating the highs and, when you hit the lows, pivoting quickly to a problem-solving mindset, helps smooth out the journey. Preserving that sense of joy over what you've built is really important.
What advice have you received that would be helpful for others to know?
Britt: I think it comes back to what Ashley said: Say yes to the community. When people reach out to us for help, we always say yes because, in the act of helping, we're helped in so many unexpected and delightful ways. You never know where something will lead. Making time for those moments has created a lot of joy around our journey.
Read on