About Fréres Branchiaux
Your average lemonade stand has nothing on Frères Branchiaux. Brothers Collin, Ryan, and Austin Gill started selling hand-mixed and -poured candles from their kitchen in 2017 to make extra money for video games and toys, and the business quickly took off. Four years later, Frères Branchiaux has become a million-dollar company and expanded its offerings to room sprays, diffusers, bath salts, and more. The boys create each of the scents they sell, from Collin's Chunky Sweater to Ryan's 1790, an homage to the brothers' hometown of Washington, D.C. Since its inception, Fréres Branchiaux has donated 10 percent of profits to homeless shelters in the D.C. area, honoring the brothers' commitment to their community with every purchase.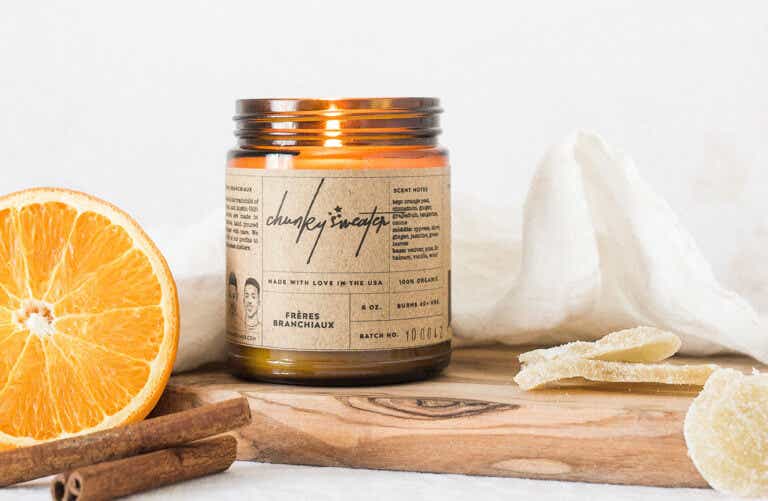 Why we love them
We love that each Fréres Branchiaux handmade candle has layers of aromas, like refreshing Lime Cotton or cozy, fall-ready Whiskey Sweet. KCM's Ciara has the Love Jones scent and, well, loves it. It's just the right amount of sweet and makes any room feel like the right place to take a nap or read a book. The room sprays are offered in the same scents, work well, and are easy to stash on your night stand or in your backpack. Once you finish your candle, you can send it back to the brothers as part of their recycling program. They'll use it for their next batch, and you'll get a dollar off your next order.
Shop Now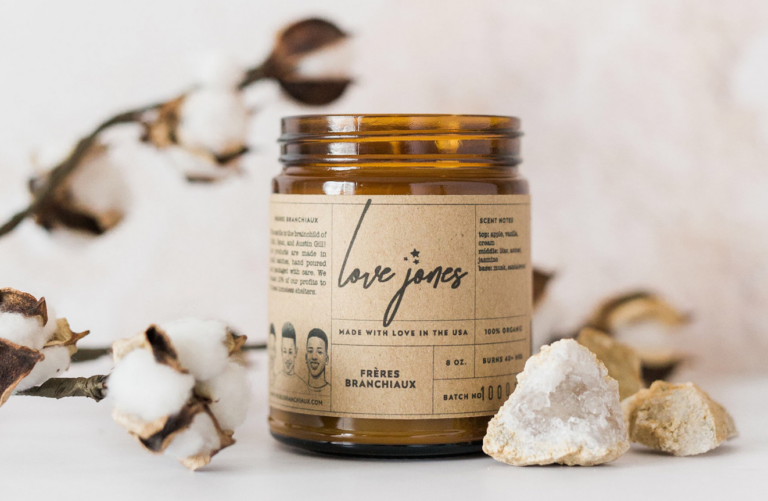 Shop Now
Meet Collin, Ryan, and Austin Gill
Celena Gill was joking when she told her sons to get a job or start a business if they wanted more spending money, but Collin, Ryan, and Austin — now 16, 13, and 1o, respectively — lost no time in establishing a brand that's now carried in more than 50 stores across the country. While they now have employees doing the majority of their manufacturing, the boys are still heavily involved in the business while staying on top of their schoolwork and excelling in sports. Team KCM chatted with the boys about where they started and where they're going as Frères Branchiaux continues to expand.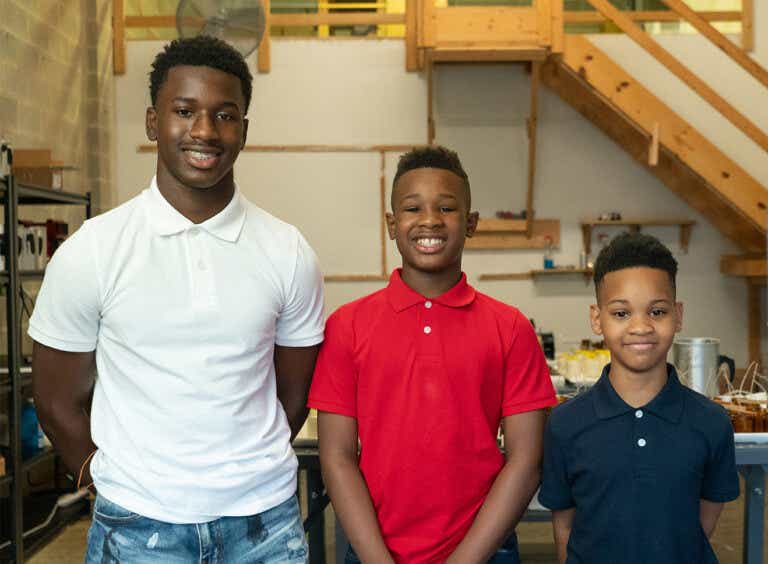 In conversation with the Gill Brothers
KCM: How did the idea for Frères Branchiaux come about?
Ryan: Me and Austin wanted more money for Nerf guns so we could make a Nerf gun video, but our mom said, "No, get a job or start a business." So we looked up what the most successful kids' businesses were, and it was candles, bath bombs, and soap. We learned how to make all three, but eventually decided on candles. 
How did you sell your candles in the early days?
Ryan: We started selling them at our baseball, football, and soccer games out of the back of our minivan. 
Collin: Our first customers were mostly our teammates' parents, family members and friends. We sold them out of our car and we would write down people's names for orders and would bring them the candles at the next game.
How long were you mostly selling to friends and family? What was the next step in the business?
Collin: We were selling at our sports games for about two months, and then we did our first event at NPR's All Crafts Considered holiday market in D.C. We completely sold out and had orders, too: We were writing down people's addresses and my dad had to go out and deliver candles the next day. 
How were you feeling about it?
Collin: Nervous. We didn't really know how to talk to people so it was really nerve wracking.
How did you find your confidence?
Ryan: We just kept inviting people into the booth. Some people would say no and a lot would say yes, and we'd ask them what kind of scents they like. We just kept trying until we got that rhythm.
How did you come up with the name Frères Branchiaux?
Austin: There were companies named Gill Trucking, Gill Shipping, so we wanted to be different. We all went to a French school for a while and we decided to go with "Gill Brothers" in French: "Frères" is brothers and "Branchiaux" is gill.
Before you moved into a warehouse in June of 2020, were you doing everything at home?
Collin: We were doing everything in our kitchen, making about a thousand candles per week.
At what point did you decide you had to get out of your kitchen into a bigger space?
Collin: When we couldn't eat in the kitchen anymore.
What characteristics do you think it took for you to be a huge success in starting a business as young people?
Ryan: I think it's persistence. We just kept going until we got it.
Austin: Be creative and keep going.
Collin: We learned through each step of the way. So each time we face a problem or a hurdle, we learn from it and become a better business.
How do you manage your schoolwork, your friends, sports, and everything that other kids do along with running a business?
Ryan: Right now me and Austin are homeschooled, so we can schedule our schoolwork and time at the warehouse around sports. Austin helps when we need him and sometimes does his schoolwork at the warehouse.
Collin: I'm not homeschooled and I play football and run track, so I have to create a schedule around everything. On some days I have to sacrifice some time at the business to finish homework or go to practice or a track meet.
Collin, you're a highly sought after football player which takes an incredible amount of discipline and time. How are you thinking about balancing everything when you go to college?
Collin: I think I'll have more of a handle on it in college because I'll have more free time, and I'll have my brothers and my parents to help me through the process.
Why did you decide to give 10 percent of your profits back to the community, and how did you choose the organizations you give to?
Ryan: We decided to give back to the community because the community gave a lot to us. D.C. has a lot of homeless people and we have a big heart for the homeless, so we decided to give to homeless shelters around the D.C. area. We were vending at an event that was benefiting Pathways to Housing so we started a relationship with them, and then we found Friendship House through research.
What is the biggest lesson you've learned from starting and growing a business?
Ryan: Failure is the best teacher, so when we fail in something, we figure out what we did wrong so that next time we have a better chance of doing it correctly.
Austin: It's hard to be a business person!
Collin: One lesson I've learned is that people come from different backgrounds and I can learn from their failures and successes to benefit our business.
What advice would you give to other young people trying to start a business?
Austin: To never give up and always keep going.
Ryan: Ask for help if you need it and do research about what you want to do before you start.
Read on