"What happened today has never been seen in Israel," Prime Minister Benjamin Netanyahu said.
Israel has formally declared war against Hamas following the unprecedented attack on Saturday morning that killed at least 700 Israelis. Here's more on the crisis:
What happened in Israel on Saturday?
On Saturday morning, Hamas launched a surprise attack on Israel, firing thousands of rockets while militants broke through the border by land, sea, and air. Over 700 Israelis were killed and 2,000 were wounded, according to the Israel Defense Forces. Israel launched counteroffensive airstrikes on Gaza, where at least 493 Palestinians were killed and 2,751 were wounded, according to the Palestinian health ministry.
The attack came 50 years and one day after the Yom Kippur War of 1973. It also took place on Simchat Torah, an important Jewish holiday that marks the end of the reading of the Torah scroll and the beginning of a new cycle. One of the locations hit by the attacks was an all-night dance party celebrating the end of Sukkot. Israeli rescuers say they found at least 260 bodies at the festival site.
In addition to the hundreds of people who have been killed, Hamas has taken Israeli citizens hostage for the first time in years. Hamas said it has captured "dozens" of Israeli officers and soldiers. The Israel Defense Forces said "unfortunately, a significant number" of civilians have been captured. IDF spokesperson Lt. Col. Jonathan Conricus told CNN, "It is unprecedented in our history that we have so many Israeli nationals in the hands of a terrorist organization." The total number of hostages is not yet known, but Islamic Jihad said it has more than 30 hostages and is calling for Israel to release some of its fighters in an exchange.
Senior members of Israel's military have described the Hamas attack as "our 9/11." Lieutenant Colonel Jonathan Conricus said per the BBC: "This could be a 9/11 and a Pearl Harbor wrapped into one."
"It is, by far, the worst day in Israeli history. Never before have so many Israelis been killed by one single thing let alone enemy activity on one day."
This morning, an Israeli colonel told reporters that the country's military had thought its response would be in "a better place" by now.
Israeli Prime Minister Benjamin Netanyahu has said, "What happened today has never been seen in Israel." Hamas said the attack was carried out in response to Israel's occupation of the West Bank, raids at Al Aqsa mosque, and detention of Palestinians in Israeli jails.
According to the UN Humanitarian Affairs Office, 2023 has been the deadliest year for Palestinians in the West Bank since the UN began keeping records in 2004. However, Hamas has been designated a terrorist organization by the United States and European Union. Analysts have theorized that the timing of the violence may also be an attempt to quash the attempted peace deal between Israel and Saudi Arabia.
Israel declares state of war
In a televised speech on Saturday evening, Netanyahu vowed retaliation, saying, "We will take mighty vengeance for this black day," adding, "We are embarking on a long and difficult war that was forced on us by a murderous Hamas attack."
On Sunday, the Israeli government formally declared war on Hamas. The IDF said it has struck 800 targets in Gaza including 10 towers used by Hamas. Israel also halted electricity to the Gaza strip, and Netanyahu previously said Israel would be "stopping of the supply of electricity, fuel and goods." Gaza is one of the most densely populated places on Earth, with 2.3 million people living in its 140 square miles.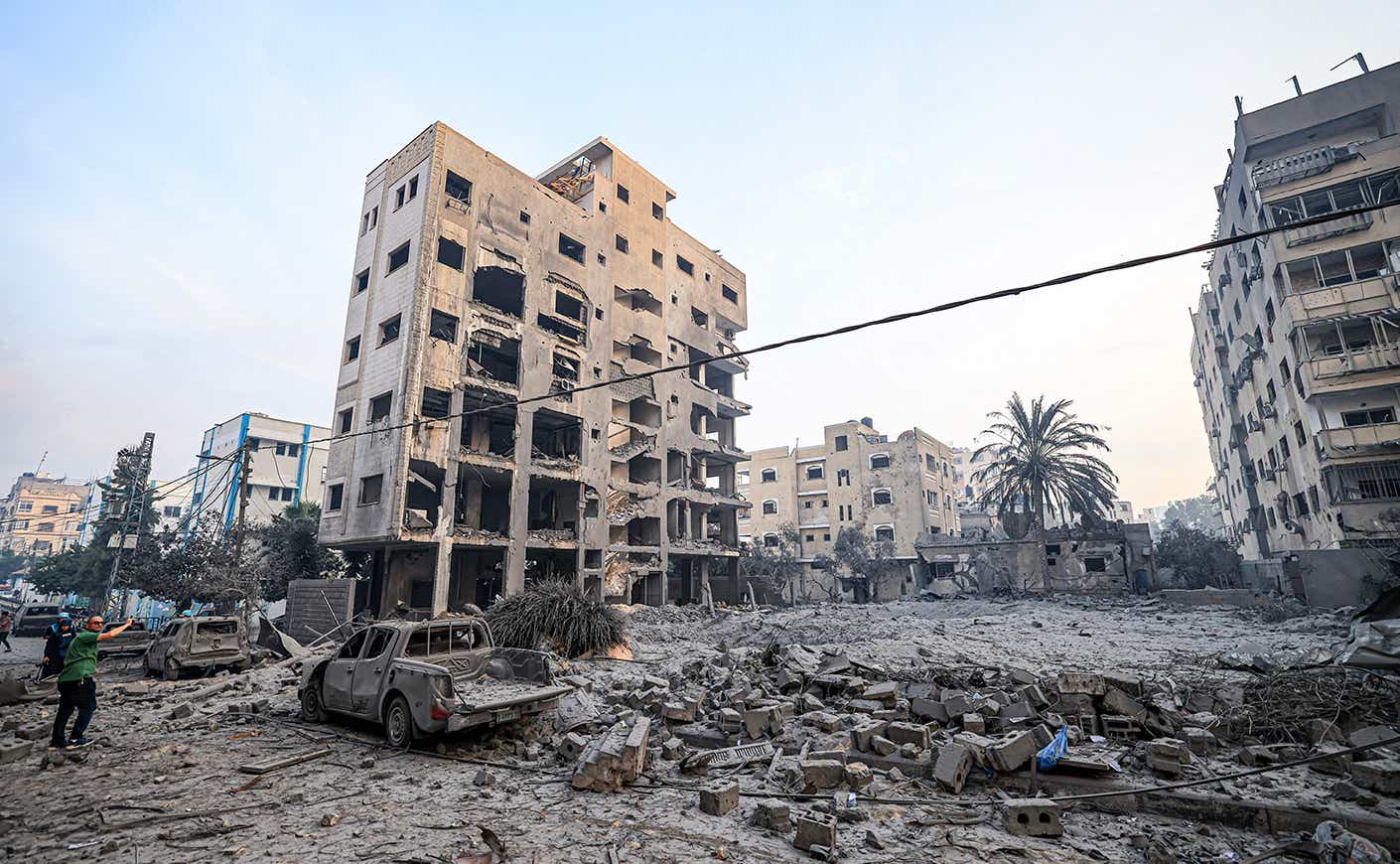 Late Sunday, Hamas claimed it was targeting Ben Gurion International Airport near Tel Aviv and also launched "a major missile attack with 100 rockets" on Ashkelon, a city in southern Israel that is near the Gaza border. Hamas said the missiles were fired because of the IDF's "targeting of their safe houses."
President Biden expresses support for Israel
Rubble from damaged buildings is scattered on the ground following Israeli air strikes in Gaza City
On Saturday, President Biden spoke with Prime Minister Netanyahu. "I told him the United States stands with the people of Israel in the face of these terrorists assaults," Biden said of the call. "Israel has the right to defend itself and its people, full stop."
"We unequivocally condemn the appalling attacks by Hamas terrorists against Israel," Secretary of State Antony Blinken said on X (formerly Twitter). "We stand in solidarity with the government and people of Israel and extend our condolences for the Israeli lives lost in these attacks."
Defense Secretary Lloyd Austin said the military is sending the USS Gerald R. Ford Carrier Strike Group to the eastern Mediterranean as a show of support. "In addition, the United States government will be rapidly providing the Israel Defense Forces with additional equipment and resources, including munitions. The first security assistance will begin moving today and arriving in the coming days," he said.
The U.S. Chamber of Commerce announced that it is working with the Jewish Federations of North America, the Israeli government and AmCham Israel to provide humanitarian aid. "We extend our heartfelt condolences to the people of Israel and stand in solidarity with them as they battle the scourge of terrorism," the chamber said in a statement.
U.N. Security Council meets over attacks
On Sunday, the United Nations Security Council met in New York City in an emergency closed-door session. The United States is expected to lead calls to condemn Hamas's attack, and Israel's ambassador to the UN accused Hamas of war crimes and told reporters, "Now is the time to obliterate Hamas terror infrastructure, to completely erase it, so that such horrors are never committed again."
Palestine's envoy to the UN said, "We need to stand up for the vision enshrined in the resolution of the Security Council … and to take the necessary measures to ensure compliance with their provisions," and accused Israel of having "colonialist and racist agenda." No action was taken following the meeting.
Deputy US Ambassador to the UN Robert Wood told reporters, "It's important that the global community condemn, strongly condemn, this unprovoked invasion and the terrorist attacks and activities that have taken place and are taking place," adding, "We condemn civilians who are hurt or killed anywhere in the world," referring to Palestinians.