But this could be only the beginning of Trump's legal woes.
Former President Donald Trump officially pleaded not guilty on Tuesday to 34 felony counts of falsifying business records, capping a nearly five-year investigation into hush money paid to adult film star Stormy Daniels.
"These are felony crimes in New York State no matter who you are. We can not and will not normalize serious criminal conduct," Manhattan District Attorney Alvin Bragg told reporters in his first public remarks since Trump's arraignment.
Meanwhile, Trump has maintained his innocence and dismissed Bragg's probe as a politically motivated "witch hunt." Even on his way to the New York courtroom, Trump expressed disbelief that his arrest was happening, calling it "SURREAL" in a post on his platform Truth Social. Trump has repeatedly taken to social media to rail against the case — he also referred to Judge Juan Merchan as the "Trump Hating Judge."
Following some serious speculation, Merchan didn't ultimately evoke a gag order to stop Trump from talking about the case, though he did caution the former president against inciting violence. After one of the prosecutors from the Manhattan DA's office brought up threatening posts Trump has made in recent weeks, including one saying that "death and destruction" would follow if he was charged, Merchan told Trump's lawyers: "Please speak to your client and anybody else you need to, and remind them to please refrain from making statements that are likely to incite violence or civil unrest."
The warning didn't stop Trump from making some fairly heated remarks later that evening at Mar-a-Lago (more on that below), and then again on Wednesday when he took to social media to call on Congress to "defund" the Department of Justice and FBI "until they come to their senses." For the record, neither agency was part of the Manhattan DA's criminal prosecution of Trump.
It's not clear yet when the trial will begin. While prosecutors have asked for a date in January 2024, Trump's legal team has called that timeline "too aggressive" and suggested spring 2024 as an alternative (Merchan hasn't weighed in yet).
As the proceedings continue to unfold, here's what his charges entail and why he could face more legal setbacks.
Did Trump have a mugshot taken?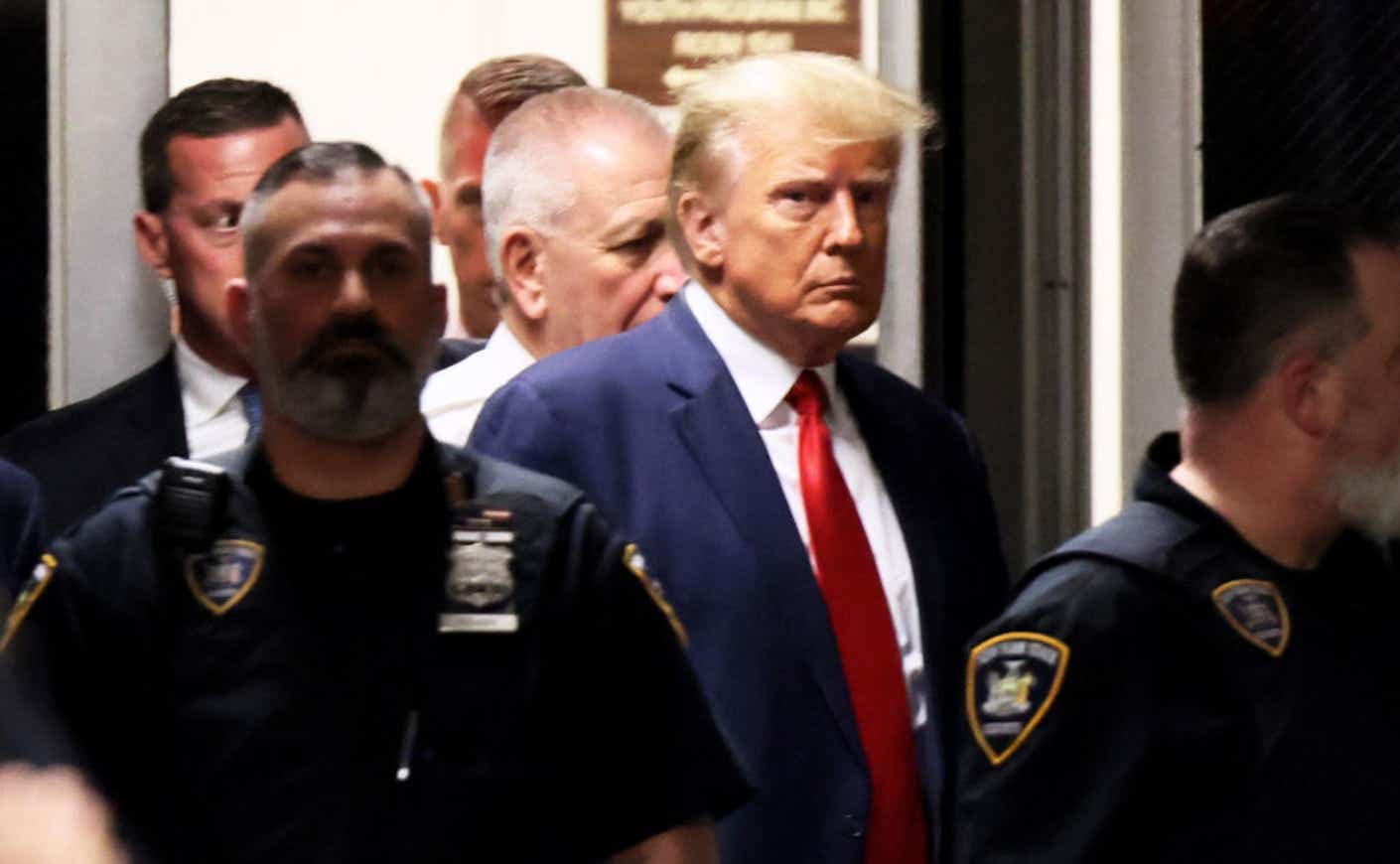 While the ex-president faced the standard processing procedure once he was in custody, such as getting fingerprinted, the New York Times reports he did not have a mugshot taken.
After the arraignment, the former president was escorted out of the courtroom surrounded by armed federal agents, rather than being led away in handcuffs. Instead of being placed in a jail cell, he was released and he promptly caught a plane back to Florida, where he gave a speech to his supporters.
Why was Trump charged?
According to the full indictment released shortly after the former president left the courthouse, the Manhattan District Attorney's Office alleges that the former president was part of an "unlawful scheme," which included falsifying business records 34 times, as he wrote checks to his lawyer Michael Cohen to reimburse Cohen for $130,000 paid to Daniels. The statement of facts also claims that Trump told Cohen to hold off making the payment to the adult-film actress for "as long as possible."
"He instructed Lawyer A (Cohen) that if they could delay the payment until after the election, they could avoid paying altogether, because at that point it would not matter if the story became public," the court filing says.
In a statement of facts filed alongside the indictment, Bragg also detailed an alleged "catch and kill scheme" to identify, purchase, and bury negative information about him. He noted that Trump's then-lawyer Michael Cohen and American Media, Inc., which publishes tabloids like the National Enquirer, had already admitted to taking part in this plan, which involved payouts to a Trump Tower doorman and Playboy model Karen McDougal.
Prosecutors allege that AMI paid McDougal $150,000 "in exchange for her agreement not to speak out about the alleged sexual relationship."
"AMI falsely characterized this payment in AMI's books and records, including in its general ledger," the filing said.
The statement of fact also noted that David Pecker, then-CEO of AMI, "learned that a former Trump Tower doorman was trying to sell information regarding a child that the Defendant had allegedly fathered out of wedlock."
According to the statement, "AMI negotiated and signed an agreement to pay the Doorman $30,000 to acquire exclusive rights to the story" and "falsely characterized this payment in AMI's books and records, including in its general ledger."
How serious are the charges?
Falsifying business records in the first degree is a class E felony in New York, carrying up to four years in prison. The charges can be misdemeanors, but are raised to the level of a felony if — as the prosecutors claim in every charge in this case — the acts were carried out in order to conceal a crime. Per NBC, legal experts say it's unlikely Trump will serve time, but if he did, the sentences would likely be served concurrently.
The next in-person hearing date is currently set for December 4. Trump's team must file any motions by August 8, and the prosecution must respond by September 19. The case is not expected to go to trial until next year — and Trump's lawyers say the January start date suggested by the prosecution is too soon.
"We think later in the spring next year might be more realistic, a more realistic plan at this point, but I'm speculating a bit," said top white collar defense attorney Todd Blanche, who's leading Trump's defense team.
Following the arraignment, Trump's lawyers downplayed the indictment, claiming "there were no facts." During a press conference, Bragg defended his case against Trump, saying the charges were brought after a "thorough and rigorous" investigation.
"We regularly do cases involving false business statements," Bragg told reporters. "The basis for business integrity and a well-functioning business marketplace is true and accurate record-keeping. That's the charge at fault here — falsifying New York state business records."
Trump's address at Mar-a-Lago
Trump flew back to his Mar-a-Lago resort following the indictment, where he addressed supporters and the press on camera. Despite the warnings he'd received earlier, he took a swipe at D.A. Bragg, saying: "He knew there was no case. That's why last week he delayed for a month and then immediately took that back and threw this ridiculous indictment together." He called Bragg a "radical left, George Soros-backed prosecutor" — despite, as CNN points out, the fact that there's no evidence Soros has played any part in Bragg's decision to prosecute Trump, and Soros didn't make any donations to Bragg's 2021 election campaign.
Then, he got into everything from his handling of classified documents to inflation, to the 2020 election.
He falsely claimed that there were "millions of votes illegally stuffed into ballot boxes, and all caught on government cameras" — an assertion that's been comprehensively debunked. He also referred to the investigation mounting into his handling of classified documents after he left office, claiming that "openly taking boxes of documents and mostly clothing and other things to my home" is something "which President Obama has done." He added: "The Bushes have done. Jimmy Carter's done. Ronald Reagan is done. Everybody's done." The National Archives and Records Administration (NARA) has explicitly said that no previous president has acted as he did.
Despite his bravado, a close source told CNN that Trump was "upset" after "an emotional day." "Who wouldn't want to be with people that adore him after that?" they added.
Trump reportedly dined with Mar-a-Lago patio with family and supporters, including Matt Gaetz and Marjorie Taylor Greene. Later, he was apparently seen DJ-ing from his laptop.
The reaction
D.A. Bragg said the charges were brought after a "thorough and rigorous" investigation.
"Everyone stands equal under the law," he told the press after the arraignment, adding: "No amount of money and no amount of power" changes that.
Mitt Romney, an outspoken Trump critic, said in a statement that while he believes "President Trump's character and conduct make him unfit for office," Bragg "has stretched to reach felony criminal charges in order to fit a political agenda."
Democratic Rep. Alexandria Ocasio-Cortez has drawn focus to Trump's rhetoric on the judge, tweeting: "He is publicly intimidating a judge and pointing a spotlight on their family to his supporters – many of whom have admitted in court to committing violence in his name. He knows what he's doing."
In an earlier tweet, she'd said: "Let's be very clear: intimidation and stochastic terror are the core tools of Trump and the fascist movements that support him.
They rely on it to skirt consequence and silence others – and each time it works, they grow more brazen. One reason why accountability is so important."
Speaking to Seth Meyers, AOC said that the key significance of this case is the sense that due process has been restored. "The lack of formal due process for so long really created this question of do we have an equal society… no matter your income, no matter how powerful. The presence of this process demonstrates that we should have one law that applies to all people, no matter who you are or where you come from."
President Biden has so far declined to comment.
What does it mean for Trump's 2024 campaign?
While it's too soon to tell what this means for Trump's political ambitions, his 2024 campaign has already started raising money off of his arrest. A fundraiser entitled "My last email before my arrest" mourned the "loss of justice in America" before the former president's surrender to officials on Tuesday.
Trump's campaign also wasted no time in selling T-shirts displaying a fake mugshot of Trump that reads "NOT GUILTY" underneath. So far, the former president says he has raised more than $10 million since his indictment.
Could this case be only the beginning?
In addition to Trump's hush money charges in New York, Special Counsel Jack Smith is still investigating Trump's role in the deadly January 6, 2021, attack on the Capitol and the handling of classified documents at Mar-a-Lago. Meanwhile, a Fulton County special grand jury has wrapped up its probe into efforts to overturn the 2020 election in Georgia, so expect more potential legal fallout.