"My concern was and remains that difficult stories in Black history are being lost."
Last month, Florida's top politician took another bold step in his remaking of the state's education system. After advancing the "Don't Say Gay" bill and banning critical race theory, Gov. Ron DeSantis took aim at Black history, rejecting an Advanced Placement course in African American studies. Why? He says the class serves an agenda of "woke indoctrination."
But the movement to regulate how race is taught — a pursuit some believe sanitizes and doesn't accurately portray our past — has not just taken root in Florida. It's spreading across the country, ringing alarm bells for those who believe it places subjects like Black history in jeopardy.
Last year, Florida adopted the "Stop WOKE Act," which requires that lessons on race be taught in "an objective manner" and prohibits teachers from making students feel "discomfort" or "guilt" over past actions committed by others of their race. It also bars them from compelling students to believe that anyone is inherently privileged or oppressed. Florida education officials say the AP African American studies class violated that law and also "lacks educational value."
Similar provisions have been enacted in about a dozen other states. But those regulations may conflict with frameworks that have been developed to teach Black history, like the one created by LaGarrett J. King, the Director for University of Buffalo's Center for K-12 Black History and Racial Literacy.
"You can't teach Black history without teaching about power, oppression, and anti-Blackness," King says. "That's the material reality of what Black people have experienced in this country."
Civil rights groups say measures like these are a disturbing form of censorship aimed at whitewashing America's history of racism, and it may be producing a "chilling effect" on teachers.
King says the new laws are "so vague" that educators are confused about what would or wouldn't be crossing the line. Some, fearing punishment — which could be as severe as a felony — might back away from teaching issues which they previously would have had no reservations lecturing on. Marvin Dunn, a professor emeritus at Florida International University, says he's received dozens of letters from teachers who have thanked him for speaking out because they can't themselves, "out of the risk of losing their jobs or endangering their institutions."
Dunn, who has taught about race relations for decades in Florida, is openly defying the state's "Stop WOKE Act." (The "WOKE," by the way, stands for "Wrongs to Our Kids and Employees.) Last month, he began leading high school students to the sites of some of the state's ugliest episodes of racial violence, from Rosewood — a majority Black town that was destroyed by a white mob in 1923 — to Newberry, where six or more Black men were lynched. He tells us he's planning another tour in the spring, where he'll lead students in a march to the governor's mansion.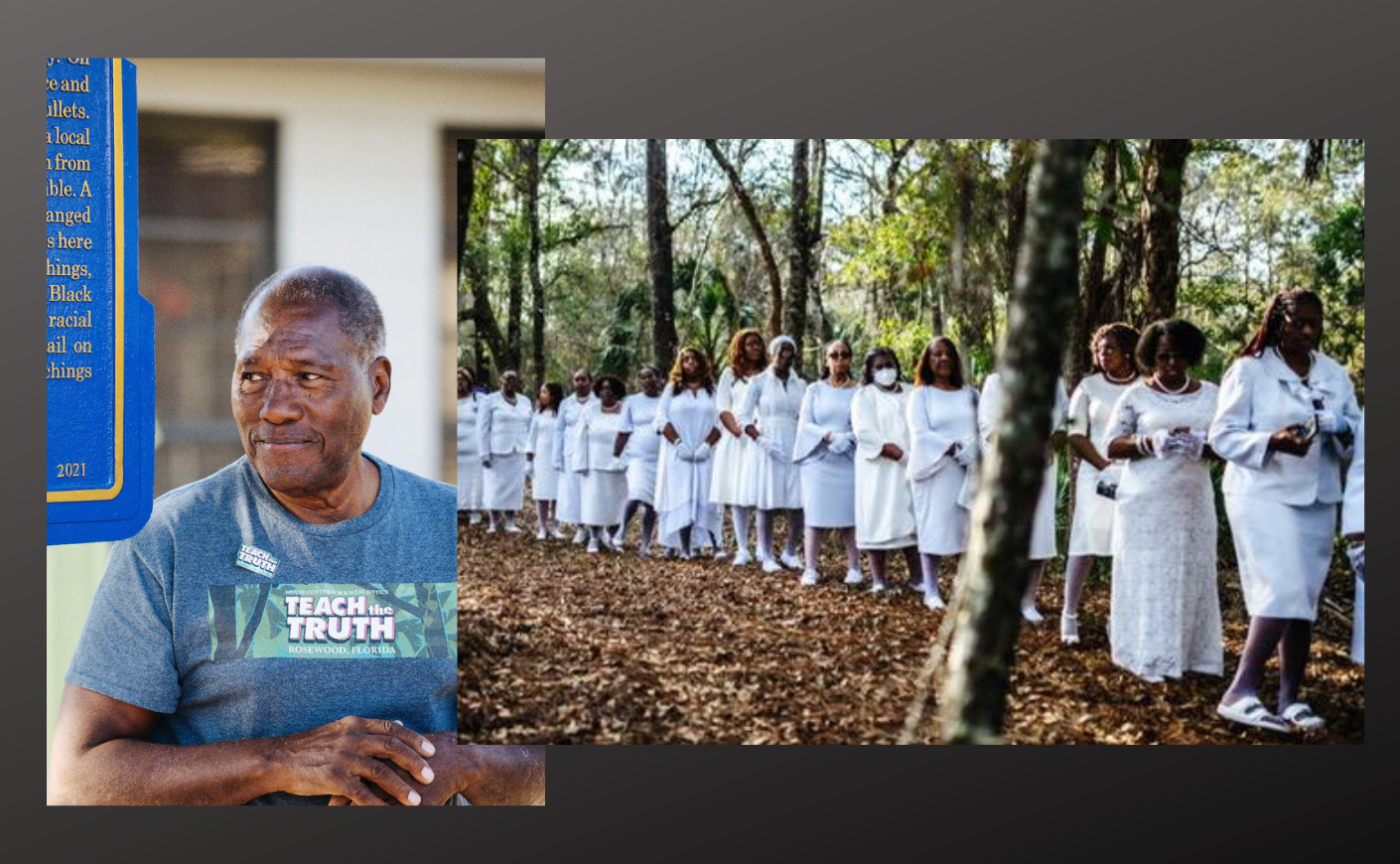 "My concern was and remains that difficult stories in Black history are being lost, and the best way to assure that doesn't happen is to take young people to these places," Dunn says. But he believes that capturing the full scope of these and other morally repulsive events — and much of the Black experience in America — in an impartial way is an "impossible" task.
"I cannot teach about a mother having her child snatched from her bosom and stolen away in an objective way," he says. "I can't teach about the Holocaust and babies being burned in ovens in an objective way."
What's occurring now is the result of the culture war's creep into the classroom. Republicans, like DeSantis, have focused on banishing "woke ideology" from schools, and under their interpretation, that runs the gambit from discussions on intersectionality to trans rights. It's a disheartening development, Dunn says, because he believes these laws are being created to address a non-issue. 
King adds that over the past few years, the growth of the Black Lives Matter movement has led to a surge in interest and support for teaching Black history and antiracism. But "that progress has stagnated," he says. In many ways, it now seems to be running in reverse.
But advocates and now even students are doing what they can to push back. Three Florida students have threatened to sue the state if the AP African American studies course isn't made available, and Dunn is part of a lawsuit challenging the Stop WOKE act. Last fall, he and seven other plaintiffs won a temporary injunction against the state, which paused the law from being enacted in universities.
"History is about helping us understand who we are. It's about helping us understand humanity — the good, the bad, the indifferent," King says. "And when you don't provide that type of knowledge to these people, who would be decision-makers down the line, you're doing a disservice to society."