It's a baby (one more time)
If you're anything like us, you were obsessed with Britney Spears' battle to be rid of her nearly 14-year conservatorship from day one. Her fight for freedom is finally over, but lest we forget her arduous road to victory, we've got a refresher on the final stages of the legal proceedings — plus one or two, um, relevant updates since…
Britney announces pregnancy at last
Britney shared her wonderful news that she's pregnant at last, on April 11 on Instagram. She singer confessed she'd initially thought it was a "food baby," after wondering "what happened to my stomach?"
"My husband said "No you're food pregnant silly 🤪 !!!" So I got a pregnancy test … and uhhhhh well … I am having a baby 👶🏼 … 4 days later I got a little more food pregnant 🤰🏼🙈🙈🙈 It's growing !!! If 2 are in there … I might just lose it," she wrote.
The 40-year-old's recent references to her long-term partner Sam Asghari as her "husband" have prompted speculation that the pair, who were believed to be engaged, have already married in secret.
Britney shared that she won't be going out as much now as she'd prefer to avoid the paparazzi, and is concerned as she suffered perinatal depression in her previous pregnancies, which she described as "absolutely horrible." She added that women didn't talk about it back then, and said some people even considered it dangerous if a woman "complained like that with a baby inside her."
The singer, who has two teenage sons, Sean and Jayden, with her ex-husband Kevin Federline, has been open about her longing for another child. She testified last year that it'd long been impossible since her now-former conservators — including her father, Jamie Spears — had prevented her from removing her IUD birth control.
After nearly 14 years, Britney's conservatorship is over
On November 12, 2021, weeks before her 40th birthday, a judge approved the termination of Britney Spears's conservatorship, freeing her from the controversial legal arrangement that controlled her life for nearly 14 years. Britney had been unable to make basic decisions about her finances, career and personal life since. Now that she's finally free, Spears can retake control of her estate and will no longer be obliged to pay a team of professionals to supervise her affairs.
Spears tweeted after the ruling: "Good God I love my fans so much … Best day ever," and shared a video of the celebration outside the courthouse, using the hashtag #FreedBritney.
Here's a look back at some of our previous coverage of this emotive case.
Britney focuses on 'healing'
Britney Spears has given a little insight into her headspace since her father Jamie's suspension as the conservator of her estate. The 39-year-old posted a soothing photo on Instagram on October 3 2021, featuring a tree with its branches reaching through a hole in the ceiling, set against a pale blue sky.
"Although there is change and things to celebrate in my life, I still have a lot of healing to do," she wrote. "Thankfully I have a good support system and am taking time to understand it's ok to slow down and breathe 🧘‍♀️ !!!!! Only through self-love I can pray … love … and support others in return !!!!"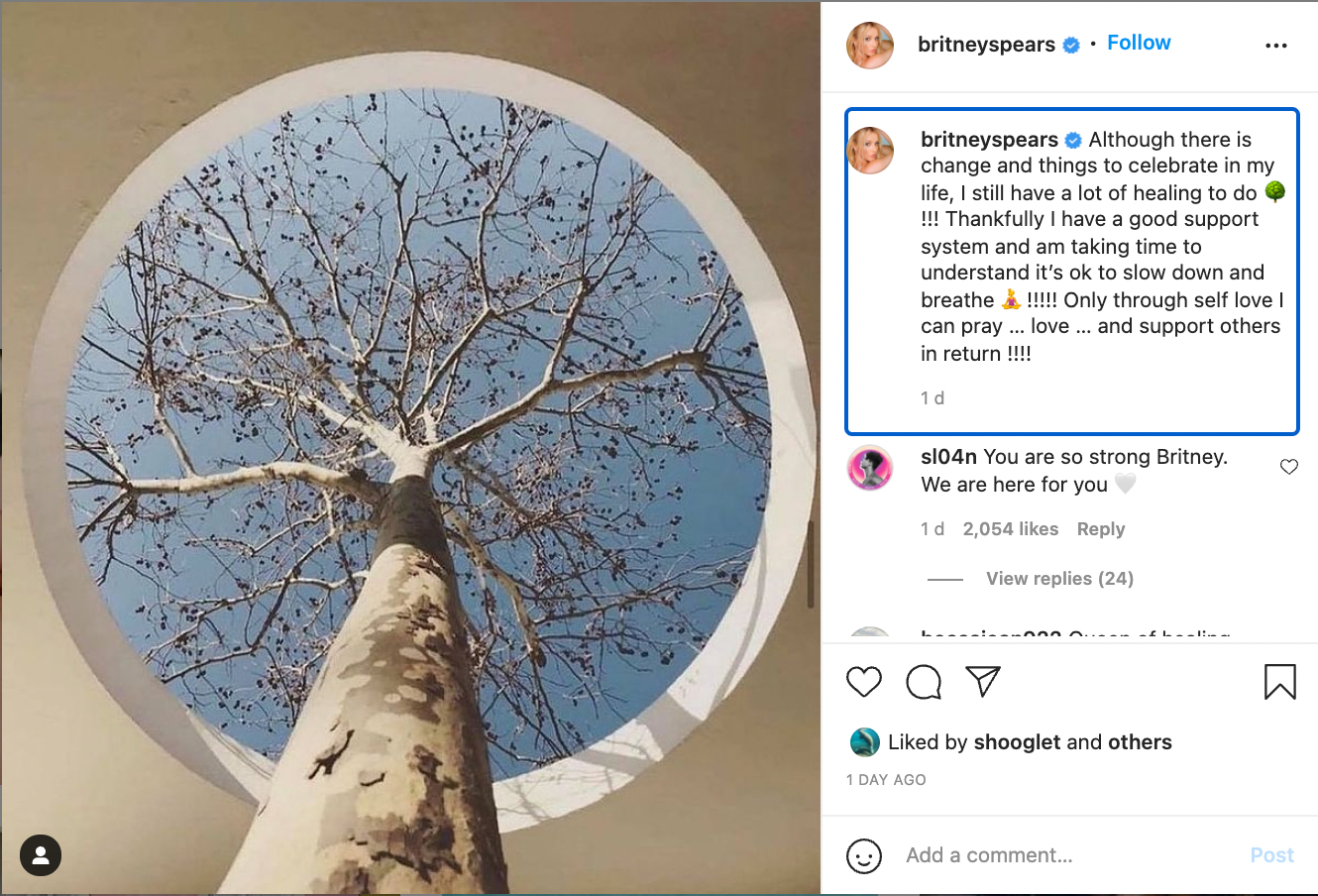 Jamie Spears suspended as conservator
Britney Spears scored a major win on September 29 2021, as Los Angeles County Superior Court Judge Brenda Penny suspended her father Jamie as conservator of her estimated $60 million estate. Per Dazed, Britney's attorney Mathew Rosengart described Jamie as a "cruel, toxic and abusive man," adding that the singer wanted him gone "today" — and describing an "unfathomable" invasion of her privacy.
"We learned Mr. Spears did something unfathomable," said Rosengart, referring to revelations from The New York Times. "He instructed [a] security team, paid for by my client, to place a listening device in Britney's bedroom." Jamie Spears's attorney Vivian Thoreen, replied: "It's not evidence, it's rhetoric."
Judge Penny, who described the overall situation as "untenable" and "toxic" has appointed a temporary replacement to oversee Britney's finances. Britney, who is yet to comment publicly on these latest developments, is reportedly seeking to put a plan in place to terminate her conservatorship entirely within the next 30 to 45 days. A court date to consider that request has been set for November 12, and other outstanding matters will be addressed later, on December 13.
Did anyone see this coming?
Back in June, we spoke to experts who weighed in on whether Britney's bombshell statements about being forced to take lithium, forbidden to remove her contraceptive device, and unable to control her own money might impact the future of her court-appointed conservatorship.
"She's taken a stance at this point that she's not going to perform as long as her father is in control of her career and finances," Lisa Bonner, an entertainment lawyer and the host of TheLegaliTea Podcast, told to us. "A conservatorship is also not meant to be a permanent situation for someone who is not permanently incapacitated. The goal is always to get someone rehabilitated or mainstreamed back into society."
"Britney didn't know she could end her conservatorship, which explains why we hadn't heard from her and why she hadn't made that move before," Bonner added. "I think the powerful and impactful plea before the court, in her own words, even revealing some of the most embarrassing and personal statements about her life, is going to work favorably for her."