Think of them as the most elevated dishrags you'll ever use. 
We all know that icky feeling of grabbing a damp dishrag from the side of the sink, half-heartedly wiping it on the counter, and leaving a wet, streaky surface behind. It probably has that smell, too (you know the one), despite being freshly laundered and only put into use the day before.
The outdated practice is just unappealing, and it's so tempting to reach for a paper towel instead. But we've seen the numbers on that: Hundreds of millions of trees are cut down annually for single-use paper goods, not to mention that cycling through roll after roll isn't fiscally responsible either. That's the (admittedly low stakes) dilemma my roommates and I were dealing with, until we received a gift of Papaya Reusables' dishcloths.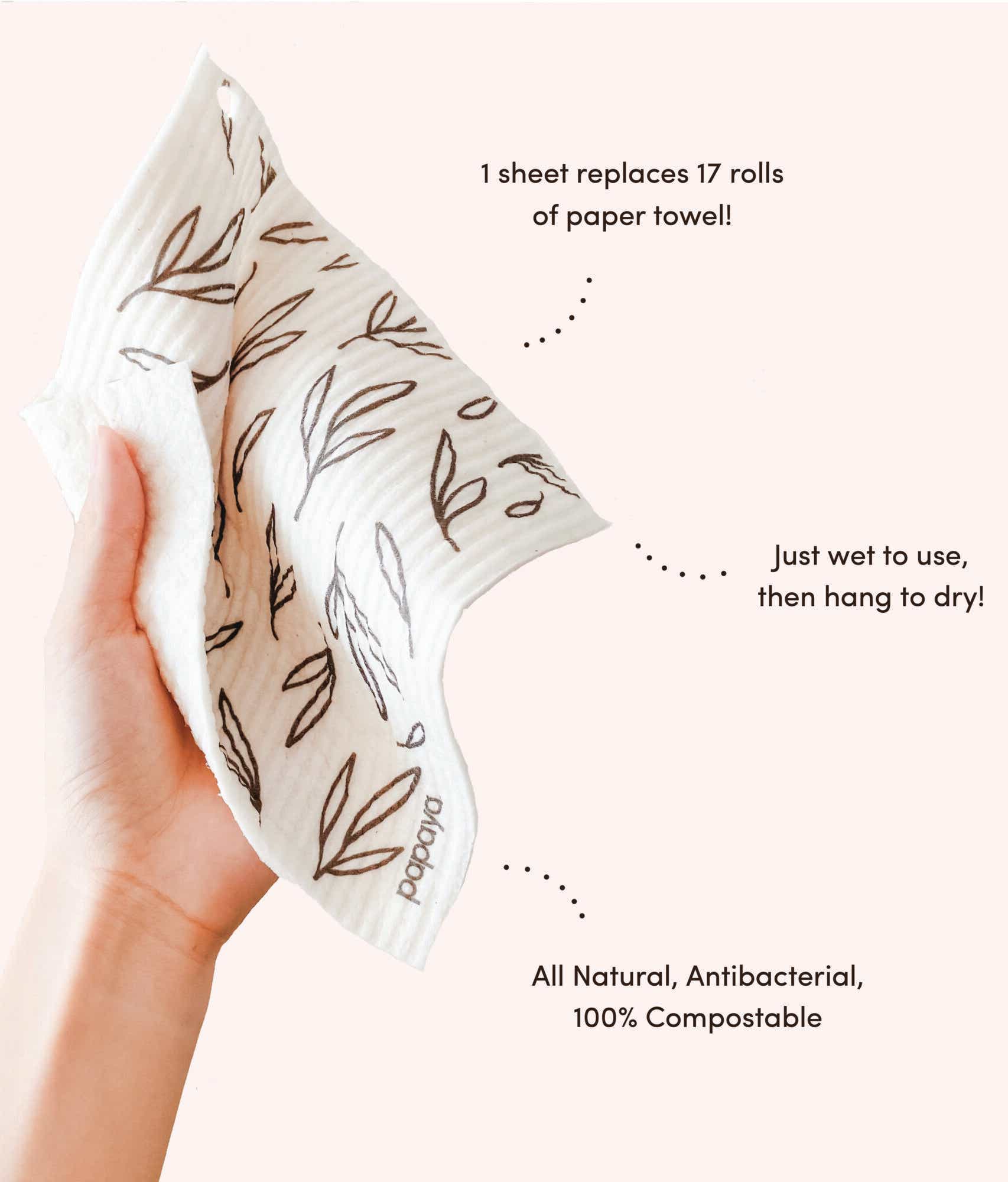 $18 at Papaya
About Papaya's Reusable Paper Towels
Papaya set out to give the luxurious Swedish dishcloth an approachable makeover. Originally invented by a Swedish engineer in 1949, Swedish dishcloths have been popular in Europe for decades but only recently started gaining traction in the U.S. They're made of a sponge-like blend of cellulose and cotton that makes them more absorbent than fabric dishcloths when mopping up liquid, but unlike paper towels, these are actually reusable.
Papaya's version has a couple of key improvements that take the Swedish dishcloth from an effective cleaning tool to a desirable kitchen accessory. First, it has a little hole punched in the corner and comes with a hook that you can stick to whatever wall, fridge, or cabinet door it makes sense to hang it from for easy access and rapid drying. Second, they come in cute patterns — don't even try to tell me that's not important.
These dishcloths are quick-drying, so they don't develop that nasty, aforementioned odor, and they're easy to keep clean. Just rinse them with water, clean them with dish soap, or toss them in the dishwasher or washing machine once a week to keep them looking and smelling fresh. One sheet typically lasts up to three months — replacing 17 rolls of paper towels! — but it can last for up to nine months depending on how you use them. At $18 for a 2-pack, you're getting the value of at least 34 rolls of paper towels for half the price. Plus, they're biodegradable and can be tossed into your compost bin once they've lived out their useful life (read: they've stopped absorbing liquids easily and started looking tattered).
My Papaya Reusables Review
My Papaya towels couldn't have come at a better time. The old dishcloths we had at the time were completely ineffective and left lint on the surfaces as we cleaned. I won't admit how many paper towel rolls we were going through each week, but the waste was starting to wear on me. While I knew about Papaya Reusables, I hadn't gotten my act together enough to invest in them.
Our Papaya Reusable towels (we got the lemon pattern) were rigid and dry upon first impression. They almost felt as though you could snap them in half, but they softened up as soon as they got a little damp. I stuck the included hook on the tile wall behind our kitchen sink, dampened one of the towels, and went to town on the stains that always managed to appear around our coffee maker. I watched them disappear and waited for residue from the effort to present itself. It never did. I was an instant convert.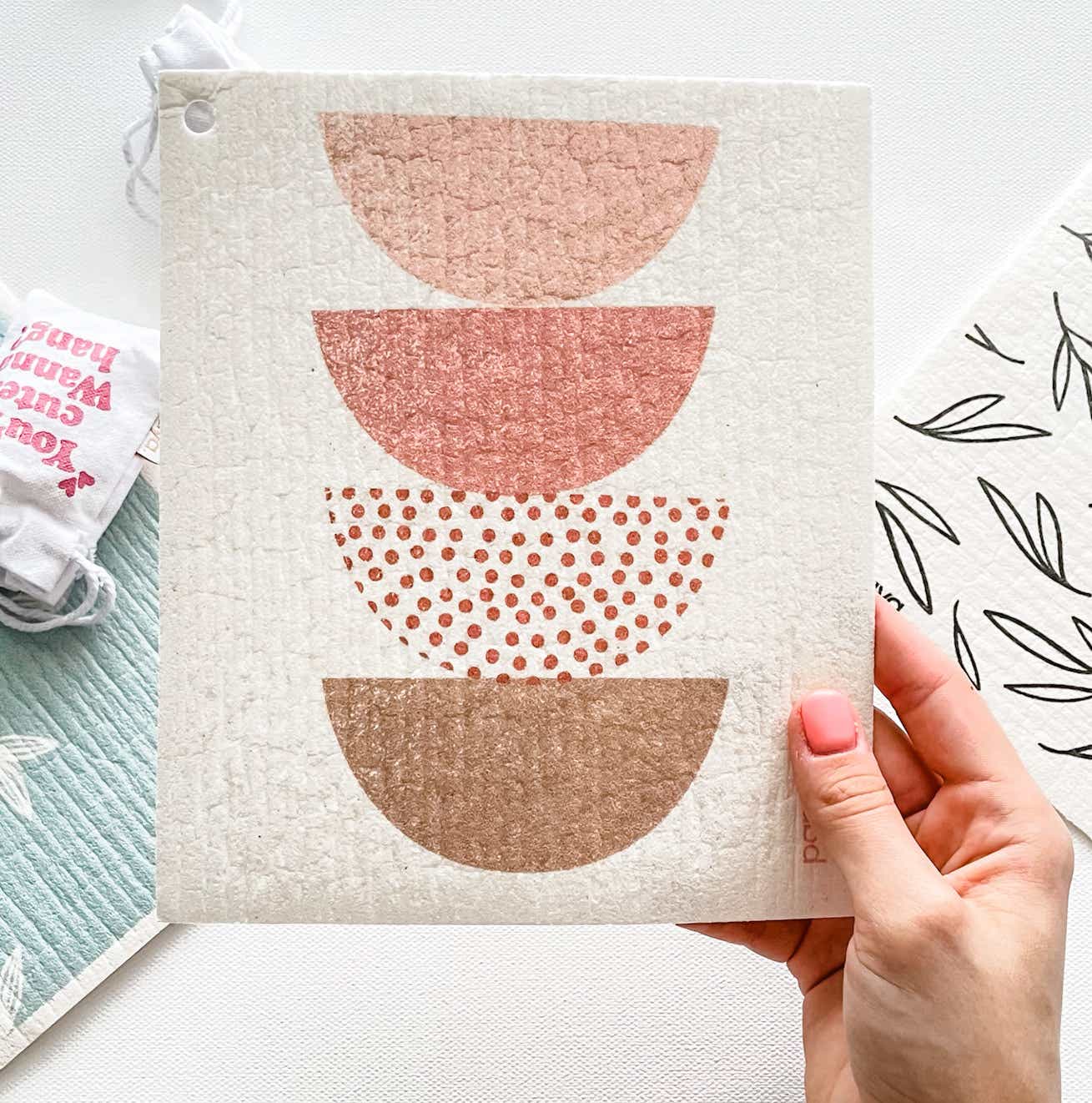 We've been using the same little towel every day since January to wipe crumbs off our counter, sticky cocktail remnants off our tables, dried avocado from the wooden kitchen cart, and water that wants to be anywhere but the sink while we're washing dishes. It has even managed to remove oil splatters from our electric stovetop. It's finally starting to show some wear and discoloration, but it has been three months of hard use, and we still have a second sheet ready to step in. What else can I say? These sustainable towels can handle the mess that ensues when four adults cook and clean in a way that feels like a child might treat a Fisher-Price play kitchen.
And the paper towels we bought from Costco? They're sitting largely untouched under our couch (NYC apartments, am I right?). We probably go through one roll every six weeks to clean our bathroom and other random surfaces, but I'm already eyeing another pack of Papaya towels to take on that mess. Consider us obsessed.
What to Buy from Papaya Reusables
Reusable Paper Towel 2-Pack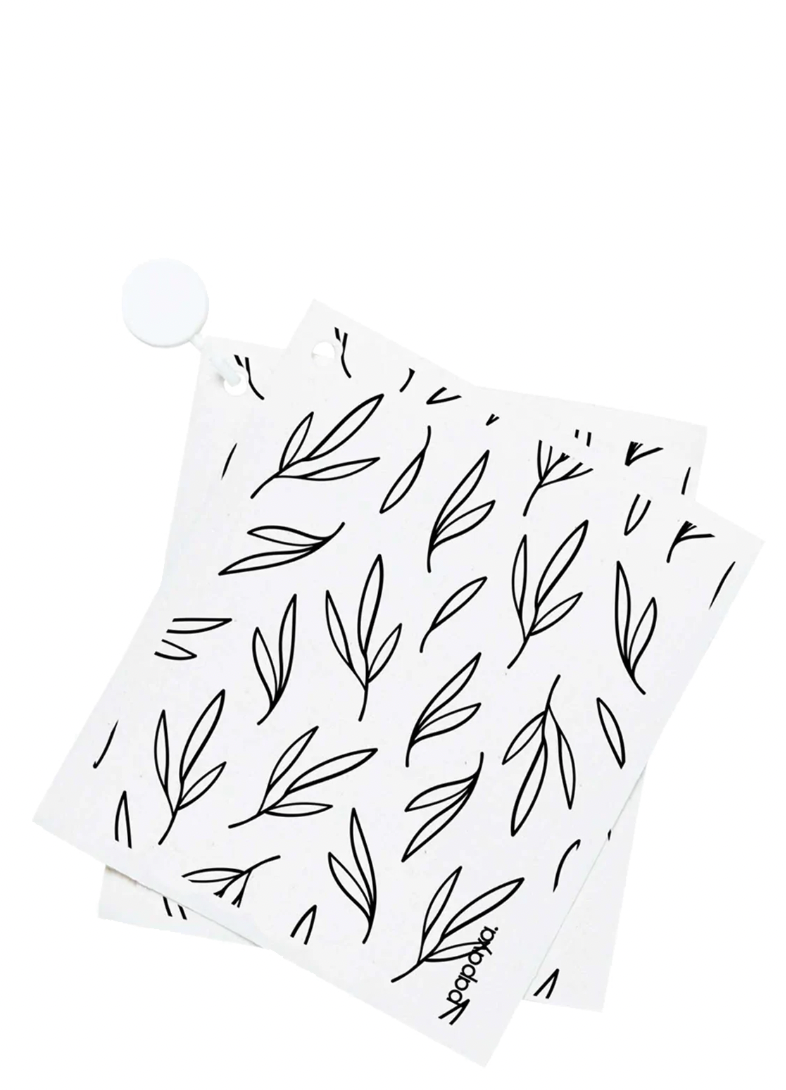 With two towels and one hook, this starter pack is a great intro to Papaya's products. You can save money if you opt for a subscription service that will deliver fresh towels at your discretion.
$18 at Papaya
Reusable Paper Towel 4-Pack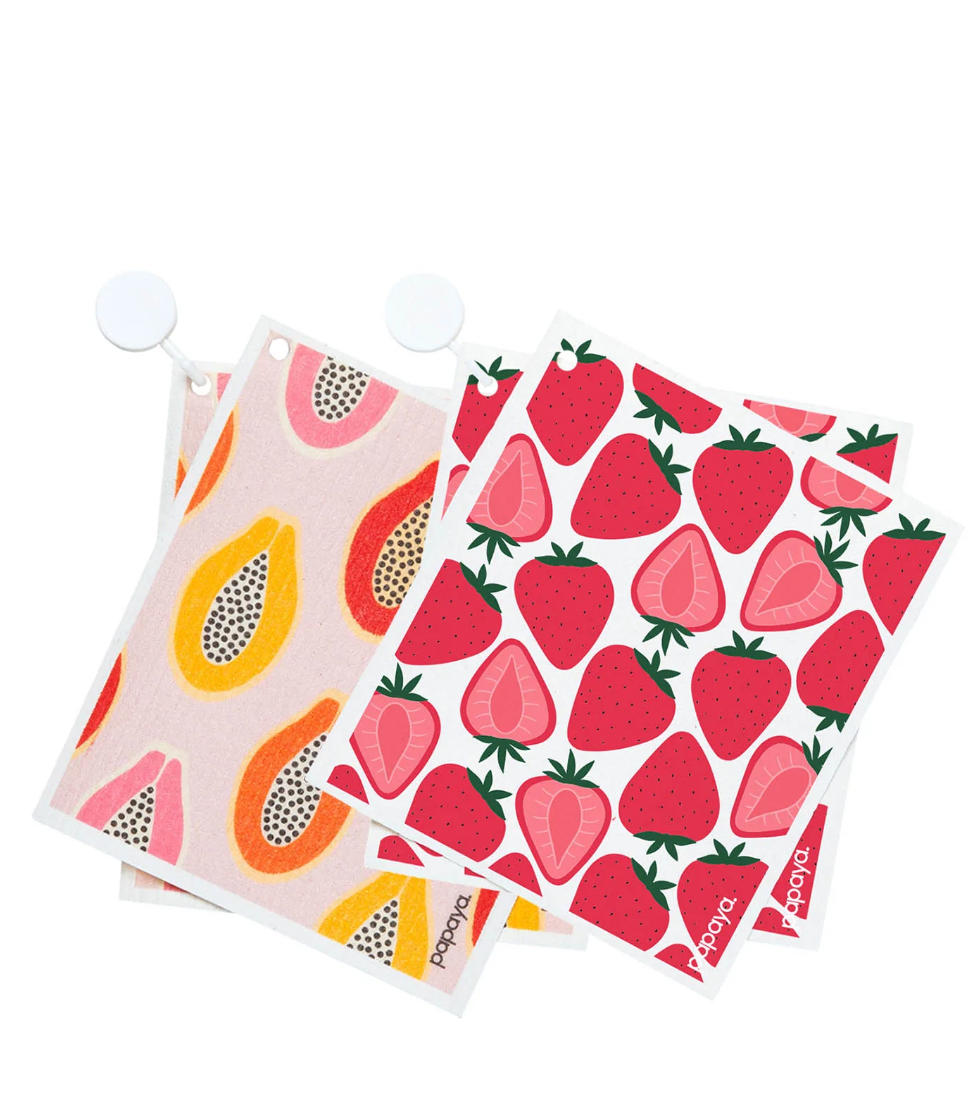 If you start using these to clean your bathroom, you won't want to use the same ones you use on your dishes, right? Aside from the ick factor, having to carry towels back and forth between the two spaces (even in a tiny apartment) will just serve as another excuse to avoid cleaning. Go with this option if you'd like to stick a couple of towels in your bathroom for easy cleanup of shower doors and walls, sinks, toilet lids, and more.
$36 at Papaya
Reusable Paper Towel 6-Pack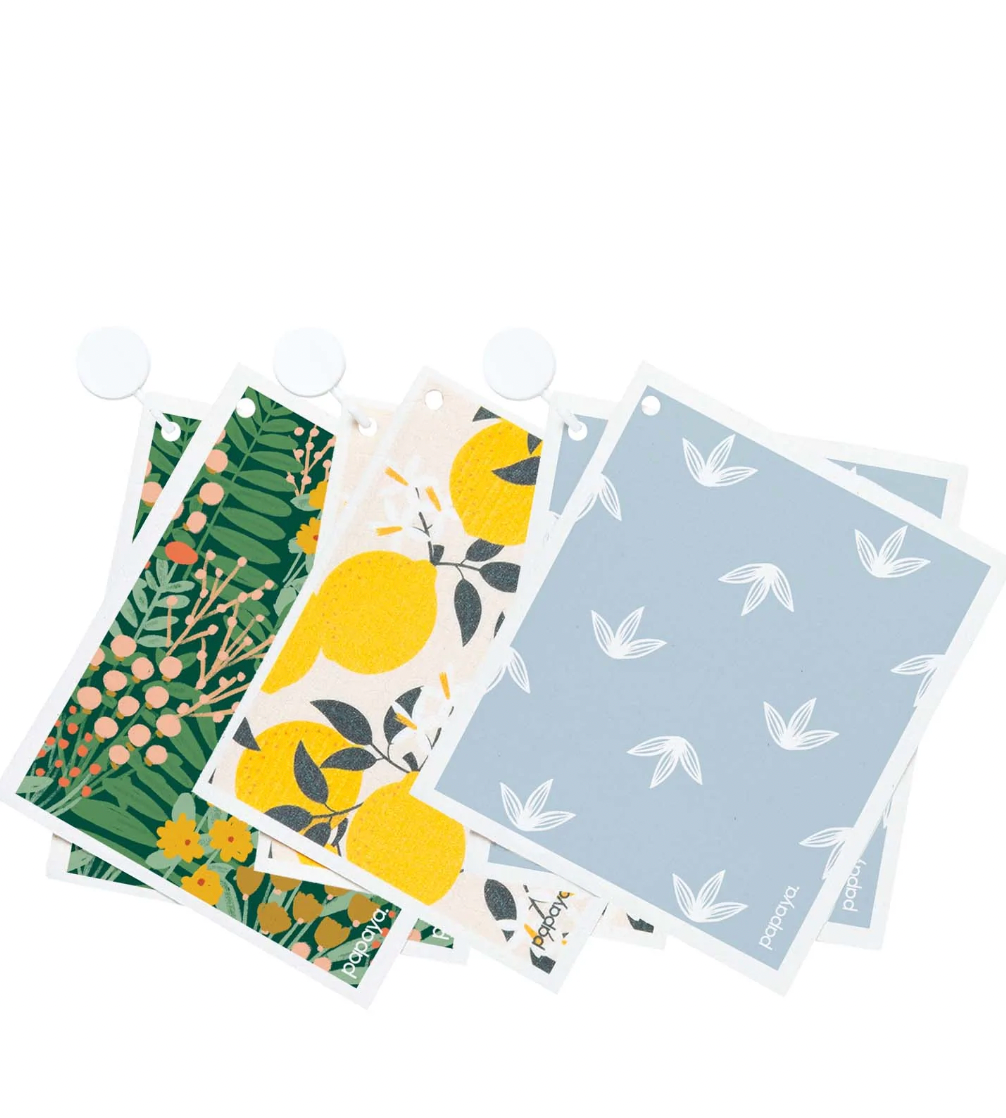 If you're confident that you'll like Papaya's product (and trust us, you probably will), go with the brand's largest pack of six to dedicate to each room of your house, from the kitchen to bathrooms to your garage.
$54 at Papaya