Take it from someone who got an expensive surprise after a house fire.
For many of us, not thinking about our insurance policies is a sign that life is going well — we're healthy, our car is operating as it should, and our home is safe.
And speaking of our home, that's the policy most people hope to use the least. We pay a pretty penny for coverage that we'll only need in case of emergency, and then we put that coverage out of our minds until an accident arises. But when you do hit an unexpected bump in the road, that "set it and forget it" mindset could seriously cost you.
Sandy Dowdy learned that lesson the hard way. She's a Wake-Up Call reader from Van Wert, Ohio, who dealt with an unexpected tragedy during Thanksgiving 2021. A turkey fryer with a faulty regulator caused an "out of control" flame that reached her garage and soon consumed the entire home. The family escaped safely, but the house itself was a "total loss."
"I can remember my husband saying, 'Everything we worked for…'" Dowdy tells Katie Couric Media.
Luckily, inspectors confirmed the fire was an accident, so Dowdy turned to her insurance policy to start the rebuilding process on her ranch-style home, which measures just over 2,000 square feet.
"I looked at the coverage, and it was $278,000," Dowdy says. "Three years or so ago — pre-Covid, and before all these crazy price increases — that would have been a decent amount. We thought we had OK coverage."
Unfortunately, she was in for a terrible surprise. The cost of materials and labor had spiked significantly since the last adjustment to her insurance, and she actually didn't have adequate coverage to rebuild. As a result, Dowdy and her husband have spent about $60,000 out of pocket to make up the difference.
Her story does have a happy ending: The couple was able to secure a loan to cover the extra costs, and they've been in their newly constructed home since Thanksgiving 2022. (They also had the eager help of their small community, where Dowdy has been a teacher for 29 years.) But the rude awakening about her insurance falling short was tough to digest, and Dowdy wishes she'd known then how financially vulnerable she was.
Given all the complexities of insurance, it's not uncommon to be paying for a policy you don't totally understand. But here's what you need to know to make sure something similar doesn't happen with your home if disaster strikes.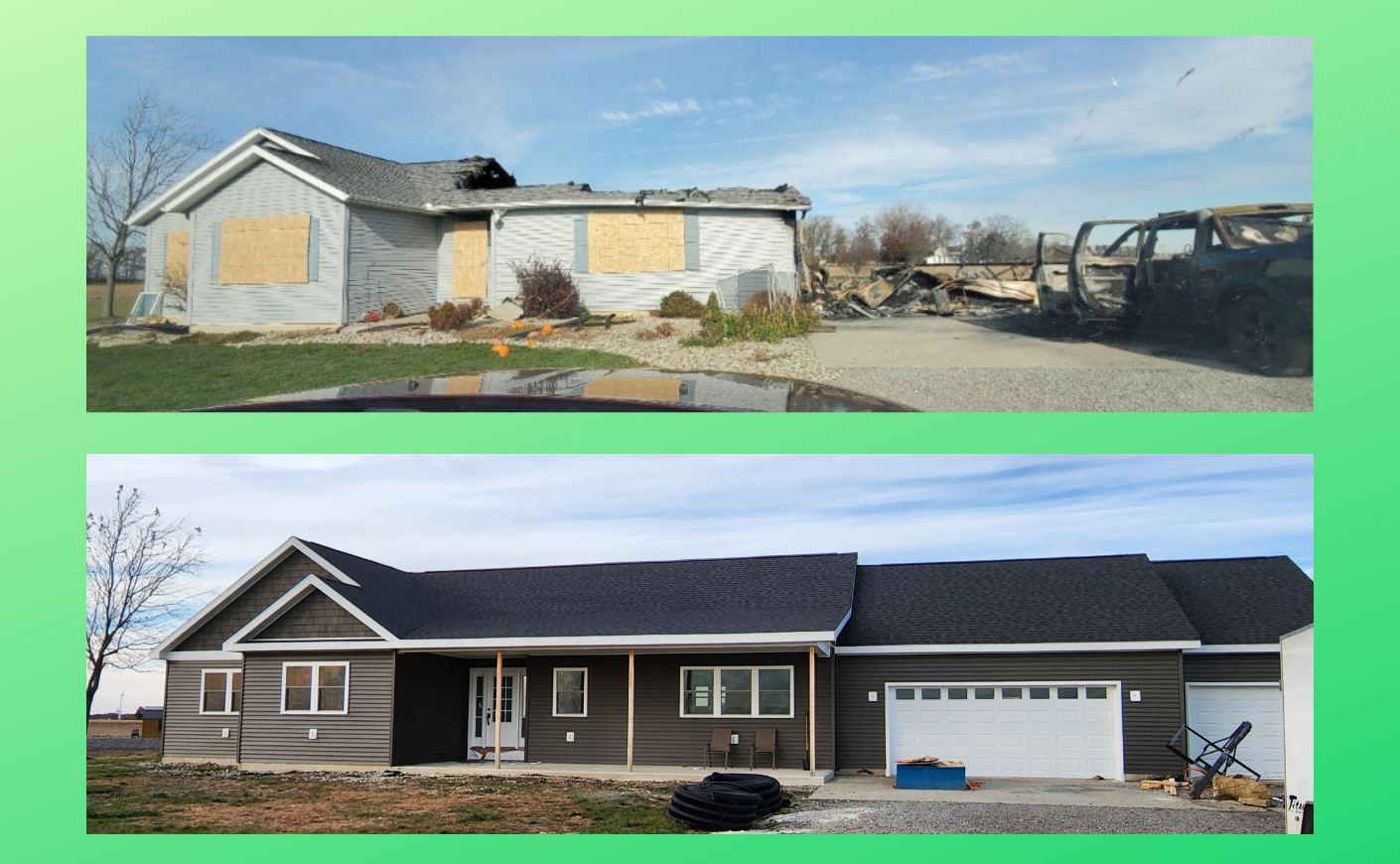 Understand what your home insurance covers
Remember Dowdy's $278,000 policy on her home? The value was over $100,000 more than she'd paid for the house about 13 years before the fire, and yet it still wasn't enough. That's because of a very important distinction in how your policy works, according to Dowdy's insurance agent Adam Anspach, a managing partner at Advanced Insurance Group.
"The biggest thing is that market value doesn't mean anything when it comes to insurance," Anspach says. "What does matter is what's called replacement value."
To make that even simpler, it means your insurer doesn't care about what your home could sell for, but what it would take to recreate it in the exact same way if it were totally destroyed.
So let's say you bought a home 20 years ago for $100,000. It's had a couple of decades of wear and tear, it's outdated, and it's no longer in the best shape. You might not make a huge profit if you were to sell that home now (depending on the specifics of your local market), but if the house were destroyed and needed to be replaced from scratch, doing so with today's prices on materials and labor would cost much, much more.
"That's where the issue stems from," Anspach says. "You're thinking, 'Well, I don't want to pay for $400,000 of insurance for this house, I only bought it for $100,000.' The difference is your insurance company says, 'Well, if that house were to burn down, and we have to build you a brand new house, it's going to cost $400,000.' So you pay based on replacement cost value."
Be aware of construction costs
Both Dowdy and her insurance agent point to one substantial reason for the surprising cost of her new build: the competitive market for materials.
"It was crazy to hear [the contractors] talking about the prices and the supply and demand of things," Dowdy says. "One of them was something called OSB" — a wood sheeting product — "and they'd say, 'We used to be able to get this for $8 a sheet, and now it's $50 a sheet.'"
Some of this has cooled since Dowdy's rebuild. For example, the cost of lumber dropped about two-thirds between 2021 and 2022. But according to the Bureau of Labor Statistics, materials like asphalt roofing, ceramic tiles, and concrete are still on the rise — and that can have a significant impact on a customer's bottom line.
"So what happened is, a large portion of America was underinsured because all of a sudden, the cost to rebuild their house might have gone from $200,000 to $500,000," Anspach explains.
Managing these expectations is where your insurance agent comes in. Your provider will use a metric called a "replacement cost estimator," which tabulates specific information about your home and data from local vendors to determine how much it would cost to recreate. That, in turn, tells you how much coverage you need.
It's also important to let your insurance provider know when you've made renovations that could affect your replacement value. If you've recently upgraded your floors or got brand new custom cabinets, you'll want to be sure those additions to your asset are reflected in your policy.
Ideally, you should have these conversations with your agent regularly and when your coverage is up for renewal. (In Dowdy's specific case, she was a victim of bad timing; ownership of the insurance agency changed hands a month before her fire, and Anspach's team hadn't yet had the bandwidth to review her previously-written policy.) The good news is that there is a way to give yourself a little wiggle room, which brings us to our next tip…
Spring for a policy that offers extended coverage
Though your home insurance does include a specific amount the policy will pay out for damage to your dwelling (that was the $278,000 in Dowdy's case), Anspach adds that you can also tack on "additional enhancements" that kick in if that amount ends up falling short.
These add-ons will vary by carrier, but many providers offer flexible coverage that can extend by a certain percentage if you need it. Anspach offers clients extensions of 25 percent, 50 percent, and "guaranteed replacement," which will pay out to cover a rebuild in full.
What does that mean, exactly? Let's do a little math: If you had a policy valued at $278,000 with a 50 percent extension, then your insurance would pay as much as $417,000 if that's what it cost to replace your home. That includes your initial coverage of $278,000, plus another $139,000 (which is 50 percent of your policy).
You'll have to pay a little more for these extensions, but the peace of mind that comes with them can be totally worth it. Anspach estimates the additional cost could be as much as $100 per year, but he's also worked on policies where the price of the extension is much less.
"One carrier we have offers it for as low as $38," he says. "So I tell people, I spend $38 on some pretty dumb stuff. This is a really good thing to spend $38 on, you know?"
Asking about these coverage extensions is important when you're shopping around for insurance because not all carriers offer it. In Dowdy's case, her previous policy didn't include the option for flexible coverage, which actually motivated Anspach to speak up once he took over.
"The company that Sandy was with at the time — which we still represent — they did not even offer that coverage, so what we ended up doing was going to their board meetings and saying, 'Look, you have to. I can't wait a year to increase Sandy's value of her home, and I can't go through every single policy every month and adjust that. It's just not economical,'" Anspach says. "So now they do offer a guaranteed replacement endorsement after seeing what happened in her case."
Consider the benefits of working with an insurance agent
In tough economic times like these, no one would fault you for wanting to save money wherever you can, and it's true that you could potentially get a cheaper insurance policy by buying online without going through an agent. But the help of a seasoned specialist can go a long way in understanding complicated matters like these.
"If I go to the doctor, I'm going to the doctor because they're an expert and they know what they're doing, right?" Anspach says. "This is kind of the same concept. People don't understand insurance, so go to a professional and have that expert help review your policy, like a policy checkup."
Of course, agents like Anspach do benefit financially from that advice, but Dowdy tells us she feels the same way now that she's personally experienced how much of a difference it can make to work with someone who really knows their stuff.
"I tell people, 'I don't know what this situation would have looked like if I had to try to call Flo from Progressive and ask her about my insurance,'" Dowdy says. "I know we're all trying to cut back and save where we can, but I am very thankful to work with a local insurance company. We like to be able to go in and talk with a person."