"I've never dated anyone with that kind of aura about them."
Kansas City Chiefs star Travis Kelce and Taylor Swift have become Hollywood's (and dare we say the world's) latest "it" couple. In an exclusive interview with WSJ Magazine published on Nov. 20, he gushed about their much-talked-about relationship, and honestly, who can blame him?
"Obviously I've never dated anyone with that kind of aura about them…. I've never dealt with it," Kelce told the outlet for its December/January cover story. "But at the same time, I'm not running away from any of it." Kelce went on to express awe over how Swift gracefully handles the near-constant media buzz: "The scrutiny she gets, how much she has a magnifying glass on her, every single day, paparazzi outside her house, outside every restaurant she goes to, after every flight she gets off, and she's just living, enjoying life. When she acts like that I better not be the one acting all strange."
This isn't the first time Kelce has openly talked about his budding romance with the popstar — he has also shared some details about it on his podcast, New Heights, which he hosts alongside his brother (and Philadelphia Eagles center) Jason Kelce. In one episode, he shared his failed attempt to give her his number after going to see her perform at one of her shows on her Eras Tour.
But apparently, there's more to the story — here's what else he had to say in his wide-ranging interview with WSJ.
How did Travis Kelce and Taylor Swift first meet?
In a New Heights episode that aired in July, Kelce revealed that he tried (unsuccessfully) to meet Swift backstage at her Arrowhead Stadium concert in Kansas City that same month. Before his plans were foiled, he said he made Swift a friendship bracelet — a trademark accessory of Swift's Eras Tour — with his number on it (which we've got to admit is pretty suave). "I was disappointed that she doesn't talk before or after her shows because she has to save her voice for the 44 songs that she sings," Kelce said at the time.
So how did they wind up meeting and dating? Well, apparently he got a little help from someone inside Swift's inner circle. "There were definitely people she knew that knew who I was, in her corner [who said]: Yo! Did you know he was coming? I had somebody playing Cupid," Kelce told WSJ Magazine.
Kelce said he didn't know about the secret matchmaker until Swift contacted him directly via text. "She told me exactly what was going on and how I got lucky enough to get her to reach out," he said.
Kelce also said that a few of Swift's own family members got involved as well (some of whom are big fans of the NFL player.) "She'll probably hate me for saying this, but…when she came to Arrowhead, they gave her the big locker room as a dressing room, and her little cousins were taking pictures…in front of my locker," he said.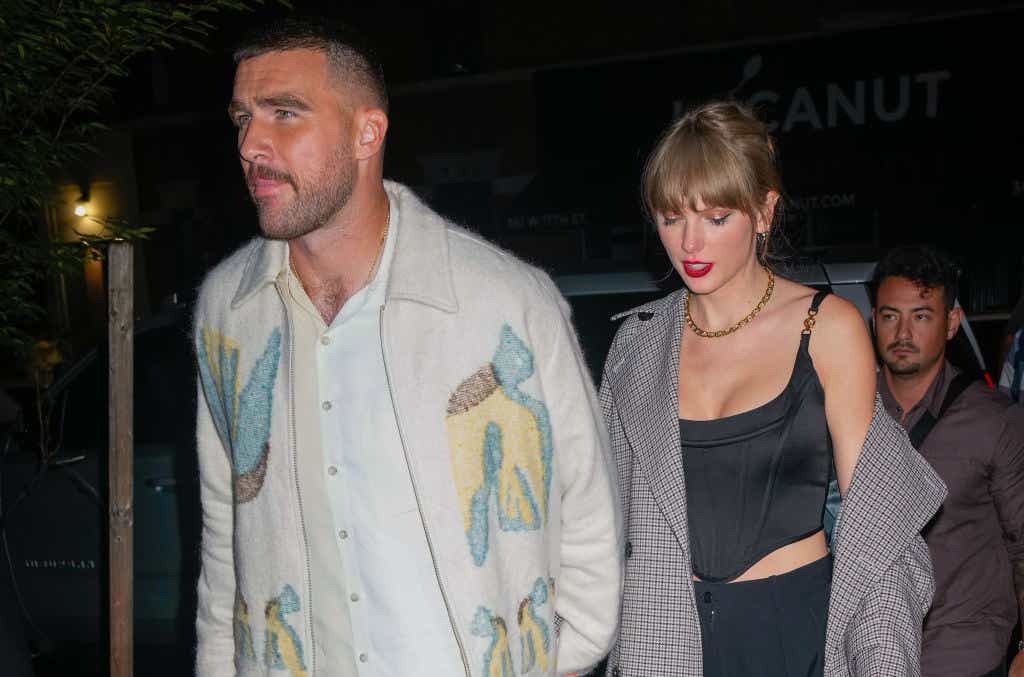 When did Travis Kelce and Taylor Swift first start dating?
Kelce and Swift first sparked dating rumors in September, when the popstar showed up at a Kansas City Chiefs game. Without going into too much detail, he confirmed that they had already gotten dinner before she showed up to cheer him on.
"When I met her in New York, we had already kind of been talking, so I knew we could have a nice dinner and, like, a conversation, and what goes from there will go from there," he said.
But if anyone was nervous, it was his friends. "Everybody around me telling me: Don't f— this up! And me sitting here saying: Yeah — got it."
Kelce acknowledged that was initially reluctant to talk too much about his relationship with Swift over fears that he might push her away. But that's certainly not the case now — in the WSJ interview, he raved about her, calling her "hilarious," and "a genius." He even marveled at her ability to turn painful life experiences like breakups into poetry. "I've never been a man of words. Being around her, seeing how smart Taylor is, has been f—ing mind-blowing," he said. "I'm learning every day."
Most importantly, he says they share key commonalities: "Her family does a lot of stuff in terms of the tour, the marketing, being around, so I think she has a lot of those values as well, which is right up my alley."